Declaring someone off the field or handing him a'sixer' is entirely up to the man who stands behind the wickets at the bowler's end. Without a doubt, they are the ones that keep the peace and play according to the rules of one of the most popular games, Cricket.
Because they are also human, they make mistakes, which puts any team in a difficult situation, even if they are extremely close to victory. Regardless of the few erroneous choices, they are the emblem of justice for each side on the field, without which the match would be a shambles.
Here is the list of best cricket umpires of all time.
Read more about the Greatest Bowlers of All time
Read more about Unbeatable Cricket Records
Read more about Sachin Tendulkar Records
10) Tony Hill: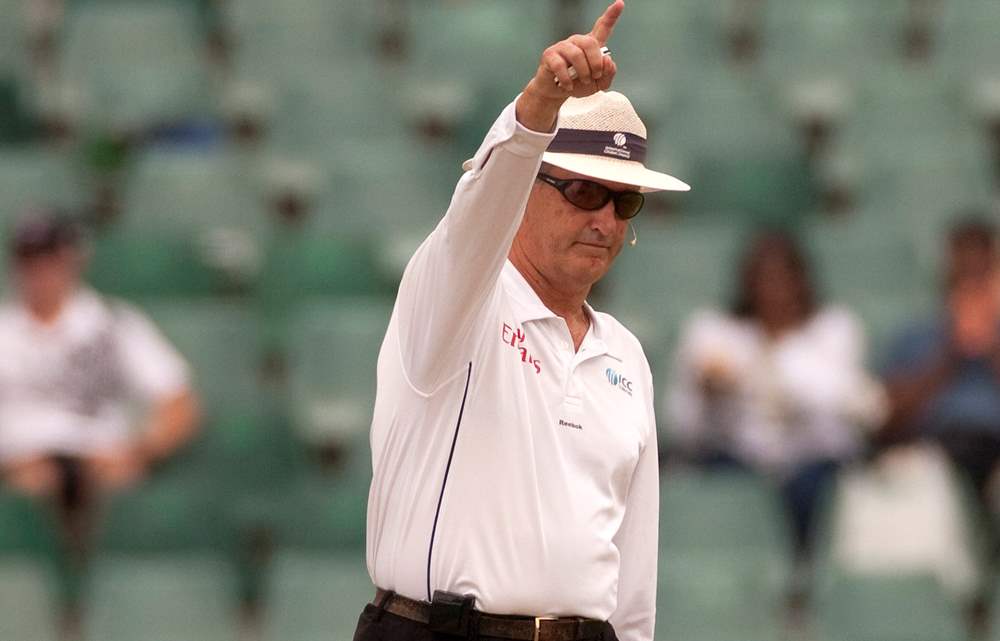 Tony Hill is tenth on the list of the greatest cricket umpires of all time. Anthony Lloyd Hill, also known as Tony Hill, was born in Auckland, New Zealand in 1951.
In March 1998, he officiated in an ODI between New Zealand and Zimbabwe at Napier, and in December 2001, he officiated in his maiden test match between New Zealand and Bangladesh at Hamilton.
Gaining Importance:
During his time on the International Umpire Panel, the ICC assigned Hill to neutral umpire matches away from New Zealand to assist the Elite Panel, with particular highlights including the third test between South Africa and Australia in Johannesburg in March 2006, and officiating on-field at three Group A matches at the 2007 Cricket World Cup in St. Kitts.
In his umpiring career, he has officiated 40 test matches, 96 Odis, and 17 t20 matches.
9) Darrell Hair:
Darrell Hair is ranked ninth on the list of the best cricket umpires of all time. Darrell Bruce Hair, born in Mudgee, New South Wales in 1952, is also known as Darrell Hair. Hair umpired his first Test match in January 1992, at Adelaide, against Australia and India.
The Australian cricket umpire no-balled one of the finest spin bowlers, Muttiah Muralitharan, seven times in three overs in a 1995 match between Australia and Sri Lanka in Melbourne. He had officiated 78 international tests, including 139 One-Day Internationals and six Twenty-Twenty Internationals.
Controversy:
Hair and colleague umpire Billy Doctrove determined that the Pakistani squad had engaged in ball-tampering on the fourth day of the fourth Test between England and Pakistan at The Oval in 2006. They gave England five penalty runs and provided them a replacement ball. Pakistani players refused to take the field after the tea break in protest.
Later, an ICC board meeting addressed his behavior in the Test match, and it was agreed that he would not umpire matches featuring test-playing nations in the future. Hair resigned from the ICC on August 22, 2008, in order to take up a coaching position.
8) Rudi koertzen: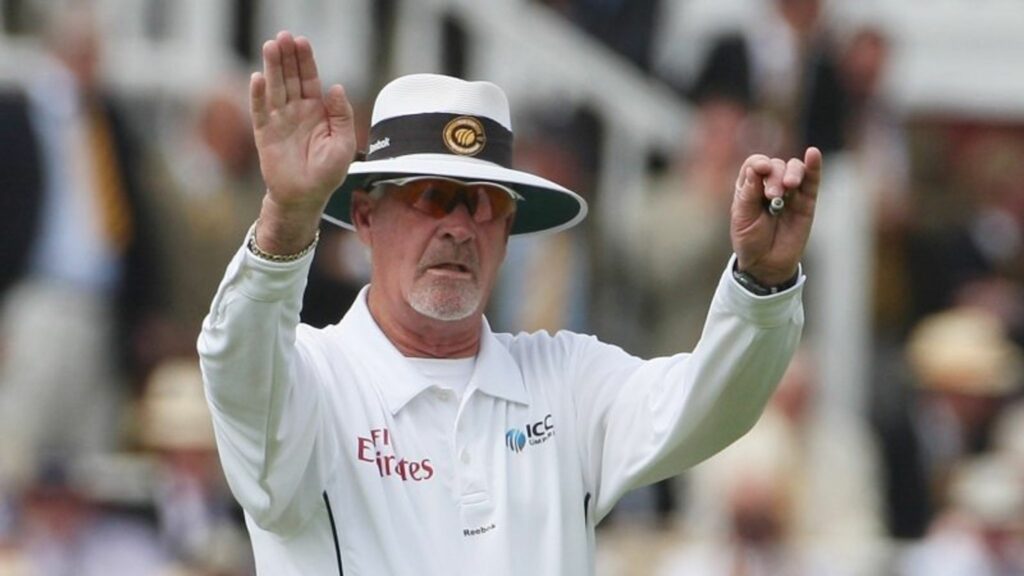 Rudi Koertzen is ranked eighth on the list of the top Cricket umpires of all time. Rudolf Eric Koertzen, better known as Rudi Koertzen, was born in 1949 in Knysna, Western Cape, South Africa. Koertzen, a lifelong cricket fan, played league cricket while working for South African Railways.
In 1981, he began his career as an umpire, presiding at domestic games. Rudi then made his international debut in 1992, umpiring in his maiden One-Day International (ODI) against South Africa and India. During the same trip, he made his test debut, this time against South Africa.
ICC Elite panel:
Rudi raised the bar for umpiring by becoming a full-time ICC umpire in 1997 and quickly becoming a member of the ICC Elite Panel. In his career, Eric has officiated 108 tests, 209 ODIs, and 14 T20 Internationals.
He was also the first umpire to officiate in 200 One-Day Internationals (ODIs). Rudolf Eric received the ICC Bronze Bails Award for 100 One-Day Internationals, the ICC Silver Bails Award for 200 One-Day Internationals, and the ICC Golden Bails Award for 100 Tests and marked his name ICC Elite Panel.
7) Daryl Harper: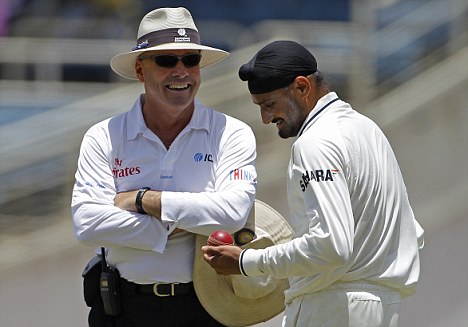 Daryl Harper is ranked seventh on the list of the top Cricket umpires of all time. Daryl John Harper was born in Australia in 1951. He went to Norwood High School before becoming a primary school teacher.
He had a brief stint as an Australian football referee before being forced to retire due to an injury.
International cricket umpiring career:
Harper then started his umpiring career in 1983. In 2002, he became the first Australian umpire to be named to the ICC's Elite Panel, a position he held until 2011. Between 1998 and 2011, he was also an International Test umpire.
Harper had a stellar career as an umpire, officiating in 94 tests and 174 One-Day Internationals. Later, in 2011, ICC stated that Harper will be stepped down at the end of his contract in July 2011.
Harper withdrew from umpiring in June 2011, following criticism from India during the India-West Indies Test series. He won the ICC Bronze Bails Award for umpiring in 100 One-Day Internationals.
6) Billy Bowden: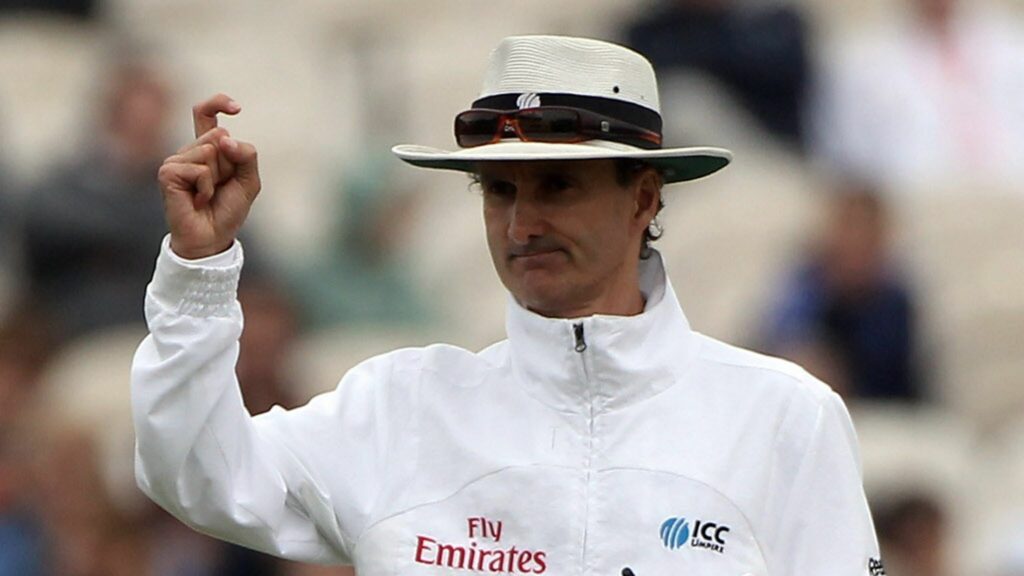 Billy Bowden is ranked sixth on the list of the greatest cricket umpires of all time. Brent Fraser Bowden, sometimes known as Billy Bowden, was born in Henderson, New Zealand in 1963. He has officiated at three ICC Cricket World Cup games and was the reserve umpire in the ICC 2007 and ICC World T20 2007 finals.
His first ODI as an umpire was between New Zealand and Sri Lanka in 1995, and he made his test debut between New Zealand and Australia in 2000. Billy Bowden career has been highlighted by 200 ODIs, 84 tests, and 24 International T20s and he has been one of the best ICC umpires.
The Crooked Finger:
Billy Bowden was appointed to the ICC Elite Umpire Panel in 2003. Billy, who is now retired, is well known for his unusual umpiring signals, including the dancing jig when indicating sixer and his crooked finger to adjudicate a batsman.
He has the distinction of officiating at two ICC World Cup 2003 matches where hat-tricks were taken. He received the ICC Bronze Bails Award for officiating at 100 One-Day Internationals in 2007.
5) Aleem Dar: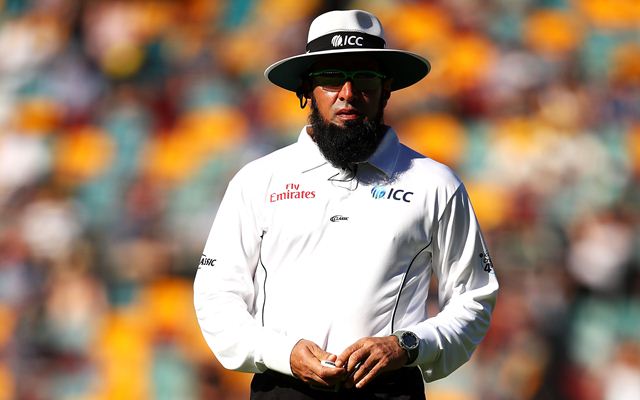 Aleem Dar is fifth on the list of the greatest cricket umpires of all time. Aleem Sarwar Dar, better known as just Aleem Dar, was born in Pakistan in 1968. He was a Pakistani first-class cricketer before becoming an umpire, having played for Allied Bank, Gujranwala Cricket Association, Lahore, and Pakistan Railways as a right-handed batsman and leg-break bowler.
He made his debut as an international umpire at the age of 30 in a match between Pakistan and Sri Lanka in 2000, and he is also one of the best ICC umpires of all time.
Honors:
He was appointed to the ICC's Elite Panel of umpires two years later. In 2009, 2010, and 2011, he received three consecutive ICC Umpire of the Year honors, as well as the "Pride of Performance Award Pakistan."
Aleem Dar had a fantastic World Cup 2011, winning a battle against DRS challenges with 15 consecutive right judgments. In his umpiring career, he had officiated in 117 test matches, 190 ODIs, and 43 T20 Internationals.
4) Simon Teufel: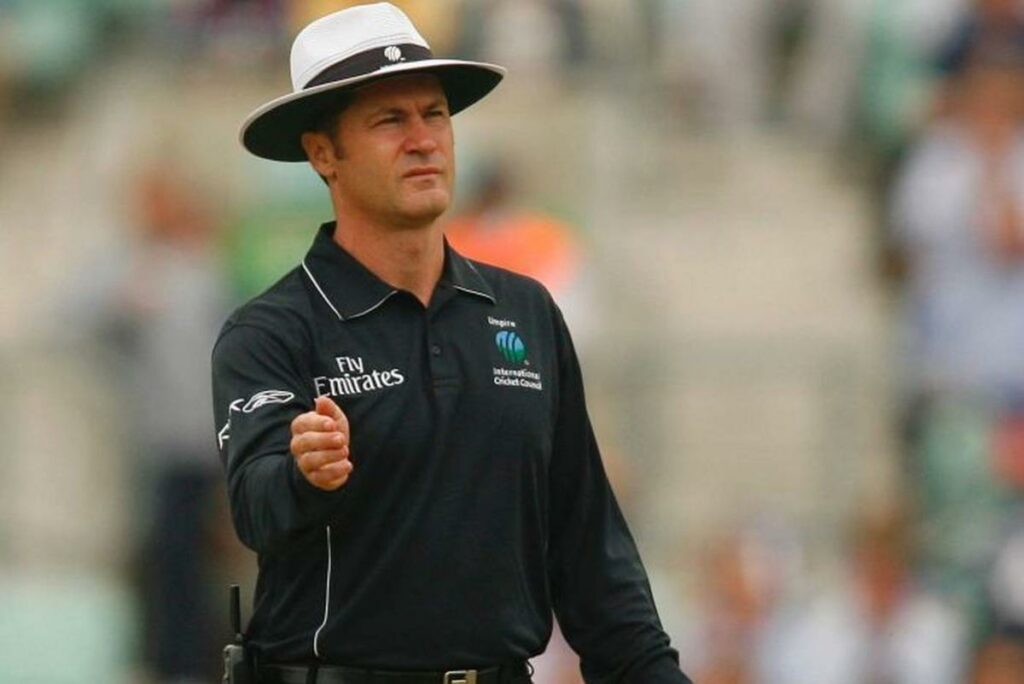 Simon Taufel is fourth on the list of the greatest cricket umpires of all time. Simon James Arthur Taufel was born in St Leonards, New South Wales on January 21, 1971. Taufel began his umpiring career as a fast-medium bowler for Cammeray Cricket Club in the Northern Suburbs Cricket Association.
He received the club's best and fairest player award following the 1990-91 season, as he was the leading wicket-taker and had the lowest bowling average in the league.
From player to Umpire:
He had to cut his bowling career short due to a terrible back injury. Taufel made his international debut in an ODI between Australia and Sri Lanka in 1999. In the year 2000, he made his test debut against Australia and the West Indies.
He has been recognized as one of the top umpires after earning the ICC Umpire of the Year Award five times in a row from 2004 to 2008. Taufel has umpired in 74 tests, 174 ODIs, and 34 Twenty20 Internationals and also in ICC Champions Trophy.
He announced his retirement from international cricket after the 2012 International Cricket Council World Twenty20 World Cup finals and began working as an umpire performance and training manager.
3) David Shepherd: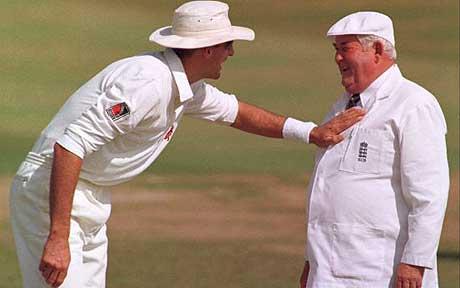 David Shepherd is ranked third on the list of the top Cricket umpires of all time. Shep was born on December 27, 1940, in Bideford, Devon. He began his career as a first-class cricketer and spent 14 years as a middle-order batter for Gloucestershire.
Shepherd qualified for umpiring after his county career in 1981 and made his debut as an umpire in the 1983 World Cup in England, when Pakistan faced Sri Lanka at Swansea.
Debut and becoming Successful umpire:
His debut as an umpire was in the fourth Test of the 1985 Ashes Series at Old Trafford in Manchester. David Shepherd had an intriguing habit of raising his leg anytime his score reached 111. He officiated in 92 Test matches, the highest for any English umpire, the last of which was in June 2005.
He also officiated in 172 One-Day Internationals (ODIs), including three World Cup finals in a row in 1996, 1999, and 2003. David married Jenny, his longtime lover, in 2008. However, he died a year later from lung cancer.
He was arguably one of the best cricket umpires in international cricket.
2) Dickie bird: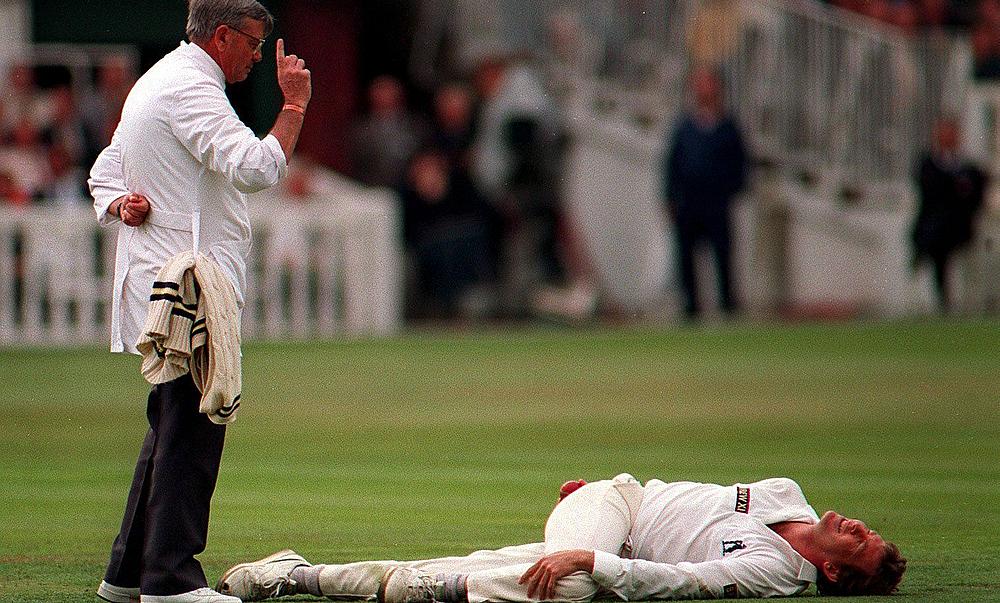 Harold Dennis Bird, better known as Dickie Bird, is the runner-up on our list of the greatest Cricket umpires of all time. He was born in Yorkshire on April 19, 1933. In his early years, he was a school dropout who worked in a coal mine. Dickie's first love was football, which he had to give up due to an injury.
He subsequently took up cricket and began playing county cricket in Barnsley throughout his early career. Later, he began playing for his home county of Yorkshire.
Entering the history books:
Dickie Bird officiated his first test match in Yorkshire, against England and New Zealand. In 1975, 1979, and 1983, he served as an umpire for three World Cup finals. Dickie has officiated in 69 One Day Internationals and 66 Tests.
In 2012, he was appointed an Officer of the Order of the British Empire for his achievements to cricket.
In his final test match in 1996, both Indian and English players provided him with a guard of honour. Yorkshire later announced that Bird will be elected president of the club at the club's Annual General Meeting on March 29, 2014.
His cricket umpiring showed why he is one of the best cricket umpires in international cricket.
1) Steve Bucknor: Best cricket umpire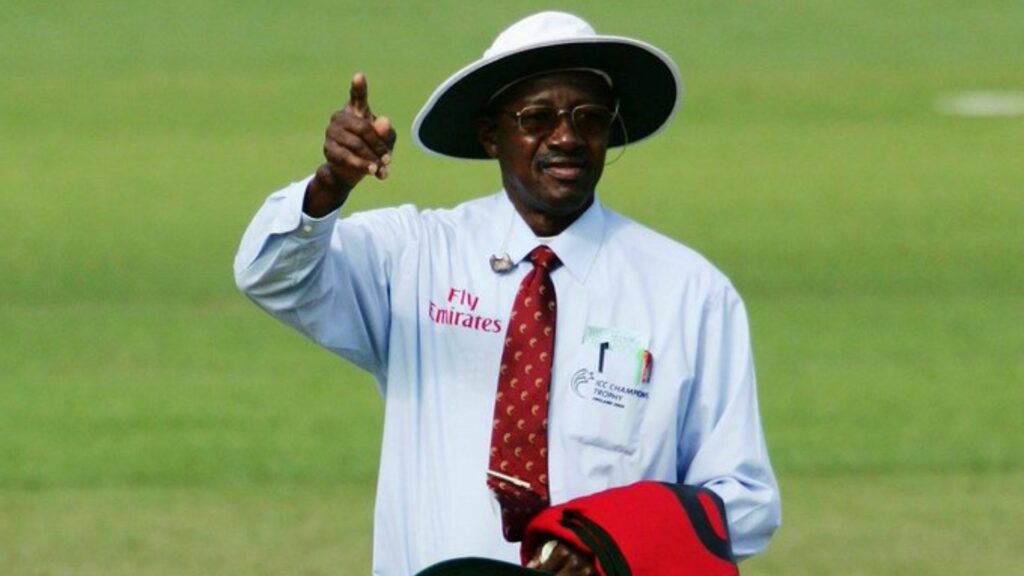 Stephen Anthony Bucknor, also known as Steve Bucknor, is regarded as the greatest cricket umpire of all time. Bucknor, who was born in Montego Bay, Jamaica, in 1946, is one of the most experienced umpires. He was a high school mathematics teacher and sports coach before beginning his umpiring career.
Bucknor began his career as a football referee before switching to cricket at the age of 45.
Become the best cricket umpires of all time:
His debut test match as a cricket umpire came in 1989, against the West Indies and India.
In the same year, he officiated his first One-Day International cricket (ODI) between the West Indies and India.
Steve Bucknor has played 128 test matches and 181 one-day internationals. In October 2007, he was awarded the Order of Jamaica, Commander Class, for "exceptional accomplishments in the sphere of athletics."
Bucknor has also won the ICC's Bronze and Golden Bails Awards for umpiring in 100 One-Day Internationals and 100 Test matches, respectively. In 2009, this well-known cricket umpire announced his retirement.
Get more cricket-related news on Sportslibro.com