A bowler is an important member of the squad who can win a cricket match on his own. With his lethal spells, a superb bowler may change the game and assist his team snare a victory. There have been great bowlers in the past who have etched their names into history.
Be it in Test cricket or in ODI cricket, there have been a number of greatest bowlers of all time to leave back a mark in the books of history.
The top 10 bowlers of all time regarded as the greatest bowler are:-
10) Joel garner
Joel Garner is a former West Indian cricketer who played for the highly acclaimed West Indies teams in the late 1970s and early 1980s. According to the ICC's best-ever bowling ratings, Garner is the highest-ranked ODI bowler and is placed 37th in Tests.
Domestic and Test cricket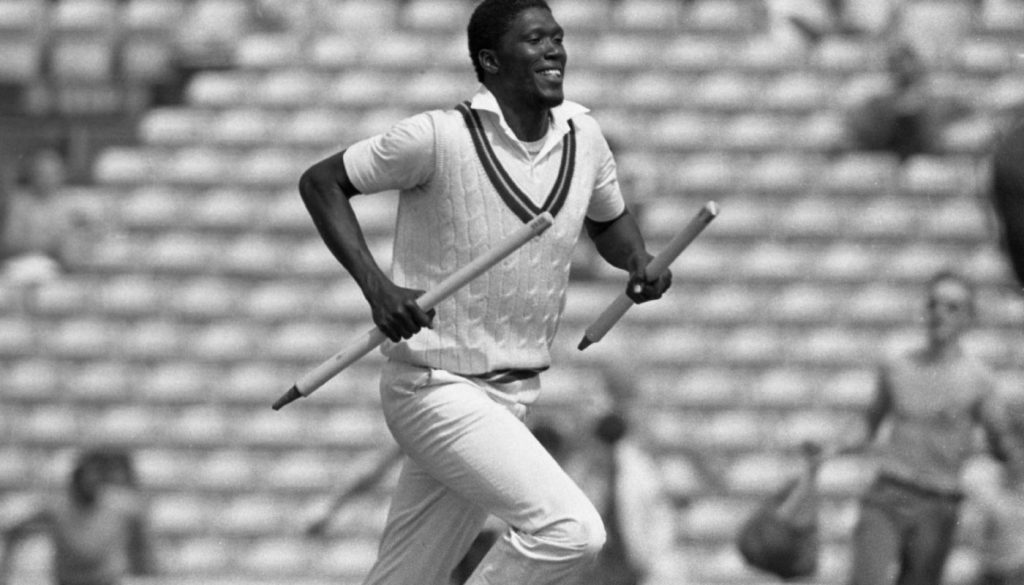 Garner originally caught Somerset's eye when playing in the Central Lancashire League for Littleborough. For the 1976 season, he took over as the club's paid man from Sir Garry Sobers, and he remained in the position for the 1977 and 1978 seasons. He scored over 1500 runs with the bat and claimed 334 wickets at a bowling average of 9.34 runs per wicket during his three-year stint at Littleborough. For the start of the 1977 season, he joined with Somerset.
Garner picked up 259 test wickets at a bowling average of slightly over 20 in 58 Test matches between 1977 and 1987, making him statistically one of the great bowlers of all time. He was one of the tallest fast bowlers in test cricket at the time, standing at 6 feet 8 inches.
Limited overs
Garner used his height to devastating effect in limited overs cricket, when he grabbed 146 wickets in 98 matches. He was able to throw a powerful yorker while also generating more bounce. He is one of only two players with more than 100 ODI wickets at less than 20 runs per wicket as of January 2020, and his economy rate of 3.09 runs per over is the greatest of any bowler who has bowled at least 1000 balls. He is the highest-ranked ODI bowler of all time.
9) Richard Hadlee
Sir Richard Hadlee is a former cricketer from New Zealand. Sir Richard Hadlee is largely recognised as one of cricket's greatest all-rounders, as well as one of the best fast bowlers.
Test Matches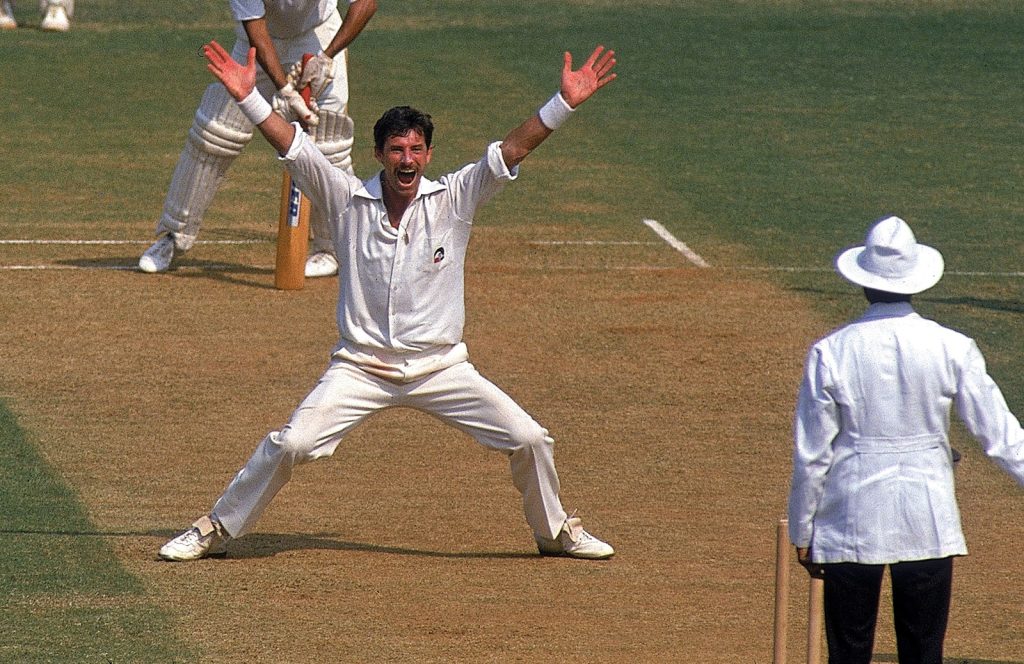 Sir Richard Hadlee was a bowling all-rounder who collected 431 wickets (the world record at the time) and was the first bowler to reach 400 wickets, at an average of 22.29, and hit 3124 Test runs at 27.16, including two centuries and 15 fifties, in an 86-Test career.
Many analysts consider Hadlee to be the foremost proponent of the new ball. He was the original Sultan of Swing and the maestro of (conventional) swing.
Hadlee's development from a respectable fast bowler to a genuinely superb one began in 1985/86. In the first Test against Australia in Brisbane, his excellent all-round effort helped New Zealand smash the host team, opening with a personal best 9 for 52 in Australia's first innings.
Hadlee then took 7 wickets in a defeat in the second Test and 11 wickets in a New Zealand victory in the third Test, giving his country its first series triumph on Australian soil and a personal tally of 33 wickets in three Tests.
8) Courtney Walsh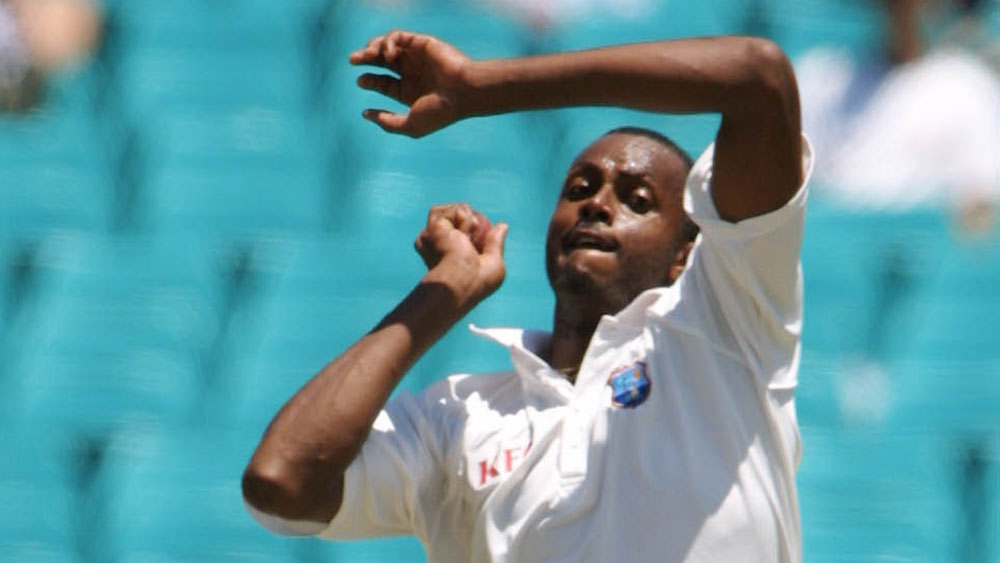 Courtney Walsh is a former Jamaican cricketer who played for the West Indies and captained the team in 22 Test matches between 1984 and 2001. He is a fast bowler who is most known for his long-running opening bowling tandem with fellow West Indian Curtly Ambrose.
In 49 Test matches, he and Ambrose shared 421 Test wickets. Since breaking Kapil Dev's record in 2000, he has held the record for most Test wickets. Shane Warne eventually smashed the record in 2004. He was the first bowler in Test cricket history to reach 500 wickets.
"Heart of the Lion" is the title of his memoirs. In 1987, Walsh was selected one of Wisden Cricketer of the Year. He was inducted into the ICC Cricket Hall of Fame in October 2010. In August 2016, he was named the Bangladesh Cricket Team's Specialist Bowling Coach.
Walsh was one of the destructive fast bowlers of all time who used to decide the games for his team. Batsman used to fear him in terms of international cricket. Walsh took 5 wickets in an ODI match conceding only one run against Sri Lanka in December 1986, a match which the West Indies won at the Sharjah Cricket Association Stadium, Sharjah by 193 runs. This was his solitary five-wicket haul in the cricket history.
7) Shoaib Akhtar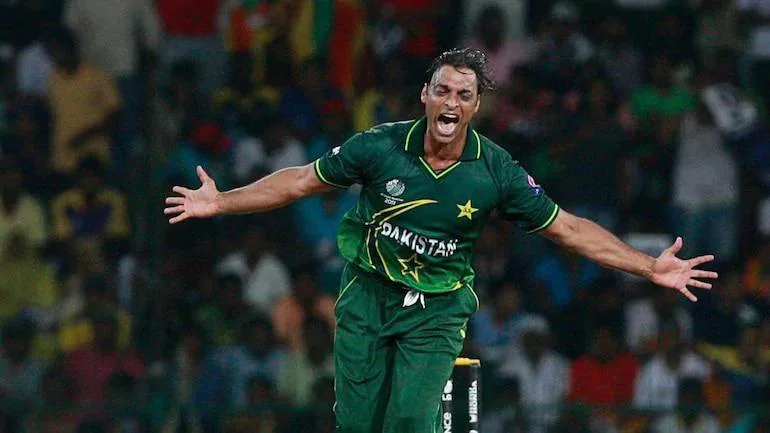 Shoaib Akhtar is a former Pakistani cricketer who now works as a cricket analyst. He was known as the "Rawalpindi Express" since he was the first bowler to bowl at 100 miles per hour twice throughout his career. His express pace bowling won the match for Pakistan on more than one occasion.
Akhtar made his Test debut as an opening fast bowler in November 1997, and three months later, he played his maiden One Day International. Throughout his career, he has been embroiled in a number of incidents, frequently being accused of unsportsmanlike behaviour
. In 2005, during a Test match series in Australia, Akhtar was sent home for suspected poor attitude, and a year later, he was banned after testing positive for the performance-enhancing chemical nandrolone.
On appeal, however, the prohibition placed on him was removed. Akhtar was banned for five years in 2008 for publicly criticising the Pakistan Cricket Board, but the suspension was lifted in October 2008 by the Lahore High Court, and Akhtar was named to the 15-man team for the Twenty20 Quadrangular Tournament in Canada.
Shoaib Akhtar had a bowling average of 25.69 in terms of test matches and of 24.97 in terms of ODI cricket. Shoaib Akhtar had the capacity to become the best odi bowlers of all time but his unsportsmanlike behaviours and use of unauthorised substances ended his career. His bowling performance always changed the game for Pakistan.
6) Waqar younis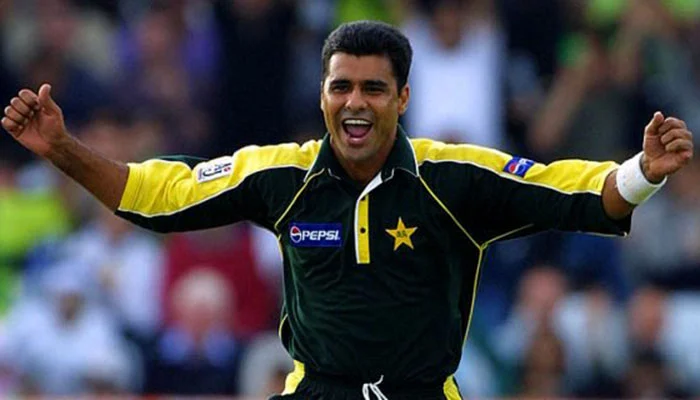 Waqar Younis is a Pakistani cricket coach, pundit, and former captain of the Pakistani national team. Waqar Younis, a right-arm fast bowler, is recognised as one of the greatest bowlers in the cricket history. He was the former Pakistani cricket team's head coach. He was also the Pakistan National Cricket Team's previous bowling coach.
Younis is the youngest Pakistani Test skipper and the fourth youngest Test captain in history as of 2021. (22 years 15 days). During his international cricket career, which spanned 1989 to 2003, he appeared in 87 Tests and 262 One-Day Internationals for Pakistan.
Fast bowler with Reverse swing
Younis' signature move was a high-speed reverse swing of a cricket ball. During his career, he captured 373 Test wickets and 416 One Day International wickets. He established one of the world's most feared bowling assaults with bowling partner Wasim Akram. After Dale Steyn, Younis has the greatest strike rate of any bowler with over 350 Test wickets. He is the youngest bowler in ODI history to collect 400 wickets.
Waqar younis also holds a position in terms of ICC best Bowlers of all time.
5) Wasim akram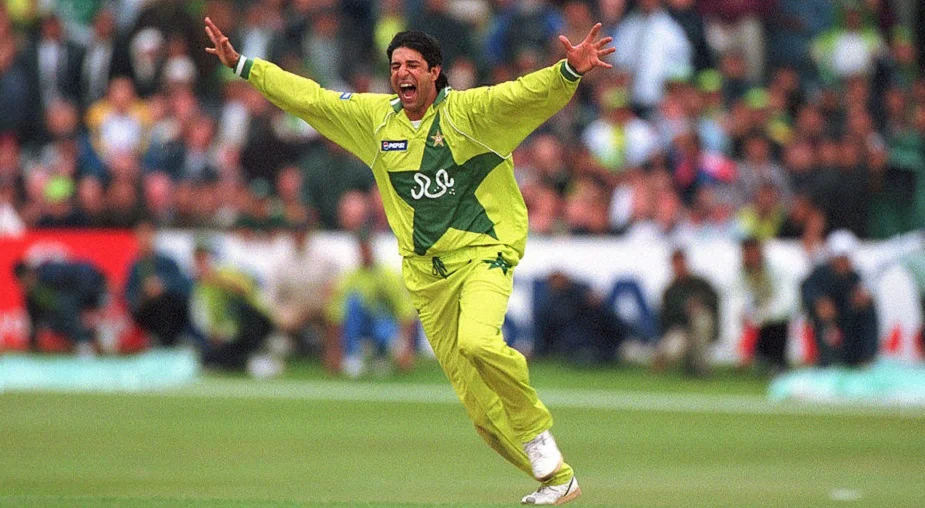 Wasim Akram is a Pakistani cricket analyst, coach, and former cricketer who captained the national team of Pakistan. Wasim Akram is widely recognised as one of the best fast bowlers of all time, with some critics claiming that he is the greatest left-arm fast bowler in the history of the game. Wasim Akram was the only Pakistani cricketer to be included in an all-time Test World XI to commemorate Wisden Cricketers' Almanack's 150th anniversary in October 2013.
He is the global record holder for most wickets in first class career cricket, with 881, and is second only to Sri Lankan off-spin bowler Muttiah Muralitharan in terms of ODI wickets, with 502. He is regarded as one of the creators of reverse swing bowling, as well as one of its best exponents. Fans used to see Batsman defending his ball just to get done with the over of Wasim akram. Batsmen like Sachin tendulkar and Brian laraused to fear him.
During the 2003 World Cup, he became the first bowler in ODI cricket to surpass the 500-wicket milestone. Wisden published their lone list of all-time great players in 2002. With a rating of 1223.5, Wasim was voted the finest One Day International bowler of all time. In 356 ODI matches, Wasim collected 23 four-wicket hauls. Akram was one of five new members admitted into the ICC Cricket Hall of Fame on September 30, 2009.
4) Glenn mcgrath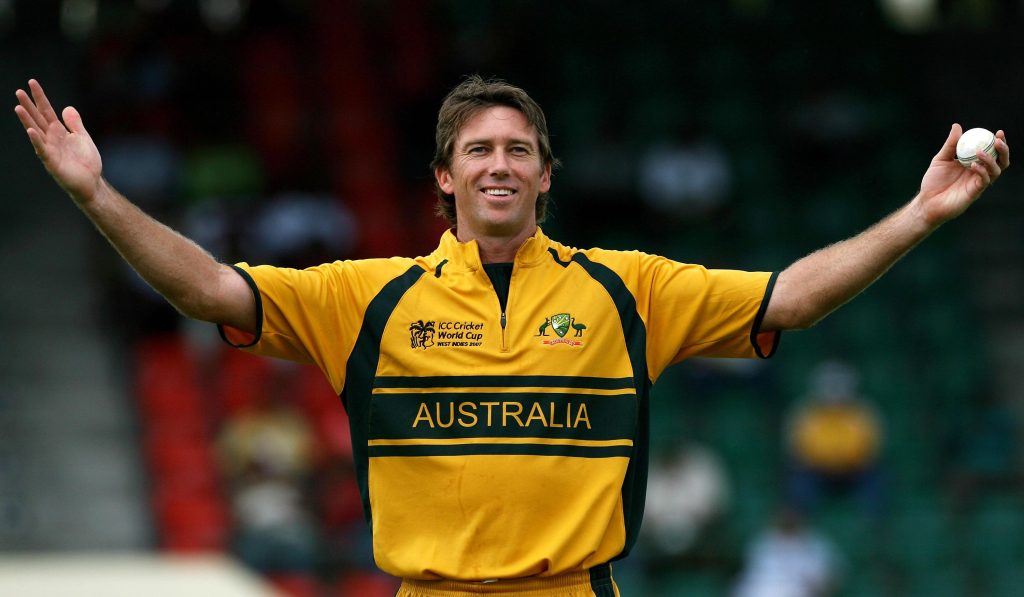 Glenn McGrath is an Australian former international cricketer who spent 14 years on the field. Glen McGrath was a fast-medium pace bowler who was regarded as one of Australia's greatest bowler in terms of international cricket of all time from the mid-1990s to the late-2000s, and a major contribution to Australia's dominance of world cricket.
Most Accurate Line in Cricket History
Glen McGrath was known for keeping a precise line and length throughout his career, allowing him to be one of the most efficient and effective fast bowlers of his era. McGrath is the second most successful fast bowler of all time, after James Anderson, in terms of total career wickets taken. He is ranked seventh among all bowlers. He also holds the record for most one-day international wickets (381) and the most wickets (71) in the Cricket World Cup.
McGrath had an impressive bowling average of 22.02 in terms of ODi cricket and is regarded as the best odi bowler till date.
McGrath was a member of two tenth-wicket partnerships that contributed 100 runs or more, the only bowler to achieve like this was Nathan Astle of New Zealand.
McGrath's 7 for 15 against Namibia was the highest bowling stats in a World Cup match and the second-best in all ODIs at the time of his retirement. He also held the record for the highest wicket taker in a World Cup edition (26 in 2007) until Mitchell Starc smashed it in 2019.
McGrath earned the record for having scored more ducks in Test cricket than any other Australian batsman after being dismissed for a duck in the fourth test of the 2006–2007 Ashes series.
3) Dale steyn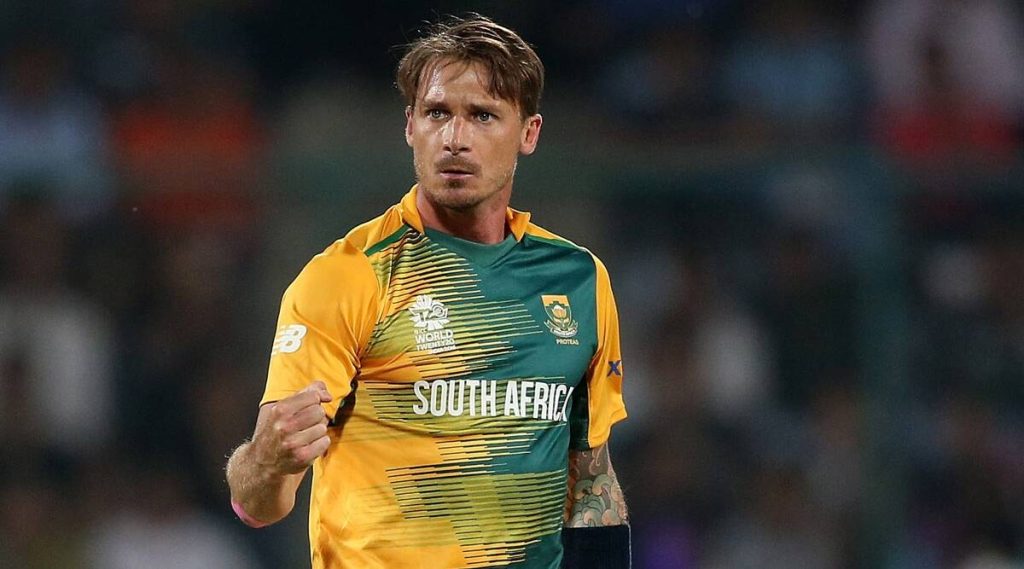 Dale Steyn is a former professional cricketer from South Africa who played for the national team. He is widely considered as one of the all-time great fast bowlers and the best Test bowler of his generation. Steyn took 78 wickets at an average of 16.24 during the 2007–08 season, earning him the ICC 2008 Test Cricketer of the Year Award.
In the Wisden Cricketers' Almanack of 2014, he was named one of the Wisden Cricketers of the Year in 2013 and the Wisden Leading Cricketer in the World for the year 2013. At the conclusion of the decade, he was listed in Wisden Cricketers of the Decade. At the conclusion of the decade, he was also named to the ICC Test Team of the Decade.
The Steyn Gun
In the Wisden ' Almanack of 2014, he was named one of the Wisden Cricketers of the Year in 2013 and the Wisden Leading Cricketer in the World for the year 2013. At the conclusion of the decade, he was listed in Wisden Cricketers of the Decade. At the conclusion of the decade, he was also named to the ICC Test Team of the Decade.
Steyn Gun was the best bowler ever produced by South Africa. He was a fearsome fast bowler whose bowling performances made the batsman feel his ball as virtually unplayable. The opposition's stump were never safe when the ball was being bowled by Steyn Gun.
2) Shane warne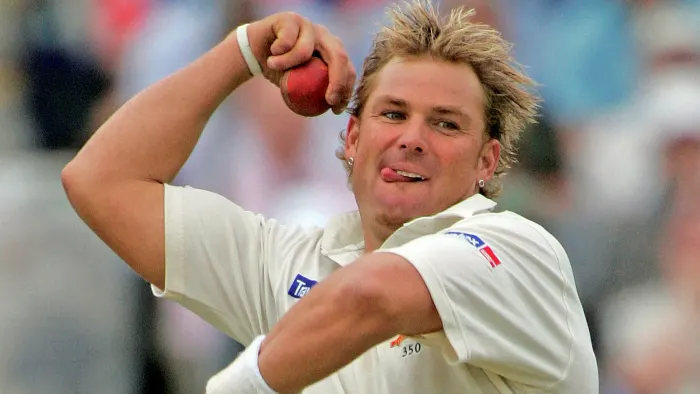 Shane Warne is an Australian cricket commentator and former international cricketer who captained the Australian national team in One Day Internationals (ODI). Widely considered one of the greatest bowlers in history of the game.
Warne, a good lower-order batsman and the greatest leg spinner, is also the only player in Test history to reach more than 3,000 runs without scoring a century. Off the field, his career was marred by scandals such as a ban from cricket for testing positive for a forbidden drug, accusations of bringing the game into disgrace by receiving money from bookies, and sexual transgressions.
The Master of Leg Spin
After a shaky start to his Test career, Warne changed the game with his mastery of leg spin, which many cricket fans had come to see as a dying art due to its extreme difficulty in execution. Despite his on-pitch and off-pitch issues, Warne's position in cricketing history is ensured by the fact that he reversed the dominance of fast bowlers that had existed for two decades prior to his debut.
Before retiring from cricket, Warne was also a part of the T20 format. IT was of no surprise that his leg spin was still unplayable by the batsmen.
1) Muttiah muralitharan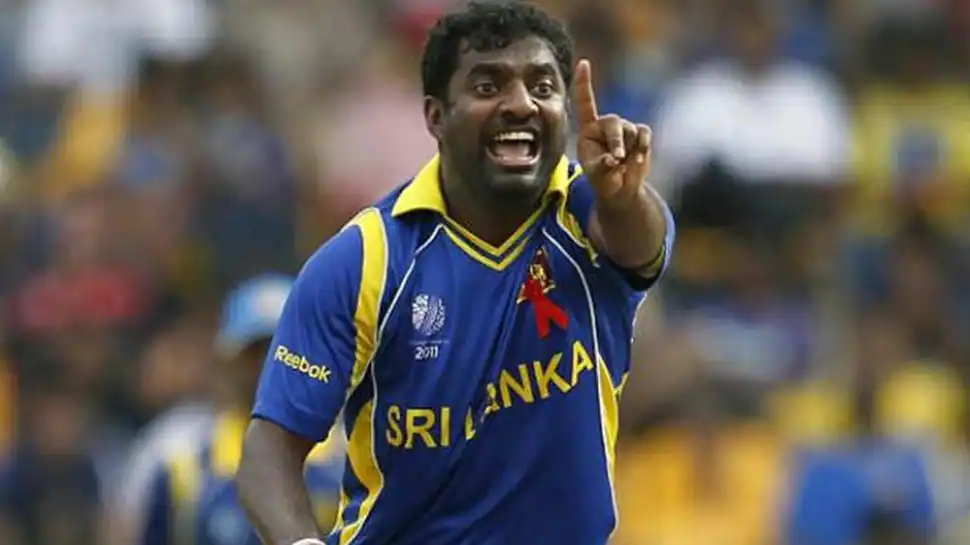 Deshabandu Muttiah Muralitharan is a former professional cricketer, businessman, and ICC Cricket Hall of Fame member from Sri Lanka. Murali is widely recognised as the finest and most successful bowler to ever play international cricket, averaging almost 6 wickets per test match. He is the first bowler in history to have taken 800 test wickets and 530 or more ODI wickets. He has taken more wickets in international cricket than any other bowler as of February 2022.
Muralitharan was undoubtedly an unspectacular sri lankan and the greatest off spinner in the history of the game. His incredible presence and the ability to spin the ball from the off stump was something out of this world. He was undoubtedly one of the best bowlers in the history of the game.
The debate surrounding Muralitharan's bowling action dogged his international career. Umpires and others of the cricket community have questioned his bowling motion on several occasions due to an odd hyperextension of his congenitally bent arm during delivery. Muralitharan's action was cleared by the International Cricket Council in 1996 and again in 1999 after biomechanical examination under simulated playing circumstances.
Muralitharan held the number one spot in the International Cricket Council's player rankings for Test bowlers for a record period of 1,711 days spanning 214 Test matches in his test career. The only bowler to hold this record.
In 2002, Wisden's Cricketers' Almanack named Muralitharan the best Test match bowler, and in 2017, he became the first Sri Lankan player to be inducted into the ICC Cricket Hall of Fame. In 2017, he was named Ada Derana Sri Lankan of the Year.
Get More Cricket Related News on Sportslibro.com