Roman reigns wife: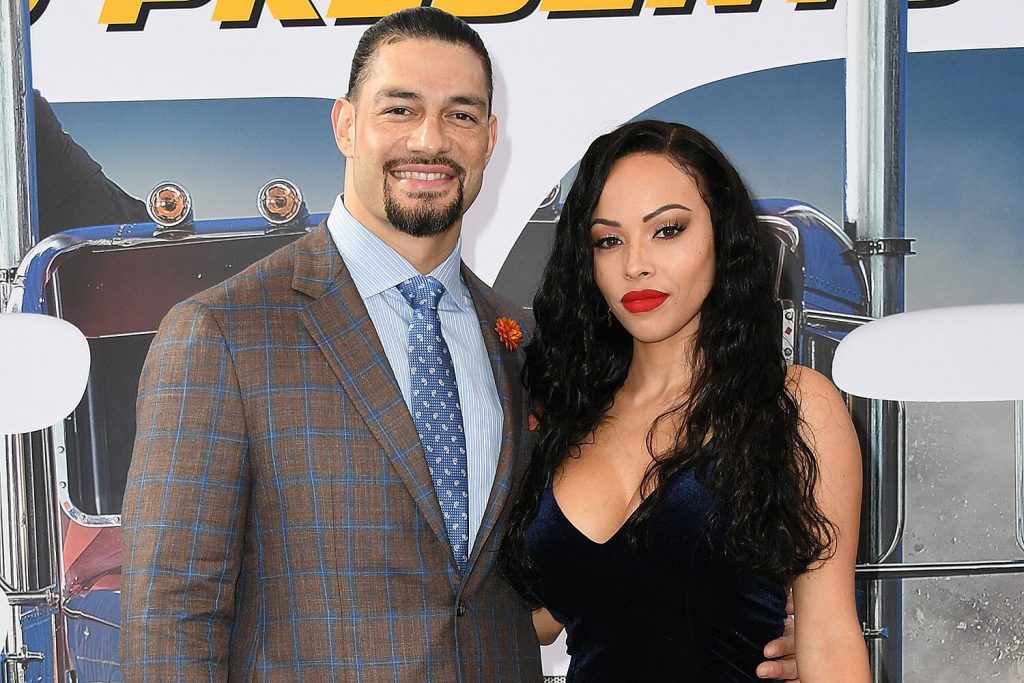 Roman Reigns is an American Professional wrestler and is best known for his present spell at the WWE Smackdown events. The WWE superstar Roman Reigns has been an inspiration to a lot of aspiring youngsters who are planning to take up a career in professional wrestling. Roman Reigns is one of the greatest champions in WWE history who has held the WWE world heavyweight championship three times and the WWE Universal Championship twice.
Roman Reigns is also a one-time WWE United States Champion, a one-time WWE Intercontinental Champion, a one-time WWE Tag Team Champion (along with Seth Rollins), the 2015 Royal Rumble winner, and the 2014 Superstar of the Year. Unexpectedly, Roman Reigns tied the WWE record for most eliminations in a Survivor Series match with four in the 2013 event and also previously held the record for most eliminations in a Royal Rumble match with 12 in the 2014 event.
The WWE superstar, throughout his life, had only one woman as his better half whom he met during his college days at the Georgia Institute of Technology, Galina Joelle Becker. Roman Reigns wife Galina Becker met Roman Reigns when he had nothing and stayed with him until he got everything he deserved. Roman Reigns wife Galina Joelle Becker got back everything she deserved for staying with Roman, a small family which is her world.
About wwe superstar Roman Reigns: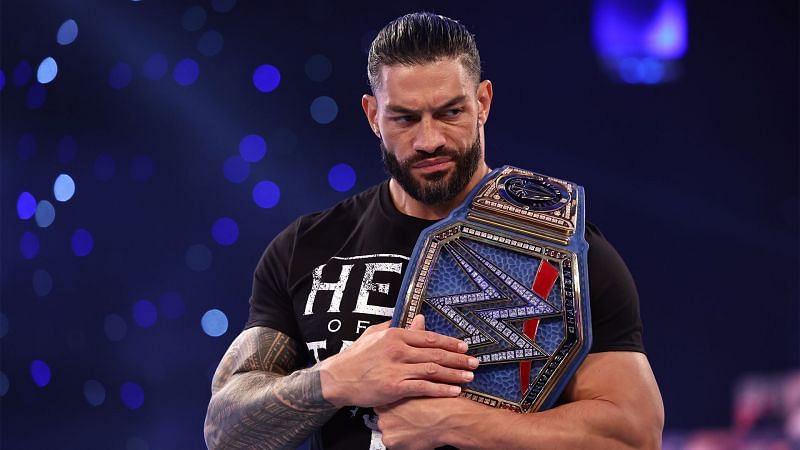 The birth name of Roman Reigns was Leati Joseph Anoa'i. Leati Joseph Anoa'i was born on 25th May 1985 in Pensacola, Florida, U.S. Roman was born in a wrestling family and is part of the Anoa'i wrestling family, which also includes his father Sika Anoaʻi, brother Rosey, and cousins The Usos, Yokozuna, Rikishi, Umaga, and The Tonga Kid. As a kid, Roman's father always tried him to persuade Roman Reigns to get into the family business of wrestling but Roman on the other hand was keen on making a career in professional football.
Roman Reigns Football career: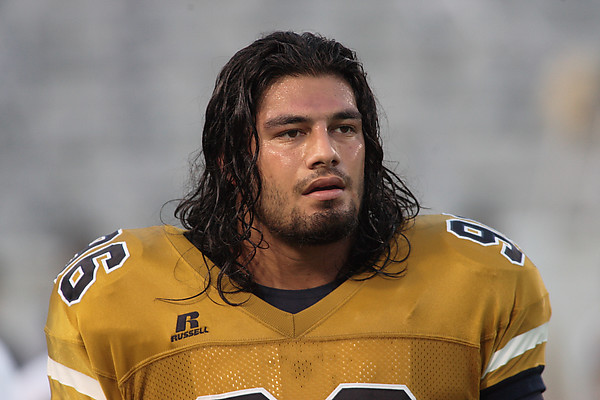 Roman Reigns played football for three years at Pensacola Catholic High School and one year at Escambia High School. He was a great defender and soon in his senior year, he was named Defensive Player of the Year by the Pensacola News Journal. Roman Reigns then attended Georgia Institute of Technology, where he was a member of the Georgia Tech Yellow Jackets football team along with Calvin Johnson, who later became a wide receiver in the National Football League (NFL). 
Roman was a regular starter in the team during the beginning of his sophomore year and was finally the team captain as a senior. It was a great honor for Roman as he was named to the first 11 at the Atlantic Coast Conference (ACC) in 2006 and earned All- ACC first-team honors with 40 tackles, two recovered fumbles, and 4.5 sacks, a stat which was totally unbelievable by the crowd.
It was a matter of shock when Roman went on undrafted during the 2007 NFL draft with such a great record at the ACC. However, Minnesota Vikings decided to sign the undrafted star but soon had to release him as he was suffering from Leukemia. Soon in August 2007, he was signed for the NFL by the Jacksonville jaguars but due to physical and health issues was released again just a week before the start of the NFL. It seemed that Roman had to wait for some more time to get into the professional pitch.
Finally, in 2008, Roman Reigns was signed by the Edmonton Eskimos at the Canadian Football League (CFL). He was given shirt number 99. Roman played for one season with the Eskimos and was seen in five games, of which he started three. The most notable game for him came against the Hamilton Tiger-Cats in September, where he tied for the team lead with five tackles and had a forced fumble. He was released by the Eskimos on November 10. It was at this moment that he decided to end his football career and focus more on the family business of wrestling.
Meeting Galina Becker: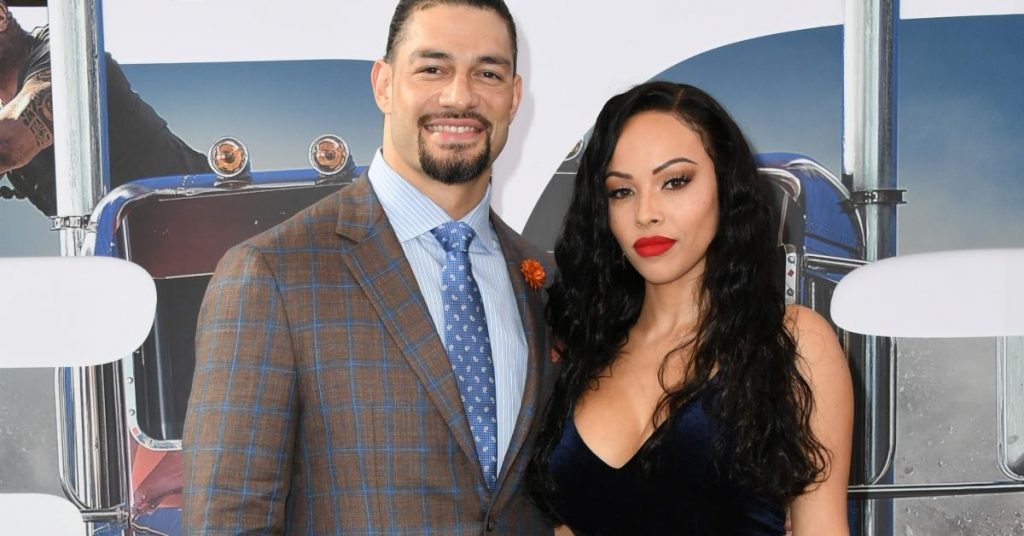 Roman Reigns wife Galina Becker met Roman Reigns for the first time at the Georgia Institute of Technology. At the Georgia Institute of Technology, Roman was majoring in Management, and on the other hand, Galina Becker was also majoring in management. The college sweethearts soon started dating. Roman used to go and watch the athletic events of Galina becker and Galina Becker on the other hand frequently used to go and watch the football matches of Roman. After the college sweethearts started dating, they were the number one fan of each other at every point.
About Galina Joelle Becker: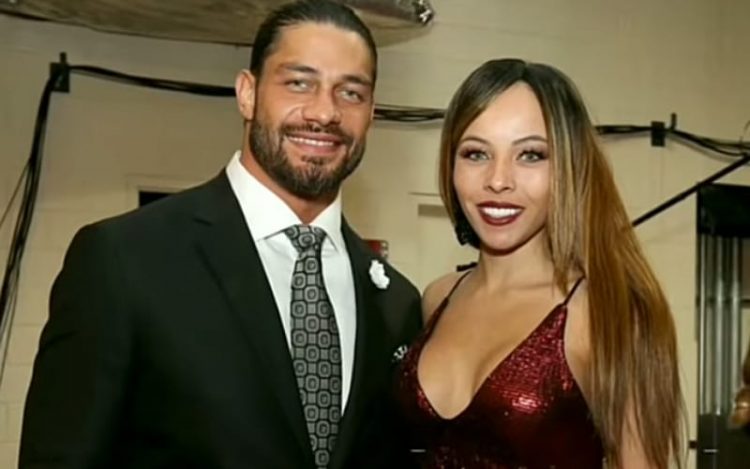 Roman Reigns Wife Galina Joelle Becker was born on the 11th March 1987 in Jacksonville, Florida USA, and is a native American Citizen. Galina Joelle Becker is the daughter of Mildred Becker and Kevin Becker. Galina Becker had spent her childhood in Jacksonville and has two siblings, Molisa Cooper and Undine Becker. When it was time for high school, the family decided to make a move to California, where Roman Reigns Wife Galina Becker attended Mt. Pleasant High School in San Jose. During the school years at Mt. Pleasant High School of Galina Becker, Galina went on to showcase her interest in sports and participated in the long and triple jump events.
Roman Reigns Wife Galina delivered the valuable performer-winning performance and went on to receive the Most Valuable Performer award for three years and has even set the Central Coast Section record for the longest triple jump with a mark of 40'5''(19.4m). The Central Coast Section Record holder, following her matriculation, Galina Becker decided to enroll at Georgia Institute of Technology to study management where she met her first husband Reigns. Galina Becker continued to be an active athlete at the university, participating preferably in the 100m high hurdles and long jump, among other events.
After graduating, Roman Reigns Wife Galina Becker decided to pursue a career away from management for what she studied but instead decided to become a fitness model. Inspired by sports, Galina continued her outdoor activities with a few gym visits over the week. Roman Reigns Wife Galina Becker quickly rose to fame and posed for several renowned photographers, including Michael Krinke among others. Till today, Michael Krinke considers Galina Becker as one of the best fitness models he has ever worked with. Galina Becker becoming a fitness model after studying management was somehow unexpected. Galina Becker is more famous for being Roman Reigns' wife rather than being a fitness model.
Roman Reigns entrance in wwe:
After retiring from football, Reigns decided to enter the family business of wrestling. When he shared the thought with his friends, they all took it as a joke but Galina Becker was the only one and promised him that even if the world turns its back on him, she would be still there and be his number 1 fan. Roman Reigns signed a contract with WWE in 2010 and was later assigned to their developmental territory Florida Championship Wrestling (FCW). He made his televised debut on August 19, 2010, using the ring name Roman Leakee, in a 15-man battle royal, which was won by Alex Riley. It was a whole new world of wrestling for Roman Reigns.
Finally, on 18th November 2012, Roman Reigns made his roaster televised debut at the Survivor Series pay-per-view event alongside Dean Ambrose and Seth Rollins, assaulting Ryback during the triple threat main event for the WWE Championship which allowed CM Punk to retain his title, thus establishing themselves as villains. The trio of Roman Reigns, Seth Rollins and Dean Ambrose declared themselves as The Shield and vowed to rally against "injustice". Soon by 2013, The Shield gained a lot of popularity and even the crowd had started to love the Shield.
In August 2013, The Shield began working for a chief operating officer of WWE Triple H and The Authority. The association of the shield with The Authority led them to begin a rivalry with Cody Rhodes and Goldust. At Battleground on 6th October 2013, Reigns and Rollins were defeated by Rhodes and Goldust in a non-title match. 
Reigns and Rollins later went on to lose the tag team titles to Rhodes and Goldust in a no disqualification match on the October 14 episode of WWE Raw, following interference from Big Show. The interference by Big show turned out to be brutal as later at Hell in a Cell on October 27, Reigns and Rollins failed to regain the championship in a triple threat tag team match.
Betrayal by Seth Rollins:
In January 2014, the Shield competed in a six-man tag team match against Daniel Bryan, Sheamus, and John Cena, with all three members of the winning team qualifying for the Elimination Chamber match for the WWE World Heavyweight Championship. The Shield lost via disqualification after The Wyatt Family led by Bray Wyatt interfered and attacked Cena, Bryan, and Sheamus. A six-man tag team match pitting The Shield against The Wyatt Family on 24th February 2014 at the Elimination Chamber pay-per-view was arranged, in which The Shield lost after Ambrose abandoned the match mid-way through.
Later in March 2014, The Shield did something which was totally unexpected, that is it went on to attack Jerry Lawler, only to attack Kane instead, turning all three men face in the process. This led to a match between The Shield and Kane and The New Age Outlaws which included Billy Gunn and Road Dogg at WrestleMania XXX. During the match, The Shield went on to win it with utter ease. 
The feud with Kane also prompted The Shield to sever ties with The authority, who reformed Evolution to counteract them. The Shield then went on to defeat Evolution at both Extreme Rules in May and Payback in June. On the Raw following Payback, Rollins turned on The Shield to betray them and aligned himself with The Authority. This broke the Shield as only Reigns and Dean remained. The Shield breaking and Rollins betraying was never expected by anyone even in the wildest dreams.
Fight with Leukemia: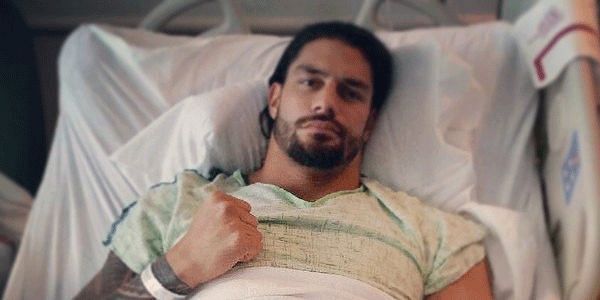 On 18th December 2016, Reigns faced Owens for the Universal Championship but lost through disqualification when Chris Jericho went on to attack Owens and prevented Reigns from winning the match and the title. On the January 9, 2017 episode of WWE Raw, Reigns lost the United States Championship to Jericho in a handicap match also involving Owens ending his reign at 106 days.
Finally in October 2018, Reigns got a chance to win the title in a triple threat match between Reigns, Strowman, and Brock Lesnar. On 22nd October 2018, Reigns had to withdraw from the WWE universal championship match after it was found that his Leukemia had returned after 11 years. Previously he suffered from Leukemia when he was a football player for the Minnesota Vikings.
His fight with Leukemia was a difficult one. Roman had lost all his hopes in life when the Leukemia returned but he was held strong by his wife Galina Becker who just refused to give up. This time Roman Reigns and Galina Becker had to team up for the greatest match of their life which was outside the ring and was far more difficult than wrestling. Roman and his wife Galina Becker went on to make the biggest breaking news when it was found that the couple had won their fight against Leukemia.
Soon after Roman's return at Super ShowDown in June 2019, Reigns lost to McMahon after interference from McIntyre. Three weeks later, Reigns went on to defeat McIntyre at Stomping Grounds, despite interference from McMahon. Soon after that Reigns started a feud with King Corbin in November 2019 and late on January 2020, Reigns went on to defeat him in a falls count anywhere match, after receiving assistance from his first cousins The Usos.
The Couple: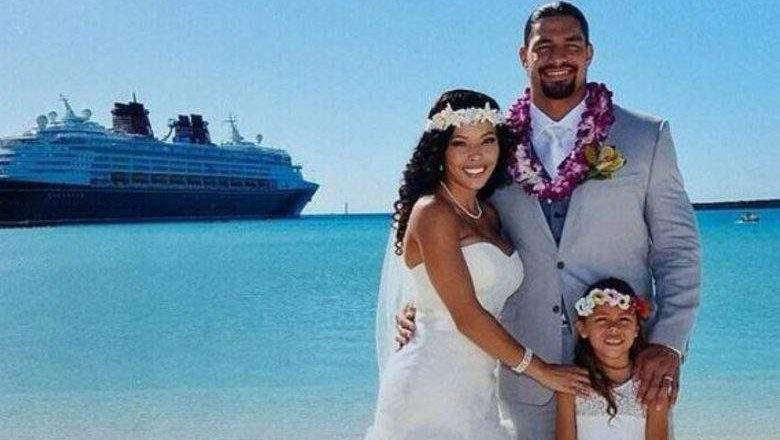 Finally, after dating since college days, Galina and Roman got engaged in 2012 during a private ceremony. The fans were delighted to see the romantic and love side of their favorite wrestler. Before getting engaged in 2012, Galina gave birth to their first child, a beautiful daughter Joelle. Their first child, daughter Joelle was considered as a pilar to their relationship by Galina.
Finally, in 2014, Roman Reigns and Galina Becker decided to get married on a private island which was owned by Disney, named as the " Castaway Cay". At the private island, the main wedding song for Roman and Galina's marriage was from a Disney movie " A whole new world " by Aladin. The event was attended by their little daughter Joelle as well. The fitness model was now considered as Roman's wife Galina.
Roman's wife Galina gave birth to her first set of twins sons in 2016. Even when the second time she got pregnant, she gave birth to another set of twins boys in 2020. After the birth of the second set of twins in 2020, Roman Reigns said that he would be a papa bear for his five kids now. Both the set of twins now call Roman Reigns as papa bear.
Galina Becker met Roman Reigns during her college days and is staying by his side till today. From winning triple jump events to winning the fight against Leukemia or from establishing triple jump records to becoming a fitness model, both of them only had each other by their sides always holding each other's hand to motivate each other. Becker never let Roman feel alone as Roman could always find Becker by his side.
Be it the worst day or the best day, Becker was the only one who treated him the same as Becker made sure that the love between them never depreciated and only kept on increasing with every passing day. When Roman Reigns entered the film industry, people did not like it but Galina Becker was always in support of him and soon Roman started delivering hits after hits and even worked in the fast and furious series. Galina Joelle Becker will always be considered as the lifesaver and the life changed for Roman Reigns. Galina Joelle becker is the woman in Roman's life whom he can never replace, even if he tries to replace her, he won't find someone like her.
Get More WWE Related articles on Sportslibro.com