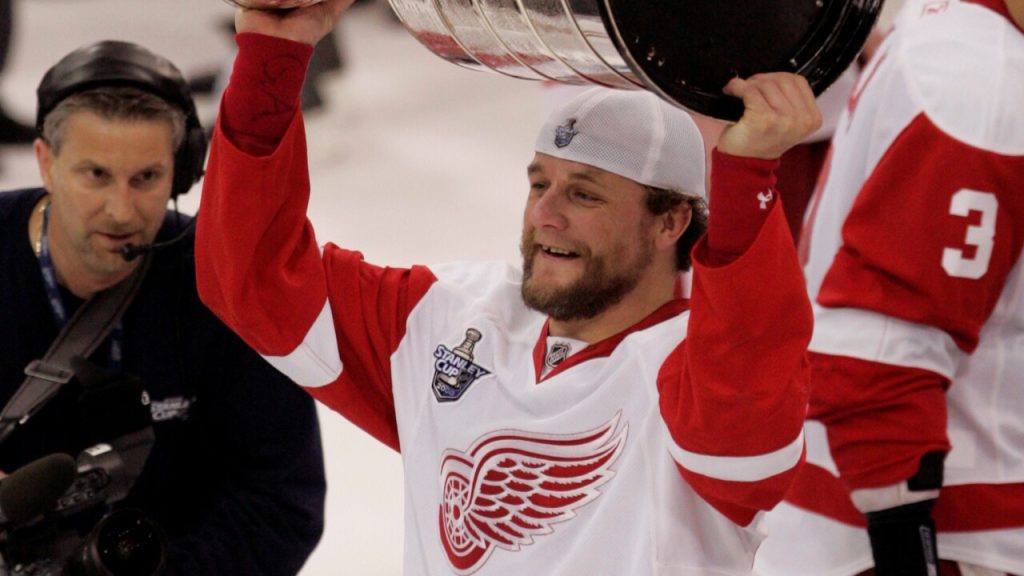 There are few hockey players as iconic and well-remembered as Darren McCarty. During his time as an enforcer for the Detroit Red Wings (and various other pro teams, of course), McCarty took his team to victory no less than four times for the Stanley Cup. That's an achievement worth commemorating, but it's only a snippet of what we actually know about McCarty and his life both on and off the ice.
In an interview with the folks at Betway, Darren McCarty said that you must "never look ahead" in hockey, and that getting the first game doesn't mean anything when there are several more to play. In the spirit of that comment, we want to look back at McCarty's life and career. Who was he before he hit the ice? What made him such a legend, and what struggles did he have over the course of his career? Without further ado, here's our career retrospective of hockey icon Darren McCarty.
Early years
We don't know too much about Darren McCarty's fairly uneventful childhood. He was born in 1972 (on April 1st, no less!) in British Columbia, Canada, and spent most of his younger years living in the rather unassuming little town of Leamington. With a population of only 27,600, Leamington might seem like an unlikely breeding ground for one of ice hockey's heroes, but that's where McCarty spent his formative years.
For much of his youth, McCarty played for the OMHA (Ontario Minor Hockey Association) Southpoint Capitals teams, graduating to the Belleville Bulls in 1989. He remained with the Bulls until 1992, managing to rack up an impressive 55 goals and being crowned captain of the team between 1991 and 1992. McCarty even managed to score the Jim Mahon Memorial Trophy for his achievements.
The Red Wings call
In 1992, when McCarty's professional career was just beginning, he was drafted 49th overall in the second round during the 1992 NHL Entry Draft, joining the Detroit Red Wings. During his rookie season, McCarty managed to score 26 points, and he was with the Red Wings when they scored the Central Division title that year. Between 1992 and 1996, McCarty's career was relatively uneventful, if spectacular in terms of his play quality.
It's in the year 1997 that things really start to kick off. This is when McCarty makes a name for himself with an iconic Stanley Cup-winning goal in the 1997 final. McCarty managed to sweep his way past defenseman Janne Niinimaa (whose name has now gone down in ignominy) and goalie Ron Hextall in order to clinch the Red Wings' first Stanley Cup victory in a staggering 42 years.
From that point onwards, McCarty's name was cemented in the history books. Along with Kris Draper and Kirk Maltby, McCarty made up the infamously-named Grind Line, which was a forward line modelled by coach Scotty Bowman. The Line was a fiercely fast, brutally efficient unit that took the Red Wings to victory after victory, and McCarty was right there to see it all.
Another of McCarty's most iconic moments on the ice is his confrontation with Claude Lemieux during a match against the Colorado Avalanche. McCarty delivered an astoundingly powerful punch to Lemieux, breaking up a brawl between the two teams, and punished Lemieux relentlessly. He also went on to score the goal that crowned the team victors in a 6-5 result.
Further career moments and retirement
Unfortunately for McCarty, while his hockey career was taking off, he was living the lifestyle expected of a player as well-recognised as him. As you'll almost certainly know, sports and athletic disciplines in general require a well-honed physique, but McCarty just wasn't looking after himself. He was able to keep his worst excesses in check for the most part, but occasionally, he found himself struggling with his demons.
After McCarty's almost unbeatable run with the Red Wings, he found his career drifting somewhat. He played for the Calgary Flames between 2004 and 2005, moving to the Kris Draper-owned Flint Generals in 2007 as part of a major comeback. Eventually, McCarty was re-signed to the Red Wings in 2008, but this was to be his final hurrah in professional hockey.
In 2009, he was reassigned from the Red Wings team to the Grand Rapids Griffins, for whom he went on to score 5 goals and 6 assists during the 2008-2009 season. His numbers dwindled as he aged, and he became less of an asset. Eventually, the Red Wings recalled him, and he retired in late 2009 with a formidable career of which any professional player would be proud.
Substance issues and advocacy
McCarty has been active off the ice as well as on it. He's spoken at length about his substance issues; during his career, he was living the life expected of a rock star player, a lifestyle that quickly caught up to him after he retired in 2009. It was at the moment that he was 70 pounds overweight and his "organs were going to explode", according to Fox17, that he decided to make a change.
Now, McCarty advocates for the use of medical marijuana, which he credits with saving his life at his worst moment. He's a marijuana entrepreneur, selling a range of products where the substance is legal. He also makes a living commentating on hockey games and offering his services as a pundit, so he's far from uninvolved in the world of hockey. It's fair to say that McCarty has had one of the most illustrious hockey careers in the sport, so we're glad he managed to pull himself back from the brink!