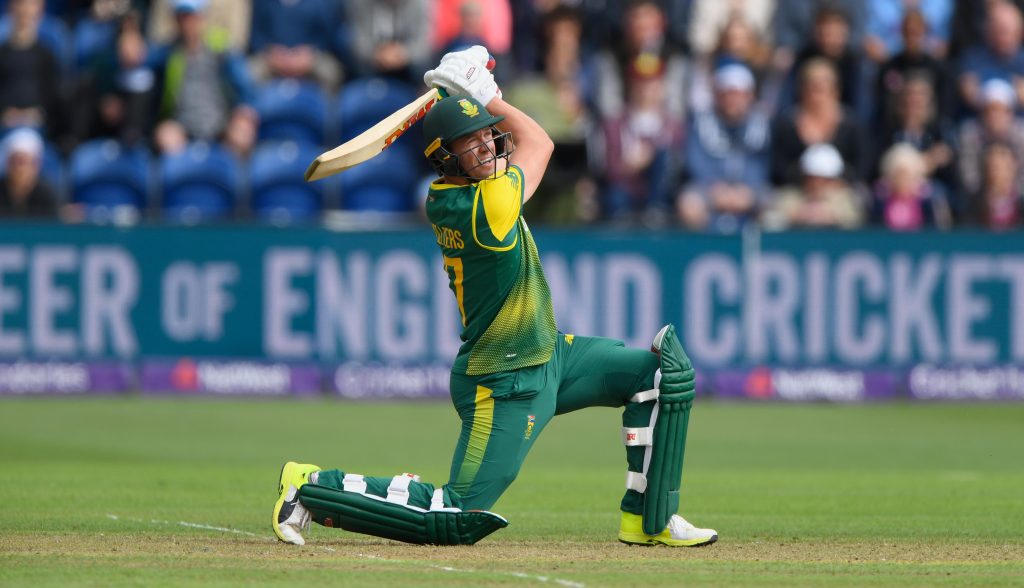 AB de Villiers is a South African cricketer, born on 17 February 1984. His full name is Abraham Benjamin de Villiers and he is a right-handed wicket-keeper batsman, best known for his explosive and innovative cricketing shots. Most versatile batsmen, across all formats, de Villiers has the ability to take any bowling attack apart with his wide array of strokes on either side of the wicket.
Abraham Benjamin de Villiers was born in Warmbad, South Africa. He was quoted as saying, "really relaxed lifestyle up there, where everyone knows everyone", about his native birthplace. De Villiers completed his high school education at the prestigious Afrikaanse Hoer Seunskool at Pretoria along with his teammate Faf du Plessis. As the son of a Rugby union player, he was cheered by his father (who was a doctor) to play sports as a child. 
International Career:
Ab De Villiers has scored 22 Test and 25 ODI centuries. He scored his first Test century against England in 2005 and his first ODI century against West Indies in 2007.
Ab de Villiers Biography–Test Career: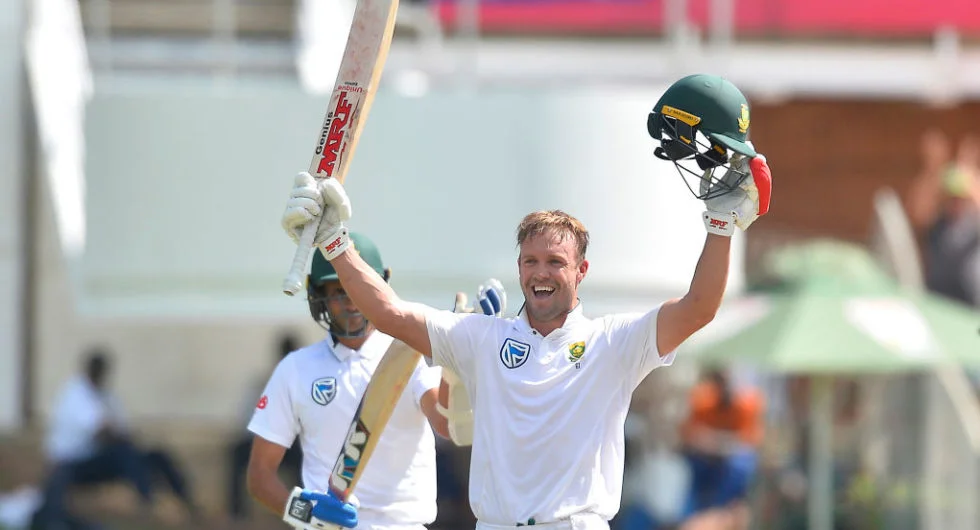 In 113 Tests, AB De Villiers has amassed 8690 runs at an average of 50.82. It includes 45 half-centuries, 22 centuries, and two double-centuries. His highest score of 278* came against Pakistan in Abu Dhabi.
As long as the Test career of Ab de Villiers is concerned, he is one of the cricketers who made his international debut in Test Cricket at the age of just 20 years. The match was against England on December 16, 2004. He opened the batting and made a solid impression and in the second test, he also got the role of a wicket-keeper, instantly. The match-saving batting display in the second test gave him an opportunity to bat in the top order and also, cemented his place in the team.
During the tour of Australia in 2005, he became the second-youngest and second fastest South African to reach 1000 Test runs after Graeme Pollock. 
Ab De Villiers has scored over 8000 runs in Tests with a batting average of over fifty, including 22 centuries and 46 fifties. On April 4, 2008, Ab de Villiers became South Africa's first to score a double century against India and scored his top score of 217 runs. Ab De Villiers gained a lot of popularity by this time.
He also has the record for playing most Test inning without getting out in zero but, in November 2008, after a long 78 innings, he got out without scoring. In their Test career, he also has the record of the second-highest individual score by South Africa's batsman (278 not out). He holds the fastest hundred by a South African in Tests. He stepped down from Test captaincy in December 2016 due to an elbow injury that kept him out of the team for a long period.
With a match-winning knock of a century in the first test in Perth, de Villiers helped South Africa to chase down the 414 runs target against Australia with six wickets in hand. It was a memorable moment as South Africa registered their first Test victory in Australia in 15 years and what talked about most was the shifting of the balance of power in world cricket after over a decade-long of Australian dominance.
In the 2011-12 South African home summer series, de Villiers scored a century against Sri Lanka in the third and deciding test of the series and he was named the Player of the Series with 353 runs at an average of 117.66. 
On 10th July 2012, de Villiers was appointed as full-time wicket-keeper after Mark Boucher's retirement and on 4th February 2013, de Villiers equaled the record of 11 dismissals in a match, previously held by Jack Russell. In the same match, he also scored 103 runs off 117 balls and became the first wicket-keeper to score a century and claim 10 dismissals in a test.
On 18th January 2017, de Villiers was ruled out from test matches and played again only in December 2017. He scored his 22nd Test century against Australia in 2018 as he smashed 126 runs off 146 balls in the first innings. His innings helped his team win the match by 6 wickets.
ODI Career: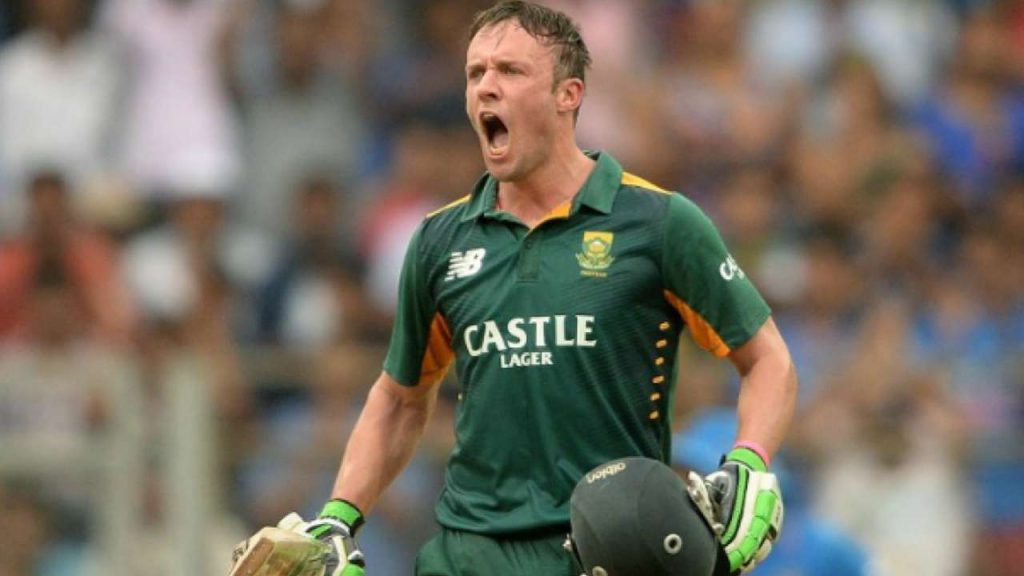 Ab De Villiers has 9577 ODI runs to his name in 228 matches at an average of 53.5. He has scored 53 half-centuries and 25 centuries. His highest score is 176, scored against Bangladesh at Boland Park, Paarl.
AB de Villiers played his first ODI match in early 2005. As is the case in his Test career, de Villiers has scored more than 8000 runs in ODI Cricket and the batting average in ODI is over fifty, like in Test Cricket, similar average in both formats. He still has the record for the fastest ODI Century which came in just 31 balls and also, holds the record for the fastest ODI 50 and 150. He holds the records for the fastest 50 (16 balls), 100 (31 balls) and 150 (64 balls) of all time in One Day Internationals by any batsmen.
In the ODI team, he has played a similar role as the Jonty Rhodes, frequently opening the innings and later, he was given the middle-order batting role. He got selectors' attention to be picked up in the regular ODI team when he produced his then highest score of 92 runs not out in Winter Series in 2006 against India. His inning included 12 fours and one six and played 98 balls.
He scored his maiden ODI Century in the Super 8 game against West Indies on April 10, 2007. In that match, he scored 146 runs from just 130 balls and the inning includes 5 sixes and 12 fours.
AB de Villiers scored two consecutive centuries in the World Cup of 2011 and became the first South African to do so in a single World Cup and the fifth batsman to do so after Mark Waugh, Saeed Anwar, and Rahul Dravid and Matthew Hayden. With that feat, he also became the 16th batsman to score two or more centuries in a single edition of the World Cup.
As far as his strike rate is concerned, de Villiers has the strike rate of 136.73, the highest among South African batsmen, who have ever scored World Cup centuries. In the list of South African players with most match awards in World Cups, de Villers in at joint second list with Jacques Kallis. 
South Africa registered a big victory against Sri Lanka, which is a record in Sri Lanka's history, a defeat of 258 run in Paarl on 11 January 2012. AB de Villiers was leading South Africa in that series, the first time as an ODI Captain. It was also the largest margin of victory in ODI, by runs, between two test-playing nations. South Africa won that series and de Villiers was the Player of the Series with 329 runs at an average of 109.66. 
On 18th of March 2013, Hashim Amla and de Villiers shared the record highest third-wicket partnership during the third ODI against Pakistan at Johannesburg. They scored 238 runs together and de Villiers scored 12 fours and 3 sixes and 128 runs in total.
AB de Villers was one of the top performers in 2015 World Cup with 482 runs at an average of 96.0 and a strike rate of 144.0. On 27 February 2015, De Villiers scored 162 runs off 66 balls in a match against the West Indies in Pool B, leading South Africa to their second-highest total in World Cup history (408), at Sydney Cricket Ground and became the batsman to score fastest 50, 100 and 150 in ODI with that feat and record.
In this World Cup, under the captaincy of De Villiers, South Africa qualified for the semi-finals of the World Cup but lost to New Zealand in the match. He was ranked No. 1 in the ICC batsman rating in ODI at the end of the World Cup tournament, and No.3 in the ICC Test batsman rating. He was also named in the Team of the Tournament for World Cup 2015 by the ICC.
T20I Career: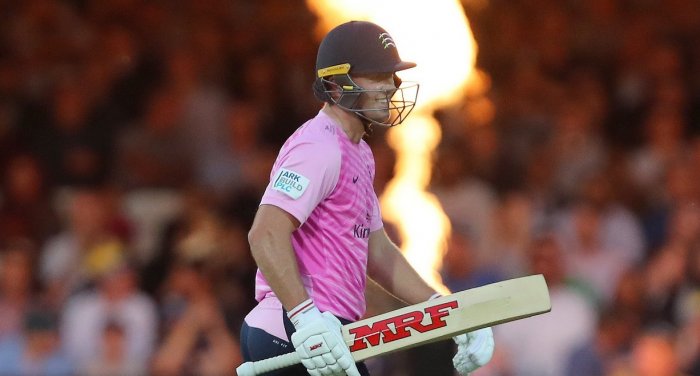 In 78 T20Is, he has scored 1672 runs at an average of 26.12 and a strike rate of 135.17. He has scored 10 half-centuries. His highest T20I score is 79* against Scotland. AB de Villiers made his T20 International debut in 2006.
An announcement was made by the then South African Coach Gary Kirsten on 6th June 2011 that AB de Villiers was elected as South Africa's new captain for limited over cricket. Responding to the announcement, de Villiers said, "I'm very excited but I'm also inexperienced. But I've learned a lot in the last seven years from an unbelievable captain," he added, "It's a big responsibility, but there'll be a fresh look in the side, which is good."
AB de Villiers scored the fastest T20I fifty by a South African, in just 21 balls, on 21st February 2016 and finished the innings with 79 runs in just 29 balls as South Africa cleanly swept the T20I series.
Domestic Career:
In domestic cricket, de Villiers first played for Northerns, making his debut for the team in the 2003/04 Supersport Series. Later, the team merged with Easterns to form the Titans side for which de Villiers then played in the 2004/05 season. As long as his international cricket is concerned, he has played only occasionally for the team since 2005, making a total of only nine first-class, 20 List A and 24 Twenty20 appearances for the team.
Franchisee Career (T20): 
AB de Villiers has become one of the most successful batsmen in the Indian Premier League (IPL) since its inaugural season. At first he used to play for Delhi Daredevils, then he moved to Royal Challengers Bangalore (RCB) for US$1.5 million in the league's fourth season. Three of his four Twenty20 centuries have come in the IPL and, as of June 2019, he has already played in over 150 matches in the IPL.
He has played some match-winning knocks for RCB and has shown some destructive batting against bowlers, especially in the death overs. He has partnered with world's top-hitters like, Chris Gayle and Virat Kohli. These three were the most feared batsman in RCB team line-up until Gayle departed to Kings XI Punjab. 
Apart from IPL, AB de Villiers has played in countries and continents, like, franchise T20 cricket for Barbados Tridents, Tshwane Spartans, Rangpur Riders and Lahore Qalandars in leagues across the world. Following his retirement from international cricket, his future in T20 franchise leagues was uncertain but he announced and made his decision in July 2018 that he intended to continue to play in the IPL for "a few years".
Family: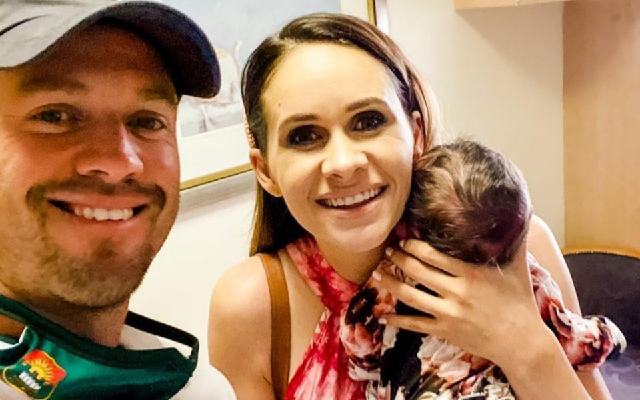 The South African cricketer proposed his girlfriend, Danielle Swart, at the Taj Mahal in 2012, after five years of dating and, later, they got married in March 2013, in Bela-Bela, South Africa. They have two sons together.

Abraham benjamin de villiers Retirement:
On 23 May 2018, AB De Villiers announced his retirement from all forms of international cricket through a video uploaded to Twitter, in which he explained his decision. One of the statements in his monologue was "I have had my turn, and to be honest, I am tired." Although he continued to play t20 cricket for a few more years and decided to continue playing Franchise cricket.
Before the start of the IPL 2022, Ab de villiers said now he is completely retired from all formats of the game and also from the Royal challenger's bang.
Get more cricket-related articles on Sportslibro.com