Christopher Henry Gayle is one of the strongest, most entertaining, and destructive players that has ever played the game of cricket. The level of power and energy he generates with his bat is unbelievable. He is one of the best T20 batsmen there ever was.
Chris Gayle Biography covers his whole career as one of the greatest cricketers.
Christopher Henry Gayle Family:
Christopher Henry Gayle was born on 21st September 1979 in Kingston, Jamaica. He hailed from a poor family as his father, Dudley Gayle used to be a policeman, and his mother, Hazel Gayle used to sell peanuts and snacks on the streets. He has 5 siblings, Wayne Gayle being the youngest.
Gayle married his long-time girlfriend Natasha Berridge in 2009. They also have a daughter named Blush Gayle.
Cricket Career
Early Career:
Chris Gayle studied at Excelsior High School. He was always determined to play cricket and therefore joined Lucas Cricket Academy in Jamaica rather than going to college for further studies.
Gayle claimed: "If I had not joined Lucas Cricket Academy I don't know where I would be today. Maybe on the streets"
He always used to be an opening batsman and performed well for the club at that position. At the age of 19, he made his debut in first-class cricket as he played his first match for Jamaica. It took him only 6 months to get selected for the West Indies team.
Test career: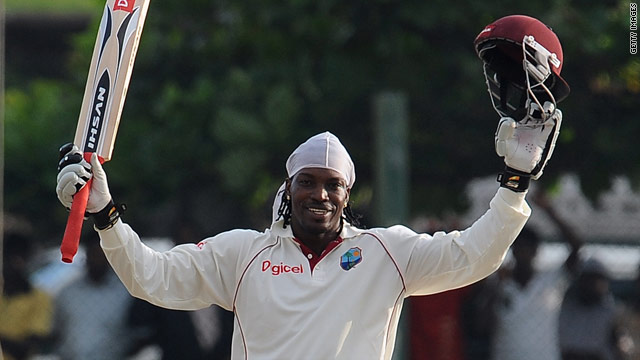 Chris Gayle debuted against Zimbabwe in 2000. It was not a great debut as he scored 34 runs in the Test match. First, four Test matches were the worst of his career as he scored only 59 runs and then was dropped for close to 6 months from Test. After his comeback in 2001, he scored a brilliant maiden half-century against South Africa before getting out to Jacques Kallis at 81 runs. 
He had to wait for 10 Test matches to achieve what every batsman dreams of achieving- A Test century for his country. Finally, in the 10th Test, he scored his maiden century against Zimbabwe. He went on to score a daddy hundred (175) and formed a record-breaking partnership of 214 runs with Darren Ganga.
In 2002, he scored his first double hundred in Test match cricket against New Zealand. The match was drawn but his innings is still remembered as he scored a destructive hundred and was also adjudged as Man of the Match.
He was also a part-time off-break bowler. He also has two 5 wicket hauls to his name in Tests. His best bowling performance came in 2004 against New Zealand where he picked up five crucial wickets and also scored a brilliant second inning half-century to win the match for the Windies.
He had become a consistent part of the West Indies cricket team. He was continuously scoring runs for the Windies. One of his best knocks during that period came against South Africa in 2005. South Africa had put on a mammoth 588 runs and looked in the driving seat in the match but Gayle had different intentions as he scored his first triple century (317) and saved his team single-handedly as the match was drawn. It was one of the best innings of Gayle's cricketing career not only because of the power-hitting but the patience and panache shown by him in that innings.
In 2010, Gayle scored his career-best 333 runs against Sri Lanka at Galle International Stadium and was also adjudged as Man of the Match for his mind-boggling innings. As years went by he started playing lesser Test cricket as he started becoming a T20 sensation.
He scored his final Test century in 2013 against Zimbabwe. He played his last Test match in 2014 against Bangladesh where he scored 64 and 9 runs in the first and second innings respectively.
Chris Gayle has played a total of 103 Test matches where he has scored 7215 runs at an average of 42.19. He has also picked up 73 wickets as a part-time bowler with best figures of 5/34 against England in 2004.
One Day International cricket: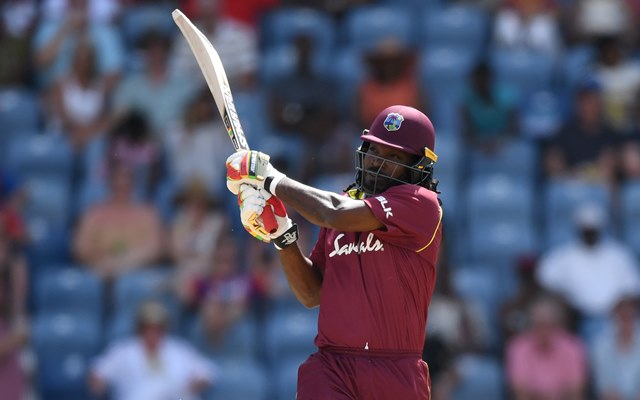 Chris Gayle debuted against India in 1999 which was not a great start for him as he got out at the score of 1 run as R.P Singh ripped his stumps apart. His first half-century came against Zimbabwe in 2000 when he won it for his team. 
Gayle like in Test cricket had to wait for a long time to score a century in One Day cricket too. He scored his maiden One Day hundred (152 runs) in his 32nd match which was against Kenya in 2001. Chris Gayle was always considered as an impact player but everyone knew that he has the ability to score big hundreds and take the match away from the opposition.
The year was 2002 and the Windies were touring India and that is when Chris Gayle absolutely unleashed himself. The first match was a sore one for him as he got early but who knew that he was ready to compensate for all his dull innings in the coming days. In the next 4 One Days, he ripped through the Indian bowling lineup as he scored 3 centuries and a half-century. The One Day series was one of the best ones for Chris Gayle as well as for cricket fans too. The nail-biting series of 7 ODI matches was finally won by Windies 4-3 which was their last series win in India to date.
Chris Gayle became an integral part of the West Indian team since the India series. He started impacting the game more and more and also started converting his starts into big runs. He also played for West Indies in the 2003 World Cup.
Chris Gayle's next best innings came against England in July 2004. Centuries from Andrew Strauss and Andrew Flintoff helped England post a par score of 285/7 in the allotted 50 overs. With a spot in the finals to play for, Gayle, playing his 100th ODI game, scored a patient 132* and nurtured the Windies run-chase as they knocked hosts England out of the tri-nation series, featuring New Zealand as the third team.
In his 150th One Day game, he decided to take South African bowlers to a walk around the park as he smashed a brilliant century. It was Champions Trophy, 2006 and having won the previous edition of the tournament, West Indies faced South Africa in the semi-final clash of the ICC Champions Trophy 2006 in Jaipur. Herschelle Gibbs scored a steady 77 as South Africa posted a competitive 258/8 in 50 overs. However, their strong bowling attack, featuring Shaun Pollock, Makhaya Ntini, Andre Nel, and Jacques Kallis, seemed clueless as Gayle's blistering innings of 133* helped the team qualify for their second straight final.
Like all cricketers, Gayle also went through a dry spell as he did not score a century for almost 2 years until he again scored 3 hundred in 4 matches where 2 of them came against the lethal Pakistani bowling attack.
Salary issues with the West Indies cricket board:
Like many other West Indian players, he started playing lesser One Day cricket due to salary issues with the board. After getting the issue resolved, he played a few matches where he was impressed with his batting. The most recent one being, the brilliant 162 against England, in February 2019 where he ripped apart the likes of Broad, Stokes etc. 
He also desired to play the 2019 World Cup which was a modest one except for his half-century against New Zealand. He decided that India's tour of the West Indies was going to be his last one.
So, he played his final One Day International against India at Queen's Park Oval where he scored a brilliant 72 off 41 balls.
Chris Gayle has played a total of 300 ODIs where he has scored 10480 runs at an average of 37.7. He has also picked up 173 wickets with best figures of 5/46 against Australia in 2003.
Chris Gayle Biography–World Cup Cricket: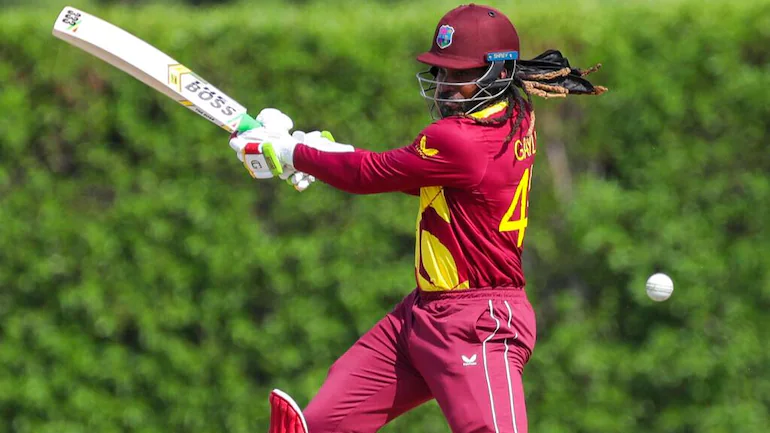 Chris Gayle has been a part of the 5 ICC Cricket World Cup- 2003, 2007, 2011, 2015, and 2019 which is a phenomenal achievement.
Gayle has played 35 matches in ICC Cricket World Cup where has scored more than 1000 runs. The 2003 and 2015 World Cup was the best one for Chris Gayle as he scored huge runs including centuries and double centuries. His highest One Day score of 215 also came in the 2015 World Cup against Zimbabwe.
He was not only a hard hitter but a partnership breaker too. With his right arm off-break, he has also picked up 16 wickets in World Cup cricket with best figures of 2/21.
He played his last World Cup match in 2019 against Afghanistan where he scored 7 runs and did not pick any wickets.
T20 Cricket:
Chris Gayle debuted against New Zealand in 2006 where he only scored 10 runs but picked up 2 wickets and gave away just 22 runs.
Chris Gayle was a part of the West Indian T20 squad of the 2007 T20 World Cup but little did he expect, that this same tournament would make him the first West Indian cricketer or rather the first cricketer to score a T20 century. He smashed the likes of Shaun Pollock and the South African lineup in the World Cup to achieve this feat.
He became an integral part of the team instantly after a brilliant performance in the World Cup. In the 2010 World Cup, he just fell two short of scoring another century in World Cup cricket against India but still that innings of 98 are still considered one of his best T20 innings ever.
Chris Gayle mostly played T20Is in the T20 World Cups only, there were very few instances where he would have played T20 cricket in a bilateral series or a tri-nation series. But that did not matter because he is and will always be considered one of the best T20 players of all time.
Chris Gayle has also won two T20 World Cups with Windies in 2012 and 2016 respectively. 2016 was a special one as he scored a century against England almost 10 years after his maiden T20 International century. But his contribution to the 2012 World Cup cannot be disregarded as he scored a brilliant 75 runs off 41 balls in the all-important Semi-Final. 
Chris Gayle played his last T20 International against England in March 2019 where he got out on 5 runs.
Chris Gayle has played a total of 58 T20I matches where he has scored 1627 runs at an average of 32.54 and also picked up 17 wickets.
IPL:
Indian Premier League has always been a special tournament for Chris Gayle. The level of fame, respect, and love that he gained from this format of cricket and this league is tough to match.
Chris Gayle was bought by the Kolkata Knight Riders but did not become successful with the team. In 2011, Gayle joined the Royal Challengers Bangalore in the fourth edition of the Indian Premier League. The decision of joining Royal Challengers Bangalore was a career-changing moment for him
In his debut game against his previous team Kolkata Knight Riders in their home ground, he scored 102 off 55 balls, hitting 10 fours and 7 sixes. On 6 May 2011, he scored another century, 107 off 49 balls in Bangalore against the Kings XI Punjab, which included 10 fours and 9 sixes. In the next match against Kochi Tuskers Kerala, he scored 37 runs in one over, which included 3 sixes, 3 fours, and a no-ball that was hit for a six.
In the 2012 IPL season, Gayle hit the most sixes (59) and was nominated for the orange cap for making 733 in 14 matches
Gayle started off his 2013 IPL season scoring 92 not out from 58 balls, hitting 11 fours and four sixes against the Mumbai Indians. His innings helped his side to victory, and he was awarded the Man of the match. In the 2013 season, he broke the all-time IPL record of the highest individual score by scoring a magnificent 175 runs against Pune Warriors India at Chinnaswamy Stadium. The innings were absolutely banter as he ripped Pune's bowling line up like a raw vegetable. A new nickname "Gayle storm" was introduced in the cricket dictionary after that brain fading innings.
He played for RCB until 2017. As in January 2018 Gayle was released by RCB and was bought by Kings XI Punjab. On 19 April, Gayle scored 104* off 63 balls against Sunrisers Hyderabad, and his team won the match by 15 runs. It was his 6th IPL century. 
Retirement from Cricket: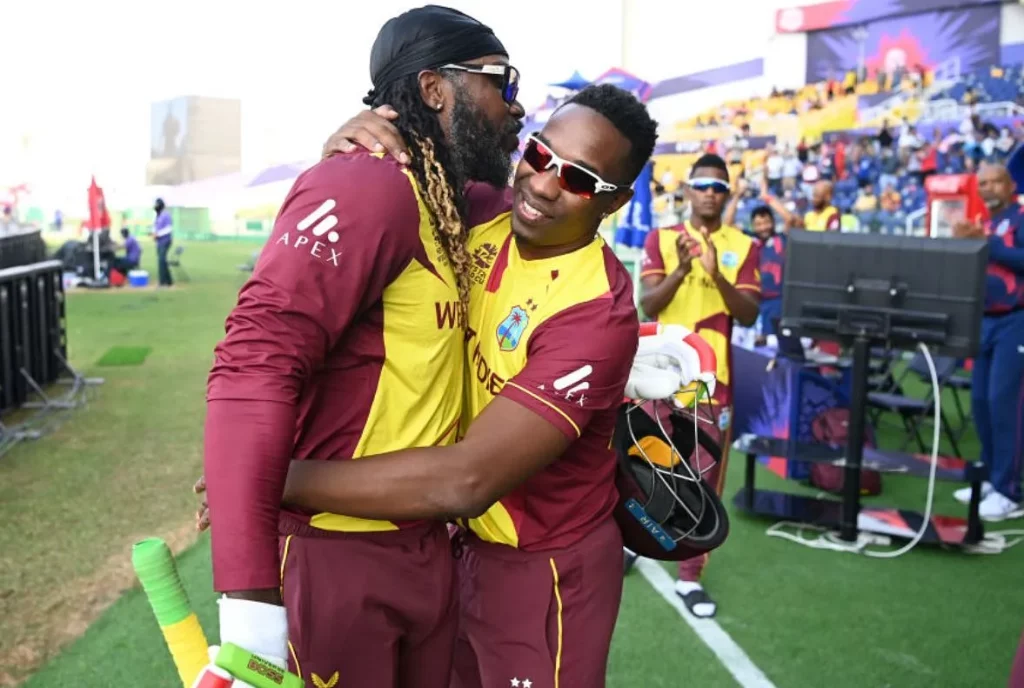 On 6 November 2021, Gayle retired from international cricket and played his last T20I match against Australia in the Sheikh Zayed Cricket Stadium.
After the 2020 T-20 World Cup, the Universe boss decided to retire from all formats of the game including domestic leagues and the IPL.
Recently an Instagram story by Chris Gayle suggested that he is planning on coming back on the field as he posted a picture in the gym which said " getting ready for 2023″.
Chris Gayle records, controversies, facts, etc:
In 2005, Gayle was involved in the dispute between the West Indies Cricket Board and a number of players over sponsorship issues.
Later that year, during October's Champions Trophy tournament in India, he was fined 30 percent of his match fee after repeated verbal exchanges with the Australian batsman Michael Clarke.
Gayle also received criticism in early 2009 during West Indies' tour of England, where he commented that he did not want to captain the West Indies anymore given the pressures involved and that he "wouldn't be so sad" if Test cricket was superseded by Twenty20 cricket in the future
In April 2011 Chris Gayle criticized the West Indies Cricket Board and coach Ottis Gibson and did not play for the team for more than a year
On 4 January 2016, while being interviewed by Network Ten commentator Mel McLaughlin during the 2015–16 Big Bash League season, Gayle said "I just wanted to have an interview with you as well, that's why I batted so well," followed by ""Your eyes are beautiful, hopefully, we can win this game and then we can have a drink after as well. Don't blush, baby". The comments were criticized by the Australian media,
Highest run-scorer for the West Indies in ODIs
Second most sixes in a calendar year.(56 in 2019)
Second West Indies player (after Brian Lara), and 14th overall, to pass 10,000 runs in ODIs. 
First batsman to score a century in each of international cricket's three formats of the game.
First (and so far only) batsman to score a triple century in Test cricket, a double century in ODI cricket, and a century in T20 internationals. 
Highest six is better for the West Indies.(in all formats)
Most centuries by a West Indian.(25)
First batsman to score a T20I century, in the 2007 World T20. He's also the only batsman to score two World T20 tons.
First batsman to start the Test innings with a six
First batsman (now equaled) to score a T20I century in both winning and losing cause and when batting first as well as when batting second.[114]
Gayle is the only player to score centuries in ICC U19 World Cup, ICC World Twenty20, ICC Cricket World Cup, ICC Champions Trophy as well as in ICC Cricket World Cup Qualifier.
In World Cup 2015, he hit the fastest ever ODI double century, against Zimbabwe, off 138 balls. 
Third batsman to score a century against eleven different countries in ODIs. 
First international player to carry his bat through a completed inning (one where his side lost all ten wickets) in Twenty20 International. He is also the only player to carry his bat in both Tests and T20Is.
Fastest ODI fifty by West Indies batsmen. (50 runs in 19 balls). 
Leading run-scorer in ICC Champions Trophy history (791 runs) 
Most runs in a single ICC Champions Trophy series (474 runs) 
Most sixes in International cricket (515) 
Second most sixes in T20I (103) 
Most sixes (39) in a bilateral ODI series (4 Innings vs England in 2019).  
The first player to hit all 6 balls in an over for four in Test cricket.
The first player to hit the first ball of a Test match for six
Along with Marlon Samuels, he holds the record for the highest ever ODI stand for any wicket (372 runs for 2nd wicket). 
Along with Devon Smith, he set the record for the highest opening stand in ICC World T20 history (145) 
Most number of sixes hit by an individual in Cricket World Cup history (40)
Leading run-scorer in all forms of T20s (13,296 runs – as of April 2020) 
First, and as of March 2019 only, batsmen to score 10,000 Twenty20 runs in their career. 
Most T20 centuries (21). As of March 2019, Gayle is the only player to score more than 7 T20 centuries.
Most IPL centuries (6)
Fastest Batsman to score 4000 runs in IPL. 
First and only batsman to hit 300 sixes in IPL. 
Highest individual score in T20 with 175* (off 66 balls) against Pune Warriors India, which he made as an opener. 
Get more cricket-related articles on Sportslibro.com