Talking about loyalty there's one Person Bastian Schweinsteiger, who played for 17 years for Bayern Munich (Club based in Germany).
He played as a center midfielder for both Bayern Munich and the Germany national team. Earlier in his career, he plays as a wide midfielder.
Bastian Schweinsteiger Biography:
Bastian Schweinsteiger has a typical midfielder style of play, who loves to create key passes and assist alot to his other teammates. His style of gameplay and skills made him the best midfielder of the world along with great goalscoring ability.
Apart from that he is a true leader for his club and country back then and also motivates his other fellow teammates for victory.
Bastian Schweinsteiger's biography is about his immense style of play and his career which will be covered in this article.
Bastian Schweinsteiger Family: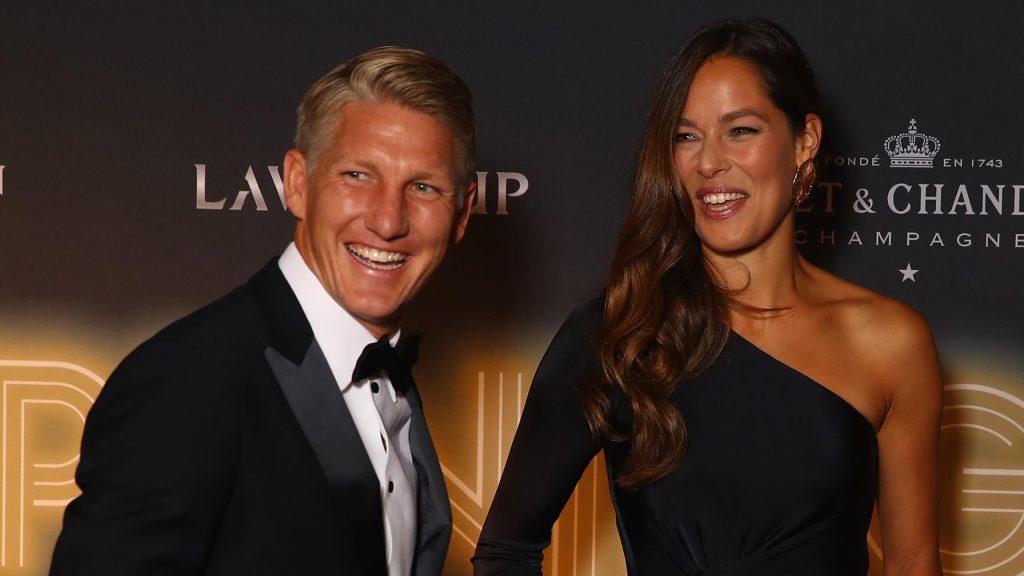 He was born on 1 August 1984 in Kolbermoor, West Germany. Bastian is Roman catholic (relating to or member of the Roman Catholic Church). Bastian Schweinsteiger's Mother name is Monika Schweinsteiger and his Father's name is Alfred Schweinsteiger.
Bastian Schweinsteiger has an elder brother named Tobias, a professional footballer who also played for the Bayern Munich reserve team. Bastian fans also call him "Schweini" or "Basti" to distinguish him from his brother.
Bastian Schweinsteiger was also in a relationship with Sarah Brandner from 2007 to July 2014. Later that year in September he got into a relationship with Ana Ivanovic(Serbian Tennis Player).
After two years of relationship, they got engaged on 12 July 2016 in Venice, Italy. After two years of marriage, they have their first son named Luka, born on 17th March 2018 in Chicago and they also had their 2nd baby on 30 August 2019. Bastian Schweinsteiger was also a talented Ski-runner.
Bastian Schweinsteiger Early Life: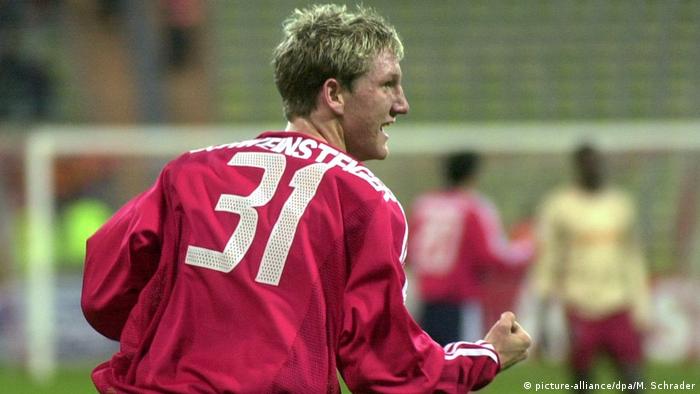 He was so popular and respectable player in world football and has won FIFA 2014 World Cup, which many great footballers like Lionel Messi and Cristiano Ronaldo haven't won.
Bastian Schweinsteiger used to play for FV Oberaudorf from 1990 to 1992 then he started to play for TSV 1860 Rosenheim from 1992 to 1998 as a youth player. After 1998 he joined the best team in Germany where he played for 17 seasons and won many awards. His youth career is good but not good as his excellent career in Bayern Munich.
Bastian Schweinsteiger Career:
Bastian Schweinsteiger played for clubs like Bayern Munich (Germany) , Manchester United(England) and Chicago Fire(United States).
Bastian Schweinsteiger Biography covers his entire career journey.
Bayern Munich:
Schweinsteiger joined Bayern Munich as a youth team player from TSV 1860 Rosenheim on 1 July 1998. Bastian Schweinsteiger quickly adapt himself and is in reserve for Bayern as he has won German Youth championship in 2002.
Schweinsteiger Bayern journey started as a left-back in the titular eleven. After two practice sessions with the first team, he got the chance to debut at the age of 18 by his coach ottmarhitzfeld.
Bastian signed a professional contract with Bayern in November 2002 and had 14 Bundesliga appearances for them in 2002-2003, also helped Bayern to win the Bundesliga titles league and German cup double, and this phase was important in Bastian Schweinsteiger Biography.
After that, he got more games to play next season and scored his the first goal for Bayern against VFL Wolfsburg in September 2003.
He then continued to play many seasons for Bayern scoring goals and assists and later on in his career he extended his career in Bayern until 2016 in December 2010. Schweinsteiger was a fan favorite at Bayern and Bastian Schweinsteiger nickname Fußballgott was given by Bayern's fans.
Bastian Schweinsteiger has played exactly 500 matches across all competitions and scoring 68 goals and winning a number of Bundesliga titles.
Manchester United: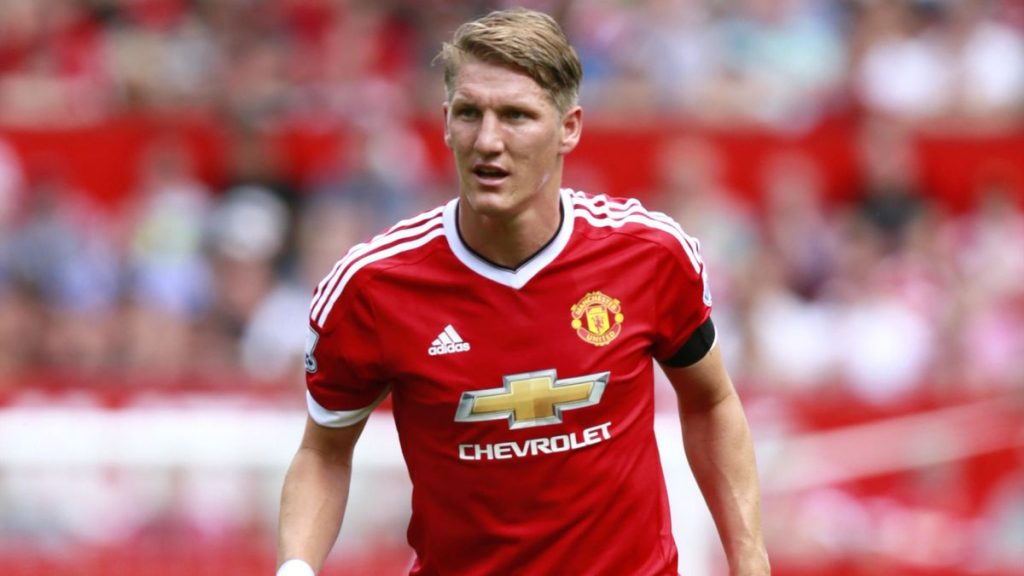 On 13 July 2015, Bastian joined Manchester United on a three-year contract for a fee of €9 million. Bastian Schweinsteiger was given shirt no. 23 in pre-season but later switched to 31 that he used to wear in Bayern Munich, Moving to Manchester United is a crucial phase in his career.
Bastian Schweinsteiger man Utd debut for United in a friendly match against Club America on 17 July 2015 that United has won by a scoreline of 1-0.
His premier league debut was against Tottenham Hotspur on 8th August as a 60th-minute substitute for Michael Carrick with a victory of 1 – 0 to United. Bastian scored his first goal for United as an equalizing goal with a header in a 1-1 draw against Leicester City.
Schweinsteiger man utd journey has also some ups and downs as he had in Bayern. He got demoted to the Manchester United U-23 team by the new coach Jose Mourinho for which he got criticized by a no. of high-profile former teammates. Jose Mourinho showed a lack of respect for Schweinsteiger.
Later on Bastian got back in first-team training, in the end, 0f 2016 and made his first appearance since march against West ham in the EFL cup. He made is first start in
Over a year against wigan athletic in FA cup on 29th January 2017, in which he scored a goal with an overhead kick and had an assist to Marouane Fellaini for the opening goal.
Chicago Fire:
Bastian Schweinsteiger Chicago fire Journey began on 21 March 2017. The move was completed on 29 March. On his debut on 1st April, he scored a goal in a match against Montreal impact that ended as a draw. After Bastian's transfer to Chicago fire from Manchester United, Jose Mourinho stated he regrets how he treated Bastian.
Bastian Schweinsteiger helped guide Chicago fire to top the MLS table and was voted into the "MLS All-Star Fan XI" to face Real Madrid at the 2017 MLS All-star game in Chicago.
Bastian Schweinsteiger also had some goals and assists during his time in the Chicago fire and got an extension contract option for another year in 2018.
Bastian Schweinsteiger retired on 8 October 2019 from professional football.
International Career: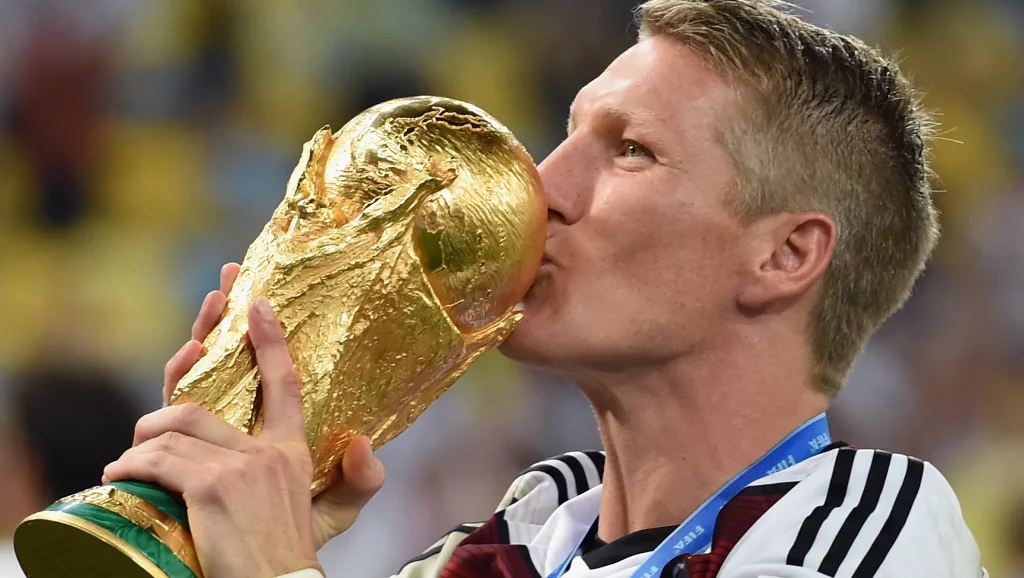 Bastian Schweinsteiger has made their international debut in June 2004 in a friendly against Hungary and had 121 caps before his retirement from international football in 2016.
Bastian Schweinsteiger had debuted in 2004 and was called up for euro 2004 despite having a disappointing run at U21's 2004 European championship. He also set up a goal for his Bayern teammate Michael ballackim Germany's 2-1 loss against the Czech republic.
Bastian scored his first two international goals against Russia on 8th june 2005 and scored his first competitive goal against Tunisia on 18th June 2005 helped him be called up for the 2006 Worldcup where he won the man of the match award in a match against Portugal for third place with his two excellent long-range strikes.
The match ended as 3-1 victory for Germany and the German midfielder nearly claimed a hat-trick but his deflected free-kick was credited as an own goal to Armando Petit.
He had already played 41 matches for the German national team at the age of 22, a record for any German player at the time. This record was soon broken, however, by Lucas Podolski who was capped 44 times at the age of 22.
Bastian scored two goals against San Marino in the 2008 Euro qualifiers that ended as a 13-1 victory for Germany.
Euro 2008 was not so good for Bastian as he lost his place in the starting eleven and also made two substitute appearances in the group stage. Bastian scored a goal and assisted two goals in a match against Turkey in the semi-finals that Germany won 3-2. He also got the chance to captain for the first time in a friendly against UAE.
Bastian was great in attacking and defending for Germany to support his team. He also won the man-of-the-match award after the quarterfinal match against Argentina, where he provided two assists and contained the GOAT Lionel Messi.
Bastian captained the team due to the illness of Phillip Lahm in a match for the third place against Uruguay, where Germany won the match by 3-2.
Overall Bastian has 3 assists in seven matches. He also is chosen as the 10 finalists for the Golden Ball, awarded to the most outstanding player of the tournament.
Bastian played as a first-choice defensive midfielder in Germany's qualifying group. He played 5 matches against each opponent and helped Germany win 10 out of 10 wins, providing one assist and a goal.
Germany qualified for the 2004 world cup as Schweinsteiger has made 5 appearances and has also won his 100th cap for the national team in a 5-3 win over Sweden.
Bastian helped his team to build attacks as well as defended well. Germany won the final against Argentina with a goal at the 113th minute by Mario Götze.
in 2014 Bastian Schweinsteriger world cup dream came true, Winning the world cup was the most gilded chapter in Bastian Schweinsteiger Biography.
Schweinsteiger was appointed as the new captain after the retirement of Phillip Lahm.
He got injured while training with Germany's National team and had to miss the rest of the premier league season but got recovered on time and got selected for Germany's 27-man provisional squad for Euro 2016 and later got selected for Germany's 23-man squad for Euro 2016.
Bastian scored a goal on 12th June 2016 in stoppage time after coming late in a 2- 0 victory against Ukraine.
Nine days later he sets a new record for German player with the most appearances in the European championship.
Bastian has played 120 games for Germany and has scored 24 goals.
He took retirement after the Euro 2016 but played his last game for Germany in a friendly against Finland.
Bastian Schweinsteiger Controversy: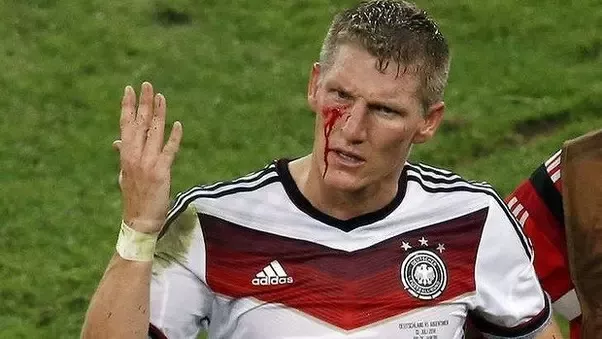 Quite possibly of the main discussion that Schweinsteiger looked in his vocation was in 2016 when he was playing for Manchester Joined together. The debate was ignited when a writer got some information about Schweinsteiger's future with the club. Mourinho answered by saying that Schweinsteiger was not in that frame of mind for the future and that he was allowed to leave the club on the off chance that he viewed as a reasonable proposition. This ignited inescapable analysis of Mourinho, with many blaming him for being impolite to a brought home various player championships with Bayern Munich and the German public group.
One more contention that Schweinsteiger confronted was in 2018 when he was blamed for making a bigoted signal during a match. The episode happened during a Chicago Fire game when Schweinsteiger seemed to make a skewed eye signal towards a rival of Asian drop. Schweinsteiger denied the claims, yet he was fined and gotten a one-match boycott for "hostile and unfair language or potentially motions" by the MLS disciplinary panel.
Schweinsteiger likewise confronted analysis during his experience with the German public group, with some blaming him for being too sluggish and not compelling sufficient in the midfield. In any case, he kept on assuming a huge part in the group and was a vital individual from the crew that won the 2014 World Cup in Brazil.
Notwithstanding these discussions, Schweinsteiger is broadly viewed as one of the best German footballers ever. He brought home various championships with Bayern Munich, including eight Bundesliga titles and the UEFA Champions Association in 2013. He additionally won the FIFA World Cup with Germany in 2014 and was named in the group of the competition.
Bastian Schweinsteiger's Achievements:
Club:
Bayern Munich Juniors:
Under 17 Bundesliga: 2001
Under 19 Bundesliga: 2002
Bayern Munich II
RegionalligaSüd: 2003-04
Bayern Munich:
Bundesliga: 2002-03, 2004-05, 2005-06, 2007-08, 2009-10, 2012-13, 2013-14, 2014-15
DFB-Pokal: 2002-03, 2004-05, 2005-06, 2007-08, 2009-10, 2012-13, 2013-14
DFB-Ligapokal: 2007
DFL-Super cup: 2010
UEFA Champions League: 2012-13
Manchester United:
FA Cup: 2015-16
International:
Germany:
FIFA World Cup: 2014
Third Place: 2006, 2010
UEFA European Football Championship runner-up: 2008
FIFA Confederations Cup third place: 2005
Individual:
SilbernesLorbeerblatt: 2006, 2010, 2014
FIFA World Cup Dream Team: 2010
FIFA World Cup Most assists: 2010 (3, shared with Thomas Müller, Mesut Özil, Kaká, and Dirk Kuyt)
Germany national team Player of the Year: 2010
ESM Team of the Year: 2012-13
Footballer of the Year in Germany: 2013
UEFA Best Player in Europe Award: 2013 (7th place)
FIFA FIFPro World XI 3rd team: 2013
FIFA FIFPro World XI 4th team: 2014
Bambi Award: 2016
MLS All-Star: 2017,2019
FC Bayern Munich Hall of Fame: 2018
Bastian Schweinsteiger's Net worth:
Bastian's net worth is around $80 million, every year the German midfield maestro earns around $19.4 million as his base salary, and of the field, He earns around $3 million from various brands endorsements.
Note: collection of Bastian Schweinsteiger's net worth is from Forbes and different sources , so it may vary.