Carles Puyol is one of the best central defenders the World of Football has ever seen and he sure makes it to the best 11 of all time. He was a perfect player. He was a perfect leader for any team he played for. His presence in the air, his composure on the ball, and his intense commitment and ruggedness made him unstoppable.
Carles Puyol played only for the club Barcelona throughout his career and served as a captain for the team for almost 10 years. He was one of the most successful captains of Barcelona. He was a true leader and always wanted to win.
Carles Puyol biography is about his family and a legendary career that is to be remembered by all.
Family: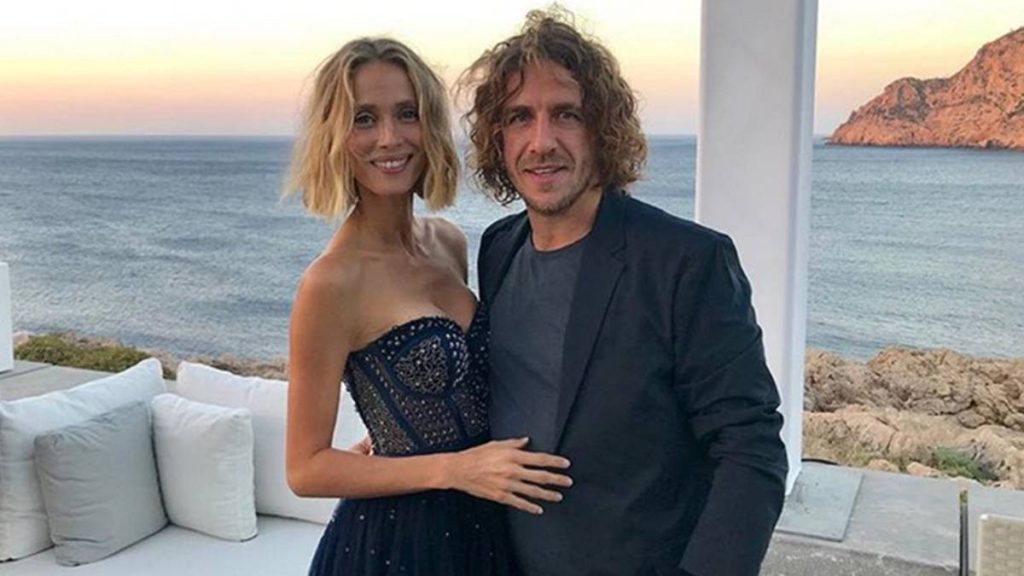 Carles Puyol date of birth was 13 April 1978. His place of birth was in the small town of La Pobla De Segur which had a population of only three thousand. His father Joseph Puyol was a worker in a factory and his mother Rosa Saforcada was a housewife.
The small town had a football team named Pobla De Segur. Puyol played as a goalkeeper for that team and the coach said that Carles Puyol could be one of the greatest goalkeepers in history. Puyol's mother wanted Puyol's position to be changed due to his health problems and Puyol decided to be a defender.
Puyol's father died in 2006 due to an accident at work. Carles Puyol was on the way to a match against Deportivo and after landing the coach informed him about his father's death. Puyol had to suffer through a dark period after this.
Carles Puyol started dating Vanessa Lorenzo in 2012. The couple registered marriage and had two daughters, Manuela born in 2014, and María in 2016.
Career:
FC Barcelona:
In 1995, Carles Puyol joined the FC Barcelona youth team- La Masia. There he switched positions from forward to defensive midfielder. The next year he was promoted to the Barcelona team C.
He there initially struggled with position but after being promoted to the Barcelona team B he settled as a right back there. In 1998, Barcelona reached an agreement with Spanish club Málaga CF to sell Puyol, who was behind Frank de Boer and Michael Reiziger in the pecking order. However, he refused to leave after seeing his best friend Xavi make his first-team debut.
Senior Team Debut: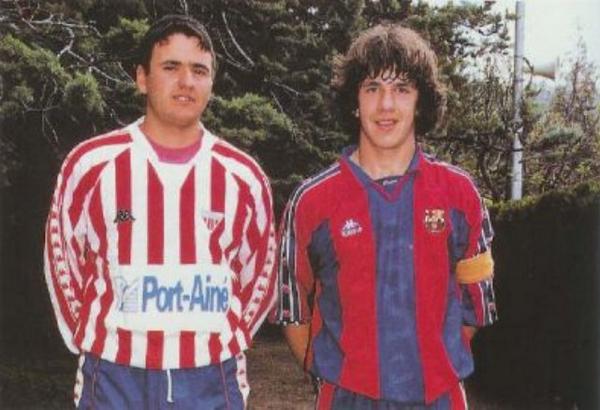 On 2nd October 1999, Carles Puyol made his debut for the senior team as a center back in a 2-0 win against Real Valladolid. After that match, coach Luis Van Gaal decided to use Puyol fully as a right back.
During the 2001 – 2002 season, Carles Puyol scored his first goal for the senior team playing as a right-back which was the second goal against Real Valladolid in a 4-0 victory.
During the 2003 off-season, as Barcelona was facing a huge financial crisis, At that point in time the English giant Manchester United showed interest in acquiring Puyol's services, but no move ever materialized. Two years later, Puyol extended his contract for a further five seasons.
After the retirement of Luis Enrique, Puyol was given the captaincy of the team. After becoming the captain, he soon scored his first goal as a captain against Real Sociedad in a 5-0 victory.
In 2005–06 he appeared in a total of 52 official games, including 12 in that season's UEFA Champions League, and helped Barcelona claim their 3rd Champions League title after defeating Arsenal in the finals.
On 16 September 2008, Puyol made his 400th appearance in all competitions for Barcelona's first team in a UEFA Champions League group stage match against Sporting CP.
On 2nd May 2009, in the El Classico against Real Madrid, Puyol scored his only goal of the season by a header in which the match ended in a 6-2 win for Barcelona.
Fair Play and Winning the Quadruple: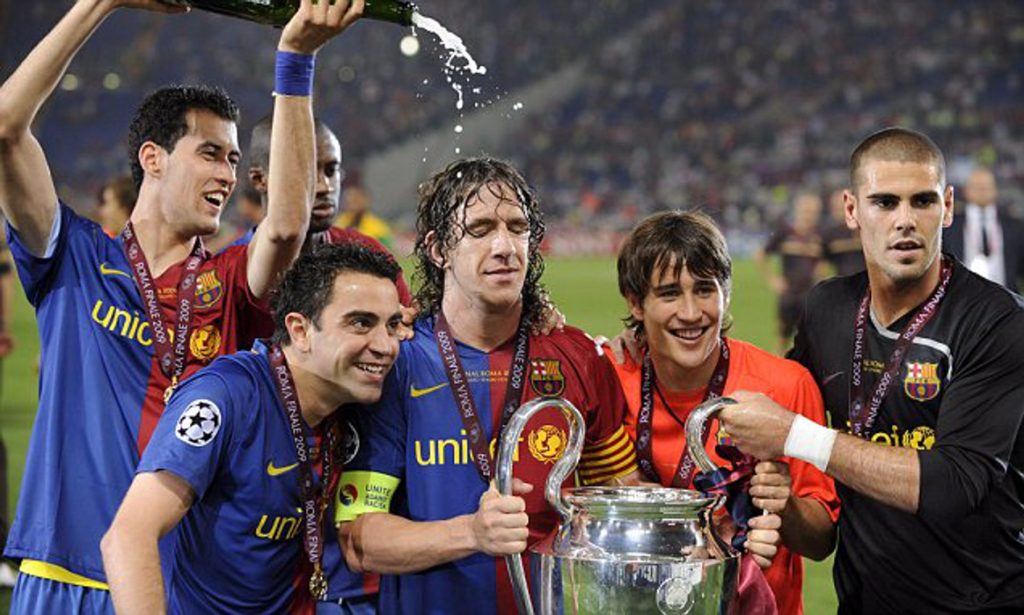 In that match, Gerard Pique was hit by a lighter thrown by Madrid fans. Pique was going to complain to the referee but Puyol went and stopped him and threw the lighter away.
In a match, after scoring goals, Puyol's teammates were seen dancing on the pitch and celebrating, Puyol instantly ran towards them and stopped them to show signs of fair play.
That season, he won the 2009 UEFA Super Cup, 2009 UEFA Champions League, and the 2009 FIFA Club World Cup and further won the la Liga title and the Copa Del Rey to complete their first historic treble and the first-ever captain to win the "Quadruple".
On 13 November 2010, Puyol played his 500th game in all competitions for Barcelona's first team in a La Liga match against Villarreal CF.
He helped the team win their UCL final for the 2nd consecutive time against Manchester United. After the defeat of Barcelona in the 2009 – 2010 UCL against Milan, Puyol went on 56 matches without losing, a streak which was ended by CA Osasuna in a 3-2 defeat on 11 January 2012.
He scored two goals in the season's Copa del Rey, against Madrid in a 2–1 away win and against Valencia CF in a 1–1 away win.
Ending his Career:
During the start of the 2012 – 2013 season, Puyol suffered a knee injury against Getafe. On 2nd October 2012, he made his return as a substitute in the Champions League where Puyol dislocated his elbow after landing awkwardly in a corner kick challenge.
On 2nd March 2014, Puyol became the most appeared player for Barcelona behind Xavi in a match against UD Almeria in which Barcelona won 4-1 with Puyol scoring a goal.
On 15th May 2014, Carles Puyol announced his retirement and finally said goodbye to the only club of his life FC Barcelona and ended his 15-year-long career with 10 years as the captain of the team.
Spanish National Team:
Carles Puyol won his first International cap on 15th November 2000 in a friendly against the Netherlands. Since then he has earned 100 caps for Spain and scored 3 goals. He also represented Spain in the Olympics 2000.
Euro Cup: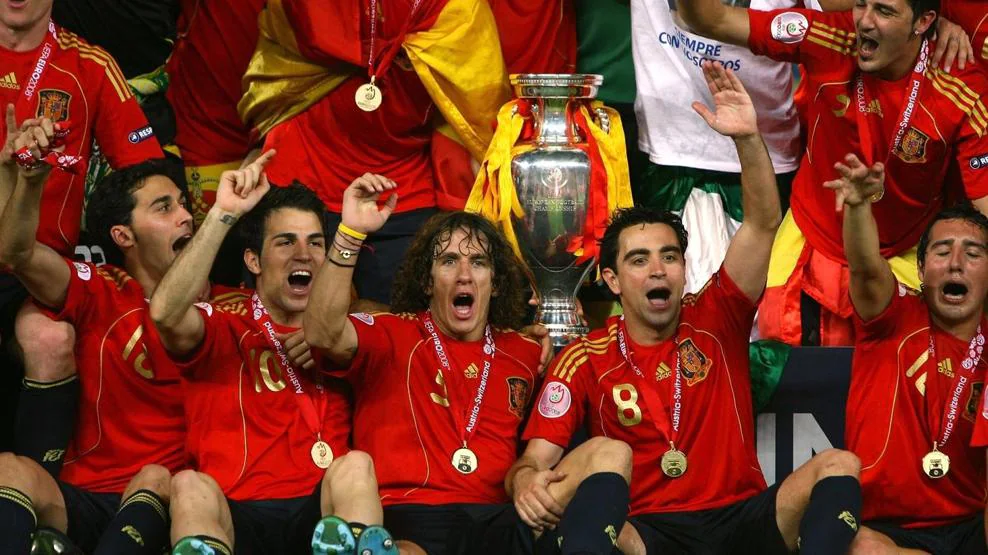 Carles Puyol was an unused substitute during the Euro 2004 campaign. Before the 2008 Euro, Carles Puyol was included in the first team as a center back. He played in every game for Spain except for one.
Spain had a great defense which conceded only 2 goals in five games and lead the team to the finals of the tournament against Germany. Spain won the tournament with Carles Puyol being included in the team of the tournament.
Carles Puyol suffered a knee injury before the 2012 Euro Cup which kept him out of the tournament but Spain managed to win the Euro 2012 as well.
World Cup: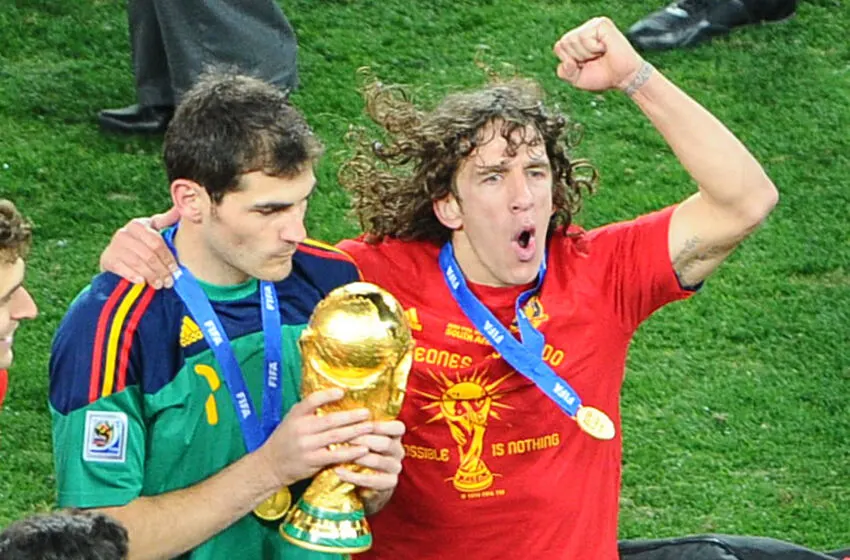 Puyol was included in the 2002 FIFA World Cup squad and was an unused substitute. In the 2006 World Cup, he was hardly given any chance to play and Spain also took an early exit in the round of 16. Puyol had become an important part of the team in the 2010 World Cup with Spain having the best defense as Carles Puyol and Gerard Pique as a center back and Sergio Ramos and Jordi Alba as fullbacks.
Puyol played in each and every match. Spain boosted themselves and reached the semi-finals wherein the dying minutes of the game, Carles Puyol came on like a beast to head the winner against Germany from a corner kick to make the score 1-0 for Spain national team and carry the team to their first-ever World Cup finals.
In the finals, the game was level at the 90th minute, and in the extra time, Andres Iniesta scored the winner against Netherland to give Spain's national team the 1-0 lead and win the World Cup. Spain's national team did not concede a single goal during the knockout rounds of the tournament. It was Puyol's last World Cup.
Retirement: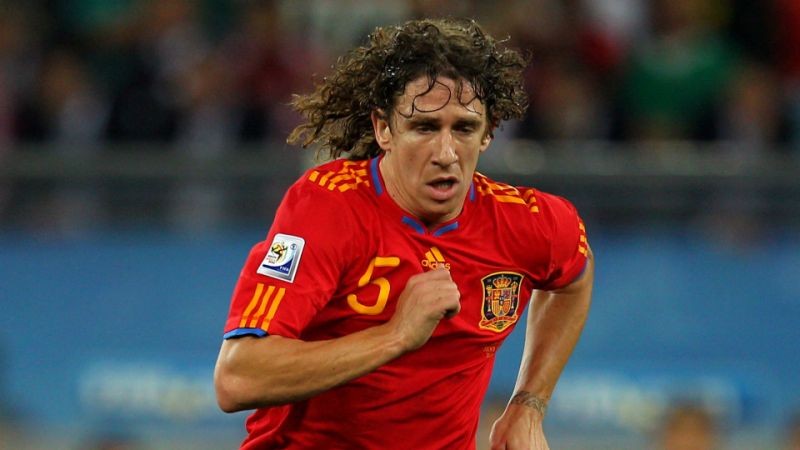 Puyol played his 100th international on 6 February 2013, captaining Spain to a 3–1 friendly win over Uruguay in Doha, which turned out to be his last match for his national team.
Post-Retirement:
On 20th June 2018, Puyol was invited by Iranian television channel IRIB TV3 to provide commentary on the World Cup match between Iran and Spain but was not allowed inside the studio. The reason was initially hidden but later according to the news website Entekhab, Puyol said that he had been told by the Islamic Republic of Iran Broadcasting that he could not appear in the program because of his looks, especially his long hair.
The veteran channel director had been replaced by one closer to Iran's ultra-religious hardliners weeks before, and this incident ultimately led to some ridicule within Iran on Twitter.
In September 2019, Barcelona offered Puyol the position of the Sporting Director of the club but Puyol rejected the offer.
Carles Puyol Records: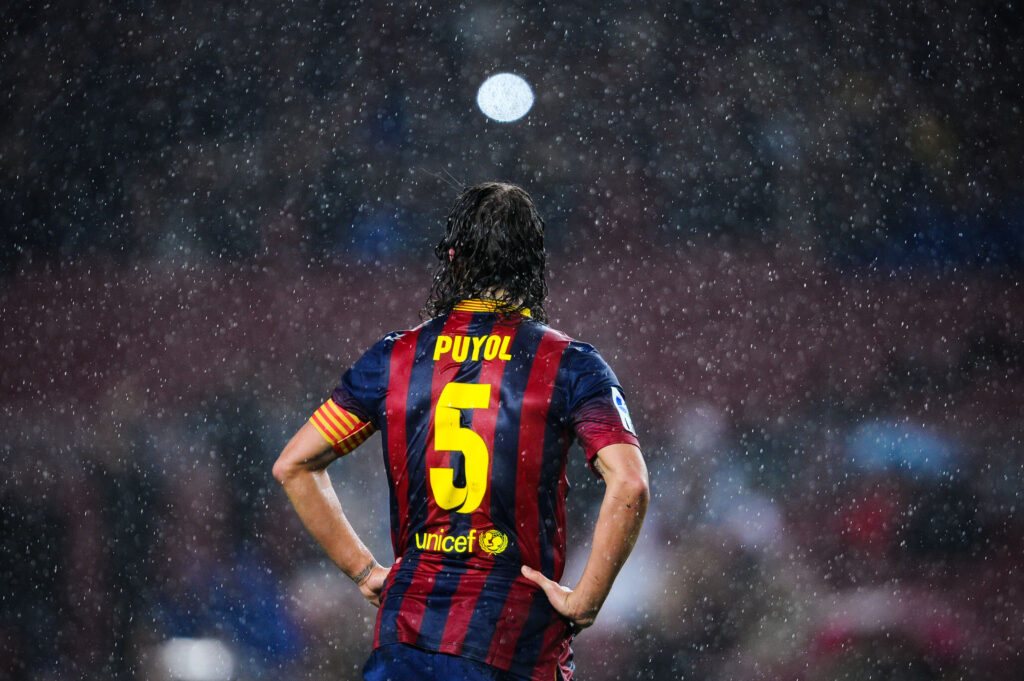 Carles Puyol, the previous Spanish footballer, has had a celebrated lifetime playing for his club FC Barcelona and the Spanish public group. Here are a portion of his records:
Puyol played 593 authority matches for Barcelona, which positions him fifth in the club's unsurpassed appearances list.
He came out on top for 21 significant championships with Barcelona, including 6 La Liga titles, 3 UEFA Champions Associations, and 2 Copa del Rey prizes.
Puyol won the UEFA Champions Association multiple times with Barcelona, captaining the group to triumph in two of those finals.
He was important for the Spanish public group that won the 2010 FIFA World Cup and the 2008 and 2012 UEFA European Titles.
Puyol was named the commander of the Spanish public group after Iker Casillas resigned, and he drove the group to their very first World Cup win in 2010.
He was known for his cautious ability, authority, and obligation to the group. Puyol was a three-time UEFA Group of the Year determination and was likewise named to the FIFA World XI on five events.
Puyol was a one-club man, spending his whole expert vocation at Barcelona, making him perhaps of the most faithful and regarded player in the game's set of experiences.
Achivments & Records: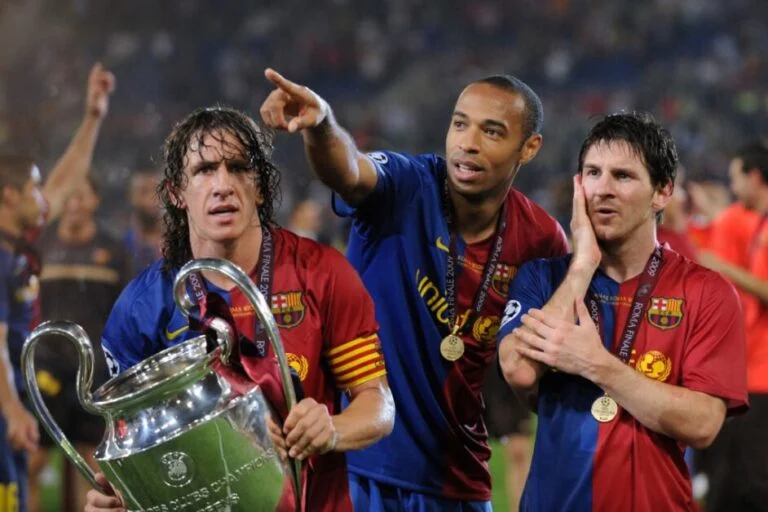 The Achievements and records of Carles Puyol biography to conclude his legendary career are as follows:-
Honors:
Club
Barcelona
International
Individual
Decorations
Get more cricket-related articles on Sportslibro.com