Francesc Cesc Fàbregas Soler is a Spanish professional footballer who was one of the midfielders who could have been on top only if injuries did not exist. He was one of the most coveted and celebrated young talents in the game.
His bringing vision, creativity, and an innate understanding of timing and playmaking skills made him a perfect assist provider just like his idol Pep Guardiola. He was a perfect player for Barcelona for playing the " tiki-taka " game in the 4-3-3 formation which allowed him a more offensive position. He had also received four best midfielder awards in his career.
Cesc Fabregas's biography is about his family and his memorable career to be remembered by all.
Family: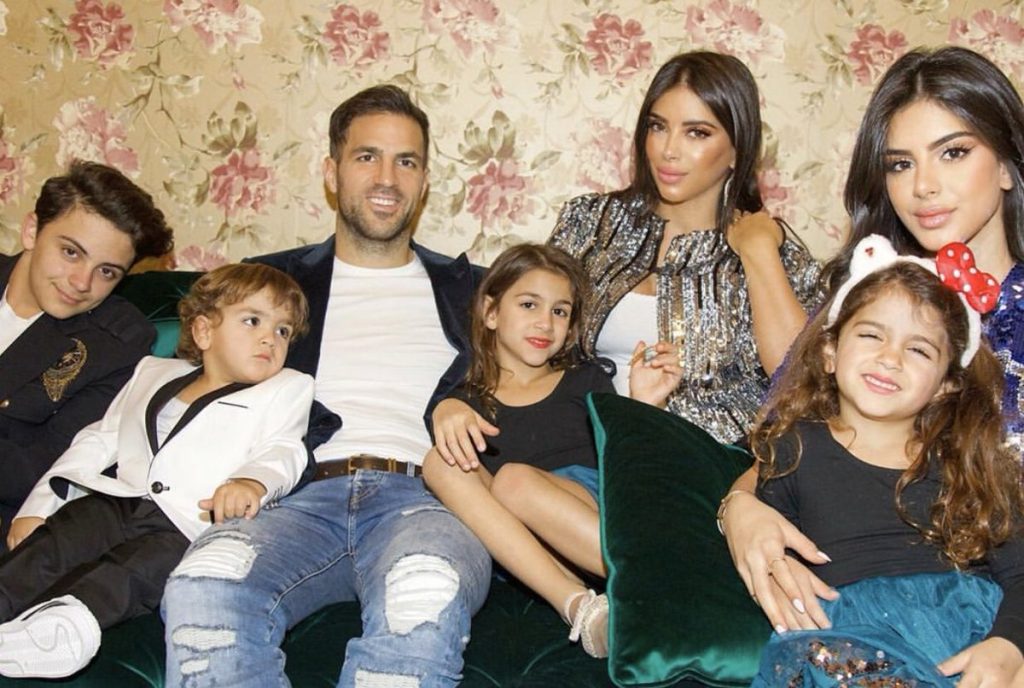 Arenys de mar, Spain:
Francesc Cesc Fàbregas Soler was born on 4th May 1987 at Arenys De Mar, Spain( Arenys De mar, Spain now comes under Cataloniya ). His father Francesc Fàbregas Sr presently runs a property company and his mother Núria Soler is the owner of a pastry company.
His parents divorced when he was a teenager. He took interest in football at a very young age after being taken to watch matches of Barcelona regularly by his grandfather. His first cub was CE Matarao whose coach Señor Blai, reportedly did not select Fàbregas for matches against Barcelona in an attempt to hide him from their scouts.
But this tactic did not work and he signed for La Masia or the Barcelona youth academy at the age of 10 in 1997.
Marriage: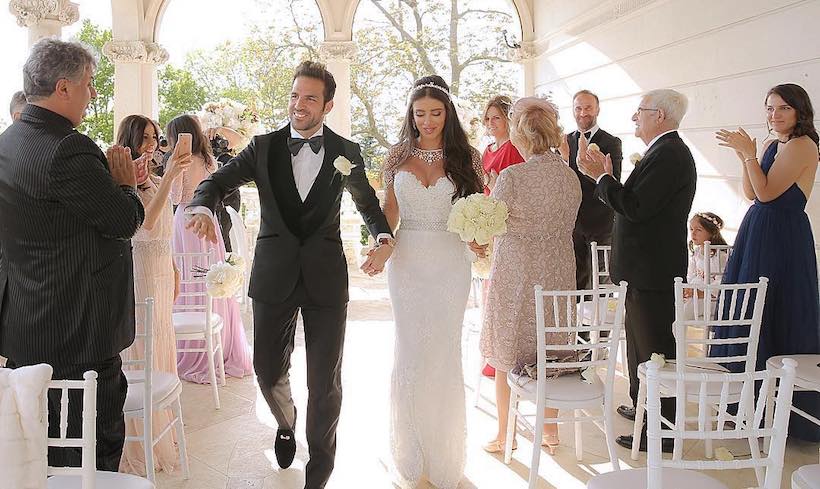 In May 2018, Cesc Fabregas finally married his long-time girlfriend Daniella Semaan. The couple were already having three children – daughter Lia who was born in 2013, Capri who was born in 2015, and son Leonardo born in 2017. In July 2013, Fàbregas won a court case over the marital home with Semaan's ex-husband.
Career:
Club football career:
ARSENAL:
Cesc Fabregas joined the Arsenal football club academy at the age of 16 on 11th September 2003. Initially, he was uncomfortable settling down with the English style of play and the language but was later helped by a Spanish mate Philippe Senderos.
He did not take much time to make his senior debut for the premier league club Arsenal. He made his senior team debut on 28th October 2003 against Rotherham United in the League Cup making him the youngest player in the premier league club Arsenal history to debut for the senior team.
In the next match against Wolverhampton Wanderers, he became the youngest player ever to score for Arsenal in a 5-1 victory. After that, he did not start in a game before the 2004 – 2005 season.
He made his first start in the FA Cup match against Manchester United. After the injury of Patrick Vieira, Cesc Fabregas was given 4 consecutive starts in the Premier League. His game had successfully impressed everyone and scored a goal against Blackburn Rovers in a 3-0 victory making him the youngest Arsenal player ever to score in the Premier League.
Later further injuries to Edu and Gilberto Silva, Cesc received more playing time and went on to sign his first-ever Professional contract in September 2009. In October 2004, Arsenal lost 2–0 to Manchester United, ending their 49-match unbeaten run in the Premier League. The match was later said to be the " Battle of Buffet " when in the player's tunnel, an Arsenal player threw a pizza on Manchester United manager Sir Alex Ferguson.
After speculations, the player was found to be Cesc Fabregas in November 2011. In the 2004–05 UEFA Champions League, he became the second-youngest goalscorer in the competition's history after scoring against Rosenborg in a 5–1 win. He ended the season by winning the 2005 FA Cup finals against Manchester United on penalties.
Before the 2005 – 2006 season Vieira left the club which meant it was time for Cesc to take his place in the starting 11. Fàbregas possessed a smaller frame and played with less aggression than Vieira, there were initially doubts over his ability to fill in the void left by the Vieira. His different style of play worked well in Champions League matches against Real Madrid and Juventus. He somehow helped Arsenal reach the Champions League final.
Arsenal took an early lead against Barcelona but Barcelona scored twice in the last 13 minutes to win the game 2-1. In short, Arsenal finished the 2005 – 2006 season trophyless. His game had drawn the attention of big clubs towards him and Real Madrid was ready to make a huge bid for the youngster but Arsenal coach Arsène Wenger made it clear no offers were to be accepted.
Cesc Fabregas had already signed a six-year deal with Arsenal but was given another five-year contract with an option of extension by three years on 19th October 2006.
The 2006 – 2007 season was another unfortunate season for Arsenal and was also defeated by Chelsea in the League cup final. However, Cesc had progressed as an individual and emerged as one of the key creative players for the team, playing in every single league game. He started the Champion League season with a brace against Dinamo Zagreb.
He also provided 13 assists in the Premier League that season and was named the Arsenal player of the season. The 2007 – 2008 season started with Cesc being the most important player and scoring goals and providing assists. Until March, Arsenal topped the League table.
In the Champions League round of 16-second leg, Cesc scored a late winner against AC Milan to send Arsenal to the quarter-finals. After giving his 100%, Arsenal finished the season trophyless but Cesc had received a lot of individual honors which included winning the PFA Young Player of the Year awards for the second year running.
On 24 November 2008, Cesc was given the captaincy of Arsenal. After a poor start in the league, Arsenal was slowly getting back into the title race but Cesc was injured against Liverpool which ruled him out for about 4 months. Arsenal finished 4th in the League and was eliminated from the Champions League Semi-Finals.
In the opening league game of the 2009–10 season, Fàbregas scored a brace and managed two assists in Arsenal's 6–1 win against Everton and managed to qualify for the UEFA Champions League after beating Celtic. Their momentum was interrupted after two losses by Manchester United and Manchester City. The team bounced back with 13 games unbeaten.
On 31 March 2010, in the Champions League first leg of the quarter-final against Barcelona, Fàbregas suffered a leg fracture before scoring the equalizing goal in the game which ended 2–2. With their captain injured, Arsenal lost the premier league to Manchester United and were eliminated in the Champions League semi-final to Barcelona.
In June 2010, Cesc Fabregas rejected an offer by Barcelona of €35 million. After a slow start, Arsenal boosted themselves to give other teams a tough fight and were ready for a quadruple. In the span of two weeks, they lost in the League Cup final, were eliminated by Barcelona in the Round of 16 of the Champions League, defeated in the FA Cup quarter-final and lost the league title to Manchester United. In his Arsenal career, he created 466 goal-scoring chances, made 86 assists and scored 48 goals.
FC BARCELONA: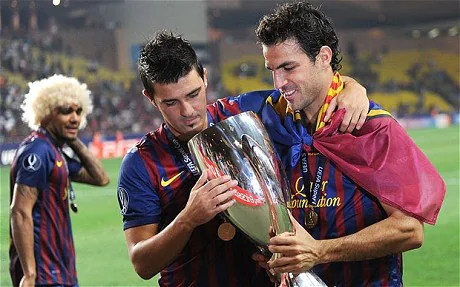 On 15 August 2011, Spanish professional football club FC Barcelona signed Cesc Fabregas for an initial fee of €29 million with a further €5 million in variables, plus Cesc would pay Arsenal €1 million a year from his wage for five years.
He made his debut in the second leg of the Supercopa de España, coming on as a substitute against Real Madrid where FC Barcelona won the match by 3–2. He scored his first goal in a 2–0 win against Porto and helped FC Barcelona win the 2011 UEFA Super Cup. In September 2011, he scored a late equalizer against Valencia in the Laliga to seal a 2-2 draw.
He spent most of October out of the squad after suffering a hamstring injury. Cesc also scored against Brazilian club Santos to help FC Barcelona to a 4–0 victory in the 2011 FIFA Club World Cup final. In his first season with the club, he won the 2011–12 Copa del Rey, 2011 Supercopa de España, 2011 UEFA Super Cup, and the 2011 FIFA Club World Cup and scored 15 goals in 48 appearances and provided 20 assists.
In the 2012 – 2013 season, he ended his long goal drought by scoring in a 3-2 win against Sevilla. Cesc scored the first hat-trick of his career against Mallorca in a 5–0 victory on 6 April 2013. Cesc won the league title for the first time in his career with Barcelona too with a record of 100 points.
However, Barcelona was eliminated in the Copa Del Rey semi-finals by Real Madrid and by Bayern Munich in the Champion's League semi-final. Cesc ended the season with 14 goals and 12 assists in 48 appearances.
In his final season with Barcelona, he started by winning the Supercopa De Espana and in the first league game on 18th August provided 5 assists in a 7-0 win against Levante. He ended the season with 8 goals in 36 matches.
CHELSEA FC: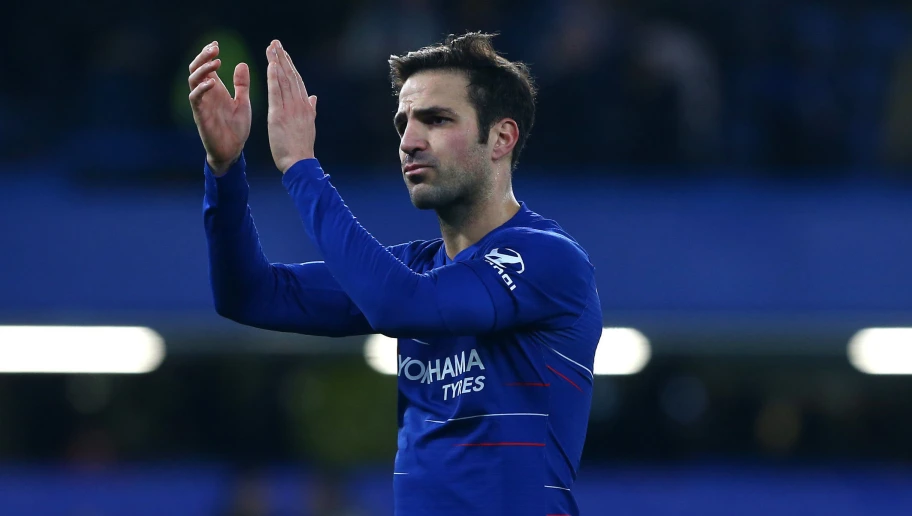 On 12th June 2014, Chelsea signed Cesc Fabregas with a fee of €33 million. On 18th August 2014, he made his debut for the club in their first league game against Burnley which ended in a 3-1 victory for Chelsea with Cesc providing 2 assists.
Cesc Fabregas became the first player ever in Premier League history to record at least one assist in six successive games of which four were under Chelsea and two under Arsenal during the 2010–11 season.
On 17th September, he scored his first goal for the club in a 1-1 draw against Schalke 04.
Cesc Fabregas was fitted with a protective mask after breaking his nose in a collision with Charlie Adam during the reverse fixture on 4 April against Sporting CP. On 3rd May he won his first-ever Premier League title with Chelsea.
During the penultimate game of the season, against West Bromwich Albion, Cesc was shown the red card and booed off by fans for deliberately kicking the ball at Chris Brunt's head while players were speaking to referee Mike Jones.
In the 2015 – 2016 season, he scored his first goal on 16th September against Maccabi Tel Aviv which ended in a 4-0 victory for Chelsea. Cesc, Costa, and Oscar were jeered by the crowd in December after the dismissal of Mourinho, with the supporters believing that the trio's conduct and poor performances were more culpable for the team's poor form.
In the last game of the season, Cesc scored a penalty against the eventual league winners Leicester City.
On 21st November 2016, he played for Chelsea under 23 against Southampton under 23 where he provided two assists for Chelsea to grab a 3-2 victory. On 3rd December 2016, in a match against Manchester City, he came off the bench to help his side to convert a 1-0 deficit to a 1-1 draw after he provided a long assist to Diego Costa.
On 14 December 2016, Cesc helped Chelsea to their tenth consecutive league victory with his first league goal of the season, scoring in the 40th minute against Sunderland. On 31 December 2016, Cesc provided his 100th Premier League assist in his 293rd appearance in Chelsea's 4–2 home victory over Stoke City.
On 25th February 2016, Cesc made his 300th Premier league appearance against Swansea City where he scored one goal and provided one assist to seal a 3-1 victory for Chelsea. In the next two seasons, he was mostly on a bench and just won the 2018 FA Cup.
MONACO: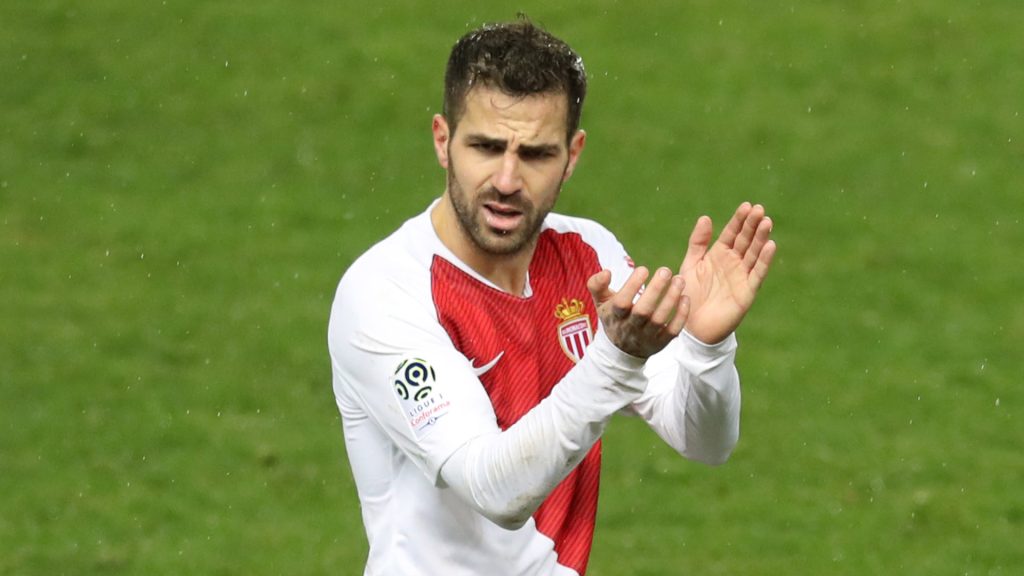 On 11th January 2019, Cesc signed for the French club Monaco which keeps him in the club until mid 2022. On 13 January, Fabregas made his league debut in a 1–1 draw against Marseille. On 2 February, Fabregas scored his first league goal of the season for Monaco in a 2–1 win against Toulouse.
INTERNATIONAL CAREER:
In 2006, Cesc Fabregas was called up for the Spain national football team for the first time in a friendly against Ivory Coast. He became the youngest player ever to debut for the National team beating Sergio Ramos's record. He was on focus in the game and his game impressed everyone which ended in a 3-2 victory for Spain.
World Cup: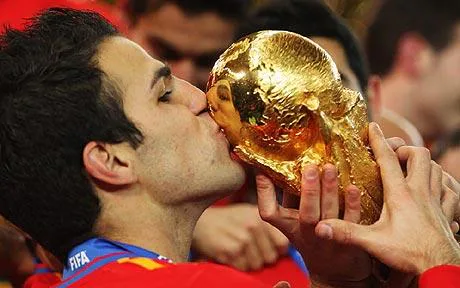 Cesc Fabregas was included in the 2006 FIFA World Cup squad and he came on as a second-half substitute in the first two group stage matches providing one assist to Fernando Torres in a 3-1 victory over Tunisia and became the youngest player to feature in the World Cup. He made his first start in the tournament in the round of 16 against France but lost the match 3-1 and France went to be the runner in the tournament.
Cesc was expected to be a major part of the Spanish National Team in the 2010 World Cup but the manager started the midfield with Sergio Busquets, Andres Iniesta, Xabi Alonso, and Xavi Hernandez.
Cesc Fabregas failed to start in any of the 7 games for Spain but appeared as a substitute in 4 of them. Most notably he provided the assist to Andres Iniesta in the Finals against the Netherlands in the extra time to score the winner which gave Spain the World Cup title.
Cesc was included in the squad for the 2014 World Cup wherein their first match, Spain was defeated 5-1 against the Netherlands where Cesc played only for the last 12 minutes and played for 22 minutes in a 3-0 win against Australia but could not qualify the group stages.
Euro Cup: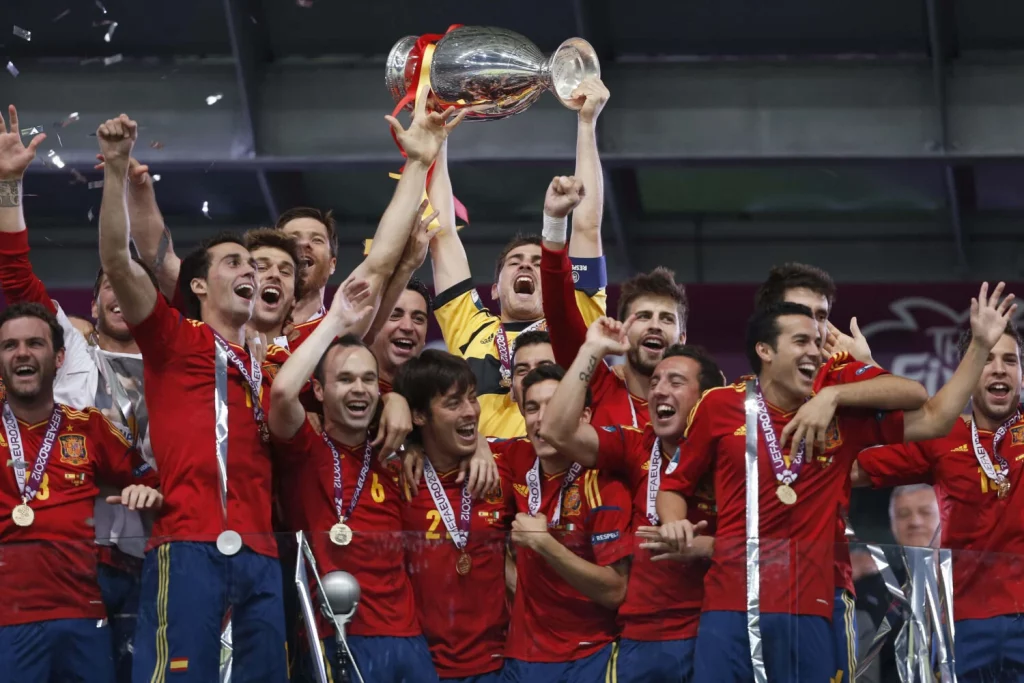 In the Euro 2008, Spain won all three of their group games and met Italy in the quarter-finals, where Cesc scored the winning penalty in the penalty shoot-out. In the finals, Cesc made it to the starting 11 against Germany and helped Spain win the match 1-0 and claimed the Euro Cup.
In the 2012 Euro, Cesc started in the 4-3-3 formation as a false 9 in the middle. In the 64th minute, he scored the equalizer after Italy had taken the lead in the 61st minute; the game finished in a 1–1 draw. He then scored in a 4-0 win against Ireland. In the final against Italy, Cesc provided the opening assist for David Silva to open the scoring and won the finals by 4-0.
In the Euro 2016, Cesc started all of Spain's matches at the finals, being substituted in each of the three group games and playing full 90  minutes against Italy in the Round of 16 which ended their campaign in the tournament.
CESC Fabregas Controversy:
Cesc Fabregas is a resigned Spanish expert footballer who played for a few clubs, including Munititions stockpile, Barcelona, Chelsea, and Monaco, as well as the Spanish public group. All through his vocation, he was associated with a few contentions, however one of the most striking ones happened in 2014, when he was blamed for tossing pizza at Sir Alex Ferguson, the unbelievable previous supervisor of Manchester Joined together.
The episode occurred after a profoundly charged match among Munititions stockpile and Manchester Joined in 2004, which finished Weapons store's 49-game unbeaten run. As per reports, Fabregas was one of the Weapons store players mixed up with Ferguson in the passage after the match. During the contention, Fabregas purportedly tossed a cut of pizza at Ferguson, smacking him in the face.
The episode became known as the "Skirmish of the Smorgasbord" and produced inescapable media inclusion and public interest. Fabregas at first denied tossing the pizza, however later owned up to it in his life account, "The Specialty of Triumph."
The episode has since turned into a piece of football fables and is in many cases refered to act as an illustration of the extreme competition among Weapons store and Manchester Joined during the mid 2000s. Regardless of the discussion, Fabregas proceeded to have an effective profession, bringing home various championships and honors both locally and universally.
ACHIEVEMENTS AND RECORDS:
The achievements and records established by Cesc Fabregas till now are:-
Arsenal
Barcelona
Chelsea
Spain
Individual
Orders
Gold Medal of the Royal Order of Sporting Merit: 2011
Get more football related news on Sportslibro.com