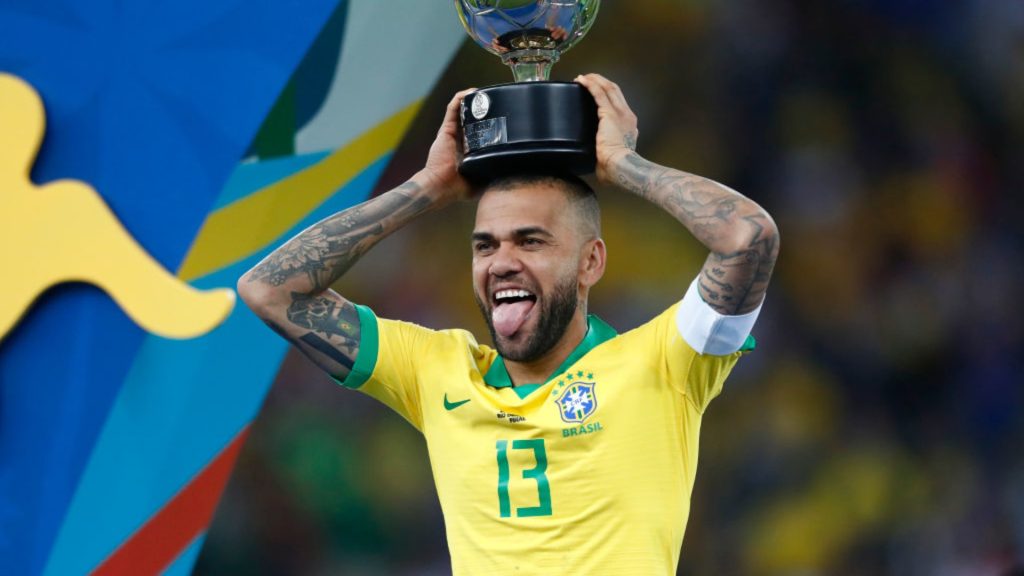 Dani Alves is presently the best right back in the world and one of the best of all time. He is one of the most successful players of all time who presently holds 40 trophies which is the most by any player. Dani Alves is a perfect full-back who can defend the best and if required can also score stunners.
His stamina, overlapping attacking runs, and technical skills make him suitable for playing as a midfielder and a winger too. While his spell at PSG he was often deployed as a central midfielder.
Dani Alves is presently playing for Sao Paulo and is the captain of the Brazilian national team. He has also received the 2019 Copa America best player of the tournament with Brazil. Dani Alves is a type of player whose presence can decide the fate of the game.
His presence never fails to make an impact on the game. If he is on the field, he would either defend, score goals, provide assists or just create chances that make him suitable for all positions on the field. He has decided to become a midfielder at Sao Paulo.
Dani Alves' biography is about his family and one of the best careers the football world has seen.
Daniel Alves da silva Family:
Daniel Alves Da Silva was born on 6th May 1983 at the city Juazeiro in Bahia. His father Domingos Alves da Silva was a farmer and his mother Dona Lucia was a house wife.
Domingos alves da silva football team:
Domingos Alves Da Silva, Dani's father also possessed a passion for football and eventually managed to make his own football team. At the age of 6, Dani played as a winger in his father's team. After being not able to score goals, Dani was deployed as a right-back by his father, a position he retains to date.
Love Life: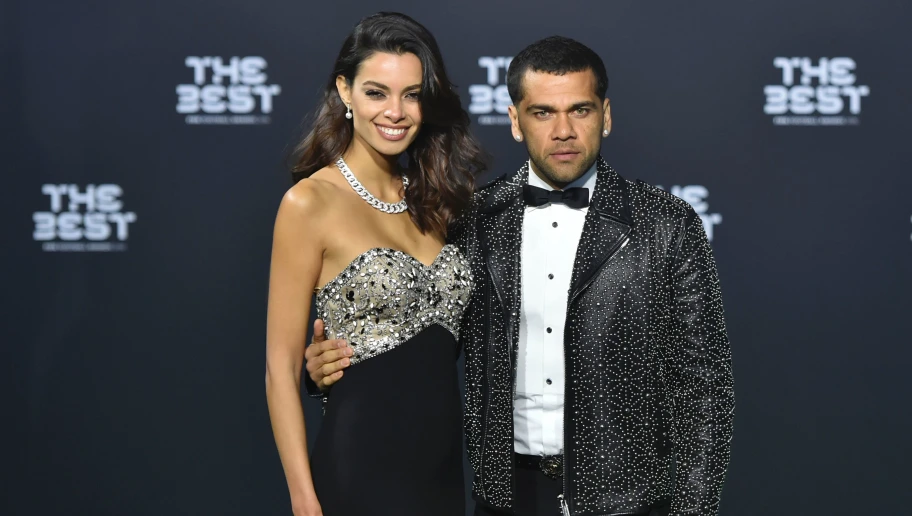 On 1st January 2005, it was official that Dani Alves and Dinora Santana had been dating. They finally decided to marry in 2008. They had a daughter Victoria and a son Daniel. The marriage did not work out and the couple finally divorced in 2011.
Even after the divorce, Dinora still acts as an agent of Dani. She chooses the events, listens to club proposals and even takes care of Dani when he is injured.
In June 2017, Dani decided to marry Spanish model Joana Sanz. His wedding was a secret one held in Ibiza.
Dani Alves Biography–Career:
CLUB CAREER
BAHIA: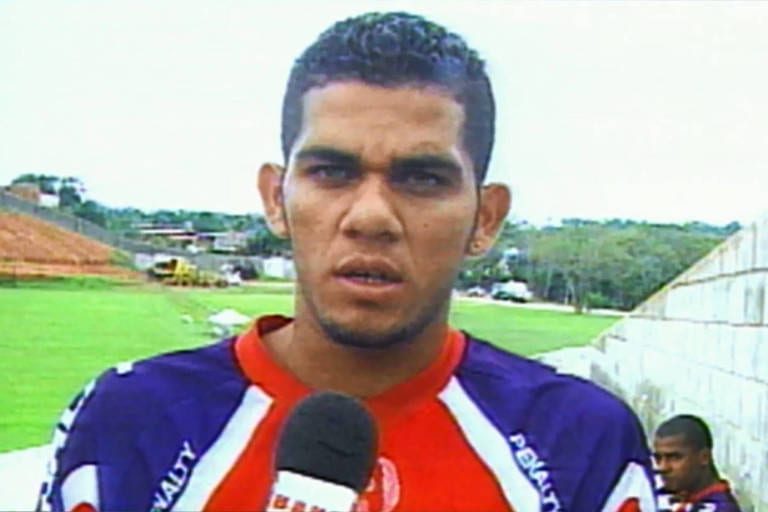 Alves made his first-ever professional debut for Esporte Club Bahia in the 2001 Campeonato Brasileiro Serie A where Bahia won 3-0 where Dani provided two assists and won a penalty for the team.
His debut encouraged the coach to promote him to the first team. He won the Campeonato Baiano in 2001 and two times the Northeast Cup in 2001 and 2002. His consistency earned him a place on the transfer list in 2002.
SEVILLA: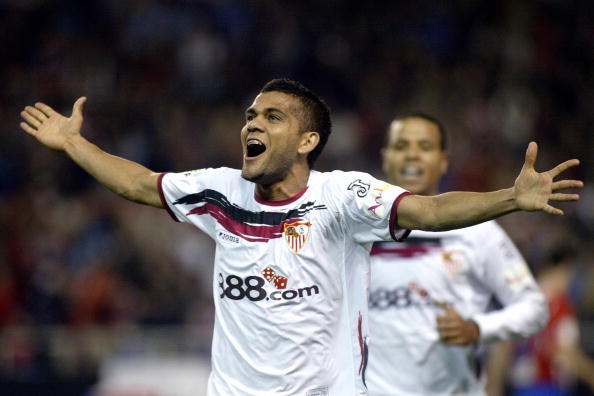 Bahia loaned Alves to Sevilla before the start of the 2002 – 2003 season. Initially, Alves failed to make an impact and was often left out on the bench but after his performance in the 2003 FIFA World Youth Championship.
In 2006, Liverpool wanted to make a bid for Dani Alves but was unable to pay a fee of £8 million. In December 2006, he signed a new contract with Sevilla, tying him to the club until 2012. In the 2006 – 2007 season, Dani scored 5 goals in 47 appearances. He played in all the UEFA Cup matches and helped the club to win the title.
On 1st August 2007, Dani said he wished to leave Sevilla and was flattered by the interest shown by the English side Chelsea. On 16 August 2007, Sevilla rejected an unspecified Chelsea bid and, six days later, rejected another two bids from Chelsea.
After a public war of words between Alves and Sevilla President Del Nido for rejecting offers by Chelsea, as well as the death of teammate Antonio Puerta, Alves decided to stay with Sevilla.
FC BARCELONA: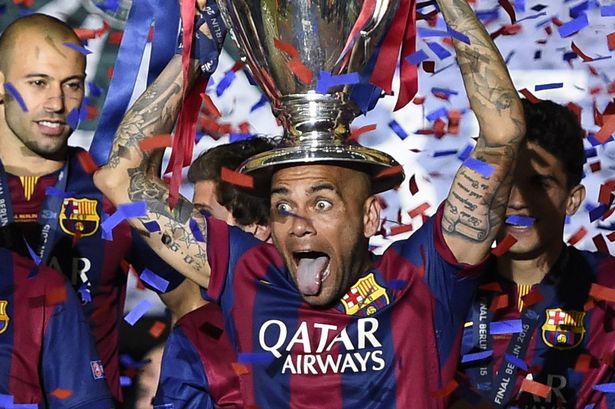 On 2nd July 2008, Daniel Alves joined FC Barcelona, £23 million up-front, with approximately £7 million more depending on a number of performance-related factors over the next few seasons of Dani Alves's FC Barcelona career which made him the third most expensive defender bought by Barca.
He signed a four-year contract with FC Barcelona, which included a buy-out clause of €90 million. He left Sevilla in tears and said, " I would love to play for the club again. I came here as a boy and I am leaving as a man. "
On 13th August 2008, he made his first debut for FC Barcelona in the UEFA Champions League qualifiers against Wisla Krakow. On 31st August, he went on making his La Liga debut against Numancia.
He was soon promoted to the first team. In his first season with the club, he won the historic treble. He could not play in the 2008 – 2009 Champions League final against Manchester United due to suspension, still, Barca managed to seal a 2-0 victory. To complete the treble, Barca further won the La Liga title and the 2008 – 2009 Copa Del Rey.
In the next season, he successfully retained the La Liga title and won the 2009 FIFA Club World Cup. By this time he had become an important part of the Barca team. On 28th May 2011, Dani played his first-ever Champions League final against Manchester United where Barcelona went to win the final by 3-1.
In the 2011 – 2012 season, Dani Alves successfully won the Copa Del Rey and the FIFA Club World Cup and in the next season, he won his fourth La Liga title. In 2013–14, Alves wore shirt number 22, which was formerly worn by his friend Eric Abidal, to whom he offered to donate part of his liver during Abidal's treatment for liver cancer.
On 27 April 2014, during a match at Villareal's stadium, Alves was targeted by Villareal supporter David Campaya Lleo, who threw a banana at him. Alves picked up the banana, peeled it, and took a bite.
He responded to the incident by saying "We have suffered this in Spain for some time. You have to take it with a dose of humor. We aren't going to change things easily. If you don't give it importance, they don't achieve their objective."
In the 2014 – 2015 season, Barca became the first team to win their third treble. After winning the domestic league and the European cup, Dani Alves played his 2nd Champions League final against Juventus on 6th June 2015. He was one of those 7 players to have won the treble twice.
On 9 June 2015, Alves signed a two-year contract with Barcelona, keeping him at the club until 30 June 2017, with the option to extend a further year. During the 2015 – 2016 season, Barcelona was defeated by Atletico Madrid in the Champions League quarter-finals. Dani Alves shared a video where his wife was consoling him for the defeat.
After this video, the manager dropped him from the squad for the next match against Valencia and on 2 June 2016, Roberto Fernández, Barcelona's technical secretary, announced Alves was leaving Barcelona that summer after eight years. Although under contract until 30 June 2017, Barcelona allowed Alves to leave prematurely on a free transfer.
JUVENTUS: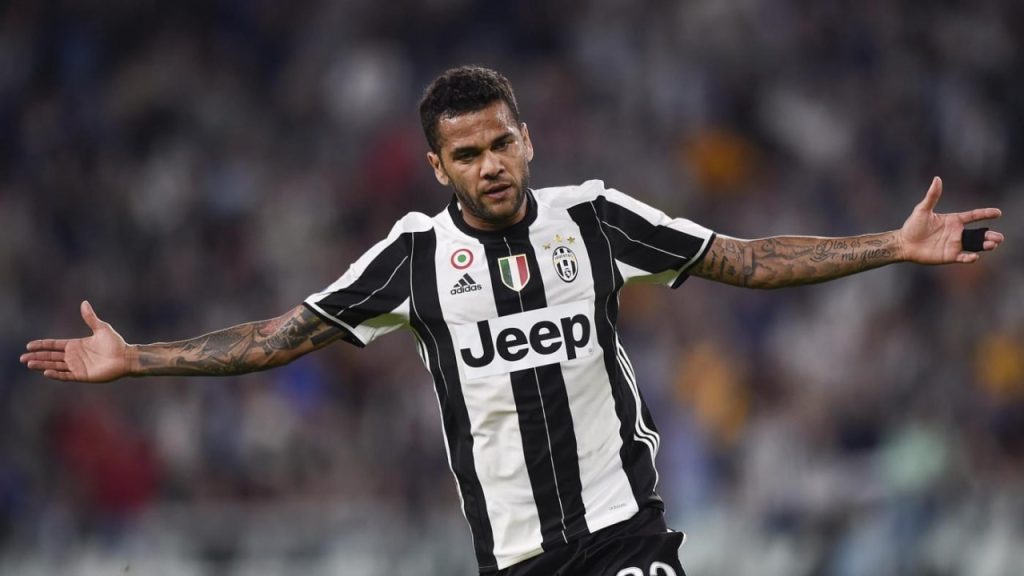 On 27th June 2016, Dani Alves joined the Italian side Juventus on a free transfer. He had joined on a two-year deal and had an option of extending by one year. On 20th August 2016, Dani Alves made his debut for Juventus in a 2-1 win over Florentina.
On 21 September, Alves scored his first goal with Juventus in a 4–0 win over Cagliari. On 27 November, he suffered a broken leg in Juventus' 3–1 defeat to Genoa. Alves made his return from injury as a substitute in a 1–0 Derby d'Italia win over Internazionale on 5 February 2017.
On 9th May 2017, Dani Alves scored once and assisted once for Juventus to defeat Monaco 2-1 and qualify to the Champions League final. It was Alves' fourth Champions League final. Juventus were defeated in the finals by 4-1 by Real Madrid.
On 17 May, Alves scored the opening goal of a 2–0 win over Lazio in the 2017 Coppa Italia Final. On 29 June 2017, Alves had his contract with Juventus terminated by mutual consent. In his one season with Juventus, he made 33 appearances and had won the Serie A title and the Copa Italia.
PARIS SAINT-GERMAN: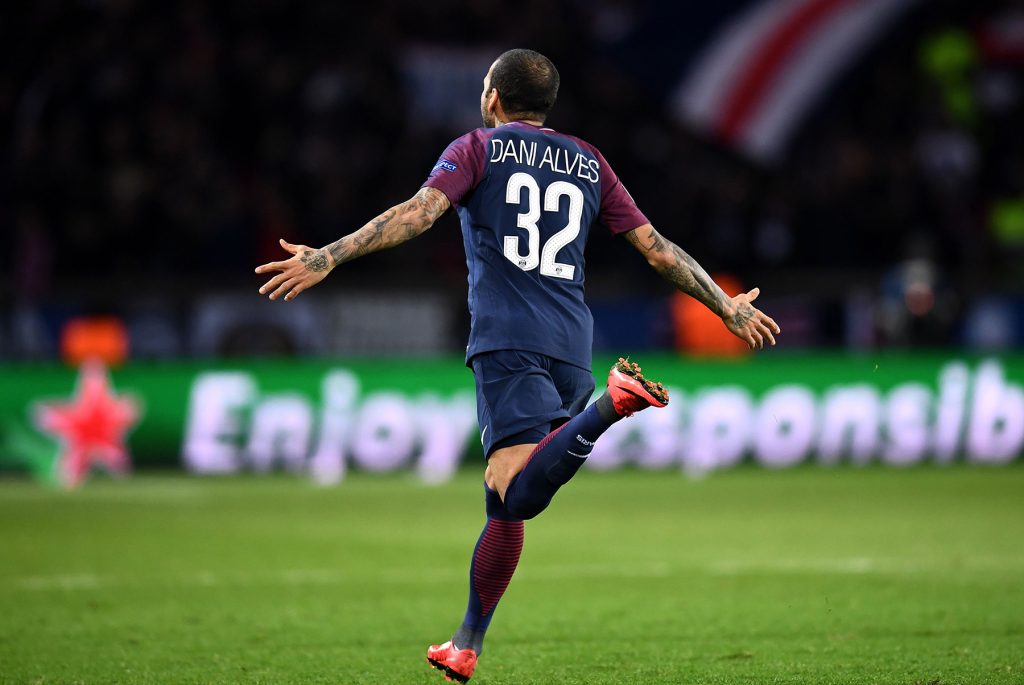 On 12th July 2017, Dani Alves officially joined the French side Paris Saint-German with a free transfer on a two-year deal. On 29th July 2017, in the Trophee des France, Dani Alves made his debut for PSG where he scored on and assisted the winner for PSG to grab a 2-1 victory over the Ligue 1 champions Monaco.
After the expiry of his term, he refused to renew the contract and became a free agent.
SAO PAULO: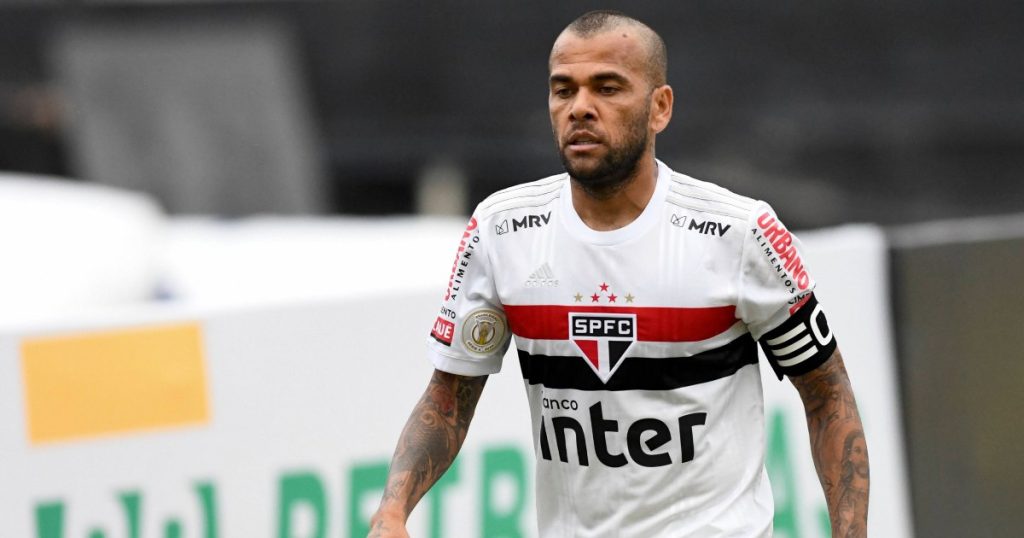 On 1st August 2019, Dani Alves was signed by Sao Paulo with a contract that keeps him at the club until December 2022. On 18th August 2019, he made his debut in a 1-0 win against Ceara where he scored an amazing solo goal. After his arrival at the club, he is mostly being used as a midfielder instead of a defender which gives him more touches on the ball.
Return to FC Barcelona:
Barcelona struck an agreement in principle to sign Alves until the conclusion of the season on November 12, 2021. Beginning in January 2022, he was only available for the team's official matches. On 5 January 2022, he made his official Barcelona debut in a Copa del Rey 2–1 win against Linares Deportivo.
He scored for the first time since his comeback on February 6, 2022, in Barça's 4–2 league victory over Atletico Madrid at home.
International Career:
Alves unofficially made his debut for Brazil on 7th October 2006 in a friendly against a Kuwaiti club Al Kuwait Selection. He made his official debut three days later in another friendly against Ecuador.
WORLD CUPS: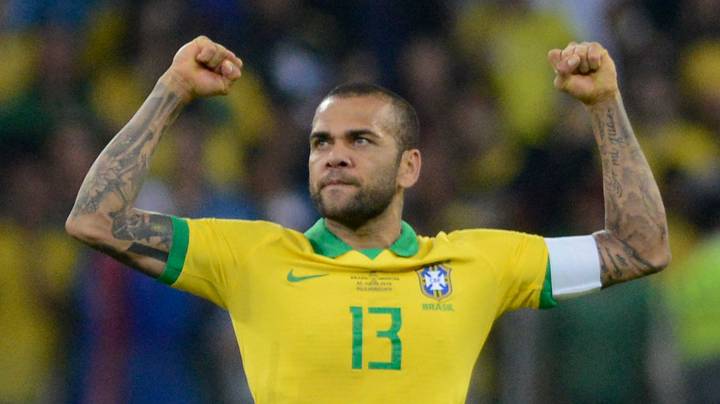 Dani Alves was included in the World Cup 2010 squad. Although he was the most expensive right-back of all time, he had not got a chance in the first team. On 7th October 2010, he scored a long ranger against Iran.
The 2014 FIFA World Cup was held in Brazil itself. Dani Alves initially lost his first-team position due to poor performances. In the quarter-finals against Columbia, Brazil won 2-1 and Dani Alves and David Luiz were seen applauding James Rodriguez of Columbia.
In the semi-finals, Brazil had to suffer the biggest defeat of 7-1 against Germany which ended their 2014 World Cup campaign.
Dani Alves was the captain of Brazil during the 2018 World Cup qualifications. He helped Brazil secure a place in the World Cup in the POT 1. Before the World Cup, he suffered a knee injury which did not allow him to play in the tournament even after being included in the squad.
CONFEDERATION CUP
Even after being the most expensive right-back of all time, he was not given the starting 11 during the 2009 FIFA Confederations cup. In the semi-finals against South Africa, he came on as a late substitute and unexpectedly scored the winner in the 88th minute with a free-kick to seal a 1-0 victory.
Alves was part of the 23 players called by coach Luiz Felipe Scolari to play in the 2013 FIFA Confederations Cup on home soil. He started in Brazil's 3–0 victory over Spain in the final on 30 June, at the Maracanã Stadium.
COPA AMERICA: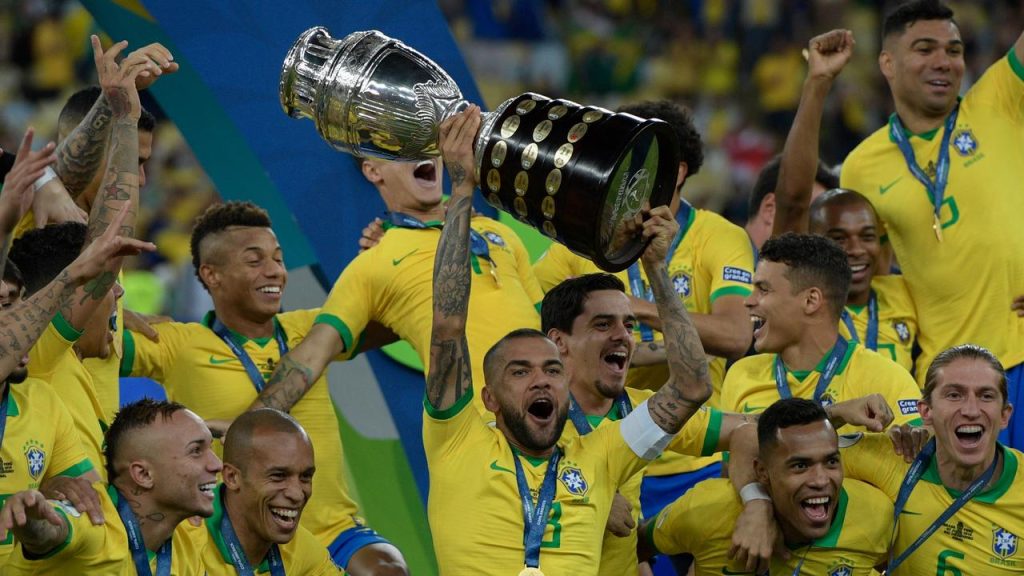 Dani Alves was included in the 2007 Copa America squad. In the tournament, Dani Alves appeared in four matches where he provided an assist against Argentina Roberto Ayala's own goal and scored a goal himself in the 3–0 victory. Dani Alves was also included in the 2011 Copa America 23-man squad but could not make an appearance.
Dani Alves retained his position as the starting 11 during the 2015 Copa America but Brazil failed to make an impact in the tournament. Dani Alves was given the captaincy during the 2019 Copa America.
On 22nd June, Dani scored in a 5-0 win against Peru in the final group match to book a spot in the quarter-finals. Brazil looked dominating under his captaincy and went ahead to the Finals. Brazil had to face Peru in the finals. Brazil went to win the finals by 3-1 and Dani Alves has crowned the best player of the tournament.
The Copa America title of 2019 was the 40th title of his career.
Dani Alves Controversy: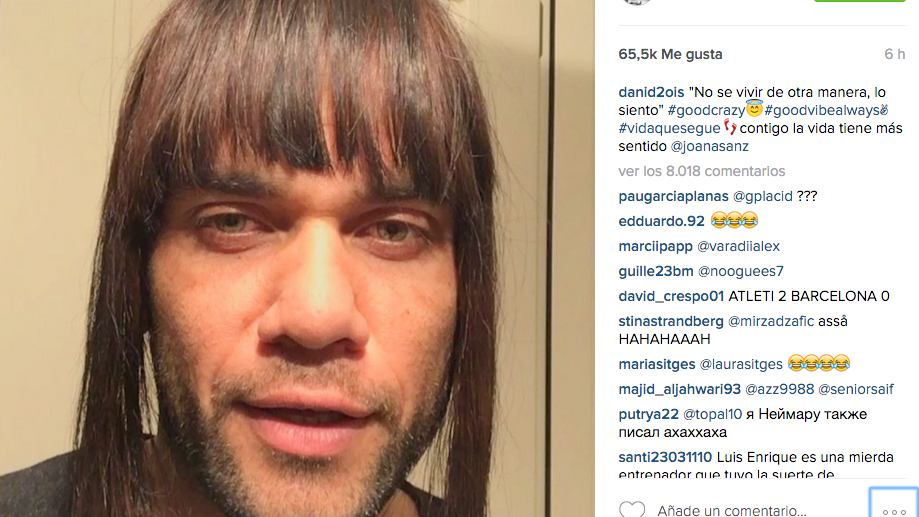 Dani Alves is an expert footballer from Brazil who has played for a few top clubs, for example, Barcelona, Paris Holy person Germain, and Juventus. He has been engaged with a few discussions all through his vocation, yet perhaps of the most outstanding occurrence occurred in 2014 when he was playing for Barcelona.
During a match against Villarreal, a fan tossed a banana at Alves while he was taking a corner kick. Accordingly, Alves got the banana, stripped it, and took a chomp prior to going on with the game. His activities started a worldwide discussion about prejudice in football and then some.
While certain individuals lauded Alves for his speedy mind and silly reaction to the occurrence, others reprimanded him for downplaying a difficult issue. A few contended that his activities should have been visible as ridiculing the genuine issue of prejudice and proposed that he ought to have adopted a more serious strategy.
Notwithstanding the contention, Alves got support from large numbers of his kindred players and fans, who lauded him for facing prejudice in an imaginative and important manner. The occurrence likewise prompted expanded mindfulness about the issue of prejudice in football and ignited a more extensive discussion about the need to handle segregation in all structures.
Achivements and Records:
The achievements and records of Dani Alves's Biography at present are:-
Club
Bahia
Sevilla
Barcelona
Juventus
Paris Saint-Germain
International
Brazil
Individual
Records
Get More football-related articles on Sportslibro.com