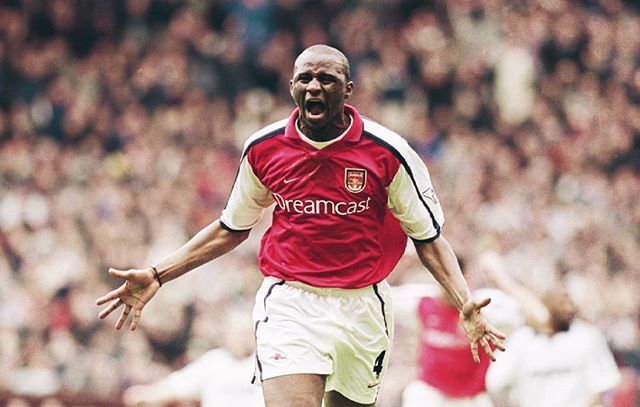 Patrick Vieira was one of the best mid fielder of his generation. He was a perfect box to box mid fielder. Patrick Vieira was a complete, powerful, tenacious and aggressive footballer, with outstanding physical, athletic and technical attributes, who was also well known for his grace on the pitch when in possession of the ball.
Patrick Vieira was a competent tackler, and a tactically intelligent midfielder. His ability to anticipate his opponents was largely appreciated and he was also gifted with good ball skills, distribution and vision, which enabled him to start attacking plays in midfield after winning back possession.
Patrick Vieira was a complete player with a good pace, good physical strength and incredible stamina. Vieira established himself as a dominating box to box midfielder and was well noted for his aggressive and highly competitive style of play. He has a great height of 6 feet and 4 inches which makes him physically strong.
Patrick Vieira was a crucial player of the Arsenal team winning the Golden Premier League where they went on to win the entire league season unbeaten. With his national team, he successfully won the 1998 FIFA World Cup and the 2000 Euro Cup. After retiring as a professional player, he decided to stay in touch with the game and decided to become a coach.
Patrick Vieira biography is about his family and his long successful career.
FAMILY:
Patrick Vieira was born on 13th January 1977 at Darkar in Senegal. Patrick Vieira was brought up by his mother Emilienne as his parents divorced shortly after his birth and he knows nothing about his father.
His family moved from Darkar to Dreux in France. His grandfather served in the French Army which allowed him to get French citizenship easily.
Patrcik Vieira met his future wife Cheryl during his career at Arsenal. Cheryl was of Trinidian origin. They decided to marry on 9th May 2005.
CAREER:
CLUB CAREER:
EARLY CAREER:
Patrick Vieira made his first professional debut for Cannes at the age of 17. By the age of 19, he was given the club captaincy. He soon left the club with 2 goals in 49 appearances.
In the summer transfer window of 1995, he joined the Italian side AC Milan. He stayed there for only one season. He was mostly kept in the reserves and was given the chance in the senior team twice.
ARSENAL:
1996 – 2002
On 14th August 1996, PatrickVieira joined the English side Arsenal on a fee of £3.5 million. On joining the club, he said "I am delighted to be joining Arsenal at the same time as Mr Wenger becomes their coach. Being able to speak French to him will make life a lot easier for me".
On 5th December 1996, he made his debut against Middlesbrough and on 8th December, he scored his first goal against Derby County where he scored the late equalizer to level the score 2-2. In the following months, he impressed everyone with his game. In his debut season, Patrick Vieira made 38 appearances in his first season.
Vieira twisted his knee during a match against league leaders Manchester United on 9th November 1997 and was ruled out from playing for a month.
On 16th January 1998, he received his first red card in a match against Coventry city after using foul and abusive language against the referee. He ended the season with helping the team win their double with the Premier League title and the FA Cup title. The next season, Arsenal failed to retain the Premier League title but successfully won the FA Cup.
On 2nd October 1999, in a match against West Ham, Patrick Vieira was sent off after receiving a second yellow card- first after fouling striker Paolo Di Canio and moments after, he spat at Neil Ruddock, who walked into him and received the second. He was dragged off the pitch by officials.
Patrick Vieira was subsequently charged, banned for six matches and fined a record £45,000 by The Football Association. Arsenal ended the season 2nd in the Premier League and were defeated in the UEFA Cup final in penalties where Vieira's penalty had hit the cross bar.
On the opening day of the 2000 – 2001 season, Patrick Vieira was sent off in the match against Sunderland. Within 72 hours, he received another red card against Liverpool. In October 2000, in the Champions League group stage match against Lazio, Vieira claimed that he was racially abused by Siniša Mihajlović, to which UEFA subsequently launched an investigation into. Mihajlović later admitted he made reference to Vieira's colour, but added that he was provoked.
Arsenal finished the season second in the Premier league behind Manchester United for the third consecutive time. In May 2001, Manchester United entered into negotiations with Patrick Vieira without informing Arsenal which was against the rules.
However, no move was made and Patrick Vieira decided to stay committed to the club and helped the club complete their second double with winning the Premier League title 2001- 2002 and the FA Cup.
2002 – 2005:
Before the start of the 2002 – 2003 season, Patrick Vieira was named as the club captain. On 14th September 2002, Vieira made his 200th Premier League appearance for Arsenal. In May 2003, Vieira was again racially abused in a Champions League match against Valencia.
Patrick Vieira was fined £2,300 by UEFA after he criticised them for not doing enough to stop racism. In the later part of the season he was side lined sue to a knee injury. Without their captain, Arsenal lost the Premier League title to Manchester United but managed to win the FA Cup.
During the summer transfer window of 2003, Manchester United, Real Madrid and Chelsea were in a race to sign Vieira but Vieira made a different move and signed an extension with Arsenal keeping him in the club until 2007.
In September 2003, he was banned for one match and later fined £20,000 for improper conduct in failing to leave the field of play following his sending-off. After his return, he suffered a thigh strain in the match against Newcastle United which kept him out for two months. He scored his first goal of the season on 21st February 2004 against Chelsea.
The Arsenal captain dominated the whole season and helped Arsenal to become the first ever team to lift the Golden Premier League title win zero defeat in the league. Arsenal had 26 wins and 12 draws that season. Arsenal Manager Arsène Wenger received a lot of praises for the season.
In 2004, Real Madrid again wished to make an attempt to sign Patrick Vieira. On 13th November 2004, Patrick Vieira scored his first goal of the season in the North London Derby and helped the club win 5-4 over Tottenham Hotspurs.
In February 2005, Patrick Vieira was involved in a tunnel bust up with Manchester United captain Roy Keane and was confronted about an incident involving Gary Neville. Arsenal ended the season as second in the Premier League.
In the FA Cup finals, Vieira scored the winning penalty against Manchester United after the game was level during the extra time. He played his last match for Arsenal on 22nd July 2006 which was a testimonial match for Denis Bergkamp.
JUVENTUS:
On 15th August 2005, Arsenal allowed Patrick Vieira to sign a five year contract with Italian club Juventus for a fee of £13.75 million. Juventus coach Fabio Capello commented about the transfer saying "his presence is felt not only for his technical value but for his physical quality".
Patrick Vieira made his debut on 28th August 2005 in a 1-0 win against Cheivo. On 14th September, at the opening game of the Champions League against Club Brugge, he was sent off and on 21st September, he scored his first goal for the club against Udinese. In October 2005, he picked up a groin injury. The groin injury and his burst up with team mate Zlatan Ibrahimovic had some bad effects on the team.
Still Patrick Vieira helped Juventus retain the Scudetto which was later stripped. On 26th March 2006, Juventus met Arsenal in the UEFA Champions League quarter finals. During that game, he was the subject of a strong tackle by Robert Pires.
Vieira was left crestfallen and Pires regained possession to build Arsenal's attack and scoring the first goal of the game through Cesc Fàbregas. Pires humorously quipped that it was the first time in 13 years he had got the better of Vieira physically. Juventus were knocked out and Arsenal reached the Champions League finals.
INTER MILAN:
Juventus had to face relegation due to match fixing scandal which forced many major stars to take a move from the club. There were speculations about Patrick Vieira returning to Arsenal but on 2nd August 2006, he signed a four-year deal with Inter Milan for a fee €9.5 million.
On 26th August 2006, he made his Inter Milan debut against AS Roma in the Supercoppa Italiana where he scored twice to seal a 4-3 victory for Inter Milan. Vieira could not be a regular started for the club due to frequent injury problems.
He was mostly sidelined or benched by Inter manager Roberto Mancini and new players were signed who became regular starters. He still managed to help the team win three consecutive league titles in 2006–07, 2007–08, and 2008–09. On 6th January 2010, he played his last match for the club where he started the game against Chievo.
MANCHESTER CITY:
On 8th January 2010, it was found that Patrick Vieira was having his medical test for Manchester City. Vieira later signed a 6 month deal with the club with an option of extension by a year. On 6th February 2010, he made his debut for the club which ended in a 2-1 defeat against Hull City.
At the end of February, in the match against Stoke City, he was given a three-match retrospective ban for a kick at Glenn Whelan. On 3rd April, he scored his first goal in a 6-1 win against Burnley.
On 9th June, he agreed to extend his contract. On 14th May 2011, he made his last appearance as a player in the FA Cup final against Stoke City where he came on as an added time substitute and Manchester City won 1-0.
INTERNATIONAL CAREER:
Patrick Vieira made his debut for France in 1997 against the Netherlands. He was included in the 1998 World Cup squad. He came on as a substitute in the finals against Brazil and assisted Emmanuel Petit to help France seal a comfortable victory to be crowned as the World Champions.
He was the first choice mid fielder for France for the Euro 2000. France headed to the finals and defeated Italy to win the Euro 2000.
In the 2001 Confederations Cup, he scored the winner against Japan in the finals to win the tournament. He was the joint top scorer of the tournament.
He was also included in the 2002 World Cup squad but due to retirement of key players, France failed to make an impact and were eliminated in the group stages where Vieira made his appearance in all the three matches.
During the Euro 2004, he missed the key match against Greece who eliminated France and headed to be the eventual champions of the Euro 2004.
On his 30th birthday, in the 2006 World Cup match against Togo, he was given the captain's band. In that match, France won 2-0 where Vieira scored once and assisted once which turned out to be his perfect birthday gift. France qualified to the knock out stages.
In the round of 16 against Spain, Vieira again scored once and assisted once to turn a 1-0 deficit to a 3-1 victory. France headed to the finals. In the finals against Italy, Vieira was substituted due to injury and France lost 5-4 to Italy on penalties.
He captained France for the Euro 2008 qualifiers but could not play in the tournament due to his knee injury. On 15th November 2006, he became the fifth Frenchman to make 100th appearance for France in a 1-0 win against Greece.
On 2nd June 2009 he made his last appearance for France against Nigeria and later on 7th July 2010 he confirmed that he was unavailable for playing further for France.
MANAGERIAL CAREER
After successfully completing his journey as a great player, he returned to the game with the aim of establishing himself as a great coach too.
MANCHESTER CITY E.D.S:
On 14th July 2011, Vieira accepted a training and youth development role at Manchester City with the title of Football Development Executive (F.D.E). In this role, he forged a strong, close working relationship with Manchester City Football Group's Brian Marwood. In May 2013, Vieira was appointed as the club's new reserve team and Elite Development squad manager.
NEW YORK CITY fc:
On 9 November 2015, Vieira was announced as the new head coach of New York City fc which was to be implemented from 1 January 2016. Vieira's first signing at the club was Jack Harrison who was the first pick of the 2016 MLS SuperDraft.
His first match as a manager came on 6th March 2016 where his team successfully claimed a victory of 4-3. He helped New York City fc to qualify to their first playoff after finishing 2nd in the Eastern Conference. Although they lost in the Semi finals against Toronto, the season was considered to be a successful one for Vieira.
OGC NICE:
On 11 June 2018, Vieira was appointed as the manager of OGC Nice. In his first season with the club, he helped them to finish seventh in Ligue 1.
Crystal Palace:
Following the retirement of its former manager, Roy Hodgson, who had served the club since 2017, Vieira was appointed manager of Premier League team Crystal Palace on a three-year contract on July 4, 2021.
On August 14, he made his debut against Chelsea and lost 3–0. He collected points away from his two former Premier League teams in his debut season: a 2–2 draw with Arsenal on October 18 and a 2–0 triumph at Manchester City.
All of Vieira's teams have been noted for playing methodical, possession-based football. When his team is in a difficult place, he has a propensity to become more defensive.
During his time at Crystal Palace, he observed a transition away from the reactive counterattack-based style of play that had been prevalent under Roy Hodgson's management.
Media Career:
Vieira appears in the EA Sports FIFA video game series; he was featured on the cover of FIFA 2005 and in FIFA 14's Ultimate Team Legends.
Vieira was a Nike sponsored athlete that appeared in Nike advertisements. He starred in a "Secret Tournament" commercial (branded "Scorpion KO") directed by Terry Gilliam in the run-up to the 2002 World Cup in Korea and Japan, alongside football players such as Thierry Henry, Ronaldo, Edgar Davids, Fabio Cannavaro, Francesco Totti, Ronaldinho, Luis Figo, and Hidetoshi Nakata, with former player Eric Cantona serving as the tournament "referee."
Vieira also worked as a commentator for ITV during the 2014 FIFA World Cup broadcast.
ACHIEVEMENTS AND RECORDS
When Florentino Perez was re-elected as the Real Madrid President in 2004, he said about his intention to sign Patrick Vieira "I must repeat that my policy is to try to sign the best player in the world in every position where we do not already have that. Patrick Vieira is, in my opinion, the best in the world in his position."
The achievements and records of Patrick Vieira are :-
Player
Arsenal
Premier League: 1997–98, 2001–02, 2003–04
FA Cup: 1997–98, 2001–02, 2004–05
FA Community Shield: 1998, 1999, 2002
Inter Milan
Serie A: 2006–07, 2007–08, 2008–09, 2009–10
Supercoppa Italiana: 2006, 2008
Manchester City
France
FIFA World Cup: 1998
UEFA European Championship: 2000
FIFA Confederations Cup: 2001
Individual
Division 1 Rookie of the Year: 1995
UEFA European Championship Team of the Tournament: 2000
FIFA Confederations Cup Silver Ball: 2001
FIFA World Cup All-star team: 2006
PFA Team of the Year: 1998–99 Premier League, 1999–2000 Premier League, 2000–01 Premier League, 2001–02 Premier League, 2002–03 Premier League, 2003–04 Premier League
Premier League Player of the Season: 2000–01
UEFA Team of the Year: 2001
French Player of the Year: 2001
Premier League Overseas Team of the Decade: 1992–93 – 2001–02
Premier League Overall Team of the Decade: 1992–93 – 2001–02
FIFA 100: 2004
Sports Illustrated Team of the Decade: 2009
Équipe type spéciale 20 ans des trophées UNFP: 2011
English Football Hall of Fame: 2014
Golden Foot Legends Award: 2019
Manager
Manchester City EDS
Premier League International Cup: 2014–15
Orders
Chevalier of the Légion d'honneur: 1998