Cristiano Ronaldo Jr. aka Cristiano jr was born on 17 June 2010 in San Diego in the State of California, United States. He is the son of world-famous football Icon Cristiano Ronaldo & an unidentified mother.
Who is Cristiano Ronaldo Jr?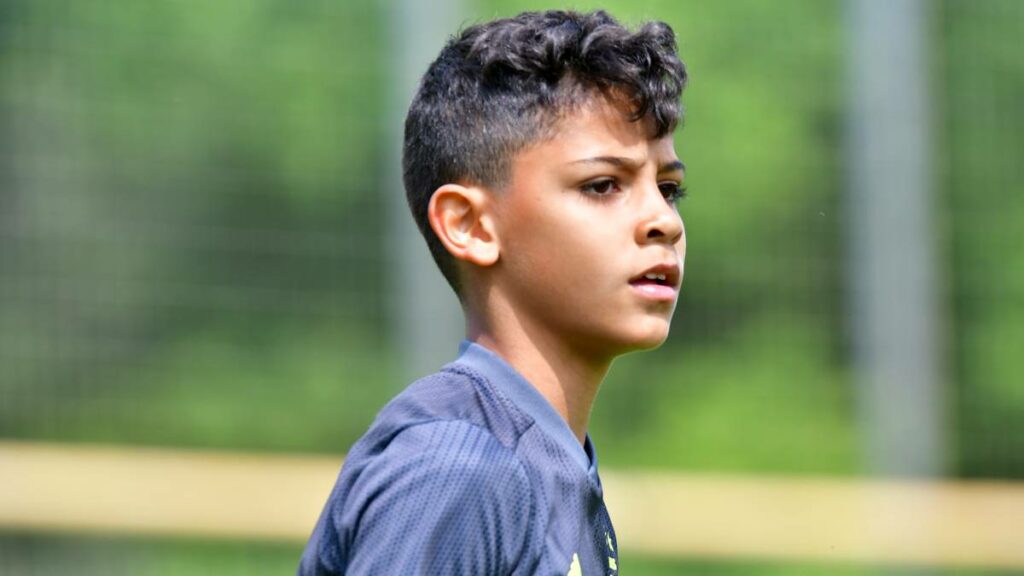 Cristiano Ronaldo Jr. was born in 17th June 2010. He is the son of world-famous football player Cristiano Ronaldo. His mother's name is still unidentified but some reports say that she was a bartender with whom Ronaldo slept and eventually got her pregnant. Cristiano Jr, is one of the five Children of the Manchester United star. He the Eldest son of superstar footballer Cristiano Ronaldo.
Cristiano Jr have four younger siblings named, Alana Martina dos Santos Aveiro, Bella Esmeralda and twins Eva and Mateo.
He's nicknamed, "Cristianinho", which means 'Little Cristiano'. He's also called Cristiano Jr, Ronaldo jr by everyone.
Cristiano Ronaldo Jr. Complete Bio & Career: Cristiano jr.
Ronaldo jr is a very talented and promising footballer just like his father, Cristiano Ronaldo. He started playing football from a very young age. He first started his footballing journey by playing for a small Spanish football club called Club de Fútbol Pozuelo de Alarcón in Spain.
Cristiano Jr, plays anywhere in the front.
He came to the limelight after Cristiano Ronaldo posted a picture of him holding his 2 trophies which he won for scoring goals, the Pichichi and the Copa 2017 tournament Trophy. He is mostly seen accompanying his father, Cristiano Ronaldo at various events and occasions and is often seen cheering for his dad in his football matches. He sometimes can be seen with his father's current girlfriend Georgina Rodriguez.
Ronaldo Jr. plays for Manchester United's youth academy:
Ronaldo returned to Manchester United for his second stint with the club in 2021, and became the highest goal scorer for the club in the season.
Alongside his father, Cristiano Jr also joined the club's youth academy at Old Trafford. He plays in the same youth team as Wayne Rooney's son Kai. Ronaldo recently represented Protugal in the Nations League and went on vacations with his family to spend some quality time.
He will be now preparing for the new season with United, who are now managed by the new manager Erik ten Hag. Some media reports suggests that Ronaldo has had positive talks with the new head coach and will work towards the direction and help the them in bringing the glory days back to the club.
Later this year, Ronaldo will be preparing himself for making his fifth appearance at the FIFA World Cup 2022 in Qatar.
Cristiano Ronaldo Jr joins academy in Saudi Arabia:
In the wake of leaving Manchester Joined by mutual consent in November, the senior Ronaldo as of late finished paperwork for Saudi side Al-Nassr in an arrangement supposedly worth $75m (£61.1m) each year. His 12-year-old child has left Joined as well and will presently play at foundation level in the Center Eastern country.
Ronaldo Jr burned through two years in Juventus' foundation framework while his dad was playing in Italy, and most as of late wore the No. 7 shirt as a possibility with Man Joined together. He likewise got featured in the Madrid youth group.
Obviously, wanting to emulate his dad's example, the youth was even seen pulling off the notorious 'siuuu' festivity while scoring in an Under-12s competition for the Red Demons.
Shocking and Interesting Facts & Secrets About Cristiano Ronaldo's son:
The name of Cristiano Jr's mother is unknown to anyone. Some media reports say, that his father had a one night stand with a 20 year old during his old Manchester United glory days, and eventually got her pregnant.
According to the Sun and Sunday Mirror, Ronaldo reportedly paid 20Millions to the women for not revealing her identity ever and also made a deal with her to don't make any connections ever with Cristiano Ronaldo Jr or Ronaldo's family.
Some Media reports suggests, that Cristiano Jr told his father that he needs 6 siblings to match his magic number 7 with the CR7 brand.
He gained worldwide media attention and rose to prominence after a short video of him went viral on the Internet in June 2017, where he was see showing off his impressive skills with the ball.
Cristiano Ronaldo's birthday wish for his son:
Cristiano Ronaldo, wished his son with a post on his Instagram Account. Wishing his son on the occasion of his 12th birthday, the footballer had wrote, 'Happy birthday my son! How does time go by"! Will we still play together'! The most important thing is to continue being the boy you are with a huge heart! Best of luck, puppy! Daddy loves you very much."
Get more football news on Sportslibro.com