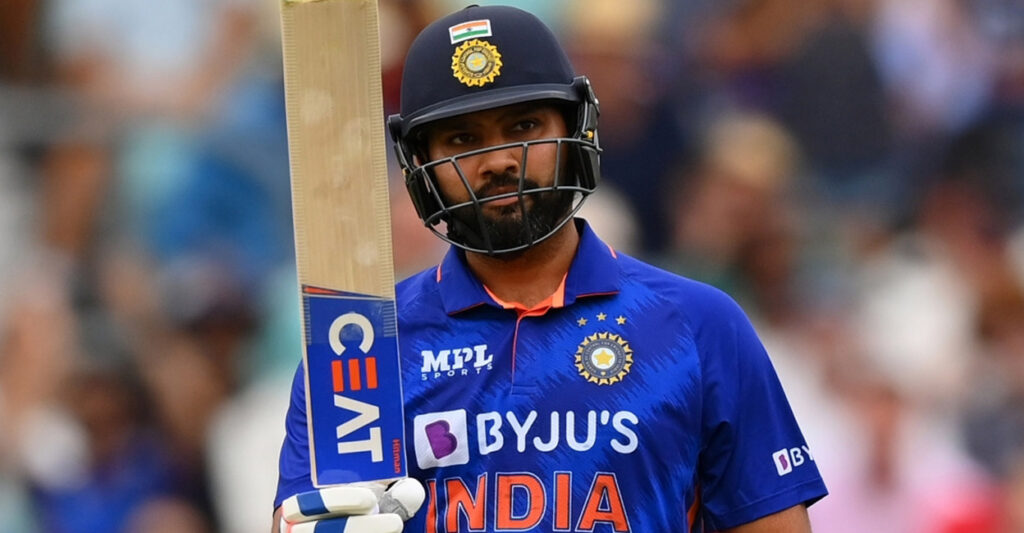 Rohit Sharma is an Indian international cricketer. He's currently the Captain of the Indian Cricket team. Rohit Sharma was born in Nagpur, Maharashtra in 30 April 1987.
His father, Gurunath Sharma worked as a caretaker in a Transport Agency storehouse and his mother Purnima Sharma was a housewife.
Due to his father's financial struggles, Rohit was sent to Borivali, where he lived with his grandparents and uncles. Rohit's coach Dinesh Lad played a vital role in his journey as a cricketer.
The Indian Captain lives in the 29th floor of Ahuja Towers in Worli in a spacious 6000 sq.ft flat, with a view of overlooking the Arabian Sea.
Rohit Sharma started his cricketing journey by joining a Cricket Camp in 1999 with the help of his uncle. Dinesh Lad, his coach at the camp, asked him to change his school to Swami Vivekanand International School, where Lad was the coach and the cricketing facilities were better than those at Sharma's old school.
Rohit started as an off-spinner who could bat a bit. It was his coach, Lad who noticed his batting ability and promoted him from number eight to open the innings. Rohit excelled in the Harris and Giles Shield school cricket tournaments, scoring a century on debut as an opener.
Domestic Cricket Debut: Rohit Sharma Family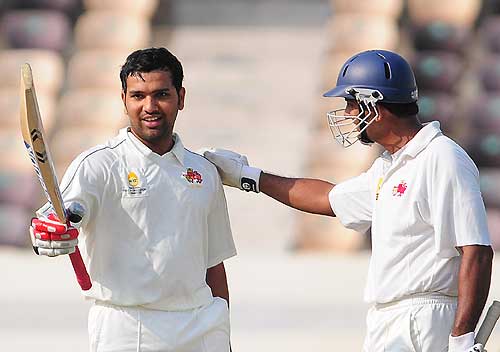 Rohit Sharma made his List A debut for West Zone against Central Zone in the Deodhar Trophy at Gwalior in March 2005. Batting at number eight, he scored 31 not out as West Zone won by 3 wickets. Cheteshwar Pujara and Ravindra Jadeja also made their debuts in the same match.
Rohit Sharma came into limelight with an unbeaten knock of 142 in 123 balls against North Zone at the Maharanna Bhupal College Ground in Udaipur. He toured Abu Dhabi and Australia with the India A squad and was then included among India's 30-member probables list for the upcoming ICC Champions Trophy tournament, but he did not make it to the final squad.
Rohit Sharma made his first-class debut for India A against New Zealand A at Darwin in July 2006, where he scored 57 and 22 as India won by 3 wickets.
Rohit made his Ranji Trophy debut for Mumbai in the 2006–07 season and scored 205 in 267 balls against Gujarat. Mumbai went on to win the tournament with Rohit scoring a half-century in his second innings of the final against Bengal.
Rohit Sharma has spent his entire domestic first-class career at Mumbai. In December 2009, he made his highest career score of 309 not out in the Ranji Trophy against Gujarat. In October 2013, after the retirement of Ajit Agarkar, Rohit was appointed as the team captain ahead of the 2013–14 season.
International Debut:
ODI Debut:
Rohit Sharma made his ODI debut in Belfast on 23 June 2007 in The Future Cup.
Rohit scored his maiden ODI half-century against Pakistan at Jaipur on 18 November 2007 and was selected for the Indian squad going to the 2007–08 Commonwealth Bank Series in Australia.
In that series, he scored 235 runs at an average of 33.57 with 2 fifties, including 66 in the first final at Sydney when he partnered Sachin Tendulkar for most of India's successful run chase.
After that, however, his ODI performances went downhill and he lost his middle-order position to Suresh Raina. In December 2009, Rohit scored a triple century in the Ranji Trophy and was recalled in the ODI team for the tri-nations tournament in Bangladesh as Sachin Tendulkar was rested in the series.
Rohit Sharma scored his maiden ODI century against Zimbabwe on 28 May 2010 where he smashed 114 runs. He later went onto score another century in the next match of the tri-series against Sri Lanka on 30 May 2010 by scoring 101 not out.
2013 ICC Champions Trophy: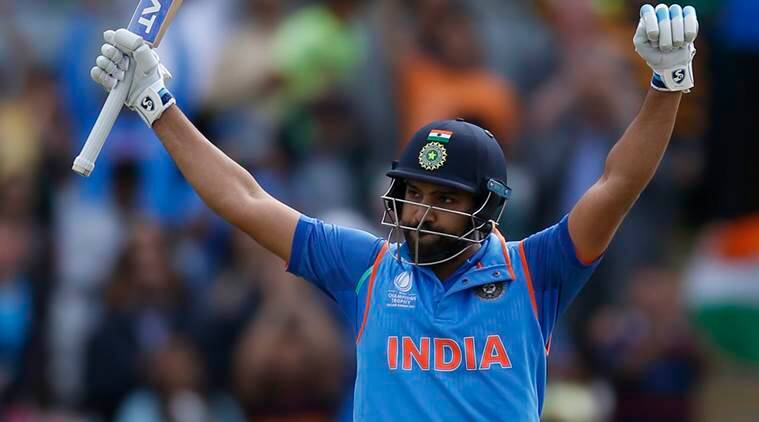 Rohit Sharma along with Shikhar Dhawan formed an deadly opening duo in the 2013 ICC Champions Trophy. The pair was a success and India eventually won the competition, defeating the hosts England in the final match.
2015 and 2019 Cricket World Cups: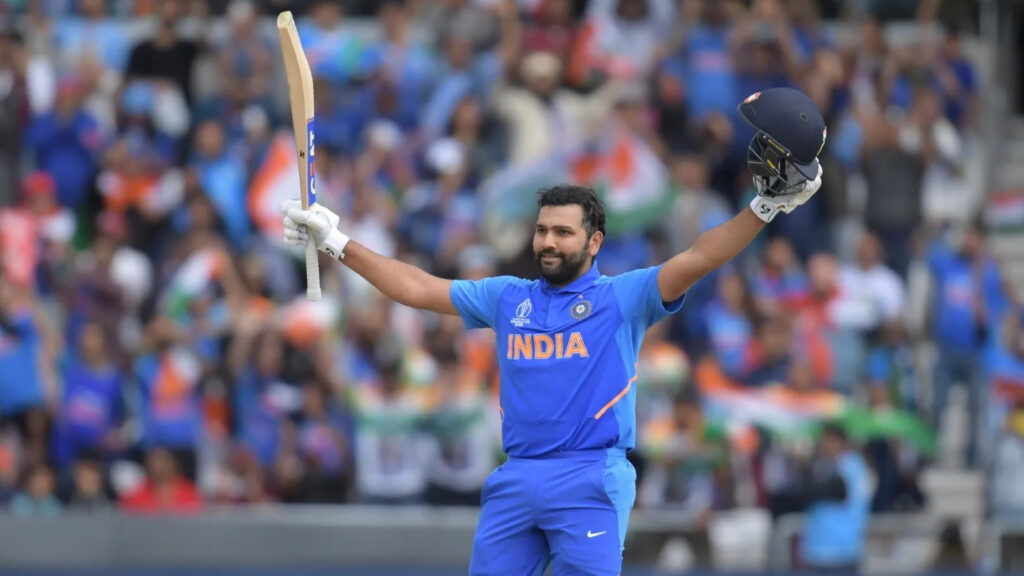 Rohit Sharma played a vital role in first the ICC Cricket World Cup and played in eight matches for India in the 2015 tournament in Australia. He made his first appearance in the World Cup in March 2015. India managed to reach the semi-final stage before facing a defeat to Australia. Rohit scored 330 runs in the tournament with one century, he smashed 137 in the quarter-final against Bangladesh.
On 15 April 2019, Rohit Sharma was appointed as the vice-captain of India's squad for the 2019 World Cup edition in England. Rohit Sharma played a wonderful knock smashing 122 runs in the first match against South Africa. He also completed his 12,000th run in international cricket with the century.
Rohit went onto score centuries against Pakistan, England and Bangladesh. In the match against Sri Lanka, he hit yet another century and became the first batsman to score five centuries in a single World Cup tournament.
Rohit Sharma equalled Sachin Tendulkar's record for the most number of centuries (6) in all World Cup matches. Sharma totalled 648 runs in the tournament to finish as the leading run-scorer and win the ICC's Golden Bat award, the third Indian player to achieve this feat.
Twenty20 international debut:
Rohit Sharma made his T20 debut against England in 2007. He eventually made his mark when he was selected for the 2007 World Cup edition where he scored an unbeaten knock of 50 runs off 40 balls against South Africa. India eventually went onto win the tournament by defeating arch rivals, Pakistan in the final match. Rohit scored 30 off 16 balls in the final.
Later on, 2 October 2015, during the South African tour of India, Rohit Sharma scored his first maiden century 106 in the first Twenty20 international at HPCA Stadium in Dharamshala. By doing so, he became only the second Indian cricketer to have scored centuries in all three formats of international cricket after Suresh Raina.
In December 2017, in a series against Sri Lanka, Sharma scored the joint-fastest T20 century, in just 35 balls, ending with 114 off 43 deliveries, equaling the record of David Miller.
On 8 July 2018, during a series in England, Sharma became the second Indian batsman, after Virat Kohli, to score 2,000 runs in a Twenty20 international career.
He was the fifth batsman worldwide to achieve the feat along with the likes of Brendon McCullum, Martin Guptill and Shoaib Malik. He also scored his third T20 international century during this series, equaling the then-record for most T20I centuries, held by Colin Munro.
In March 2018, Sharma became the captain of Team India and led the team to win the Nidahas Trophy.
In November 2018, in a series against West Indies, he scored his fourth T20I century, creating a new record for the most centuries by a player in T20I cricket.
Test Cricket Debut: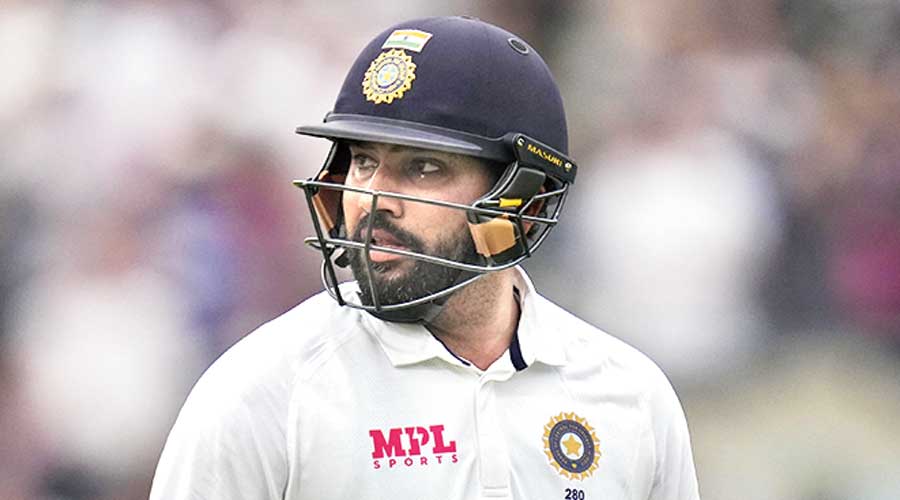 Rohit Sharma made his Test match debut on November 2013 at Eden Gardens in Kolkata against West Indies and scored 177, the second-highest score on debut by an Indian. It was also Sachin Tendulkar's farewell match.
He went onto score another unbeaten knock of 111 runs in the second Test at his home ground, the Wankhede Stadium in Mumbai.
In October 2019, in the third Test against South Africa, Rohit scored his 2,000th run and his first double century in Tests. He made 212 in the first innings. Rohit Sharma became the vice-captain of India's Test team during the tour of Australia in 2020, replacing Cheteshwar Pujara.
Rohit Sharma was appointed captain of India's Test team in February 2022, succeeding Virat Kohli, ahead of a two-match series against Sri Lanka. Sunil Gavaskar also praised his leadership skills.
Honours and Achievements:
Rohit Sharma is the only batsman to score three ODI double centuries. Rohit Sharma is only the second batsman to score centuries in all three cricketing formats besides Suresh Raina.
Rohit also holds the record for hitting most number of sixes in T20 by an Indian Batsman. Rohit Sharma holds the highest Individual score of 264 in ODIs.
Arjuna Award – 2015
Major Dhyan Chand Khel Ratna – 2020
ICC Men's ODI Cricketer of the Year 2019.
ICC Men's ODI Team of the Year 2014 (12th man). Later he won the award in 2016, 2017, 2018, 2019.
ICC Men's ODI Team of the Decade 2011–2020.
ICC Men's T20I Team of the Decade 2011–2020
ICC Men's Test Team of the Year 2021
Indian Premier League: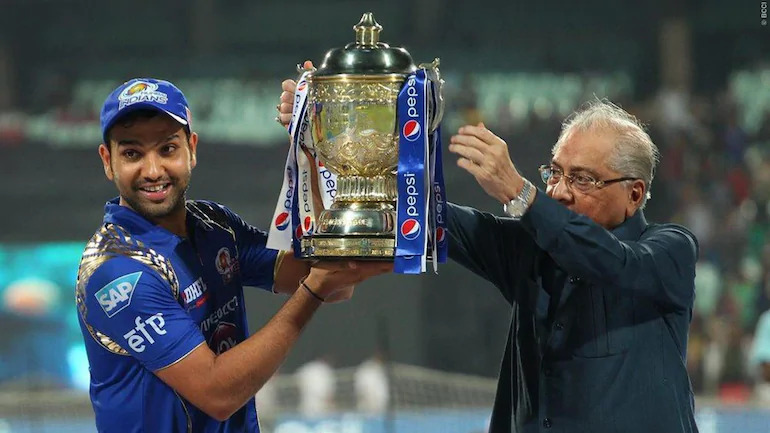 Rohit Sharma joined the Indian Premier League (IPL) in 2008 when he was signed by the Deccan Chargers franchise, for the sum of US$750,000 a year. In the 2011 auction, he was sold for US$2 million to the Mumbai Indians.
He became the Captain of Mumbai Indians after Sachin's departure. Under his Leadership Mumbai Indians have won the IPL in 2013, 2015, 2017, 2019 and 2020. They also won the former Champions League Twenty20 competition in 2013.
He's one of the most successful Captian in the history of IPL. Rohit Sharma is nicknamed as "The Hitman", due to his raw strength and hitting prowess.
Rohit Sharma's Family:
As we all know that the Indian Cricketer is happily married to Ritika Sajdeh and is blessed with a daughter named, Samaira.
But very less is known about Rohit Sharma's father, mother and other family members. So today we have compiled a list of all the members of Rohit Sharma family.
Rohit Sharma Father Gurunath Sharma: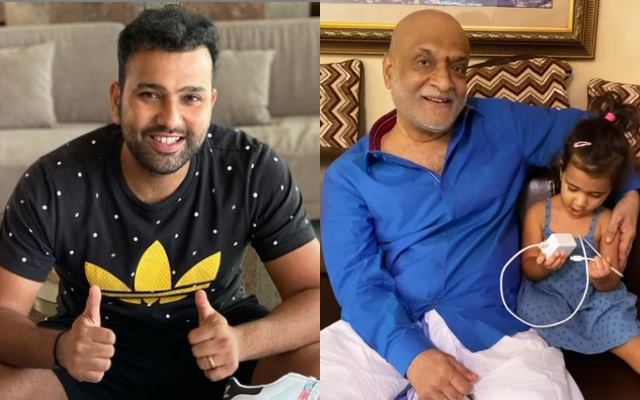 Rohit Sharma father, Gurunath Sharma worked as a caretaker in a transport firm storehouse. Rohit Sharma's father, Gurunath Sharma and his family lived in a single-room house in Dombivali.
Rohit was born in Nagpur, but before he turned two, his father Gurunath Sharma decided to move to Dombivali. Later, Rohit was sent to live with his grandfather and uncles, where he spent most of his childhood. Rohit used to visit his parents' house during the weekends.
Rohit Sharma Mother Purnima Sharma:
Rohit Sharma mother, Purnima Sharma is from Visakhapatnam, Andhra Pradesh. She is a housewife. During an Interview, Rohit Sharma's mother Purnima Sharma told that she was extremely proud of Rohit's knock of 137 against Bangladesh in Cricket World Cup 2015. Also Purnima said Rohit spent most of his childhood playing sports.
Rohit Sharma's Younger brother Vishal Sharma: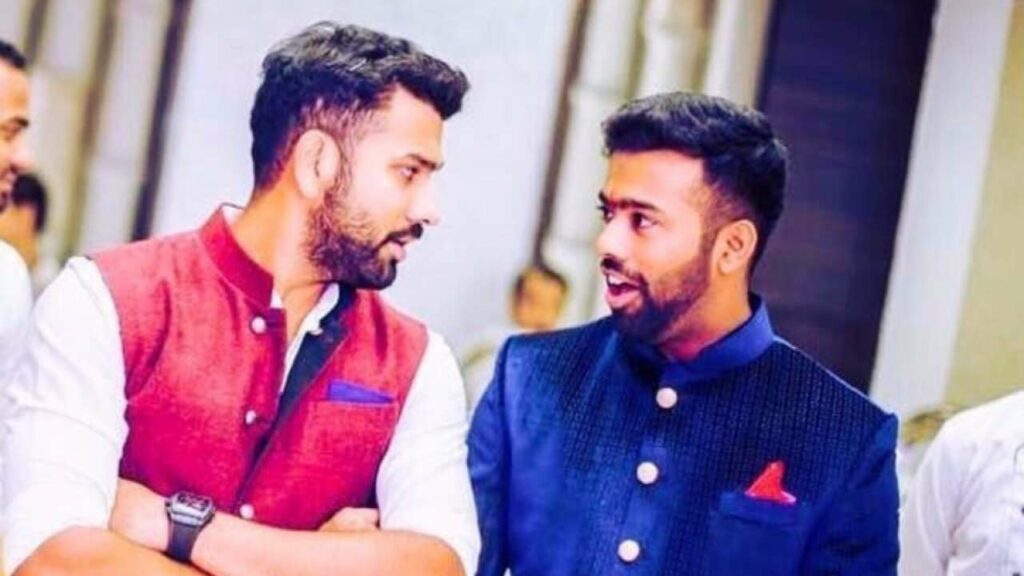 Not many people know but Rohit Sharma has a younger brother named Vishal Sharma.
Rohit Sharma has always supported his brother and family. In one of his interviews, Vishal revealed that Rohit asked him to leave his job and manage the Rohit Sharma Cricket Academies in India and Singapore.
Rohit Sharma Wife Ritika Sajdeh: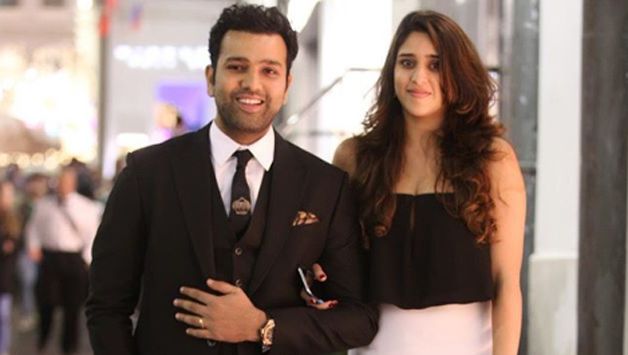 Rohit Sharma is married to Ritika Sajdeh. After dating for six years Rohit Sharma took Ritika to the Borivali Sports club and proposed her with a ring. The duo got engaged on June 15, 2015. They couple tied the knot later on the same year in December 13, 2015.
According to some reports, Ritika Sajdeh is a sports manager. Ritika used to work in her cousin Bunty Sajdeh company Cornerstone Sports. Afterwards marrying Rohit, Ritika Sajdeh became The Hitman's manager and have managed his sports tours since.
Rohit Sharma Daughter Samaira Sharma: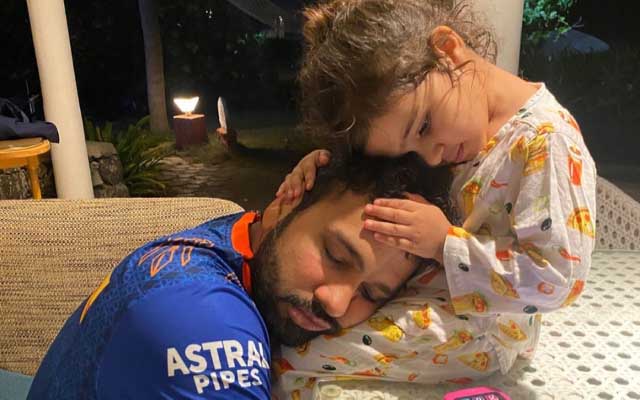 The Indian Cricketer and his wife Ritika Sajdeh are blessed with a beautiful baby girl named, Samaira Sharma.
Rohit Sharma daughter Samaira Sharma was born on December 2018. Rohit Sharma was with the Indian Team on a tour to Australia at that time. Ahead of the fourth Test, Rohit Sharma took a flight and flew back to Mumbai to see his daughter Samaira.
Rohit Sharma Net worth:
Rohit Sharma's fortune is accepted to be at Rs 162 crores. He is presently in the A+ Class of cricketers, and the BCCI provides him with a compensation of Rs 7 crore every year, as specified by the BCCI. The BCCI pays him a charge of Rs 15 lakh for each Test match, Rs 6 lakh for every ODI match, and Rs 3 lakh for the T20I match he plays. The batsman is being paid Rs 15 crores to play for the Mumbai Indians in IPL. He has been publicizing for in excess of 12 items separated from his cricketing vocation to produce more income, and every support costs approximately 20 to 30 lakh
Get more cricket-related News on Sportslibro.com.