Zaheer khan and Sagarika Story: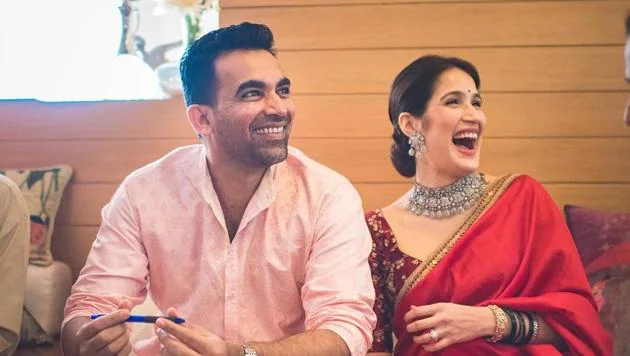 Zaheer Khan is an Indian cricket legend and one of the finest pacers ever seen in international cricket. Zaheer Khan is one of the finest and the most wicket-taker in Indian cricketing history. Zaheer Khan was the backbone of the Indian bowling lineup which clinched the world cup title in the year 2011. After retiring from cricket, Zaheer Khan has become the bowling coach of the IPL team Mumbai Indians.
In 2017, Zaheer Khan married the Bollywood actress Sagarika Ghatge. Zaheer Khan wife Sagarika Ghatge is an Indian actress and Indian model who primarily works in Bollywood films. Sagarika Ghatge is well known for her role as Preeti Sabharwal in the Bollywood movie Chak De! India.
In 2015, Sagarika Ghatge participated in Fear Factor: Khatron Ke Khiladi season 6 and came out to be one of the finalists. Sagarika Ghatge is also a national-level field hockey player.
Zaheer Khan Wife Sagarika Ghatge Family Background: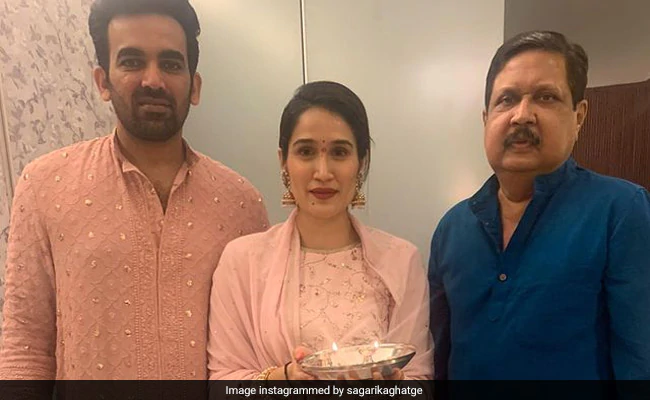 Sagarika Ghatge was born on 8th January 1986 to Vijaysinh Ghatge and Urmila Ghatge in a Maharashtrian Family in Kolhapur, Maharashtra, where she stayed till the age of eight. After that, Sagarika shifted to Ajmer, Rajasthan to attend Mayo College Girls School.
Sagarika is related to a former royal house of India through Shahu Maharaj of Kolhapur, with her father being from the former royal family of Kagal and her grandmother, Sita Raje Ghatge, being the daughter of Tukojirao Holkar III of Indore.
Career: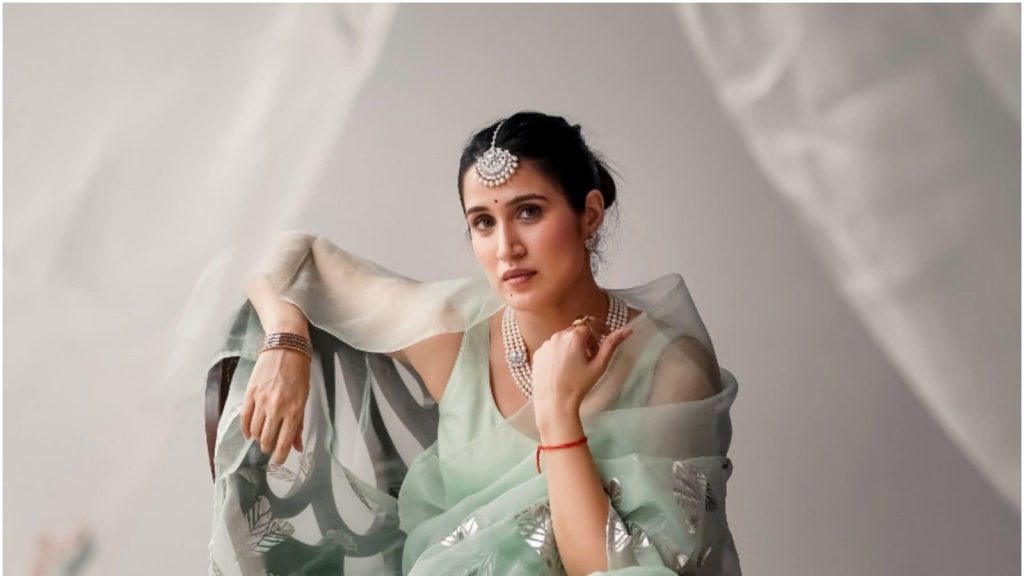 Sagarika made her acting debut in Chak De! India in 2007, portraying Preeti Sabarwal, for which she was named Reebok India's brand ambassador. She has been in a number of fashion magazines and runway events.
Sagarika later played Urvashi Mathur in the 2009 film Fox. She went on to play Kamiah in the film Miley Naa Miley Hum. After that, Sagarika acted alongside Emraan Hashmi in the 2012 film Rush. She then starred alongside Atul Kulkarni in Satish Rajwade's Marathi film Premachi Goshta, which was released in 2013. It was her debut Marathi film.
She competed in Fear Factor: Khatron Ke Khiladi 9 in 2015 and was a finalist. Sagarika also made her Punjabi cinema debut in Dildariyaan, in which she played Paali opposite, Jassi Gill.
In 2019, Ghatge received special appreciation after her digital debut in ALT. Balaji show BOSS: Baap of Special Services alongside Karan Singh Grover.
For her role in Chak De! India, Sagarika received the Screen Award for Best Supporting Actress. She was also rewarded with a Lions Gold Award.
Love Story and Personal Life:
Zaheer Khan and Zaheer Khan wife met for the first time during a group excursion with common acquaintances, which included other cricketers and female actors, some of whom were married couples. Following numerous frequent meetings, the two fell in love and began dating.
Zaheer Khan and Sagarika Ghatge initially chose not to promote their relationship and kept a respectful quiet about their relationship status. They finally made a public appearance at Yuvraj Singh's wedding in 2016.
On November 27, Zaheer Khan and Sagarika Ghatge got married. The couple chose a court marriage, which was followed by a private wedding reception attended by their family and friends.
Both husband Zaheer Khan and wife Sagarika Ghatge have kept their relationship quite open after their marriage. Zaheer Khan's cricket operations with Mumbai Indians and the BCCI is always admired by his wife Sagarika Ghatge. Zaheer Khan's love story was one of those cute ones where both of them seem to understand a lot about each other.
Sagarika has been seen in a number of fashion shows in Delhi and Pune while Zaheer keeps himself busy with the Mumbai Indians team. The two seem to be doing their work and carrying on their married life in a perfectly balanced way.
Get more cricket related news on Sportslibro.com