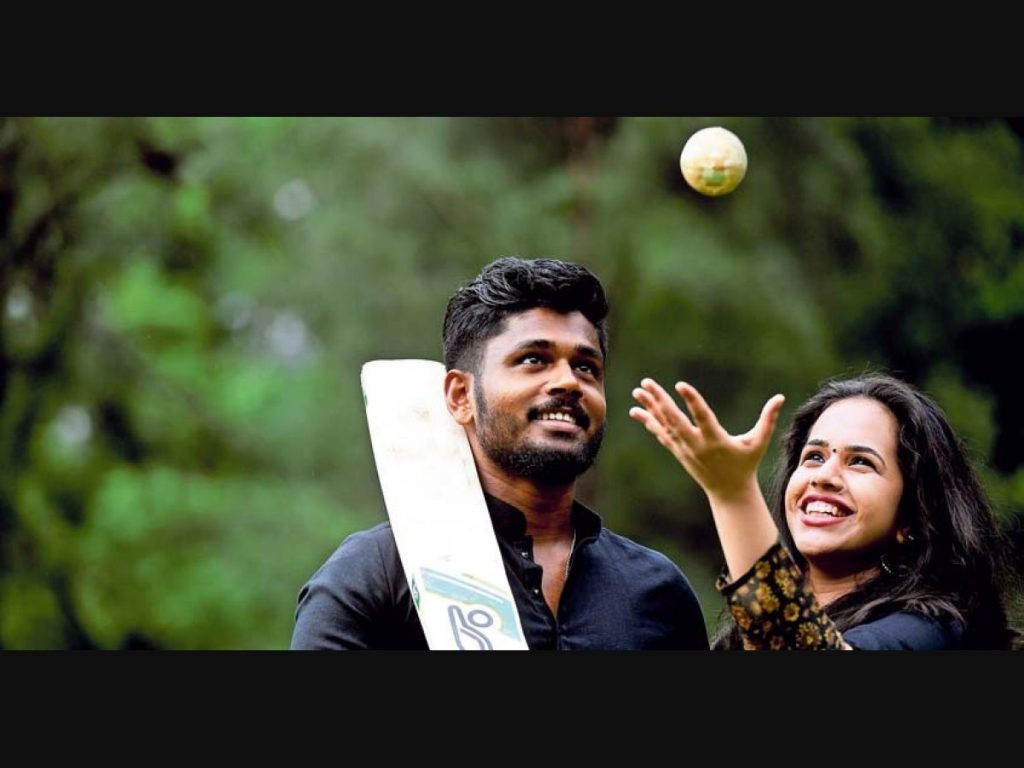 Sanju Viswanath Samson is an Indian and Kerala cricketer who currently captains Kerala in domestic cricket and the Rajasthan Royals in the Indian Premier League. Sanju Samson is a wicket-keeper and a right-handed top-order hitter. For the 2014 Under-19 Cricket World Cup and the 2013 ACC Under-19 Asia Cup, he was the vice-captain of the Indian U-19 side.
Sanju Samson was included in the Indian team for the limited-overs matches during the 2014 England trip. On July 19, 2015, Sanju Samson made his Twenty20 International (T20I) debut against Zimbabwe at Harare Sports Club Ground. He became the sixth Indian to reach a double-century in List A cricket with an unbroken 212 in the 2019-20 Vijay Hazare Trophy, which is also the second-fastest double tonne in List A cricket. On July 23, 2021, he made his One Day International (ODI) debut against Sri Lanka. With 615 runs from 18 innings, he is the hitter who has scored the most runs against Sunrisers Hyderabad in the Indian Premier League.
Sanju Samson is a big fan of Virat Kohli, Sachin Tendulkar, Brian Lara, Rahul Dravid, AB de Villiers, Zaheer Khan, and Ravi Ashwin. While we all know Sanju Samson as a hard hitter of the game, what we do not know is that he is a very calm and composed family man. Sanju Samson's father Samson Viswanath is in the Kerala police force as a police constable, Sanju Samson's mother Lily Viswanath is a housewife and Sanju Samson's younger brother Saly Samson keeps a low profile and stays out of social media channels. Sanju Samson is married to his college life girlfriend. Sanju samson wife is Charulatha samson.
Charulatha samson: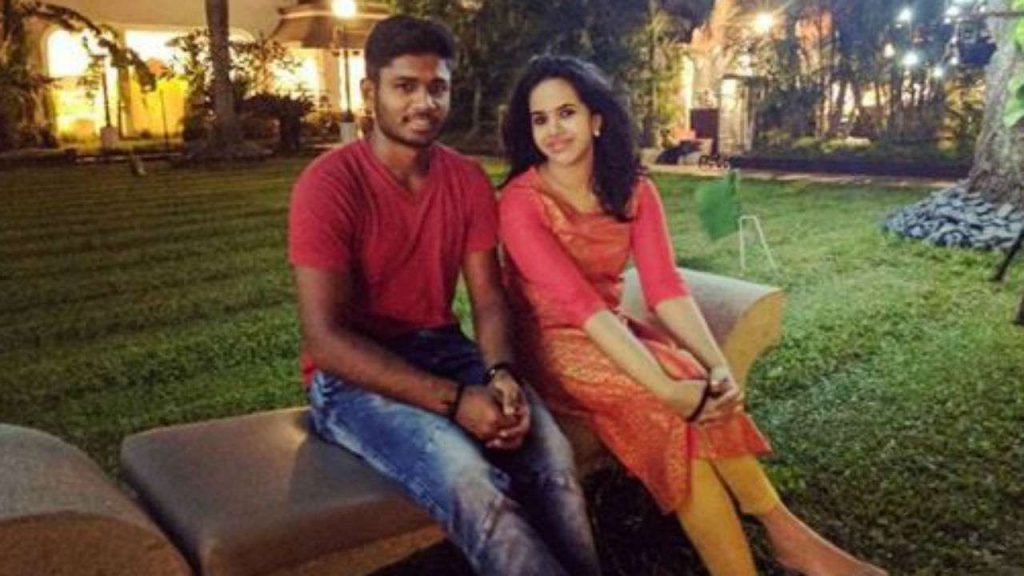 Sanju Samson wife charulatha Samson was born on 19th October in Trivandrum ( now Thiruvananthapuram ) in Kerala. The age of Sanju Samson wife charulatha Samson is not known yet. Charulatha Samson also has a sister named Megha Raiphi. Charulatha belongs to a Hindu Nair family.
She graduated from Thiruvananthapuram's Arya Central School ( now Thiruvananthapuram ) and after completing her schooling at Arya Central School went on to Mar Ivanios College to earn a science degree in Bachelor of Science in Chemistry (b.sc in Chemistry ). Sanju Samson and Sanju Samson wife met there. Charulatha Samson eventually moved on to Loyola College of Social Sciences to get her post-graduation master's degree in Human Resources. She is currently a business owner.
How the Indian cricketer and Charulatha met – Mar Ivanios college: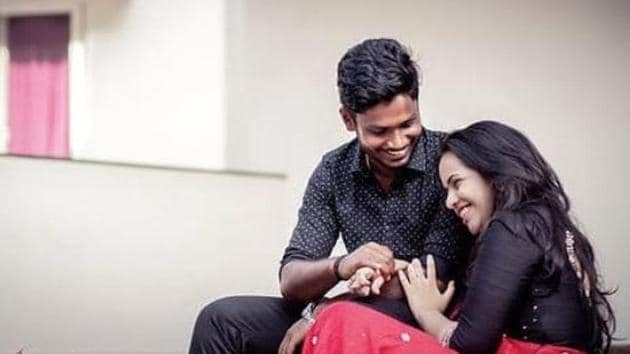 Sanju Samson's fans are well aware that even Sanju Samson attended the Mar Ivanios college and it was the Mar Ivanios college where Sanju and Sanju Samson's wife met for the first time where Charulatha was studying her science degree in b.sc in chemistry and Sanju was studying B.A. The couple had one of the modern fairy tale love stories where Sanju Samson sent Charulatha Samson a friend request on Facebook.
Surprisingly even Charulatha accepted the friend request and eventually the conversation between the couple started. After that Sanju Samson and Charulatha used to meet every time they could and eventually fell in love and started dating in 2013. Who knew that a college life dating at the Mar Ivanios college would end up with being married.
Sanju Samson's wedding: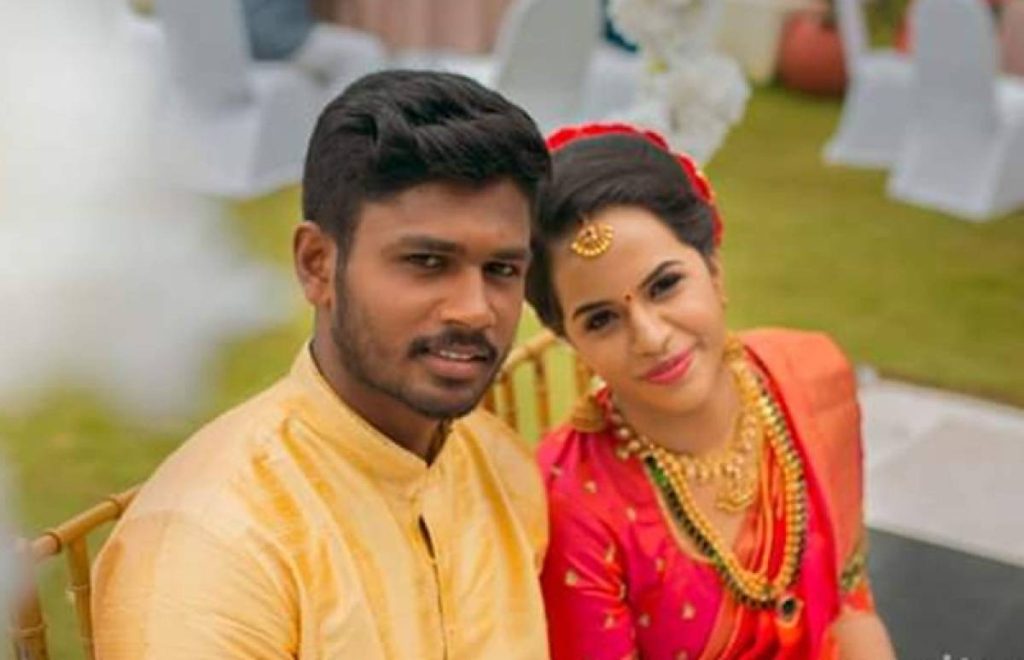 On December 22, 2018, the Kerala cricket association player and his long-time lover married. Near a low-key private ceremony at a resort in Kovalam, the old college friends made it official. Sanju Samson's wife, Charulatha, belongs to the Hindu Nair family, hence their marriage was solemnized under the Special Marriage Act, despite the fact that Sanju is a Christian.
Their marriage was attended by around 30 people in close friends and close relatives. The marriage was also attended by some famous personalities Rahul Dravid and the chief minister of Kerala Pinarayi Vijayan. The wedding was later followed by a reception at Girideepam Convention Centre in Nalanchira.
Reason behind the success of Sanju: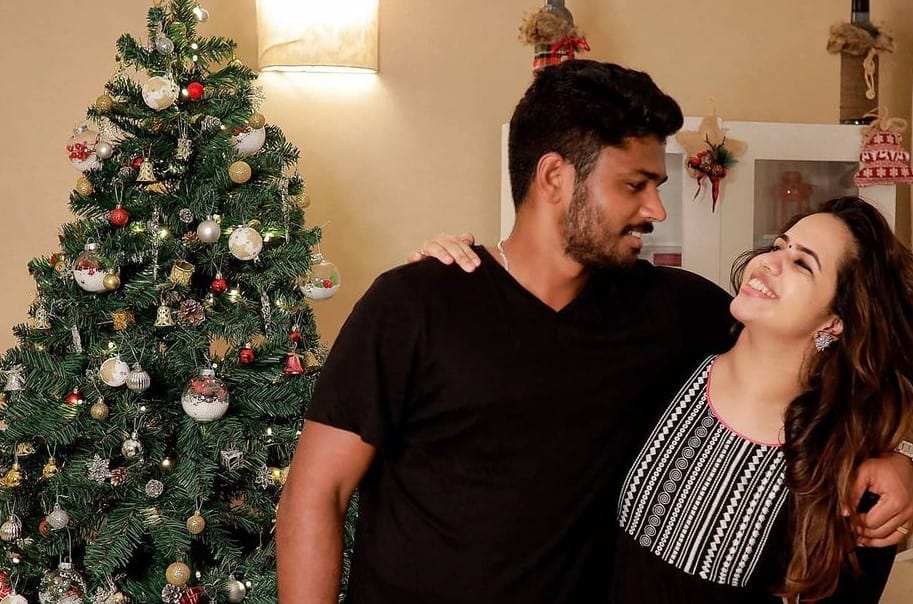 In recent years, Indian cricket fans have witnessed the immense growth of the Indian cricketer. The reason behind Sanju Samson's steady success is none other than his wife Charulatha. Sanju Samson's wife started with him when he was just a mediocre cricketer and no one knew him, today Sanju has everything he once dreamed of and the only girl who deserves to stand by his side is Charulatha.
Charulatha Remesh after completing her post-graduation degree from Loyola College instantly started to focus and make her own career. At that point, even Sanju was having a rough period in the Indian cricket scenario. It was probably the most unstable phase of their relationship.
Charulatha understood Sanju Samson's situation and continued to give him the emotional support which he needed to rise and on the other hand, Sanju helped Charulatha in every way he could just to make her one of the most successful entrepreneurs.
Before being married, they tried to stay connected with each other as much as they could so that the other person does not feel left out when they need each other the most. Today we have seen Sanju Samson play destructive cricket, both for India and as well as in Ipl. In the Ipl, Sanju Samson has represented some of the top Ipl teams, starting from Delhi Daredevils, Kolkata Knight riders, and at present representing the Rajasthan Royals.
Personal life of Sanju Samson and Charulatha Samson: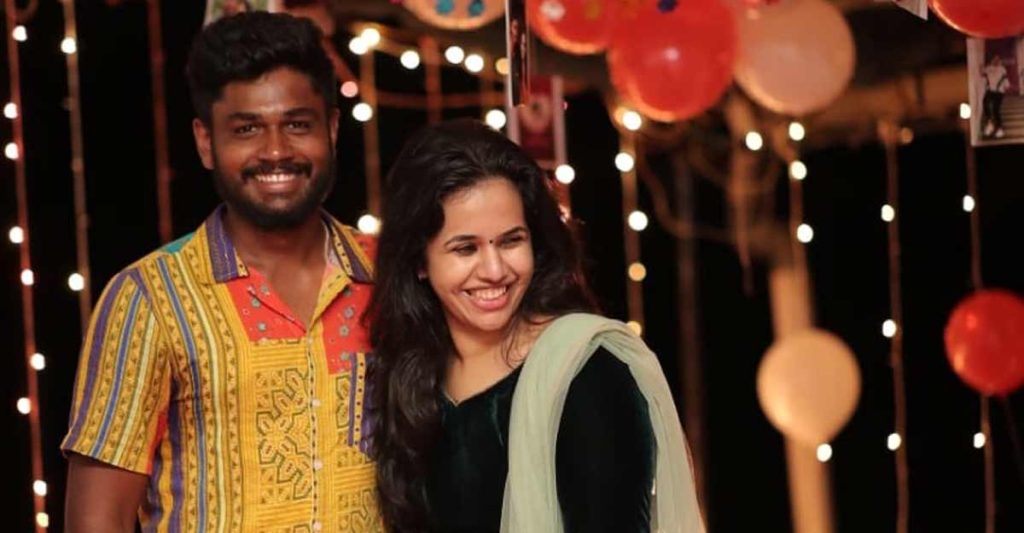 Sanju Samson's wife leads a very private and busy life. Her father B. Remesh Kumar is a chief news editor at the Mathrubhumi and her mother Rajashree Remesh is an agent in LIC India. Charulatha is not frequently seen in the stands to support her husband but whenever the fans spot Charulatha in the stands, they expect something big from Sanju and even Sanju Samson keeps the heart of the fans and scores big to dedicate to his wife. Scenes like this are what is loved by the fans.
Sanju's father, Viswanath Samson to date works in the Kerala police force even after his son seems to be the future star of the cricketing world. The humbleness of Sanju's father has been passed on to Sanju as well. Charulatha once said that family ethics and the principles of life matter the most to him. Even on several occasions, we have seen Sanju attending several rituals with his family dressed up in traditional south Indian dress.
The pictures of Sanju in the traditional south Indian outfit went viral as a number of girls crushed over Sanju after seeing the picture but Sanju as always broke their hearts when he posted another picture with his wife, who has her birthplace Trivandrum dressed in traditional south Indian saree as well. Fans could not stop obsessing over the picture of the couple.
Charulatha has the best hobbies which are traveling and skiing. She regularly posts her travel pictures. Charulatha considers Rahul Dravid to be her favorite cricketer and she seemed extremely happy when he turned up for her wedding. Charulatha revealed that she has a special place in her heart for the south Indian delicacies and she is a big foodie.
Charulatha obsesses over the voice of Shreya Ghoshal and because of her she started watching the Indian show " Indian Idol ". Charulatha also said that she loves the movie " Happy Days " and it acts as free therapy for her during her stressful times.
This modern-day fairy tale started from Charulatha's birthplace Trivandrum from where she attended the Mar Ivanios College whereas on the other hand, Sanju, being born in Pulluvila, a coastal village near Vizhinjam attended the same college. They even started talking in the most unexpected way. The marital status of the couple is married.
Sanju Samson, every year, without forgetting posts a picture of him and Charulatha on their anniversary and on any other occasion which is special for the couple. Seems like the love both of them found at their college has kept on increasing.
Get more cricket related news on Sportslibro.com