Neymar da Silva Santos Júnior aka known as Neymar jr, was born on 5th February, 1992, in Mogi das cruzes, Brazil. Neymar is a Brazilian Football player who plays as a forward for Ligue 1 club Paris Saint-Germain and the Brazil national team.
The Brazilian wonderkid is considered a versatile player, being able to play as either a central striker, second striker, winger or occasionally as an attacking midfielder. A prolific goalscorer and renowned playmaker, he is regarded as one of the best football players in the world. Neymar has scored at least 100 goals for three different clubs, making him one of three players to achieve this.
Although the world may know Neymar's net worth or his current performance, there are some facts that not many people know about.
This article will give some inside tracks to the footballing world. Here, we bring you the most interesting facts about Neymar.
He only played for Santos before moving to Barcelona: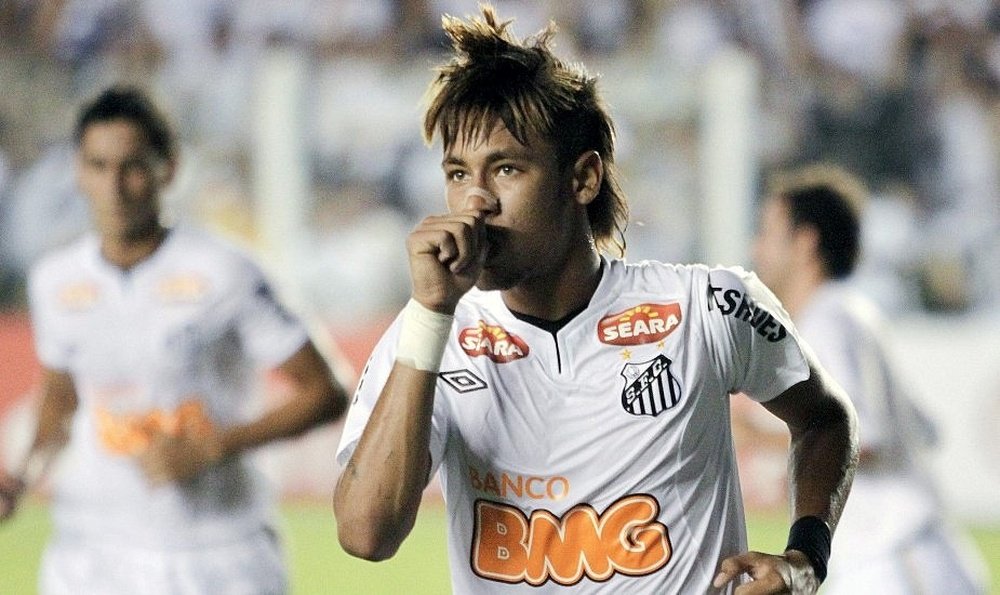 Neymar joined his first football club the Santos academy at the age of 7 years old. Brazil as we all know that it has been country soccer is considered to be a part of everyday culture, so it's no wonder that Neymar started playing Futsal and soon discovered his love for football.
In 2003, the Brazilian footballer moved to São Vicente with his family, where he began playing for the youth side Portuguesa Santista. Later, they moved to Santos, where Neymar joined Santos FC.
That was where the family could finally afford to buy a house next to the Vila Belmiro, with the help of Neymar's success at his youth club and added income. The quality of their family improved.
At 17, he signed his first full professional contract, was upgraded to the Santos first team, and began signing his first sponsorship deals. He showcased his skills at Santos and made the fans fall in love. But what not many fans realize is that the Brazilian team Santos is the only team he has ever played for.
Neymar is one of the most successful players in the world and has many years of soccer experience and also he has won many awards for his exceptional achievements in football, including the Copa del Rey, the UEFA Champions League, FIFA Ballon d'Or bronze in 2015, two Ligue 1 titles, a Coupe de France, and a Coupe de la Ligue
In 2013, Neymar signed a four-year deal with European powerhouse FC Barcelona which already had the likes of Ronaldinho, Lionel Messi, Iniesta, Xavi, Puyol, and many other stars. Neymar also joined the list of prolific footballers to call Barcelona home.
He Scored His 100th Professional Goal on His 20th Birthday:
Many young footballer players want to accomplish a lot while they are still young. Well for Neymar junior it was a piece of cake as he scored his 100th professional goal on his 20th birthday on 5 February 2012 against Palmeiras in the classic Neymar way.
He set the standards high for youngsters of the time period, reaching this incredible stat during his playing career at Santos at such a young age.
Neymar won the FIFA Puskas award in 2011: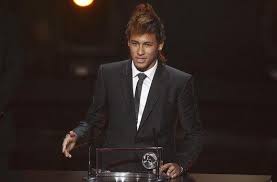 Not many people know that The Brazilian star was awarded the FIFA Puskas award back in 2011 for scoring an amazing solo goal against Flamengo on 27th July 2011. This particular award is especially given to significant footballers for scoring the most outstanding goal of the year. He received the prestigious award at just 19 years of age.
Neymar scored an incredible solo goal by sailing his way through the entire opponent's defense from near the halfway line and pulling off an amazing trick before slotting the ball into the opponent's goal. The teenage star was even praised by former brazil forward Pelé himself for scoring a goal like that. He called Neymar
He won South America's best player before moving to Barca:
Due to his amazing career at the Brazilian club Santos, which saw him scoring 107 goals in 177 appearances, Neymar was named the 2012 South American footballer of the Year, joining the ranks of Ronaldinho, arguably one of the most famous Brazilian soccer players to exist.
He has also been voted the Best Player of the 2012 Recopa Sudamericana, finishing the 2012 season with 14 goals, winning the Golden Ball, Armando Nogueira Trophy, and other honors with this best player win.
Neymar nearly joined Real Madrid when he was 14 years old:
One of the most interesting facts about Neymar that many football fans don't know is that he almost joined Barcelona's arch-rivals Real Madrid when he was 14 years old. However, He was rejected after having a trial with them. In 2013, it was Neymar's turn to reject Real Madrid as the Brazilian star joined Barca for a transfer worth of 100 million.
The professional footballer even flew to Spain and had passed all the tests, but before the transfer could be completed, Santos paid a hefty amount to keep him in Brazil.
West Ham is the first club that made a bid on Neymar: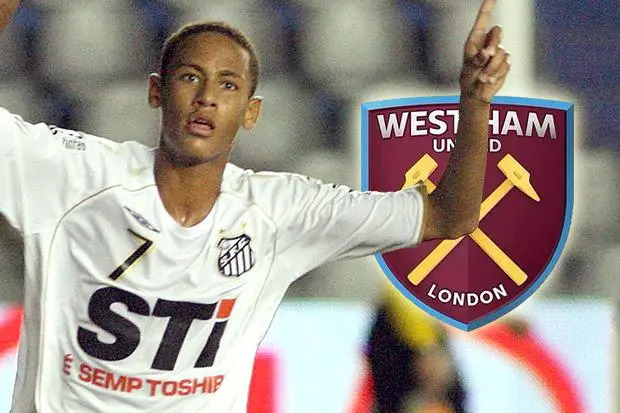 West Ham could have been the first club Neymar would have played for if everything went right a few years back. West Ham was the first club that was interested in the Brazilian player's skills and made a bid of 12 million in 2010, which was immediately turned down by Santos.
However, it was this bid that brought Neymar to everyone's attention as Chelsea then took interest in the player before other clubs started to move to acquire the Brazilian.
Neymar could have played in the 2010 World Cup:
Despite his talent and skill, Neymar jr was overlooked early on by the Brazil national team. Legends such as Pele and Romario pushed Dunga to include him in the 2010 World Cup, followed by a petition signed by 14,000 fans.
Surprisingly, Neymar was not included in the roster. He wasn't even on the standby list. But his time would come.
Later on, Neymar made his debut under new manager Mano Menezes in August of 2010 in a friendly against the United States. Neymar made in the starting lineup that night and scored in his first-ever match in the Brazil jersey.
Neymar became a father at just 19 years of age: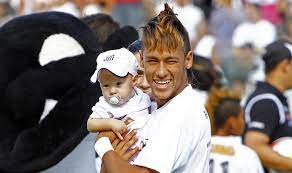 It is surprising to know that Neymar had a son when he was just 19 years. His son, Davi Lucca, was born in August of 2011. He didn't want to reveal the name of the boy's mother at the beginning because he wanted to protect her from the media and news reports.
However, later it was discovered that the mother of the boy was Neymar's former girlfriend Karolina Dantos. Neymar is quite enjoying his new role as a father as he said himself.
Neymar has been on the cover of TIME magazine: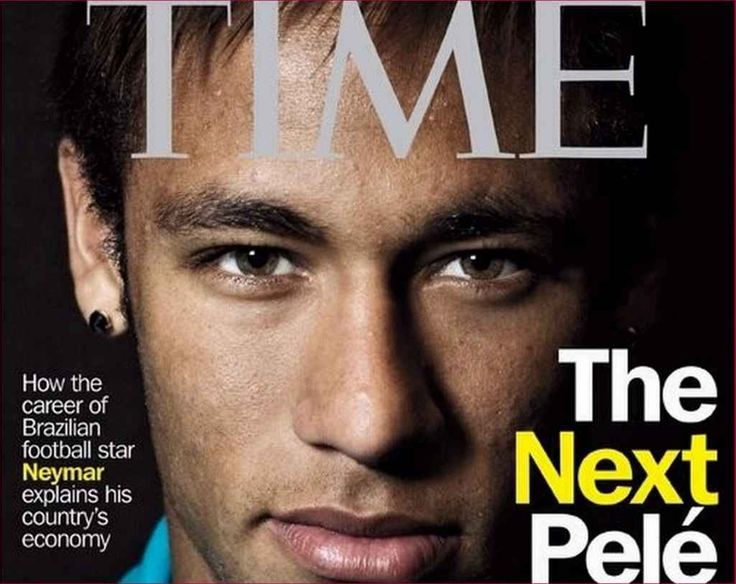 There are not many faces that are seen on the cover of famous Time magazine. However, Neymar has been one of them and in fact, The Brazilian is the only player to be featured on the cover of the magazine.
Although Brazil is a country known for its sports legends and many football icons, Neymar is the only Brazilian athlete to be on the cover of the Time magazine. In fact, the only other Brazilians to be featured on the cover of TIME magazine are politicians.
This is truly a remarkable and one of the most interesting facts about Neymar.
He has been considered one of the world's most prominent sportsmen:
Neymar is considered as one of the best footballers presently, However, Off the field, Neymar is regarded as one of the most famous athletes in the world, similar to Messi and Ronaldo in terms of stardom and impact. Sports pro named him the most remarkable athlete in 2013, ESPN named him as the fourth most-famous athlete in 2016, and Time include him in the 100 most influential people in the world in 2017.
He Is the Seventh-Richest Footballer in the World: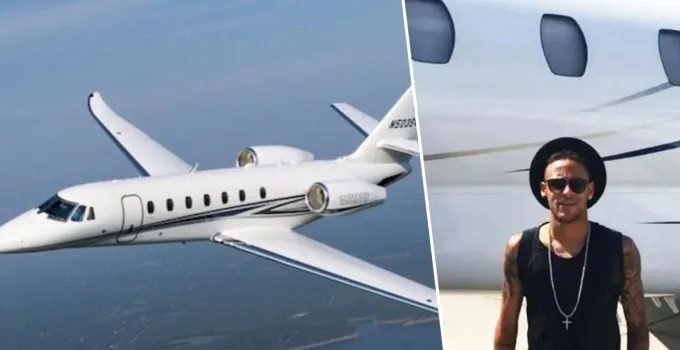 Neymar jr is considered as richer than almost anyone else around. The Brazilian wonder is considered the most marketable athlete in 2013. Neymar may only be a kid, but he is richer than almost anyone around. In 2012 he was listed as the seventh-richest footballer in the world. Beating the likes of Lionel Messi Cristiano Ronaldo, Rory Mcilroy and Usain Bolt also find their names on that list.
Neymar was even named by a popular newspaper, The Guardian as the sixth-best Footballer alive. Having scored 39 goals in Barcelona's 2014-2015 season only behind Lionel Messi and Ronaldo, the Brazilian athlete was also on the list for the Ballon D'or nomination.
He scored his first international hat trick in 2012:
On September 10th of 2012, Neymar scored his full international hattrick in an 8-0 win over China in a friendly. Although he had scored many goals in the Brazilian jersey, but scoring an international hat trick is a wonderful feeling.
Two Guinness World Records: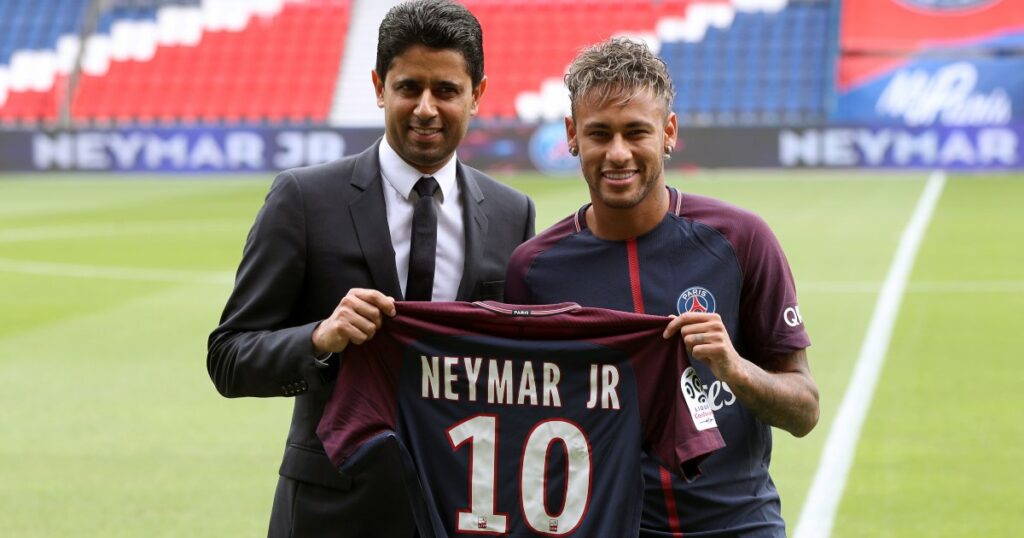 Not many people know but Neymar jr holds two Guinness World Records. One for his transfer from Barcelona to PSG which made him the highest transfer in Football history and the other for scoring the fastest goal in the Olympics as a male athlete.
The Brazilian scored the famous goal in the 2016 Summer Olympics during Brazil's semifinal game against Honduras. Neymar rocketed the ball into the back of the net at a breathtaking 14 seconds.
Get more football-related News on Sportslibro.com