Suryakumar yadav wife: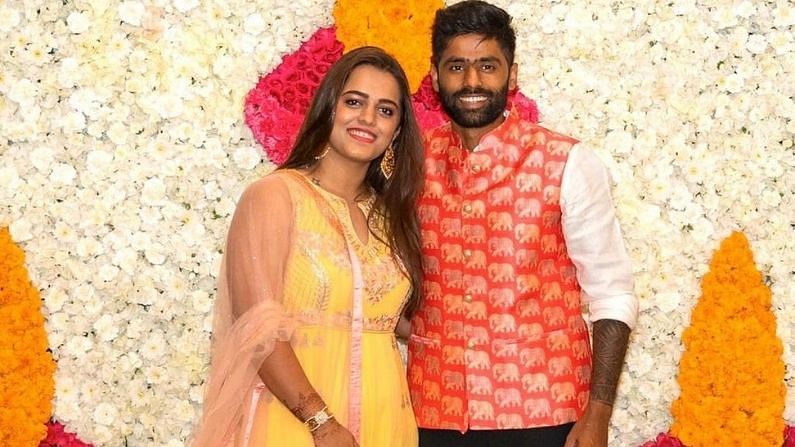 Suryakumar Yadav is an Indian cricketer who has represented his country in both ODI and T20I formats. In the domestic circuit, he represents Mumbai and plays for the Mumbai Indians in the Indian Premier League. He is a versatile right-handed batter as well as a right-arm medium pace and spin bowler on occasion. He used to play for the Kolkata Knight Riders. On March 14, 2021, he made his Twenty20 International debut for India against England. On July 18, 2021, he made his One Day International (ODI) debut for India against Sri Lanka.
We have seen SuryaKumar Yadav smash bowlers in the IPL but we haven't seen the other side of Suryakumar Yadav which is off the pitch. Out of the pitch, Suryakumar yadav is married to the very beautiful Devisha shetty. People know a lot about Suryakumar yadav but not much about Suryakumar yadav's wife devisha shetty.
Devisha Shetty: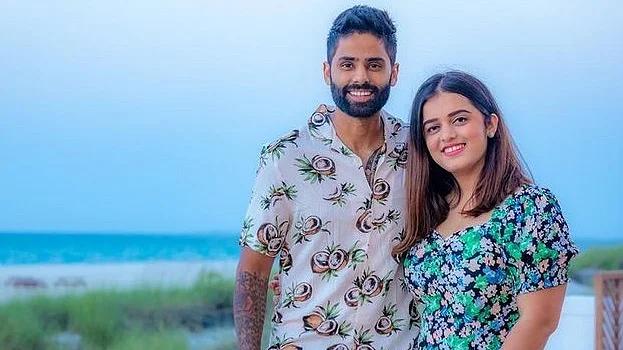 Suryakumar yadav wife Devisha shetty was born on 17th November 1993 in Mumbai, Maharashtra to an upper-class South Indian family. Suryakumar Yadav's wife Devisha Shetty also has an elder sister Deeksha Shetty.
Devisha shetty completed her schooling at Bombay Scottish School. After completing her schooling, she went on to attend R. A. Podar College of Commerce & Economics in Mumbai and H. R. College of Commerce & Economics in Mumbai as well.
After completing college, she went on to follow her passion for dance and soon became a well-reputed dance coach. From 2013 to 2015, she worked as a volunteer for 'The Lighthouse Project', an NGO. Devisha also has immense love for baking and cooking. Devisha is also an avid animal lover and also has a pet dog.
How Devisha met suryakumar:
Suryakumar yadav fans know that even Suryakumar yadav attended the R. A. Podar College of Commerce & Economics in Mumbai. The couple met at the college for the first time in 2012. During an interview, Suryakumar yadav's wife Devisha said that she fell for his batting whereas Suryakumar yadav fell for Devisha's dance, and that's how the story started.
On May 29, 2016, the couple got engaged in front of their immediate family. Devisha rushed to Instagram to inform her followers and Suryakumar Yadav's supporters of the good news. The couple later married on July 7th of the same year. The pair married in a low-key ceremony in the company of close relatives and friends, following all of the typical South Indian wedding rites.
Surya and Devisha relationship: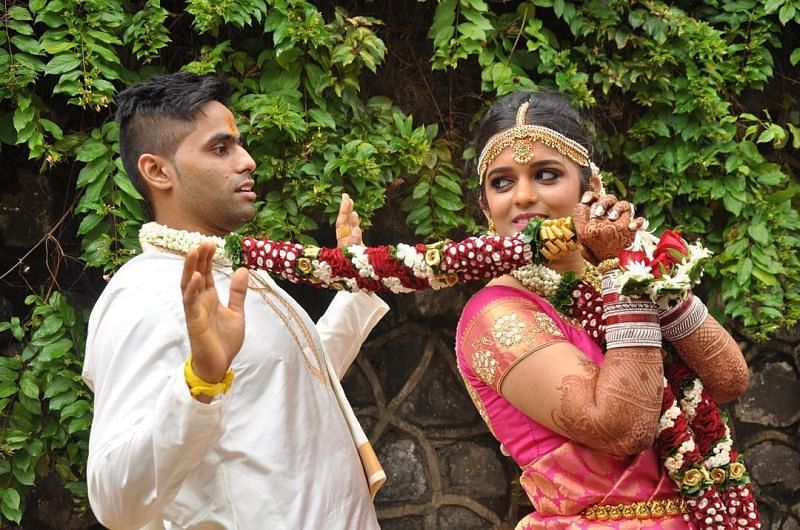 Suryakumar yadav's love has a swimming tattoo on the back of her neck " Surya". During the IPL 2021, Suryakumar Yadav and Devisha were spotted together with Mumbai Indians skipper Rohit Sharma and his wife. Devisha and Suryakumar yadav were also spotted having a happy conversation during the England tour as well.
Now, the pair lives happily with their dogs and frequently shares adorable moments with their admirers and followers on social media. The couple has also been seen together at gatherings and enjoying one other's company. Both Surya and Suryakumar yadav's wife made their relationship work and proved to the world that in this world of temporary love, they both proved that forever still exists.
Sky and his wife are the prime examples of how to support each other to make things last till the end.
Suryakumar Yadav and his wife meet the RRR Superstar Junior NTR:
On their visit to Hyderabad, Suryakumar Yadav and spouse Devisha Shetty made a move to meet film star Junior NTR and saluted him on 'RRR' succeeding at the Brilliant Globe Grants this year. Jr NTR and Slam Charan are the stars of SS Rajamouli's blockbuster hit 'RRR'.
"It was so lovely meeting you, brother! Congratulations once again on RRR winning the Golden Globe award,"

Get more cricket related news on Sportslibro.com