Navjot Singh Sidhu, who is also known as "Sheri" was an Indian cricketer who played cricket from 1984 till 1998 for Team India. He was a right-hand batsman with a rare combination of hitting abilities and patience. He was known for hitting big sixes and sometimes people also used to call him "Sixer Sidhu" for the same abilities that he possessed.
Navjot Singh Sidhu biography shows the cricketing journey of Navjot Singh Sidhu
Navjot Singh Sidhu: Family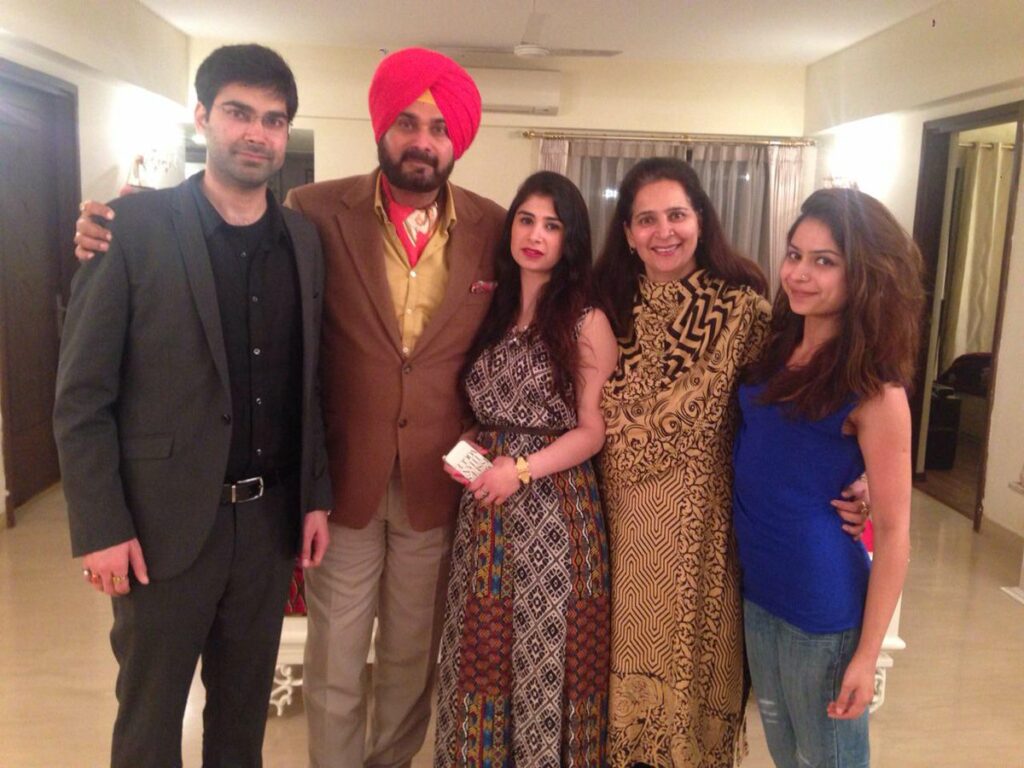 He was born on 20th October 1963 in Patiala, Punjab. His father, Sardar Bhagwant Singh was also a decent cricketer but was not able to fulfill his dream of playing for India. This was the reason he wanted Navjot Singh Sidhu to become a top-class player for India. Navjot Singh Sidhu's mother, Nirmal Sidhu was a Hindu by religion and got married to his father, who was from a Jat Sikh family. He also had two sisters, namely, Late Neelam Mahajan and Suman Toor.
Navjot Kaur Sidhu:
Later, he got married to Navjot Kaur Sidhu, who is a Doctor and Politician. He also has 2 kids namely- Rabia Sidhu (Daughter) and Karan Sidhu (Son)
Early Career: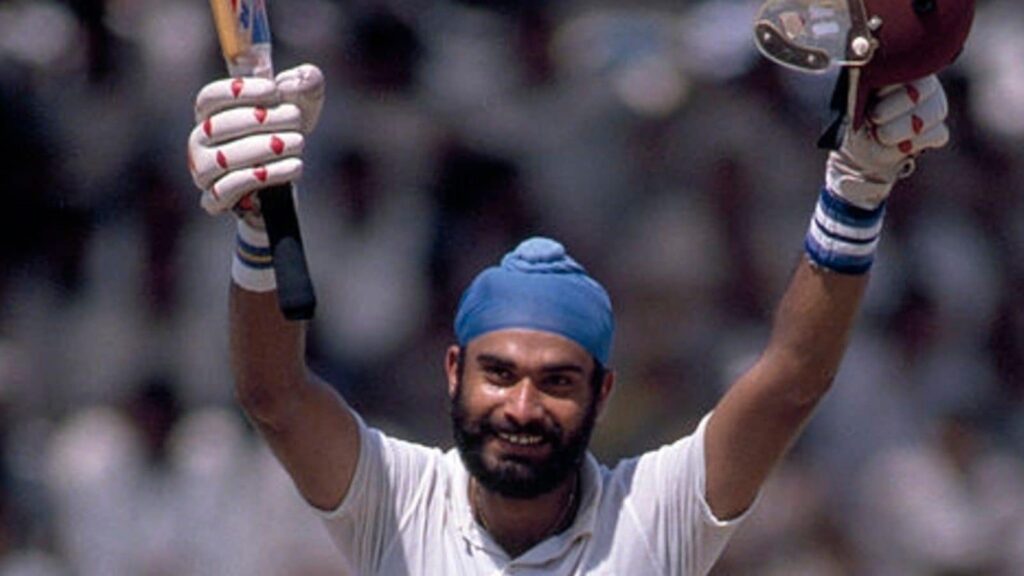 He studied at Yadvindra Public School, Patiala. He did his college at HR College of Commerce and Economics, Mumbai. Sidhu played his debut first-class match for Punjab against Services in 1981 when he was just 18 years old. He opened the innings in that match and scored 51 runs and got out taking a run from the fielder. Though, Punjab won the match by an innings.
His career-changing moment arrived when he scored a brilliant 122 runs for North Zone who was playing against a West Indies team that was touring in October 1983. He was called to play for the Indian Test team and he debuted against West Indies at Ahmedabad.
Test career: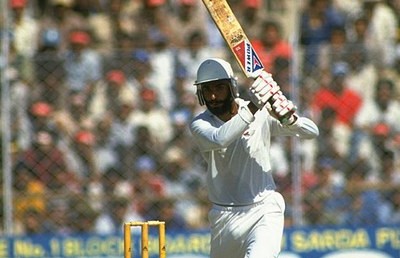 Every player does not get the luxury of scoring 3 Test hundreds in their first 3 Test matches like captain Mohammad Azharuddin, and the same applied to Navjot Singh Sidhu too. Sidhu got the chance of getting into the Indian Test Team as Dilip Vengsarkar was injured. But, it was not the best start to his career because he merely scored 15 runs in Ahmedabad after playing for 90 minutes. He got one of the worst send-offs from the crowd as he was run out.
Later in the Madras Test, he scored a modest 20 runs before getting out to Andy Roberts. A bad inning and a worse send-off are the last innings that a debutant requires.
Comeback:
After a good performance in the 1987 Cricket World Cup, he made a comeback to the Test team against New Zealand. He played the Test match in M.Chinaswamy Stadium, Bangalore where he scored a brilliant 116 runs in the first innings and 43 not out in the second innings as India went on to win the match by 172 runs.
He was always an attacking batsman and would always like to play offensive cricket. He used to attack the likes of Andy Roberts, Shane Warne, Curtley Ambrose, and other world-class bowlers too. His stats did not show his real side and the stature with which he played cricket.
Other fighting innings of sixer Sidhu were against Pakistan in 1989, which was the debut match of Sachin Tendulkar. India lost a lead of more than 150 runs in the first innings and was not looking good to even draw the match. But a fighting inning of 85 from Navjot Singh Sidhu and a brilliant 113 runs by Sanjay Manjrekar drew the match for India.
He played many such innings for India and unfortunately played his last match against New Zealand in 1999 where he scored 1 and 13 runs in the two innings.
In a 15-year-long career, he was always in and out of the team. He played a total of 51 Test matches where he scored 3202 runs including 9 centuries and 15 half-centuries with an average of 42.13.
One Day career:
After his disappointing Test debut, he was left out of the Indian team for close to 3 years. He was selected to play for the Indian ODI team in the World Cup in 1987 after, a good domestic performance.
He debuted in an Indian ODI jersey against Australia and scored 73 runs off 79 balls batting at No. 3. Unfortunately, while chasing 270 runs.
The World Cup of 1987 was a career-changing moment for Navjot Singh Sidhu as he scored 4 half-centuries in his first 4 innings as a One Day International batsman.
Inconsistency: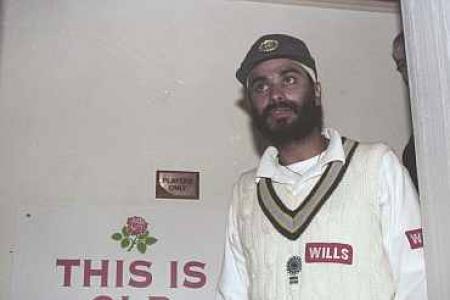 But, he always had problems in scoring centuries after getting good starts in matches. He had to wait 2 years to score his first century in ODI cricket which he scored against Pakistan at Sharjah in 1989. Though, India lost the match by 6 wickets. He has scored a total of 6 centuries in One Day cricket.
One of the best Day innings of Navjot Singh Sidhu was against England in 1993. India was chasing a total of 256 as N.S. Sidhu opened the batting for India. India was troubling at 4/2 as Manoj Prabhakar and Vinod Kambli got out early. Sidhu stitched a brilliant 175-run partnership with Mohammed Azharuddin before Azhar got out. Sidhu stayed till the end and scored a mind-boggling 134 runs, which is also his highest score in Day cricket, to take India to a 3-wicket victory against England.
During the End of Career:
He scored his last century against Pakistan in 1996 at Sharjah Stadium. He and Sachin Tendulkar partnered for 231 runs and put a mammoth total of 305/5. Sidhu scored 101 runs before he got run out by Saeed Anwar. India won that match by 28 runs.
Navjot Singh Sidhu played his last International One Day match against Pakistan in 1998. Unfortunately, he got out LBW by Azhar Mahmood and scored a golden duck in his final One Day innings.
He has played 136 One Day matches for India where he scored 4413 runs including 6 centuries and 33 half-centuries with the highest score of 134 against England at an average of 37.08.
Career as a Commentator and in Television: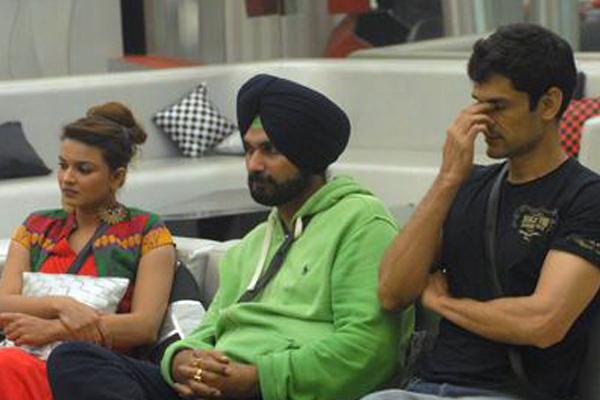 In 2001, India visited Sri Lanka and Sidhu began his vocation as a pundit. He was noted for his jokes known as "Sindhuism". He was additionally, finished paperwork for discourse on Ten Games. He additionally showed up as a specialist on a few Indian news channels. In 2012, he began to turn out again for ESPN Star Sports. He did critique for Sony during the 2014 meeting of the Indian Chief Association.
He showed up as an appointed authority on the TV program The Incomparable Indian Giggling Challenge. In other comparative projects, he likewise showed up. He was a contender on the unscripted TV drama Large Manager 6.
He was likewise seen on the parody show in 2013 on Satire Evenings with Kapil as an extremely durable visitor until the show finished in 2016. He was likewise viewed as a long-lasting visitor on The Kapil Sharma Show season 1 and 2 and Family Time With Kapil Sharma. Afterward, he was supplanted by Archana Puran Singh of The Kapil Sharma Show season 2.
He was likewise found in the Hindi film in 2004 in Mujhse Shaadi Karogi as a pundit during a cricket match. He likewise assumed a urgent part in the Punjabi language film Mera Pind in 2008. In 2015, he showed up on ABCD
Navjot Singh Sidhu: Politics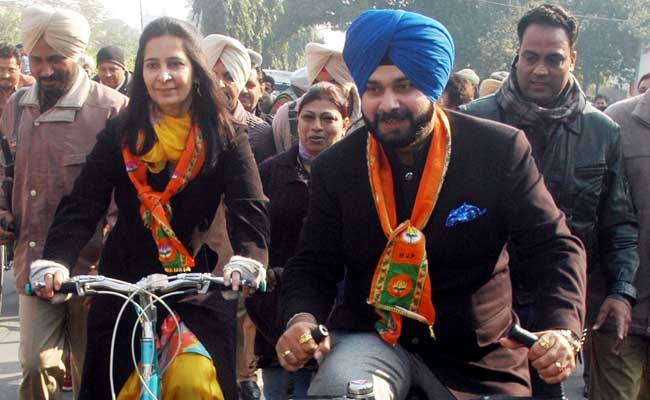 Sidhu won on a Bharatiya Janata Party ticket from the Amritsar seat in the 2004 Indian general elections.
Navjot Singh Sidhu took the oath as a member of the Rajya Sabha on 28 April 2016. As per reports, Sidhu was given the Rajya Sabha nomination in a bid to prevent him from joining the Aam Aadmi Party. However, he resigned from the Rajya Sabha on 18 July 2016.
Indian national congress: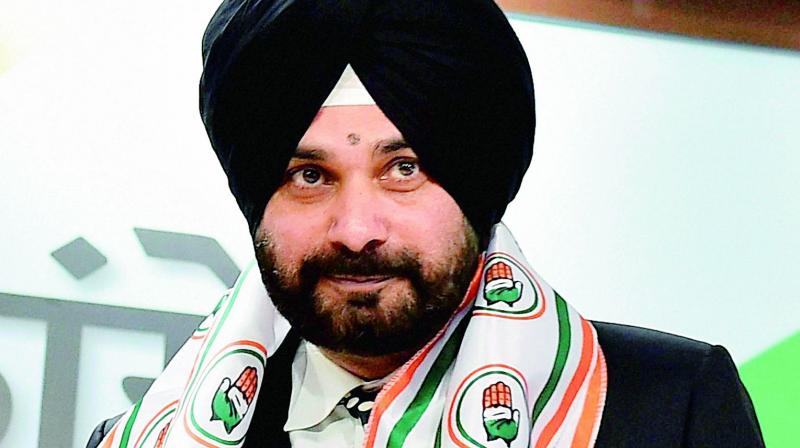 Sidhu joined the Indian National Congress in January 2017. He won the Amritsar East constituency in the 2017 Punjab Assembly elections with a margin of 42,809 votes.
Sidhu was elected President of the Punjab Pradesh Congress Committee on July 18, 2021, succeeding Shri Sunil Jakhar.
Navjot Singh Sidhu resigned as President of the Punjab Congress on September 28, 2021. Sonia Gandhi, the party's leader, received his resignation letter. However, his resignation was turned down by the highest levels of command.
Sidhu, who ran for the Amritsar East seat in the Punjab Legislative Assembly in 2022, was defeated by Aam Aadmi Party candidate Jeevan Jyot Kaur.
Get more cricket-related News on Sportslibro.com