Cricket is known as a gentlemen's game, however, some of its gentlemen are lethal competitive bowlers due to their hard-hitting. In this article, we will look at the ten most dangerous hard hitters in cricket history.
With their astonishing batting abilities, these batters have the capacity to change the course of any match.
10) Shane Watson: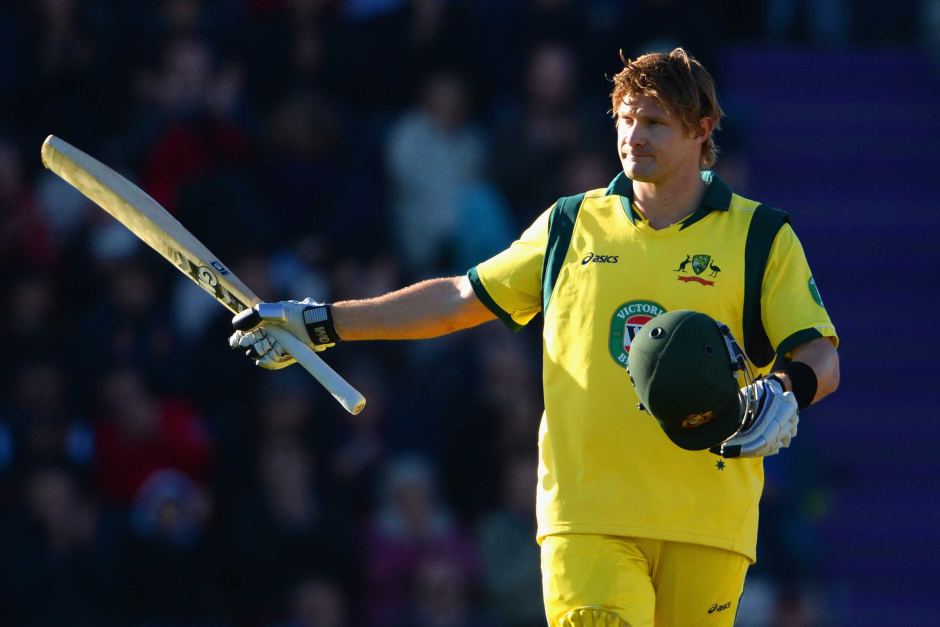 Shane Watson has been an Australian torchbearer for the sport. Furthermore, he is one of the best all-rounders in the country's history.
However, on the eve of Australia's important match against India in 2016, the 34-year-old called it quits with his teammates in Mohali.
Watson has collected 168 wickets at an average of 31.79 and scored 5,757 runs at an average of 40.54 in 190 ODIs.
Stats:
He is on set to reach the five-figure mark in his 54th T20 international for Australia this year. Watson's Test career ended during the 2014-15 English Ashes series. He took 75 wickets at 33.68 and scored 35.19 in 35 Tests on his route to 3,731 runs in 59 Tests.
Shane Watson is one of those dangerous batsmen and probably one of the most dangerous hard hitters in international cricket history.
9) Andre Russell: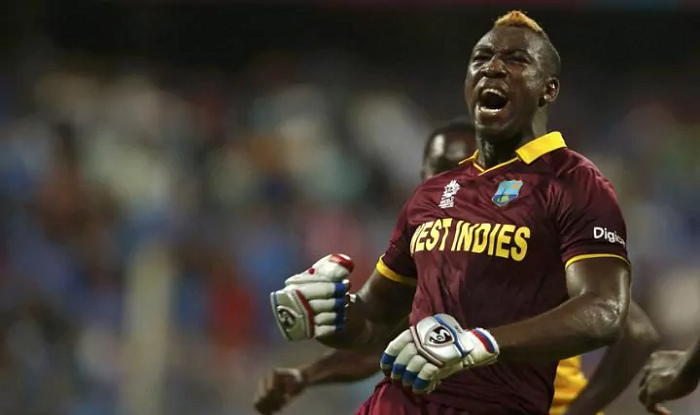 Andre Dwayne Russell, born 29 April 1988, is a Jamaican professional cricketer who plays as an all-rounder for the West Indies and Jamaica in West Indian domestic cricket. He has appeared in almost 300 Twenty20 (T20) matches for a variety of teams in leagues all around the world.
Hitting Power:
Russell hit a century in a record 40 balls in the 2018 Caribbean Premier League and also grabbed a hat-trick in the same game, becoming only the second player in T20 history to do so.
The star of the West Indies cricket team is a proper power-hitting batsman who is well suited for ODI cricket and T20 cricket.
Many top-level international bowlers and bowling attack fear bowling to Russell knowing he is one of the most dangerous hard hitters in cricket history.
8) Abdul Razzaq: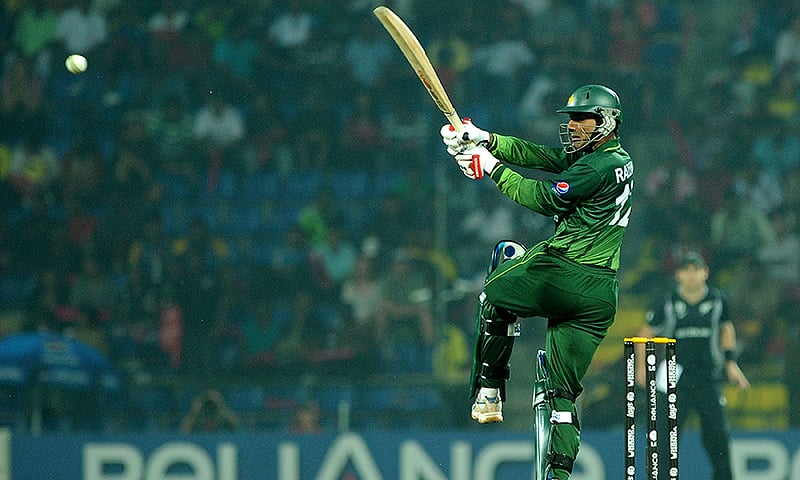 Abdul Razzaq, a Pakistan National Cricket Team cricketer and one of the most beloved cricketers of all time, plays for the team with zeal and courage. His tenure with the organization began in 1999, and he has had much success with it.
Abdul Razzaq was born on December 2, 1979, in Lahore, Punjab. In 1999, he made his ODI, Twenty20, and Test debut for the Pakistan National Cricket Team.
Consistent Performer:
Razzaq constantly played the game to help his squad. His innings are referred to be selfless innings. Aside from that, Razzaq's consistent performances throughout his career have led to Pakistan's triumphs. His batting style established him as one of Pakistan's most dangerous hard hitters.
His primary position on the team has been as a batsman, and he has excelled for both the domestic and international teams.
He can also bowl fast and medium right-arm, as well as he can be a leg-spin bowler on occasion.
7) Glenn Maxwell: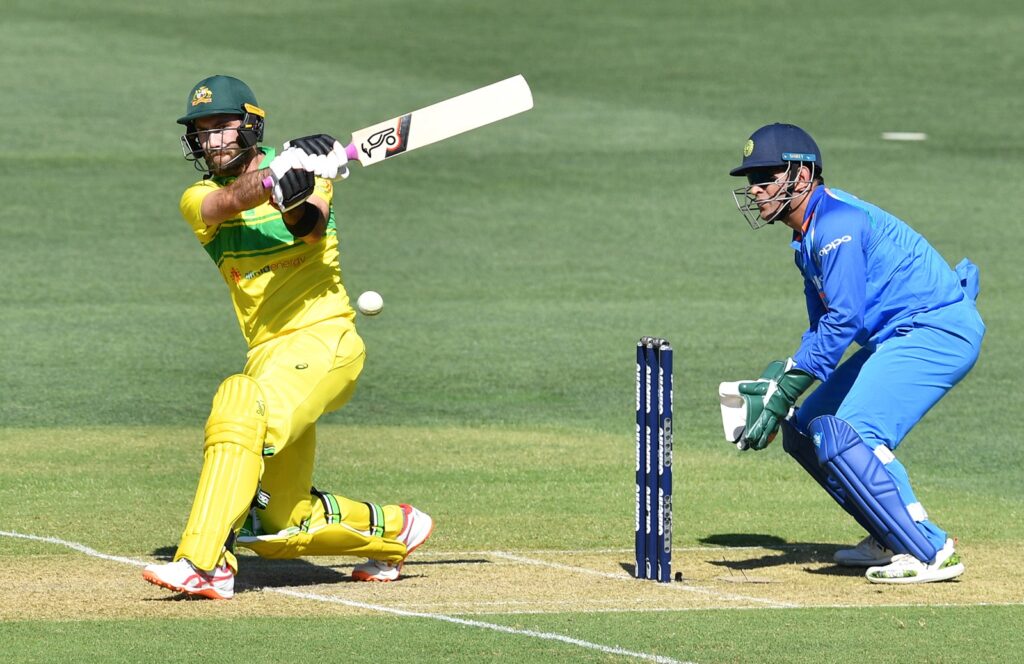 Maxwell, as a 360° player, deserves greater recognition. He is one of the few batters in the world who can clean any pitch with his reverse sweeps.
He is also regarded as one of the greatest fielders in cricket history. Maxwell retains the Ryobi Cup record for the fastest fifty (19 balls) as of 2022. (now Marsh One-Day Cup).
Batsman Worth every Penny:
He was the highest-priced player in the Indian Premier League auctions in 2013 as well as in 2021. Maxwell became one of the world's most dangerous hard hitters after scoring the fastest ODI century by an Australian (52 balls) against Sri Lanka in the 2015 World Cup.
Maxwell was formerly rated second among all players in T20Is (145*), but now ranks fourth. He is also an Australian with hundreds on all three international levels.
Maxwell became the first batter to achieve a century in his maiden T20 innings as an opener.
6) Kieron Pollard: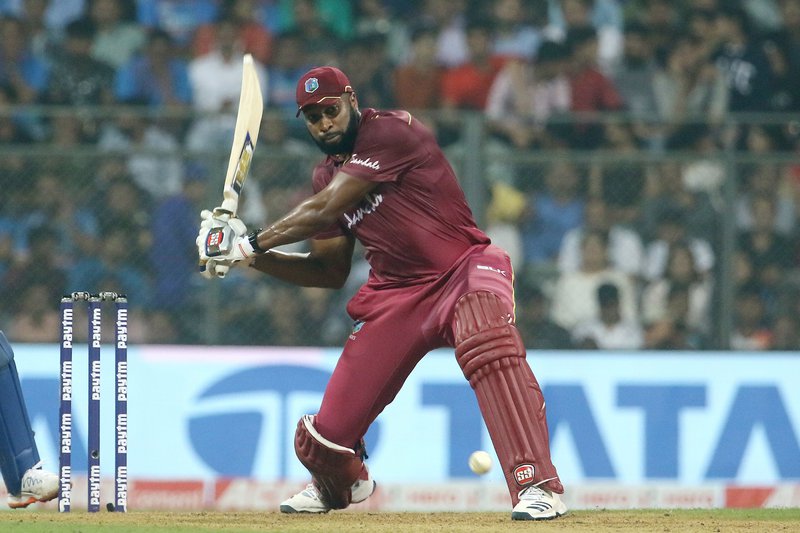 Kieron Pollard is a batsman who, when at his best, can destroy any bowling outfit. He is a right-handed batter who bats in the West Indies' lower middle order. He bowls at a moderate pace. In addition, he is one of the best fielders in IPL history.
Perfect All-Rounder:
His batting and fielding skills have made him a vital member of the West Indies, Mumbai Indians, and other clubs.
Pollard's bat has the power to change dull games into thrilling and pleasant ones. Pollard is one of the most dangerous hard hitters in T20 cricket due to his power hitting.
Kieron pollard bats at the lower middle order and is at present one of the most feared cricket batsmen and can even his bat edges turn out to be boundaries.
The West Indies cricketer has set new heights for the cricket world to enter the list of most dangerous hard hitters in cricket history.
5) MS Dhoni: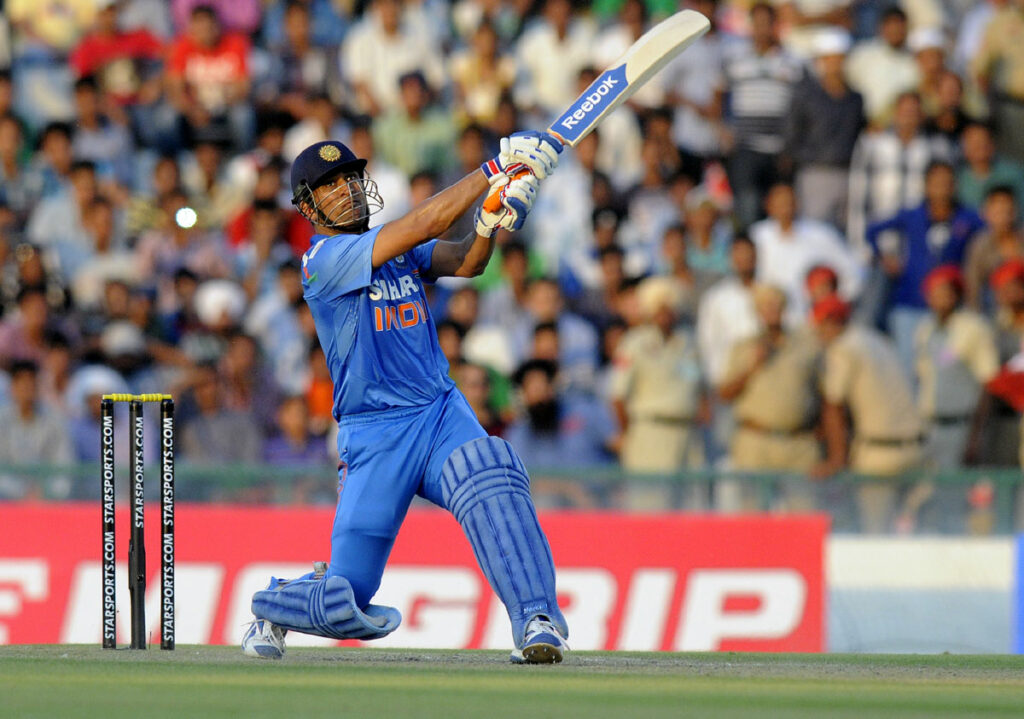 Mahendra Singh Dhoni is often regarded as the greatest finisher in cricket history. In addition, he is largely regarded as one of the finest wicketkeepers of all time.
Dhoni's leadership of the Indian cricket team won the 2011 one-day World Cup, making him a legend in the early twenty-first century. MS Dhoni is a cricketer who was born on July 7, 1981, in Ranchi, India.
His international debut was in 2004. When he faced Pakistan in his fifth encounter, his batsmanship shone through. He amassed 148 runs. M.S. Dhoni hit a century against Pakistan during his debut year with the Indian Test team.
Achievements:
Despite being chosen to captain the one-day team, Dhoni's immaturity ultimately guided India to victory in the 2007 T20 world cup.
Following series victories against Sri Lanka and Australia, India led the ICC Test rankings for the first time in 2009. Mr. S Dhoni was named Player of the Year twice in a row, in 2008 and 2009.
He is a middle-order batsman who can smash the cricket ball all around the park with ease. The Indian batsmen revolutionized the way of power hitting in India to become one of the most dangerous hard hitters in cricket history.
4) Yuvraj Singh: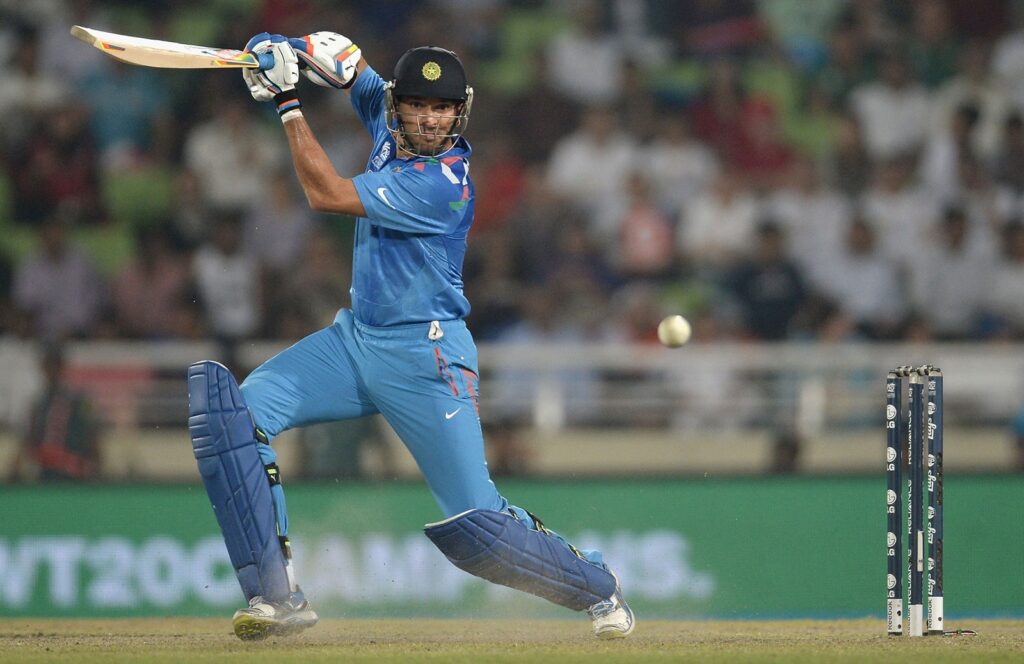 Yuvraj Singh of the Indian Cricket team mystery that will likely never be fully understood. Despite his retirement, he remains on the list of the highest-paid cricketers. Even though he was once heralded as the next big Indian name, Yuvraj never lived up to expectations in Test matches.
His inability to bat against spin, particularly good off-spin, was his Achilles' heel. However, batsmen like Sachin Tendulkar, Rahul Dravid, and VVS Laxman made it impossible for him to flourish in the longest format.
As a result, Yuvraj arrived at Gaddafi with a hundred of his own troops, forcing Parthiv Patel to open the door for India.
Six Sixes for the Indian Cricket team:
Yuvraj's most beautiful strokes are those that roll along or over the ground at a 45° angle or in the mid-wicket region of a cricket game.
However, as Stuart Broad discovered the hard way at the 2007 World T20, the batsman is famed for his powerful knocks, as seen by his six sixes in six balls.
Yuvraj's fifty was the fastest by any batter in an international game that day. He is regarded as one of the most dangerous hard hitters in the ODI format and in world cricket.
3) Shahid Afridi:
Shahid Afridi is the most intriguing player in the game, with one of the most brilliant hitting powers in cricket. In terms of his softer side, he is also one of the most charitable cricketers of all time.
Afridi was among the first to embrace a change in batting attitude in the mid-1990s. And he is still remembered for having the longest sixes in cricket history.
His unexpected performances always leave a trail of destruction, but it's his erratic innings of substance that set him apart.
Afridi, on the other hand, is regarded as one of the most dangerous hard hitters in cricket history. He swung a crucial match situation in his team's favor.
Young Gun:
Afridi, nicknamed Boom Boom, is unequaled for his quick innings and 110.72 international strike rates. Afridi is very intriguing to watch when he does it right, even if he can be frustrating at times. Shahid Afridi showed early indications of brilliance as a young player.
The 16-year-old became the youngest batsman in history to score an international century. He achieved the fastest century against Sri Lanka in a record-breaking 37 balls, also hitting eleven sixes.
2) AB De Villiers: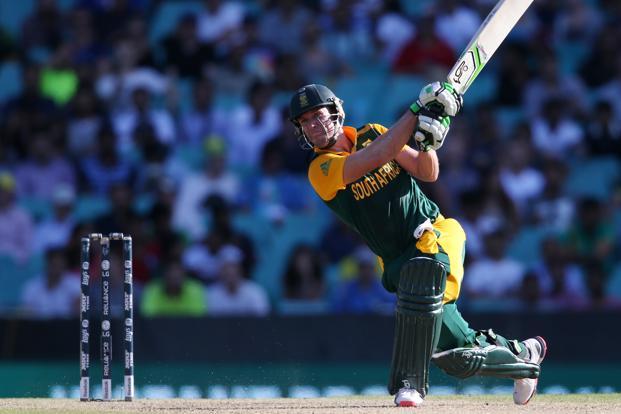 Abraham Benjamin de Villiers is a retired South African cricketer. AB de Villiers was elected ICC One-Day International Player of the Year three times in his 15-year international career and was chosen as one of the five Wisden cricketers of the decade at the end of 2019. He is often recognized as one of the best cricketers in history.
Mr. 360 of World cricket:
De Villiers is noted for a variety of unconventional shots, notably behind the wicket-keeper, and is regarded as one of the most imaginative and destructive batsmen of the current era, as well as one of the greatest of all time.
He has over 8,000 runs in Test and ODI cricket and is one of the few batters with a batting average of above fifty in both formats.
He is an offensive player in limited-overs cricket. He set the record for the quickest ODI century in 31 balls.
In World cricket, ABD is one of the most dangerous hard hitters in cricket.
1) Chris Gayle: Most dangerous hard hitters in cricket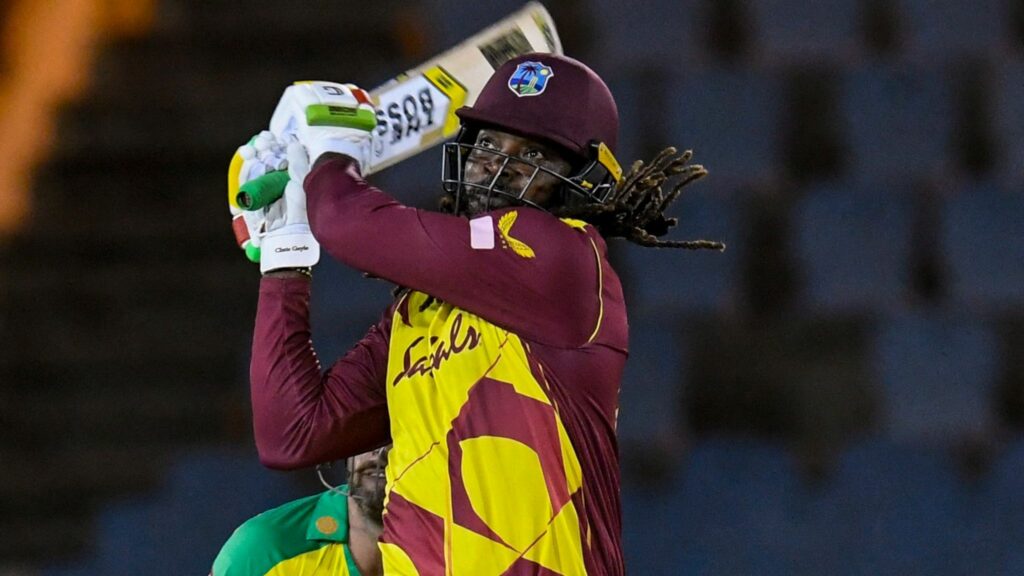 Chris Gayle, the world's most powerful batsman, is unquestionably one of the greatest cricketers of all time. For the West Indies Cricket team, Jamaica's top cricketer performs in all three versions of the game; nevertheless, Gayle's prowess in the short game elevates him to the top spot. In fact, if he swings a bat edge, he could knock a six over the fence.
Greatest of West Indies Cricket team:
Chris Gayle is well-known for giving international bowlers nightmares and for being one of the most dangerous hard hitters. He has seven hundred to his name in T20 cricket. Gayle's refusal to leave the crease puts bowlers to the test.
Chris Gayle is known to take his time starting an inning. But once he's settled down, nothing can stop him. Chris Gayle also plays for Royal Challengers Bangalore in the Indian Premier League.
Gayle is a powerful hitter who has played in Tests, ODIs, and T20s. On a different note, he is one of the most tattooed cricketers of all time.
He also captained West Indies in the 2010 ICC T20 World Cup. Gayle's participation in the 2012 ICC T20 World Cup was a watershed point in his career.
In the tournament's semifinal, he hit 75 runs against Australia, propelling the Windies to the finals. Gayle received the highest score in the competition.
Get More Cricket Related News on Sportslibro.com