Cricket is a game of skill, strategy, and chance. Cricket aficionados always find their favorite sport fascinating and exhilarating since the game is sometimes unpredictable. Players usually attempt to surprise the audience with their performances in their area of expertise. In this section, we will look at the top finishes in cricket. With their remarkable performances, these renowned players never fail to astonish and amuse the spectators.
Cricket is without a doubt India's most popular sport. However, it is also one of the most popular sports in the world. And this sport has produced some of the game's best finishes. So here is the list of Best Finishers in Cricket.
10) Javed Miandad:
Javed Miandad is often regarded as Pakistan's most talented right-handed hitter. Miandad is from a country famous for its bowling legends. When Pakistan's first Test captain, Abdul Hafeez Kardar, referred to him as "the discovery of the decade" on his debut, he was correct. He is considered one of the finest Muslim athletes of all time.
Miandad pursued his course in both cricket and bats, accomplishing things in his own unique manner.
Miandad possessed the best edge and angle for hitting the ball and was known for his ability to strike the ball well in the gaps. He not only had some fantastic innings, but he also had some lovely strokes in his repertoire.
His superb reverse sweep drew everyone's attention. Javed Miandad has helped Pakistan win more matches than anyone else. Because of his hitting abilities, he would be a formidable opponent for any bowling squad.
Miandad, in addition to being aggressive, is one of the best finishers in cricket history. He received worldwide fame as a member of the world cup-winning side in 1992.
The fact that he was Pakistan's finest batsman added to the strain, but he rose to the occasion. He led Pakistan to the trophy with three half-centuries in nine innings, including the 50s in the semifinal and final. From 1975 through 1996, he represented Pakistan in international cricket.
9) Jos Buttler:
Jos Buttler, a right-handed hard-hitting batsman, has established himself in all three versions of the game. Because of his adaptability, the fact that he gets promoted to open occasionally works against him in T20 cricket.
Nonetheless, the variety of strokes he plays at the conclusion of an innings makes him one of cricket's best finishers.
Buttler can swipe full-length deliveries into the slot to scoop bowlers despite landing his yorkers. He can utilize both the touch and power games whenever he needs to.
Buttler's average strike rate when chasing is 110, whereas the average is 126 when batting first.
Both of these are ludicrous by One Day International cricket standards. In 2016, he hit 90 runs in 51 balls against Pakistan at Trent Bridge.
And as a result of this achievement, he is often regarded as one of the best batters in cricket history.
Jos Buttler is presently the top finisher in world cricket due to his ability to blast the ball to all areas of the pitch and his superb temperament.
Jos Buttler is a batsman who can play all over the field, giving him a rare skill set. In cricket terms, he is referred to be a 360-degree batsman.
Be it ODI cricket or t20 cricket, cricket fans always consider this dangerous batsman as one of the best finishers in cricket history.
8) Michael Hussey: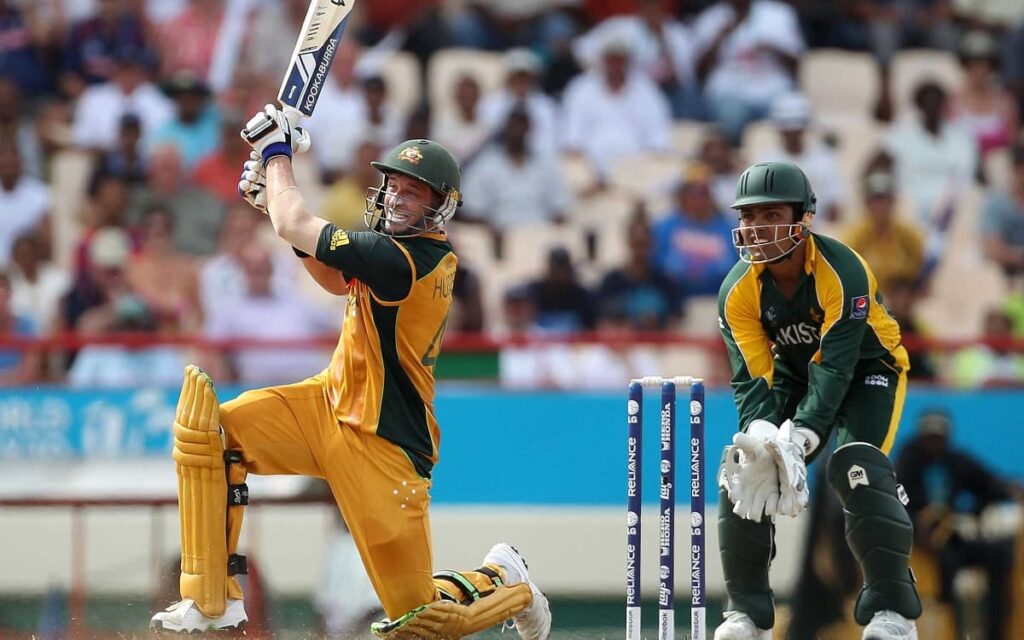 Michael Hussey was one of the most productive left-handed batsmen in the country. He was born on May 27, 1975. Despite his late entry into international cricket, making his debut at the age of 28, his career was not without distinction. He is also known as "Mr." He is now largely regarded as one of the all-time best left-handed hard-hitting batsmen.
Michael Hussey, often known as 'Huss' or 'Cricket,' was the world's number one batsman in 2006. Hussey showed great promise during the ING Cup and was picked to Australia's ODI team against India in 2004. He scored 17 runs throughout the match, which helped him win.
He scored five half-centuries after a brilliant 2005, being undefeated in four of them. Hussey soon established himself as one of the most dependable finishers.
He made his test cricket debut against the West Indies in 2005, getting one run and 29 runs in the second innings. In the two matches that followed, he scored two centuries in a row.
Hussey helped his side out of difficulty several times, including a game against New Zealand in 2007. Attempting to pursue 155 proved difficult for Australia.
When Hussey entered the game, the score was 48-4. Hussey scored 65 not out to lead his team to victory while wickets fell all around him.
Michael Hussey was one of the best finishers in cricket history.
7) Lance Klusener: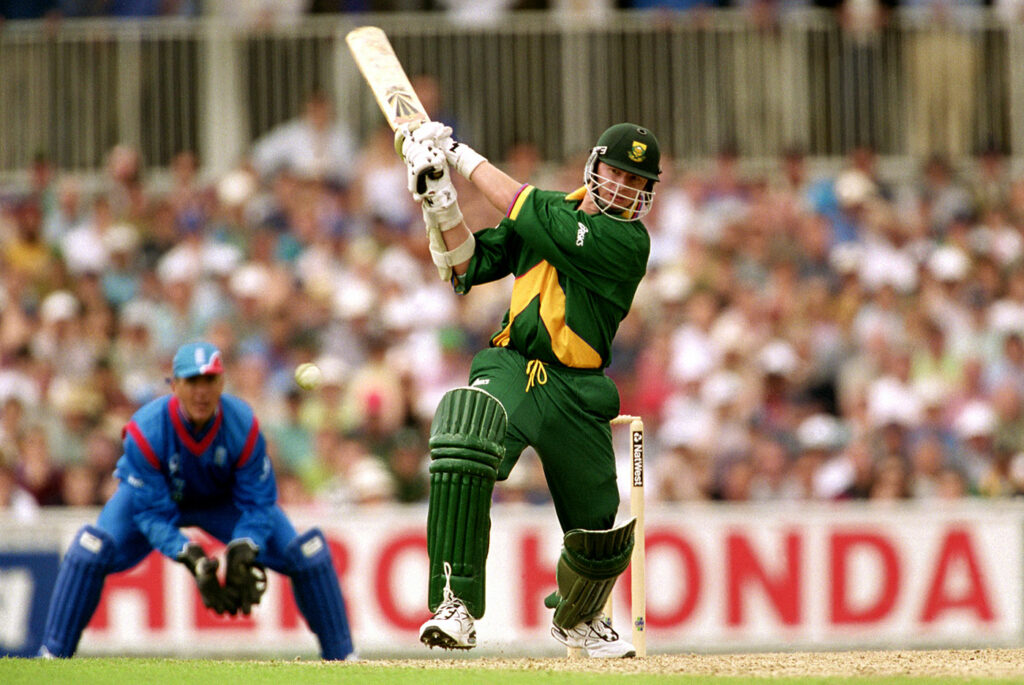 Lance Klusener, the former South African all-rounder, was sometimes underappreciated and undervalued for his contributions to the Proteas. But he had all the makings of one of the greatest all-rounders in cricket history since his early days. In most situations, Klusener utilized the willow to help his squad when they were in danger.
He had a flair for bringing some of the games back to life by scoring runs with such clarity of mind. His extraordinary abilities make him one of cricket's top finishers. He had the highest score of 174 in his 49 test matches and the greatest wicket average of 8/64 in multiple test matches.
He scored 3,576 runs in 171 ODIs at an average of 41.1, with the maximum score of 103 runs and 192 wickets, the best of which was 6/49.
His contributions to the ODI Cricket will be remembered the most. Lance became one of cricket's most dangerous batsmen during the 1999 World Cup. He was selected Tournament Man of the Year.
Lance showed flashes of his strong striking in the years leading up to the World Cup. His baseball-style back lift and powerful hitting garnered him more admirers than any other participant in the competition. Among his numerous honours is being named Wisden Cricketer of the Year in 2000.
The list of best finishers in cricket history is always incomplete without Lance.
6) Sir Vivian Richards:
As a cricketer, Viv Richards posed the greatest danger to opponents during Test matches. His commanding presence matched his impressive stature, and his passionate sense of pride in becoming the first Antiguan to represent the West Indies was inspiring.
His ability to alter the outcome of any game makes him one of cricket's greatest finishers. Viv Richards rapidly established himself as one of the world's best batsmen and one of cricket's all-time greats.
In his illustrious year of 1976, he amassed a streak of high scores throughout the year, including 192 in the second Test away from India.
In Australia, Richards opened against Denis Lillee and Jeff Thomson. He eventually settled for third place, behind Desmond Haynes and Gordon Greenidge. He had a terrific series in England, scoring 829 runs in four Tests, including 291 runs at The Oval.
It wouldn't be surprising if he ran two if the field was out, or if he hit it over the top for four or six if you brought it in. Viv had a unique batting style that was outstanding.
Those who bowled straight at him believed they had a chance because he played over his front pad and moved the ball to his leg. His opponents expected him to miss a bowl, but he seldom did.
Being one of the greatest batsmen and one of the best finishers in cricket history is not the cup of tea for all.
5) Michael Bevan: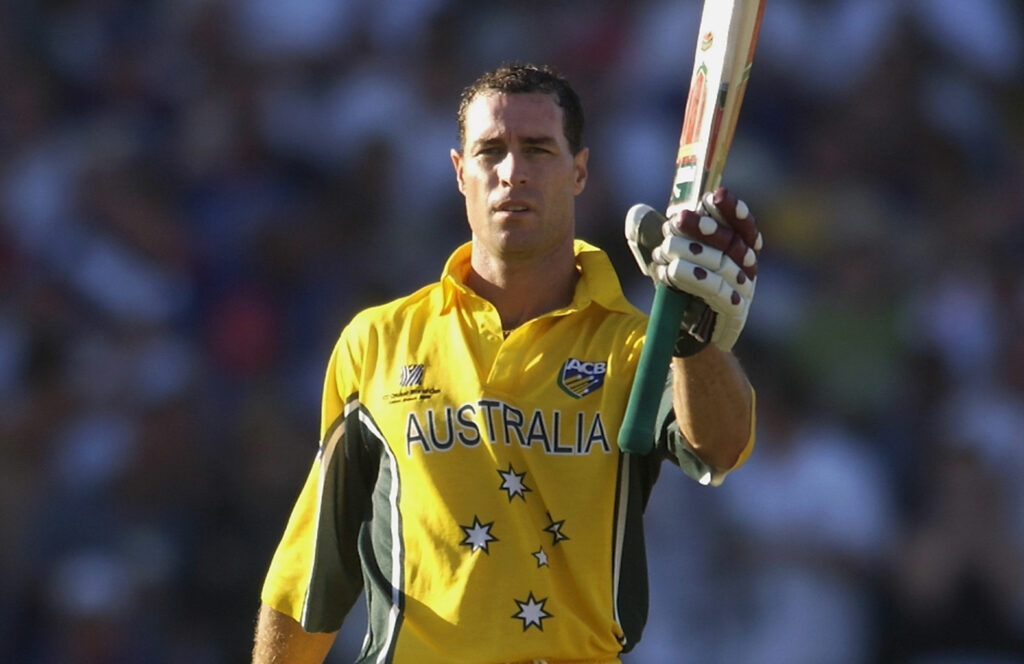 Bevan won the distinction of top finisher in global cricket over the course of a decade. Because of this tendency, he was dubbed "The Finisher." Australia won two of its three World Cup finals, in 1996 and 1999.
Although Bevan's test career was cut short before it began, he went on to become one of the most influential players in one-day internationals. In December 2002, the Wisden Guide ranked Bevan as the fifth-greatest ODI batsman of all time.
Bevan had an entirely different batting approach in One Day International cricket. He appeared to be in command from the outset, and the pressure brought out the best in him.
Bevan made his ODI debut in 1994 against Sri Lanka in Sharjah. His debut game did not call for him to bat. Nonetheless, he remained an important squad member for the following several games, making numerous key cameos.
In Australia's last innings in the Wills triangular series, which also included South Africa, the rookie batted undefeated for 52 balls. This was his first fifty in an ODI cricket. Despite their excellent effort, Australia fell short of 269 after 50 overs.
Not long after his debut, ODIs were a regular feature of Bevan's career. He routinely finishes his innings with stroke-filled cameos. He was called as one of the best finishers in cricket history because of his ability to smash a bowling lineup in the death overs in limited-overs cricket.
4) Shahid Afridi:
Shahid Afridi, commonly known as Boom Boom, rose to prominence as a hard-hitter and finisher for Pakistan in one-day international cricket history. He was unstoppable as he despatched the bowling seemingly out of nowhere.
He won numerous matches for Pakistan due to his outstanding finishing abilities. Sometimes games did not end until Afridi reopened the pavilion.
He still has one of the most famous performances in cricket history, when he blasted two consecutive sixes off Ashwin to bring Pakistan over the line, making him one of the best finishers in cricket. Furthermore, he is still known for having the longest sixes in cricket history.
At the age of 16 years and 217 days, Shahid Afridi hit the quickest one-day international century off 37 balls in his debut one-day international innings.
Pakistan won by 82 runs owing to his 102, which included six fours and 11 sixes. The right-hander deserved his third-place ranking by hitting six fours and 11 sixes.
Perhaps Afridi's finest evidence of his ability as a Pakistani all-rounder comes during the 2013 World Cup match in Guyana. The leg-spinner didn't settle for a 55-ball 76 that helped Pakistan reach 224 for nine; the leg-spinners annihilated the West Indies in nine magnificent overs for only 98. On the other hand, he has one of the best strike rates in cricket history.
In world cricket, Shahid Afridi can be regarded as one of the best finishers in cricket history.
3) Abdul Razzaq:
Abdul Razzaq is one of Pakistan's players who has played some surprising games. In cricket, he is one of their best finishers in cricket. Razzaq's long-distance shooting prowess was noteworthy. The fact that he lacks a track record does not lessen his potential to play good cricket. His 72-ball 109 in Sharjah versus South Africa was remarkable.
It earned him a reputation and a position on the list of greatest finishes after being rated as one of the best ODI innings of all time.
Abdul Razzak was a Pakistani cricketer who was renowned for damaging cricket balls between 1999 and 2013. He also holds the record for the most sixes in an ODI contest.
Razzak, in addition to being an important hitter in death overs, got his side out of tricky circumstances and achieved massive totals for them. He is the eighth player from Pakistan to have scored 1,000 runs and got 100 wickets.
Razzaq achieved the youngest hat-trick in test cricket against Sri Lanka in 2000, at the age of 20. His background includes hitting at every position, from opener to No.11. In 2009, he and Nasir Jamshed established the greatest third-wicket partnership in any form of T20 cricket (162).
The list of best finishers in cricket history is always incomplete without Abdul Razzaq having a mention.
2) AB de Villiers:
After MS Dhoni, AB De Villiers is set to lead the pack in terms of best finishers in cricket. However, his true hitting talent emerges during the game's last overs.
Among South Africa's explosive batters, this batsman has an exceptional ability to close games on a high note. He struck an unbeaten 102 off 59 balls in Ahmedabad, the seventh quickest century in ODI history.
AB is regarded as a skilled run-chaser and one of cricket's top finishers in cricket. In one-day internationals, he holds the marks for fastest fifty (16 balls), fastest hundred (31 balls), and fastest hundred and fifty (62 balls). His hitting technique has given him the moniker "MR.360." He can score from any position on the field.
When helping to a winning cause in ODIs, AB's strike rate was over 107 runs per innings, with an average of 66.01. And, as a result of this achievement, he is considered one of the most dangerous hard-hitters in cricket.
AB de Villiers has done the inconceivable for South Africa on several occasions. He has done both in his career, anchoring collapsing wickets and salvaging games on his own. Even now, he manages to accomplish things that other cricketers cannot even dream of.
In World cricket history, AB de Villiers has played the most memorable ODI innings, most memorable t20 innings, and the Indian premier league innings.
1) MS Dhoni: Best Finishers in Cricket
When it came to approaching a run-chase, MS Dhoni was the picture of composure. The man was completely confident in his ability, and he could do a near-death run-chase at his height. In 2012, he demolished Clint McKay in Adelaide, and in 2013, he murdered Suranga Lakmal in the last over of the tri-series final.
It may have been the 13 runs he scored in the final over of the 2013 tri-series. Furthermore, his multitude of closing deeds against Pakistan displayed a steely attitude (especially in 2006). In addition to his batting accomplishments, he is widely considered as one of the most successful cricket captains of all time.
MS Dhoni is widely regarded as the finest wicketkeeper-batsman in the world, despite his deterioration in hitting over the previous 2-3 years. He thrived in circumstances when he could push the game to its breaking point.
During his ODI career, MS Dhoni participated in 112 successful run chases. He scored 2556 runs at an average of 91.28, with 19 half-centuries and one hundred, and is considered as the finest finisher in cricket. With such achievements to his credit, he is usually recognized as one of cricket's best wicketkeepers.
He is undoubtedly the best finisher in cricket history.
get more cricket-related articles in Sportslibro. com