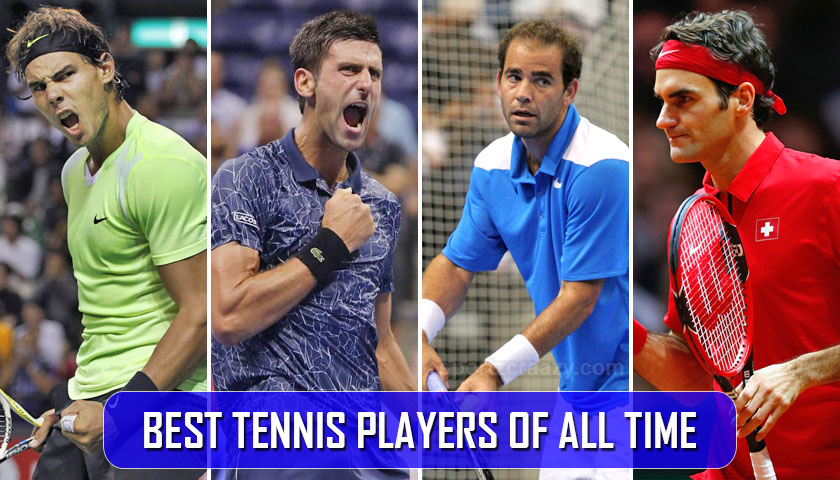 Apart from technical skills, a great, professional tennis player requires many attributes. Supreme confidence often puts them ahead of their competitors. They must be physically and mentally strong, and relaxed both on and off the court. Their skills usually take them to the coveted number one in the world's rankings. Winning multiple Grand Slam tournaments proves they have mastered all playing surfaces. Discover the greatest of all time tennis players in this article…
Roger Federer
Turning forty-one in August 2022, Federer is the veteran of men's professional tennis. He has thrilled audiences with his speed and agility while making accurate volleys from the baseline. In 2004, he began an unmatched run of 237 consecutive weeks as the world's number one.
Federer has won twenty Grand Slam titles, including an unprecedented eight Wimbledon trophies, which has helped him make his way onto the sports betslip of millions of tennis fans over the years. It's an amazing achievement considering he has often been troubled by injuries.
Federer continues to be a crowd favourite at his tennis sports matches today, thanks to his career of delivering outstanding performances. His rivalry with both Rafael Nadal and Novak Djokovic is legendary. The Big Three have dominated tennis for almost eighteen years. Federer has played Nadal in fourteen Grand Slam finals and been successful in four. He has played against Djokovic fifty times, with five of the matches in Grand Slam finals.
Rafael Nadal
Nadal was born in Spain in 1986 and is famous for his impeccable on court behaviour. He is an aggressive, left-handed player with a powerful forehand and an ability to greatly increase the spin of the ball. Nadal currently holds the world record of twenty-two Grand Slam victories, one more than Djokovic and two more than Federer. His specialty surface is the clay of the French Open. He won his first title at the age of nineteen and has now been victorious a record-breaking fourteen times. Nadal's rivalry with Djokovic began in 2006 and is often considered to be the most intense of the Big Three. He became the world's number one in 2008 after he defeated Federer to win the first of his two Wimbledon trophies.
Novak Djokovic
At thirty-five, Djokovic is the youngest of the Big Three, and he discovered tennis at the age of four and has been playing ever since. In 2003, he joined the professional circuit and has amassed a total of twenty-one Grand Slam titles. Djokovic attributes his incredible agility and athleticism to his vegan diet. His most feared shots are his backhand and almost faultless return of serve. His most celebrated encounter with Federer was in the 2019 Wimbledon final where the match lasted for almost five hours! The fiercely contested fifth set took more than two hours, providing the Centre Court with tense drama. Djokovic finally triumphed in the fifth set tie-break. Djokovic has played against Nadal fifty-nine times and been successful in thirty matches- nine of which have been in Grand Slam finals.
Carlos Alcaraz
Nineteen-year-old Carlos Alcaraz is just beginning his tennis career. He has already beaten Nadal's record of being one of the youngest tennis players to win a match in the Madrid Open before being beaten by Nadal himself. In 2022, he triumphed over Nadal and Djokovic in consecutive matches, and rose to number four in the rankings. As the Big Three wait for time to catch up with them, Alcaraz could be a player to watch.
Ivan Lendl & Andre Agassi Before the Big Three, players such as Ivan Lendl and Andre Agassi accumulated more modest numbers of Grand Slam trophies. Lendl, born in 1960, won a total of ten, including two Wimbledon and Australian titles, and three each in the French and US Opens. Agassi, eleven years younger, won a total of eleven Grand Slams. He secured victories in four Australian and French Opens, one Wimbledon and two US Opens. The two men played each other eight times in Grand Slam tournaments with Lendl winning six of the matches. Lendl was the world number one for 270 weeks compared to Agassi's 101.