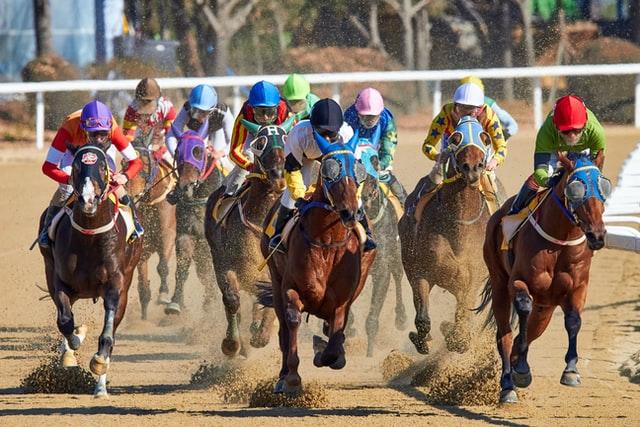 When it comes to horse racing, many people place a lot of importance on the jockey. Of course, it's true that the jockey is responsible for a large part of a race win, but the fact is that without the horse, the jockey is nothing, and a great jockey knows this. In the end, the horses' names are what will stand the test of time (although there are plenty of famous jockeys too, of course), and so today, we want to celebrate the best of the best in the sport. Here, in no particular order, are the 10 greatest racehorses we've ever seen in the history of horse racing.
1. Berkshire Shadow
2021's Royal Ascot winner Berkshire Shadow is perhaps not one of the horses that would come to mind when you think about the greatest racehorses ever, but the fact is that winning the Royal Ascot is not easy. As Andrew Balding said to Betway, Berkshire Shadow was "the standout" of that race; any Royal Ascot winner "is special", but Berkshire Shadow and jockey Oisin Murphy went above and beyond to claim victory in a race that could easily have belonged to another horse.
2. Red Rum
Even if you don't really follow horse racing, you've almost certainly heard of Red Rum. He managed to secure Grand National victories at Aintree on three separate occasions in the 1970s, and he managed to maintain an unbroken record of not failing a jump across 100 races. Despite achieving these incredible feats, Red Rum managed to live well into the 90s, dying in 1995 and reaching a level of international fame that even many sportspeople don't reach.
3. Desert Orchid
If there's one horse that most perfectly encapsulates the idea of a "rock star" racehorse, then that horse would have to be Desert Orchid. Across five different jockeys, Desert Orchid captured the hearts and minds of horse racing fans and non-followers alike; he's been called one of the most charismatic horses in the sport, and if you watch one of his old races, you can see why. "Dessie" inspired a level of devotion so fervent that he never actually competed in the Grand National because people loved him too much.
4. American Pharoah
Despite the unfortunate misspelling of his name (while it isn't intentional, the mistake remained in the horse's moniker), American Pharoah is a truly special horse. Achieving victory in an astonishing nine of his eleven starts, he's managed to bag his owners more than $8.6 million in prize money, and he's also one of the only horses to achieve the coveted American Triple Crown title, as well as the Breeders' Cup Classic back in 2015. It's fair to say that grammar aside, American Pharoah is truly special.
5. Seabiscuit
If you've heard Seabiscuit's name, it's probably because of the rather touching 2003 movie. The horse's story was somewhat fictionalised and sensationalised in that movie, but it still tells a remarkable tale of a horse that overcame slow beginnings in order to become one of the best and most celebrated racehorses of all time. The horse who played Seabiscuit in the eponymous movie unfortunately passed away earlier this year at the age of 24, but the legend of both Popcorn Deelites (for that is his name) and Seabiscuit will live on.
6. Secretariat
Another incredibly famous horse, Secretariat is yet another American Triple Crown winner, and that alone is reason to celebrate this beautiful stallion. As if that wasn't enough, though, Secretariat also won the Horse of the Year Eclipse award two times in a row, at the ages of two and three respectively. That's enough to make any young horse flush with pride! He passed away in 1989, having lived 19 years, but in that time, he managed to make $1.32 million in prize money for his owners.
7. Frankel
Frankel retired in 2008, but that doesn't mean we can't honour this wonderful horse's legacy. He is now standing at stud, which should give him ample time to reflect on the fact that throughout a career lasting 14 races, he was completely unbeaten. That's right – in all of his 14 races, no other horse ever managed to best Frankel. He has also achieved wins at various major stakes including Queen Elizabeth II Stakes, International Stakes, and Sussex Stakes.
8. Winx
The gorgeous Winx now "works" as a broodmare, a reward for her dazzling career on the racing track. SHe managed to build up more than £14 million for her owners, largely taking part in Australian races. For three years in a row, Winx was the co-owner of the coveted "best horse in the world" title, sharing it with mare Black Caviar. She was given this award three times from 2016 to 2018, so it's clear that it's not just the public that loves Winx!
9. Shergar
Shergar is another horse whose name you've almost certainly heard. He took part in eight races and managed to achieve victory in six of those races, including the Irish Derby and the Epsom Derby. Shergar's most successful year was 1981, as this was when he managed to achieve all of those astounding victories. Unfortunately, disaster struck for Shergar and his owners when he was unceremoniously stolen in 1983. His kidnappers told his original owners that he was dead shortly afterwards. A tragic tale indeed.
10. Kauto Star
This underrated "dark horse" (see what we did there?) managed to achieve a staggering five wins at the George VI Chase event. Kauto Star managed to rake in £3.78 million for his owners thanks to his incredible prowess and fearsome speed. You'll almost certainly see his name in the history books; he managed to score the top steeplechaser title in four different horse racing seasons and was also the Betfair Chase winner across four different events.