Shanthakumaran Sreesanth is a former Indian Cricketer who played in all three formats of the game and was a right-arm fast medium-paced bowler. A prominent name among Indian cricket fans he was a controversial figure, to say the least, but was not any less talented despite his antics both on and off the field which tainted his career. Associated with the Rajasthan Royals in the Indian Premier League, he played first-class Cricket for Kerala.
Sreesanth Biography Covers everything about his life.
Early career and family background: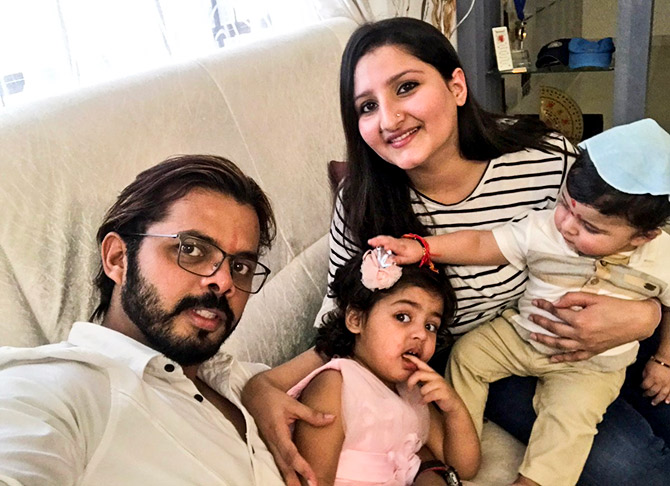 Born to parents Santhakumaran Nair and Savitri Devi, Sreesanth has one elder brother and two elder sisters. One of his elder sisters is married to popular South Indian playback singer Madhu Balakrishnan and the other, Nivedita is a television actress in Kerala. His elder brother Dipu Santhan owns a music company in Kochi.
He is married to Bhuvneshwari Kumari or Nain Shekhawat. He married her on 12th December 2013 at the Guruvayur Sri Krishna temple in Kerala.
Although he grew up to be a prolific fast bowler, during his initial days he was a leg spinner and this was a result of him being an avid fan of Indian cricket legend Anil Kumble. He was skilled in bowling yorkers at will and was encouraged by his elder brother to pursue fast bowling.
He was also supported by fellow Keralite, Tinu Yohannan, and Sreesanth was selected for the MRF pace foundation in Chennai. He made his domestic cricket debut in first-class Cricket for Kerala in the 2002/03 season and went on to pick up 22 wickets from 7 matches in the Ranji Trophy and was selected for the South Zone squad for the subsequent Duleep Trophy.
Sreesanth was selected for India A squad for the series against New Zealand and played in the match at Rajkot. Although he picked up one wicket he was met with a hamstring injury which caused him to miss out.
He traveled for the away days with the Kerala squad but missed give matches in that Ranji trophy season. He took a hat-trick against Himachal Pradesh in November 2004 in a Ranji trophy game and was selected for the India B squad playing in the Challenger Trophy in October 2005.
International Career:
One day international career: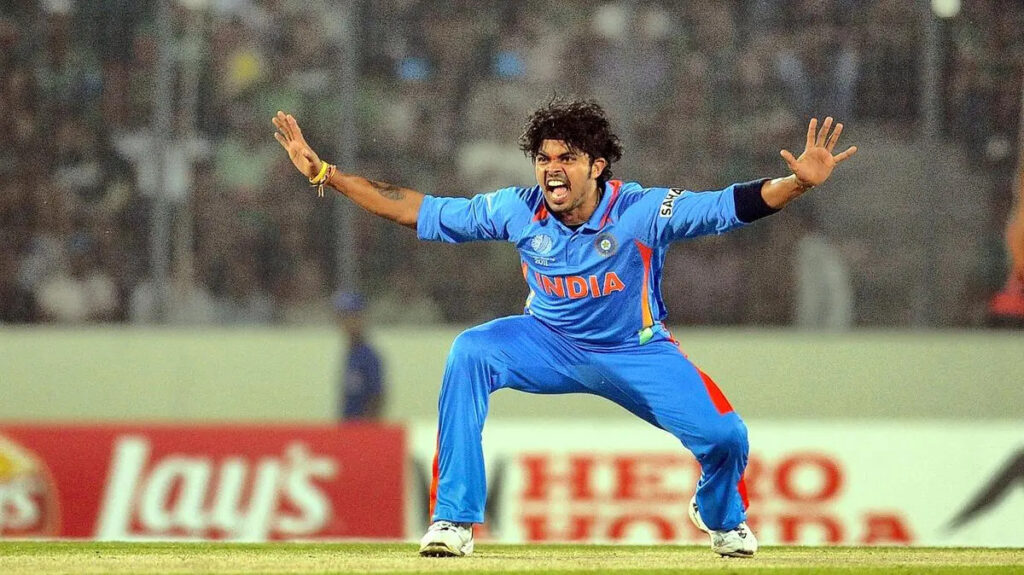 Sreesanth made his one-day international debut for India in the home series versus Sri Lanka in the first ODI at Nagpur and was thrashed in the initial overs by Sri Lankan legends Sanath Jayasuriya and Kumar Sangakkara but returned strong in the final overs to pick up his first ODI wickets.
His next chance came in the tour against Pakistan wherein he played all five matches and got his best at Karachi where he got figures of 4/58 in the fifth ODI. He was impressive in the rest of the matches against the Pakistani team as well and furthered his chances of being selected again.
The Indian cricketer had a very good home series against England as well in April 2006 as well as he claimed 6/55 in the final one-day international at Indore and was adjudged the man of the match for his contribution. He was also given a C grade pay contract in May 2006.
Sreesanth was part of the World Cup-winning squad of 2011 for the Indian team due to Praveen Kumar suffering an injury. Although he ended up with a winner's medal his performances were hardly contributive in any form.
Test matches career: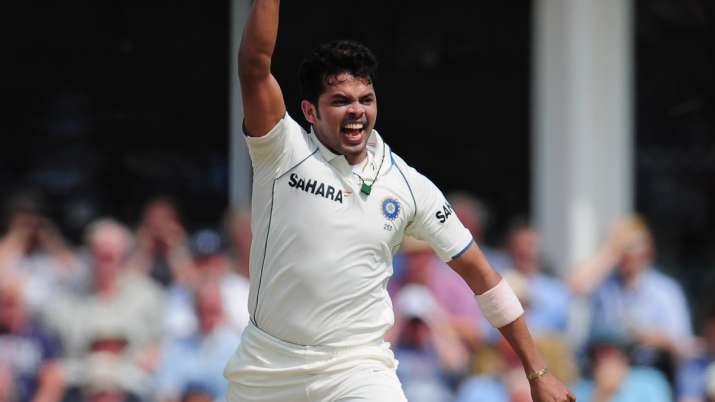 Sreesanth made his debut in test matches as he replaced Zaheer Khan for the home series versus England in March 2006 and picked up 4/95 in his debut match at Nagpur partnering with Irfan Pathan to lead the bowling attack.
He was injured for the 2nd test match at Mohali but made a comeback for the third test at Mumbai with five wickets and a crucial 29* with the bat. During the West Indies series, he missed the first test but got his career-best 5/72 at Kingston, Jamaica.
It was during the 2006 tour of South Africa did he really come out of his shell and produced some great performances- he picked a stellar five-wicket haul in the first test match against South Africa at Johannesburg and dismissed them for 84 to register the first win for India on South African soil and for this, he won the man of the match award as well.
He was also involved in a high voltage clash against South African fast bowler Andre Nel during the same test series. Andre Nel was bowling at some serious pace and targeting Sreesanth's rib cage to dismiss him and after Sreesanth successfully evaded a bouncer, he went up to him and showed him to show some 'heart and courage' by pointing to his chest.
The next delivery Sreesanth runs up the pitch to thwart the ball in the stands and started to flash his bat and dance on the pitch in order to moch Nel's comments. . He was fined after breaching the ICC International Cricketing Council's advertising logo policy, and also for "conduct contrary to the spirit of the game".
Sreesanth was again caught in the midst of things during India's tour of England in 2007. On the fourth day of the test match at Edgbaston, he was fined half his match fee for intentionally barging into Michael Vaughan while returning to his crease while batting.
He was also accused of deliberately bowling a beamer to England batsman Kevin Pietersen who had to do a lot in order to avoid the dangerous delivery. Although Sreesanth said that the ball had slipped from his fingers but when he bowled a no ball to Paul Collingwood which exceeded the mark by 0.61 meters it appeared to be a different story.
Sreesanth had great control over reverse swing, especially in the subcontinent conditions. He was called up for the test series against Sri Lanka after more than a year and a half in November 2009 and he picked up a five-wicket haul in the first innings of the 1st test match at Kanpur.
T20 cricket:
Sreesanth joined the Indian squad for the inaugural T20 World Cup in South Africa and was instrumental to India's success. Although he was expensive at times, he gave important breakthroughs just like in the semi-final match against when he picked up the wickets of Adam Gilchrist and Matthew Hayden.
His spell of 2- 12 was named the third-best T20I bowling display that year and who can forget the final catch of Misbah-ul-Haq as it marked the golden win of India in the words of Ravi Shastri "Up in the air….. Sreesanth.. takes it! India win the T20 World Cup!" a cherished memory indeed.
IPL: Sreesanth Biography
Rajasthan Royals: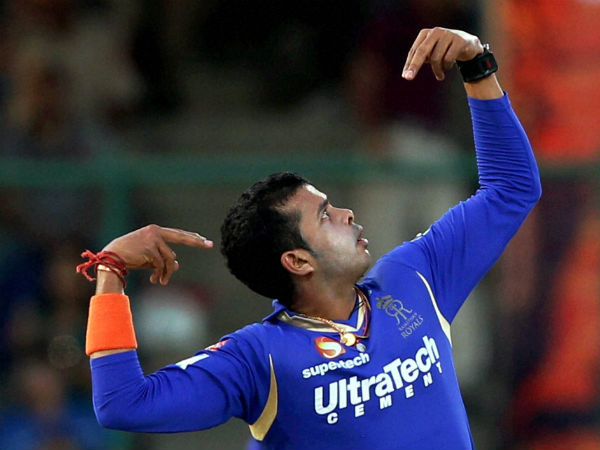 Sreesanth was associated with the Rajasthan Royals for the inaugural season of the Indian Premier League and was the second-highest wicket-taker with 18 wickets second only to Sohail Tanveer.
He only played in the second half of 2009 due to a stress fracture and signed for Kochi in the 2011 season. He resigned from the Royals in 2012 but missed out due to injuries. His contract with the Rajasthan Royals was terminated due to his association with the spot-fixing scandal of 2013.
Kings xi Punjab: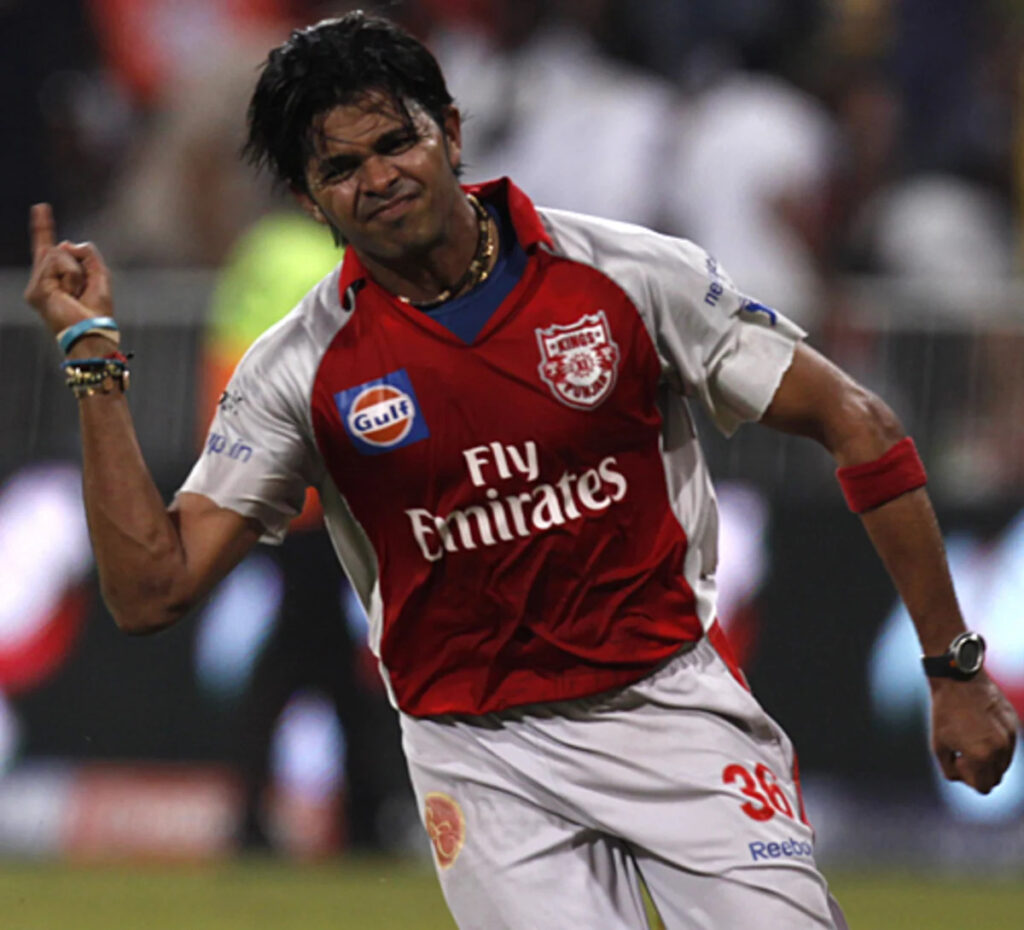 Sreesanth was slapped beneath the eye by Mumbai Indians skipper Harbhajan Singh on April 25, 2008, following his Kings XI Punjab victory in the IPL over the Mumbai Indians at Mohali. Sreesanth was seen on camera crying uncontrollably on the field before the award ceremony, which brought the event to light.
Sreesanth later downplayed the event, claiming that he had no complaints about Harbhajan, whom he referred to as "like an older brother." Harbhajan's squad had just lost their third game in a row when Sreesanth approached him and said, "Harbhajan, good luck."
Match-fixing scandal:
On 16th May 2013 Shanthakumaran Sreesanth was arrested by the Mumbai police along with his two teammates Ajit Chandela and A.Cheevan at a hotel in Mumbai. Sreesanth was drunk during his arrest and had initially thought that was the reason for his arrest.
On 17th May he admitted to spot-fixing allegations although he has always said he has been forced to sign the confession papers. He was arrested by the police outside a hotel on Carter Road Promenade when he was accompanied by a female companion in an SUV.
On 13th September 2013, Sreesanth and Ankeet Chevan were suspended by the disciplinary body of the BCCI for a lifetime. They also had their IPL contracts suspended. On July 15th Sreesanth was acquitted of the spot-fixing allegation and on 18th October his lifetime ban was lifted by the Kerala High Court.
Comeback and Retirement of the Right Arm fast-medium bowler: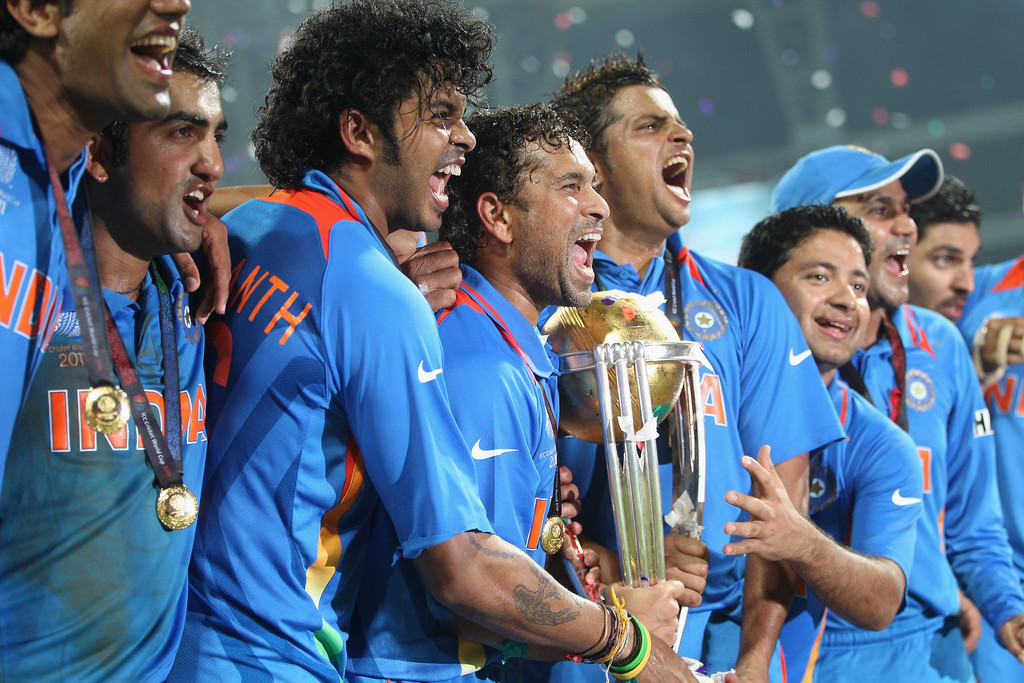 Sreesanth has already stated that he will do "all possible" to return to the sport after his life sentence was lowered to a seven-year restriction. On September 13, 2020, the prohibition came to an end.
In 2021, Sreesanth played for Kerala in the Syed Mushtaq Ali Trophy and the Vijay Hazare Trophy. In January 2021, he played his first match following his ban in the Syed Mushtaq Ali Trophy. Sreesanth confirmed his retirement from domestic cricket on March 9, 2022.
Sreesanth Net Worth: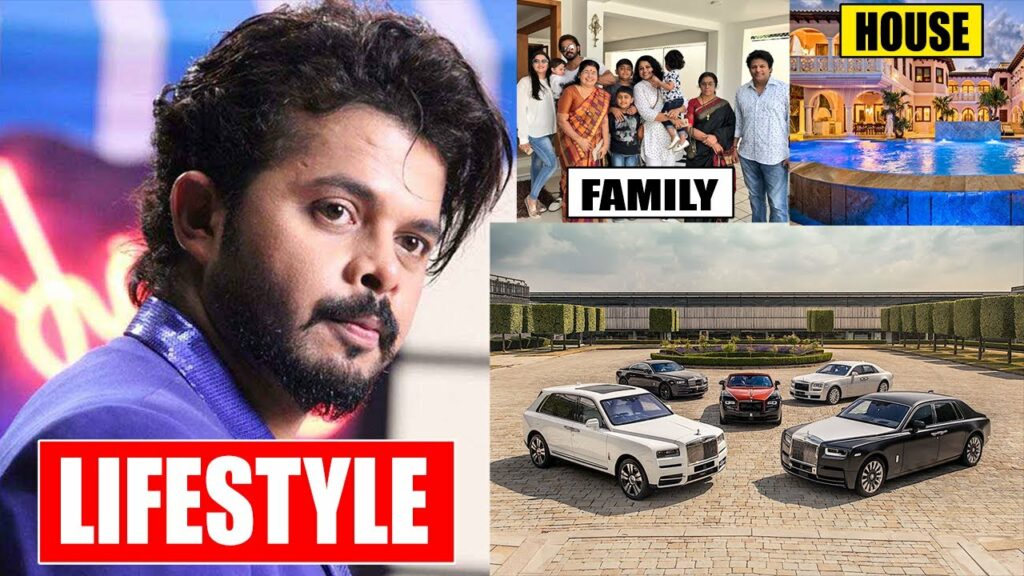 Sreesanth's net worth was estimated to be around $7 million USD.
Sreesanth is a former Indian cricketer who played for the Indian national team as a fast bowler. He also played for the Indian Premier League (IPL) team Rajasthan Royals, which helped him earn a significant amount of money. Additionally, he has also been a part of various television shows and reality shows, which have contributed to his net worth.
However, it's important to note that net worth estimates can fluctuate over time, and it's possible that Sreesanth's net worth may have changed since my knowledge cutoff date.
Get More cricket-related News on Sportslibro.com