Thierry Henry Biography:
Thierry Henry is a retired French Footballer. He was one of the greatest strikers in the history of football. He was often the matter of debate between pundits and journalists who considered him the best striker.
His pace, skills, ball control, and goal-scoring abilities had given him all the fame he deserved. He established himself as the highest goal scorer of France and Arsenal and was also a prime reason for Barcelona winning the Treble.
Thiery Henry has won almost everything in his football career as a player including the 1998 FIFA World Cup and the UEFA Champion League with Barcelona. After retiring as a player, Henry decided to work as a coach and started his coaching career. He was the assistant coach of the Belgium National team and picked up the Bronze medal in the 2018 FIFA World Cup.
Thierry Henry biography is all about his family, success story and career- both as a player and manager.
Thierry Henry Family: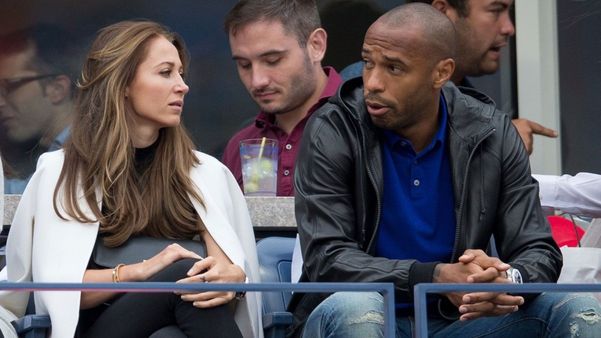 Thierry Daniel Henry was born on 17th August 1977 in Le Ulis, France. His father Antoine was from Guadeloupe and mother Maryse was from Martinique.
He had two brothers Dimitri and Willy. As a seven-year-old, Henry showed great potential, prompting Claude Chezelle to recruit him to the local club CO Les Ulis.
His father pressured him to attend training, although the youngster was not particularly drawn to football. He joined US Palaiseau in 1989, but after a year his father fell out with the club, so Henry moved to ES Viry-Chatillon and played there for two years.
Henry married English model Nicole Merry, real name Claire, on 5 July 2003. on 27 May 2005, the Thierry Henry wife and Henry celebrated the birth of their first child named Tea, Thierry Henry daughter completed their family.
Thierry Henry Family and later on Henry dedicated his first goal following Téa's birth to her by holding his fingers in a "T" shape and kissing them after scoring in a match against Newcastle United. Later it was found that the couple wanted a divorce and in December 2008 the couple had been Divorced and Henry paid Merry a divorce settlement of 10 million euros.
Now since 2008, Thierry Henry is in a relationship with the Bosnian Model Andrea Rajacic.
Thierry Henry Career:
The legendary french player Premier League crown with the invincible Arsenal team and also he was a part of the 1998 France world cup squad and won Champions League trophy with the Catalan giants Barcelona.
Monaco: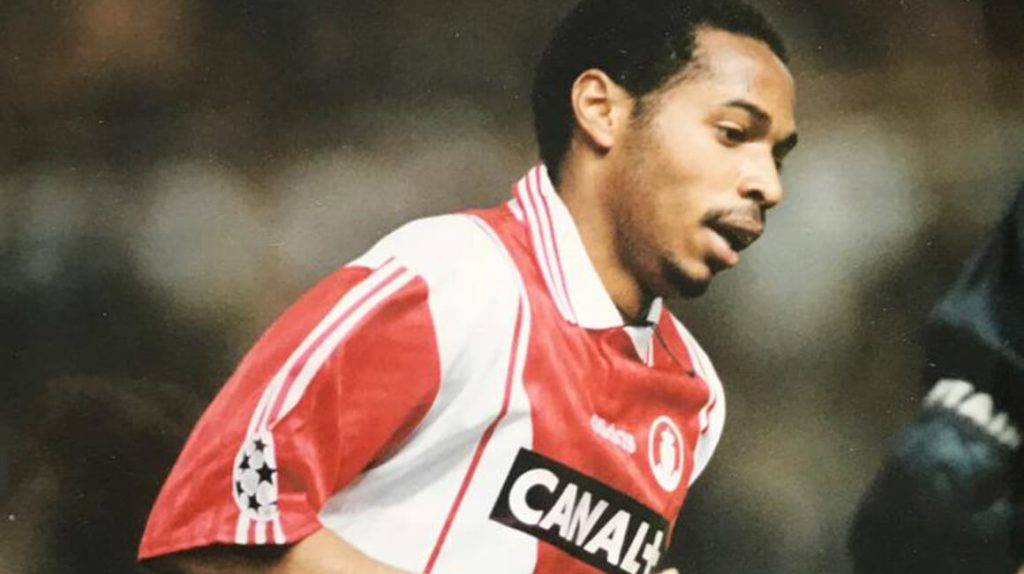 In 1990, Monaco sent scout Arnold Catalano to watch Henry, then at the age of 13 in a match. Henry scored all six goals as his side won 6–0. Catalano asked him to join Monaco without even attending a trial first.
Henry joined Arsene Wenger's Monaco, signed contract and Thierry Henry Monaco debut was made on 31st August 1994 in a 2-0 loss against Nice. Wenger had thought that he should use Henry as a striker but he decided to use him as a winger because his pace could easily beat full-backs and create more space for the striker.
In the season 1996-1997, he helped his team to win the Ligue 1 and in the next season, he carried his team to semi-finals of the UEFA Champions League by setting a French record of scoring 7 goals in the competition. He continued to impress at his tenure with Monaco, and in his five seasons with the French club, the young winger scored 20 league goals in 105 appearances.
Monaco career was very instrumental in Thierry Henry Biography.
Juventus: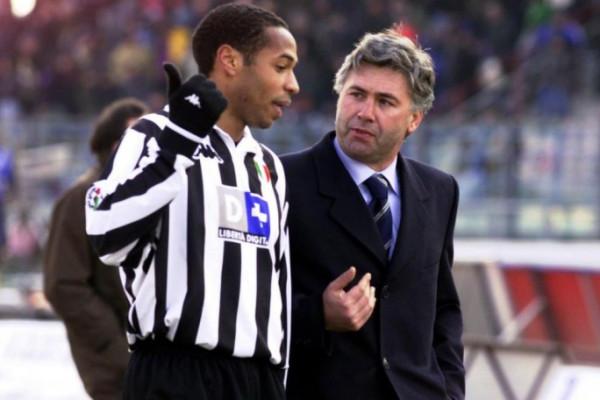 In the winter transfer window in January 1999, Henry left Monaco and moved to the Italian side Juventus. He played as a winger, wing-back and wide midfielder there.
Henry failed as a goalscorer in Juventus. He could not stand up against the defense of the teams in Serie A and scored on 3 goals in 16 appearances. Thiery Henry Juventus quest didn't go well and took a move to Arsenal in August 1999.
Arsenal:
Shortly before Henry's move to Arsenal, Wenger had taken the management of Arsenal. Thierry Henry Premier League journey started with Arsenal though it was full of controversy because of his transfer fee which was £11 million Wenger had convinced the Arsenal management saying that "It is a move that would pay rich dividends in years to come. ".
Thierry Henry Arsenal career didn't start well, at first Wenger had immediately decided to use him as a striker, Questions were raised when Henry went first 8 games without scoring. He even said that he had to be re-taught the art of striking.
Those questions were prettily answered when Henry ended the season with scoring 26 goals which consisted of a spectacular strike against Manchester United where he flicked the ball up (with his back turned to goal) before he swiveled and volleyed in from 30 yards out.
After the Euro 2000 win, Henry was ready to make an impact for Arsenal in the season 2000-2001. Although he had scored lesser goals and had lesser assists than his previous season, he finished as clubs tops scorer. Arsenal finished 2nd in the Premier League and lost 2-1 to Liverpool in the FA Cup Final. The 2001-2002 season turned out to be a successful one for both Arsenal and Henry.
Arsenal had won the Premier League and the FA Cup. Henry won the League's top scorer and had netted 36 goals that season. The 2001-2002season turned out to be another successful season for Henry. Henry scored 32 goals and provided 23 assists but Manchester United's Ruud van Nistelrooy bagged the top scorer award just by having 1 goal more than Henry.
Arsenal had won the FA Cup with Henry being the Man of The Match in the Finals but failed to retain the Premier League. Thierry Henry Biography was on its peak when he won those accolades with the English giants.
In 2003-2004, Henry was determined to reclaim the League title. This determination had made Arsenal win the Premier League and also established a record of the only team having won the League unbeaten in the last century. It was named as the Golden Premier League.
Arsenal had also retained the FA Cup title with Henry getting injured in the Finals. Henry became the first player ever to win back to back Golden Boots officially.
After the departure of club captain Patrick Vieira in 2005, Henry was given the captaincy which again became a matter of controversy because captaincy is usually given to midfielders or defenders because they have a better placed on the pitch to get a better read over the game.
The 2005–06 season proved to be one of the remarkable personal achievements for Henry. On 17 October 2005, Henry became the club's top goalscorer of all time with two goals against Sparta Prague in the Champions League meant he broke Ian Wright's record of 185 goals.
On 1 February 2006, he scored a goal against West Ham United, bringing his league goal tally up to 151, breaking Arsenal legend Cliff Bastin's league goals record. Henry scored his 100th league goal at Highbury, a feat unparalleled in the history of the club, and a unique achievement in the Premier League.
On the final day of the Premier League season, Henry scored a hat-trick against Wigan Athletic in the last ever match played at Highbury. Thierry Henry 2006 season he completed as the league's top goalscorer.
Arsenal failed to claim the Premier League title and also lost to Barcelona in the UEFA Champions League Final by 2-1. There were speculations of Henry leaving Arsenal.
The season 2006-2007 was full of injuries for Henry. He just scored 10 goals in 17 appearances. He missed the full February due to injuries. Henry was keen to stay with Arsenal and come back in the next season but was sold to Barcelona.
Barcelona: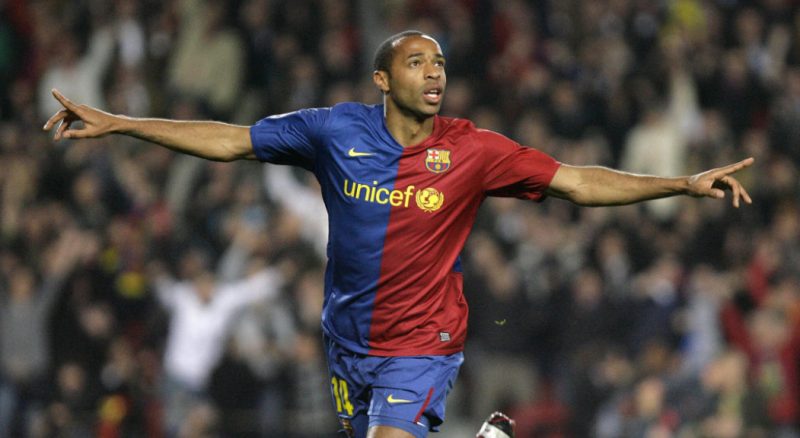 On 25th June 2007, Thierry Henry Barcelona Move completed from Arsenal for €24 million. In Barcelona, Thierry Henry number 14 jersey was handed to him, the same as he had worn at Arsenal.
He scored his first goal for his new club on 19 September 2007 in a 3–0 Champions League group stage win over Lyon, and he recorded his first hat-trick for Barça in a Primera Division match against Levante ten days later.
But with Henry mostly deployed on the wing throughout the season, he was unable to reproduce the goal-scoring form he achieved with Arsenal. Henry ended the season with the club's highest goal scorer with 19 goals and 9 assists.
The next season turned out to be one of the historic seasons for Barcelona. Henry won the first trophy of his Barcelona career on 13 May 2009 when Barcelona defeated Athletic Bilbao in the Copa del Rey final.
Barcelona won the Primera Division and UEFA Champions League soon after, completing a treble for the Frenchman, who had combined with Messi and Samuel Eto'o to score 100 goals between them that season, with that dream Thiery Henry Champions League dream come true in his career.
The trio was also the most prolific trio in Spanish league history, scoring 72 goals and surpassing the 66 goals of Real Madrid's Ferenc Puskas, Alfredo Di Stefano and Luis del Sol of the 1960–61 season.
Later in 2009, Henry helped Barcelona win an unprecedented sextuple, consisting of the aforementioned treble, the Supercopa de Espana, the UEFA Super Cup, and the FIFA Club World Cup.
Later in the summer transfer window, after the 2010 World Cup, Henry was sold to an unnamed club.
New York City Bulls:
In July 2010, Henry signed a multi-year contract with Major League Soccer (MLS) club New York Red Bulls for the 2010 season. Thierry Henry MLS debut on 31 July in a 2–2 draw against Houston Dynamo, assisting both goals to Juan Pablo Ángel.
His first MLS goal came on 28 August in a 2–0 victory against San Jose Earthquakes. Red Bulls were on the top in MLS Eastern Conference but lost 3-2 on aggregate against San Jose Earthquakes. Henry failed to win any major trophy with Red Bulls.
On 1st December 2014, Henry had left the club and officially announced his retirement as a player. After that, he had started his coaching career.
International Career:
World Cup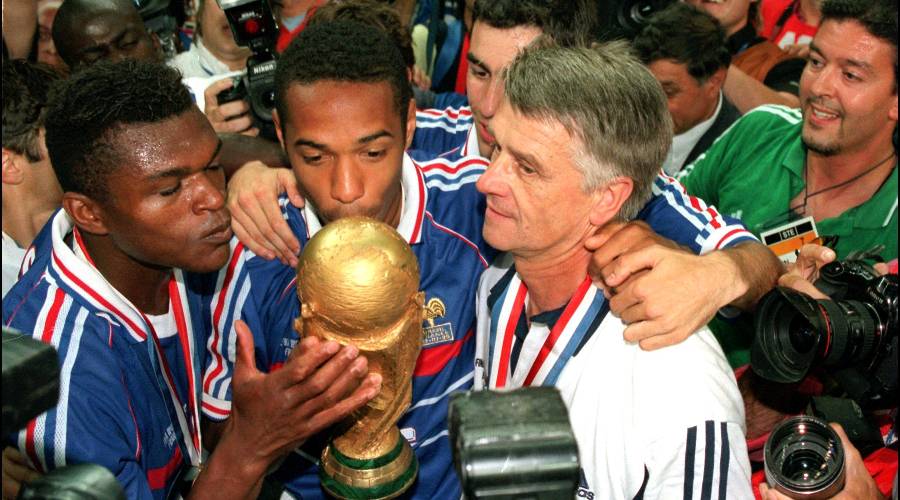 Henry enjoyed a successful career with the France national team, winning the first of his 1 cap in June 1997, when his good form for Monaco was rewarded with a call-up to the Under-20 French national team, where he played in the 1997 FIFA World Youth Championship.
Within four months, France head coach Aimé Jacquet called Henry up to the senior team. Thiery Henry France debut was made when he was 20-year-old made his senior international debut on 11 October 1997 in a 2–1 win against South Africa.
Henry was called up for the 1998 FIFA World Cup squad. He was the youngest player on the team. Thierry Henry world cup 1998 tournament ended as top scorer of France with 3 goals.
He was set to come in as a substitute in the finals but after Marcel Desailly's sending off, Jacquet was forced to make a defensive change. France had won the World Cup 3-0 against Brazil.
This was the most important phase in Thierry Henry Biography.
The 2002 World Cup saw the worst performance by any defending champion. France lost the first match against Senegal and in the next match against Uruguay Henry was red-carded due to a bad sliding challenge.
During the 2006 World Cup, Henry played as a lone striker and had scored three goals in the competition. France played exceptionally well but lost the finals to Italy in Penalties.
Henry could not take part in Penalties after he was substituted in the extra time due to cramps in his legs, and Thierry Henry World cup dreams with his country went dark as they lost it to the Italians in the finals.
Euro Cup:
Henry was included in the Euro 2002 squad and he ended up scoring three goals in the tournament which included his spectacular equalizer against Portugal. France went on winning the finals against Italy in the extra time. It had earned Henry his second major International Trophy. Henry earned three men of the matches in the tournament including in the finals.
In UEFA Euro 2004, Henry played in all of France's matches and scored two goals. France beat England in the group stage but lost to the eventual winners Greece 1–0 in the quarter-finals.
Henry missed the opening game of France's short-lived UEFA Euro 2008 campaign, where they were eliminated in the group stages after being drawn in the same group as Italy, the Netherlands and Romania. He scored France's only goal in the competition in a 4–1 loss to the Netherlands.
Theirry Henry Managerial Career:
Henry started his managerial career with the Arsenal Youth team in February 2015, in tandem with his work for Sky Sports. Having earned a UEFA A Licence, he was offered the job of the under-18 coach by Academy head Andries Jonker, but the decision was overruled by Wenger, who wanted a full-time coach for the team.
In August 2016, Henry became the second assistant coach of the Belgium National Team, working alongside head coach Roberto Martínez.
In an interview, Belgian striker Romelu Lukaku said "Henry is the best thing that has happened to me because since I came to England aged 18 I have had the best mentors. Thierry for me is the best. Every day whether it is positive and negative I take it in my stride because I know what is expected from the top level." Thierry Henry Belgium side lost in the Semi-Finals in the 2018 World Cup but successfully picked up a bronze medal. Later Henry left to join the coaching of his former team Monaco.
Henry signed with Monaco as a coach on 18th October 2018, just after the World Cup. In the press conference, Henry said "This club will always have a big place in my heart, so to be able to come here and start again, it is a dream come true. There is a lot of work to do, as you can imagine – but I am more than happy to be here".
His first match was a 2–1 away defeat against Strasbourg on 20 October. He was unable to secure a win for over a month, enduring a period which included two high-profile defeats against Club Brugge and Paris Saint-Germain, prior to defeating Caen on 1–0 on 25 November.
Theirry Henry sacked from his post at Monaco. The club was 19th at the time of his departure, and Henry left with a record of 4 wins, 5 draws, and 11 defeats, from 20 games he had managed.
Henry signed for MLS side Montreal Impact on 14th November 2019. In his first press conference, Henry stated: "I had to confront the relative disappointment of short stint as manager of Monaco, before undertaking a new job".
Thierry Henry Net Worth:
Theirry Henry presently has a net worth of $60 million where most came from his playing career, endorsements and appearance in commercials.
Thierry Henry Records and Achievements:
Remember the kid in the playground who was better than everyone else with a football at his feet? That's what Thierry Henry was like in his pomp. The Frenchman had exquisite technique, searing pace, and like the typical schoolboy superstar, he did pretty much everything for his team.
—Arsenal.com entry for Henry
The achievements and honors of Thierry Henry are as follows:-
Honors:
Monaco:
Arsenal:
Premier League: 2001–02, 2003–04.
FA Cup: 2001–02, 2002–03.
FA Community Shield: 2002, 2004.
UEFA Champions League runner-up: 2005–06.
Barcelona:
La Liga: 2008–09, 2009–10.
Copa del Rey: 2008–09.
Supercopa de España: 2009.
UEFA Champions League: 2008–09.
UEFA Super Cup: 2009.
FIFA Club World Cup: 2009.
New York Red Bulls:
Supporters' Shield: 2013.
France:
FIFA World Cup: 1998; runner-up: 2006.
UEFA European Championship: 2000.
FIFA Confederations Cup: 2003.
Henry made four appearances for the MLS All-Stars from 2011–14.
Individual:
Ballon d'Or – Runner-up: 2003; Third-place: 2006.
FIFA World Player of the Year – Silver Award: 2003, 2004.
UNFP Division 1 Young Player of the Year: 1996–97.
PFA Players' Player of the Year: 2002–03, 2003–04.
PFA Team of the Year: 2000–01 Premier League, 2001–02 Premier League, 2002–03 Premier League, 2003–04 Premier League, 2004–05 Premier League, 2005–06 Premier League.
PFA Team of the Century (1907–2007).
Team of the Century 1997–2007.
Overall Team of the Century.
FWA Footballer of the Year: 2002–03, 2003–04, 2005–06.
Premier League Player of the Season: 2003–04, 2005–06.
Premier League Golden Boot: 2001–02, 2003–04, 2004–05, 2005–06.
Premier League top assist provider: 2002–03.
Golden Boot Landmark Award 10: 2004–05.
Golden Boot Landmark Award 20: 2004–05.
Premier League Player of the Month: April 2000, September 2002, January 2004, April 2004.
BBC Goal of the Season: 2002–03.
UEFA Team of the Year: 2001, 2002, 2003, 2004, 2006.
MLS Best XI: 2011, 2012, 2014.
MLS Player of the Month: March 2012.
Best MLS Player ESPY Award: 2013.
MLS All-Star: 2011, 2012, 2013, 2014.
Onze d'Or: 2003, 2006.
European Golden Boot: 2003–04, 2004–05.
French Player of the Year: 2000, 2003, 2004, 2005, 2006.
IFFHS World's Top Goal Scorer of the Year: 2003.
FIFA FIFPro World XI: 2006.
FIFA World Cup All-Star Team: Germany 2006.
FIFA Confederations Cup Golden Ball: France 2003.
FIFA Confederations Cup Golden Shoe: France 2003.
UEFA European Football Championship Team of the Tournament: 2000.
FIFA 100: 2004.
Time 100 Heroes & Pioneers no.16: 2007.
English Football Hall of Fame: 2008.
Premier League 10 Seasons Awards (1992–93 – 2001–02).
Overseas Team of the Decade.
Premier League 20 Seasons Awards.
Fantasy Team (Panel choice).
Fantasy Team (Public choice).
UEFA Ultimate Team of the Year (published 2015).
UEFA Euro All-time XI (published 2016).
Orders:
Chevalier of the Légion d'honneur: 1998.
Records:
Arsenal:
All-time top scorer: 228 goals.
Most league goals: 175 goals.
Most European goals: 42.
Most Champions League goals: 35.
Most Premier League goals in a season: 30 (2003–04) (shared with Robin van Persie).
Most Premier League hat-tricks: 8.
Most European appearances: 86.
Most Champions League appearances: 78.
Fastest to 50 Premier League goals: 83 appearances.
Continental:
Most European Golden Shoe wins while playing in England: 2 (2003–04 & 2005–06).
One of four players to win back-to-back European Golden Shoes (shared with Ally McCoist, Lionel Messi & Cristiano Ronaldo).
England:
Most FWA Footballer of the Year wins 3 (2002–03, 2003-04 & 2005-06).
Most consecutive FWA Footballer of the Year wins 2 (2002-03 & 2003-04) (shared with Cristiano Ronaldo).
Most PFA Players' Player of the Year wins 2 (2002-03 & 2003-04) (shared with Cristiano Ronaldo).
Most consecutive PFA Players' Player of the Year wins 2 (2002-03 & 2003-04) (shared with Gareth Bale, Alan Shearer, Mark Hughes & Cristiano Ronaldo).
France:
Only the French player to win the European Golden Shoe.
Most goals for the France national team: 51.
Most French Player of the Year wins 5 (2000, 2003, 2004, 2005, 2006).
Most consecutive French Player of the Year wins 4 (2003 – 2006).
Most goals by a Frenchman playing at a foreign club: 288 goals for Arsenal.
Most world cup matches for France: 17 (shared with Fabien Barthez.
Most appearances at World Cup final tournaments for France: 4 (1998, 2002, 2006 & 2010).
Premier League:
Most assists in a season: 20 (2002–03).
Most goals with the right foot in a 38-game season: 24 (2005–06) (shared with Alan Shearer).
Most Player of the Season awards: 2 (2003-04 & 2005-06).
Most goals by a non-English player: 175 goals.
Most goals in London derbies: 43.
Most Golden Boot wins 4.
Most goals on a Friday: 10.
Most consecutive 20+ goal seasons: 5 (2001-02 to 2004-05).