Paul Scholes Biography:
Regarded as one of the best midfielders of his generation, Paul Scholes was a key player during Manchester United's Golder era under the management of Sir Alex Ferguson.
Paul Scholes was a complete midfielder any team would like to have, from offense to defense he could do both without any mistakes. His incredible stamina, speed, and passing could change the fate of any game within minutes.
Scholes was the perfect linking point between the defense and attack of the team, sometimes he was busy snatching the ball from the opponent and sometimes busy in breaking the defensive strategies of the opponent.
His playing skills had impressed everyone around the globe. In an interview, Xavi on Scholes said " The best central midfielder I have seen in the last 15-20 years is him. He is a spectacular player who has everything. He can play the final pass, he can score, he is strong, he never gets knocked off the ball and he doesn't give possession away."
Paul Scholes biography is all about his hard work over the years, family, and his success story.
Paul Scholes Family:
Paul Scholes was born on 6th November 1974 to Stewart Scholes and Marina Scholes in Salford which is in the greater part of Manchester. His family had moved to Langley when he was just 18 months old. From an early age, Scholes was good at sports and was also an exceptional cricket player but had to choose either cricket or football. He did his schooling from St Mary's Primary School.
Paul Scholes married his childhood love Claire in February 1999 in Wrexham. The beautiful couple has one daughter and two sons, daughter named Alicia Scholes and the sons named Arron Scholes and Adien Scholes. The younger son suffers from Autism and the elder tends to follow his fathers' footsteps and plays as a midfielder for Celtic Football Club under- 12.
Paul Scholes suffers from asthma, a breathing problem and from Osgood Schlatter Disease which is a bad knee condition. His bad health condition is a matter of real tension to Paul Scholes Family.
Paul Scholes Career:
one of the most successful midfielders ever to be a part of this beautiful game, the legendary English footballer played his part with the English giants' Manchester United throughout in his career and won 11 EPL trophies and two Champions League titles and many more accolades in his golden 20 years of Career.
Paul Scholes Early Career:
At the age of 14, Paul Scholes Man Utd Journey started when he got selected for the Manchester United youth Academy as one of Fergie's Fledglings (a group of players recruited by Manchester United under the management of Sir Alex Ferguson).
Later young Paul Scholes joined as a trainee after completing his high school. He was also selected to represent Great Britain English School for football.
Manchester United: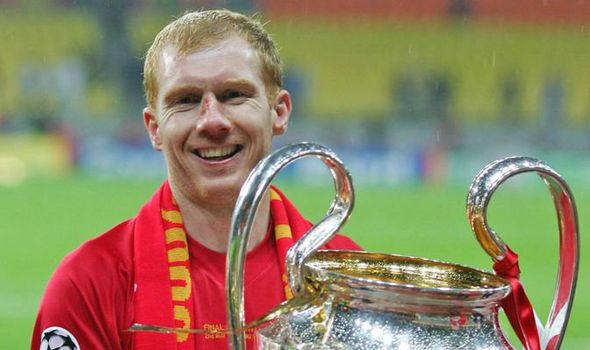 Scholes was excluded from the Youth FA Cup-winning squad in the year 1992 which consisted of his future teammates David Beckham, Ryan Giggs, and Gary Neville but was included in the following year and reached the final where Garry Neville and Paul Scholes and Ryan gigs played their part for the team.
Early Career:
Scholes was issued the number 24 shirt in 1993 but was not included in the squad. He made his official debut in the season 1994 – 1995 where he played 17 matches and ended up scoring 5 goals. Scholes United debut was made on 21 September and scored both the goals in the victory of 2-1 against Port Vale in the Football League Cup.
During the season 1995 – 1996, Mark Hughe's move to Chelsea had increased the chances of Scholes to get his name on the first team. However, Scholes got a chance in the team as a striker due to the suspension of Eric Cantona. Scholes went on scoring 14 goals during the season and win the Premier League title. In the next season, he changed his shirt number to 18 which he held on for the next 15 years.
After Roy Keane suffered a knee injury in late September 1997 and was ruled out for the season, Scholes moved to central midfield in the 1997–1998 season. During the season 1998 – 1999, Scholes was a key player in Manchester United's Premier League title, FA Cup, and UEFA Champions League treble success.
He scored one of Manchester United's two goals against Newcastle in the FA Cup final, a certain leap was there in Paul Scholes Bio after the successful campaign with Red Devils.
The corner by David Beckham: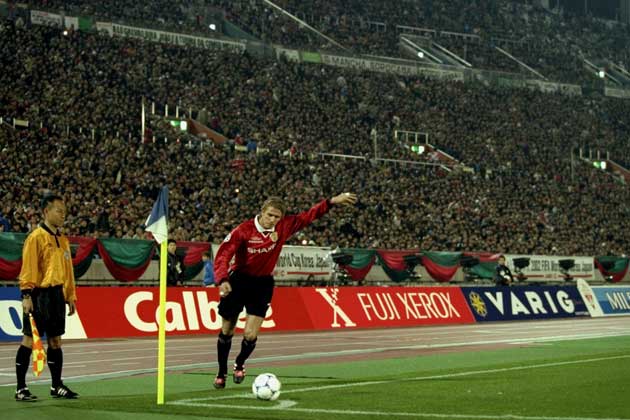 In the 1999–2000 season, Scholes scored one of the finest goals of his career against Bradford City on 25 March 2000. David Beckham took a corner directly to Scholes, who was stood on the edge of the area, who volleyed it in over Dwight Yorke. Paul scholes scored one of the dream goals.
Who was forced to duck, A week later, Paul Scholes Man United first hat-trick was scored against West Ham United in a 7–1 victory that put United ten points clear. Scholes had scored his career-high 20 goals during the season 2002 – 2003 which included his incredible hat-trick against Newcastle. They also consisted of his career-best four FA Cup goals out of five scored that season.
Late Career":
Scholes was the one who scored the incredible winner against Arsenal in the Cup Final 2003 – 2004. In 2005 FA Cup Final against Arsenal he almost came to scoring twice in the game and the game went on to penalty shoot outs where his shot was met up with an exceptional save.
Scholes had to be ruled out during the second half of the 2005 – 2006 season due to blurred vision which had threatened to end his career but the brave man fought with it and appeared in United's final game of the season against Charlton Athletic.
During October 2006, Scholes became the 19th player to cross 500 games. Scholes suffered a knee ligament injury one night before the Champions League game against Dynamo Kyiv on October 27, 2007. Scholes dared to fight with it and was seen back in action in January 2008, he came in as a substitute against Tottenham Hotspur where United grabbed a 3-0 victory.
Later on 23rd April 2008, Scholes made his 100th Champions League appearance against Barcelona and scored the only goal to send Manchester United directly into the finals, that was a memorable moment in Paul Scholes Biography.
Scholes was inducted into the English Football Hall of Fame in September 2008. On 22 April 2009, he made his 600th appearance for United in a 2–0 win over Portsmouth. Scholes began the 2010 – 2011 season in a strong way and bagged two-man to the matches in two consecutive matches against Chelsea and Newcastle.
Scholes also scored his 150th career goal for Manchester United against Fulham which ended in a 2-2 draw. On 31st May 2011 Scholes officially announced his retirement and immediately joined the coaching staff at Manchester United, but later on, Paul Scholes comes out of retirement and continued his career as a player for Manchester United.
International Career: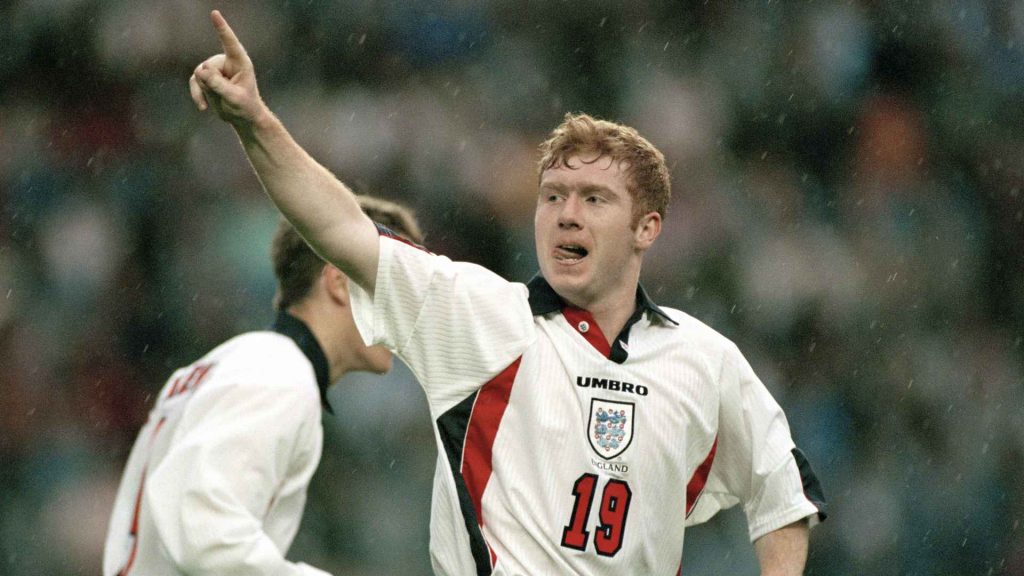 Paul Scholes England debut against South Africa in 1997 and grabbed a 2-1 victor. He was also included in the World Cup 1998 squad and in the first match, Scholes sealed a comfortable 2-0 win against Tunisia with his late goal. England got knocked out in the tournament in tie-breaker against Argentina but the tournament established the beginning of Paul Scholes.
On 27 March 1999, Scholes managed a hat-trick for England in a game against Poland. He also scored both the goals against Scotland to send England to the Euro Cup knockouts.
In a qualifier against Sweden that June, Scholes became the first and last England player to be sent off in an international match at the old Wembley Stadium. Scholes had made his way to the first team in the World Cup 2002 but had to play as a left midfielder to accommodate the pairing of Frank Lampard and Stevan Gerrard.
Scholes announced his retirement from International Football in August 2004 but following the departure of England coach Sven-Goran Eriksson in 2006, there was speculation regarding Scholes making himself available for international duty again under new boss Steve McClaren. In October 2006, McClaren said that he had personally asked Scholes twice to rejoin England, but Scholes declined.
In May 2010, McClaren's successor Fabio Capello approached Scholes about a return to international football in the run-up to the 2010 World Cup, but Scholes again rejected the offer, saying he would prefer to spend time with his family.
On 7 June 2010, Scholes stated that if Capello had given him more time and asked earlier, he would have probably taken the opportunity. On 27 July 2010, Scholes expressed his disappointment in not taking the opportunity to play at another World Cup, saying he may have made a mistake and that decision of his made a huge setback on Paul Scholes Biography.
Paul Scholes Retirement: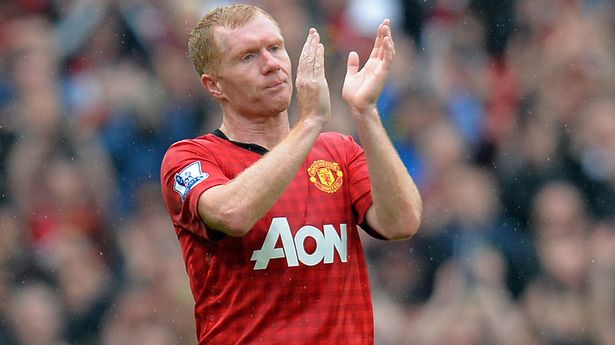 On 8 January 2012, Scholes reversed his decision to retire because of the injury crisis in the Manchester United squad and made his return as a substitute during a 3–2 win, against neighbors Manchester City in the FA Cup. Since the number 18 shirt had been given to Ashley Young, Scholes wore the number 22 shirt.
He scored his first goal since returning in a 3–0 victory at Old Trafford which made him establish a record of scoring in 19 consecutive seasons. On 15th September, Scholes made his 700th appearance for Manchester united. On 11th May 2013, Paul Scholes retirement was announced by the iconic midfielder after achieving some great feat with the club.
Paul Scholes Post Retirement:
In 2014, it was said that Scholes, along with some Manchester United legends had agreed with a deal to buy Salford City FC before the season 2014 – 2015 with the objective to get the club into the league. On 22 September 2014, they decided to sell 50% of the stakes to a billionaire Peter Lim.
On 23rd April 2014, Scholes agreed to join the United first-team coaching staff on a temporary basis after the sacking of David Moyes until the end of the season as a favor to a friend and former teammate Ryan Giggs.
On 11 February 2019, Scholes Managerial career got started when he was appointed as manager of League Two side Oldham Athletic, having been cleared to take the position by the English Football League in light of his ownership of Salford City.
On 14 March, Paul Scholes Odldam Athletic managerial career ends after he resigned from that post having won once in his seven games, following interference from club owner Abdallah Lemsagam in first-team affairs.
Paul Scholes now considered as a football pundit and he featured in many football shows as well as a Pundit.
Following the resignation of Graham Alexander, Scholes was named temporary head coach of Salford City on October 12, 2020. Scholes' first game in command ended in a 1–0 loss to Port Vale on October 17, and he swiftly ruled out a permanent appointment, citing the need for a more experienced manager.
Three days later, he got his first win, a 3–0 victory over struggling Southend United. Scholes stepped down on November 4, 2020, after Richie Wellens was appointed to the position on a permanent basis.
Paul Scholes as Football Pundit: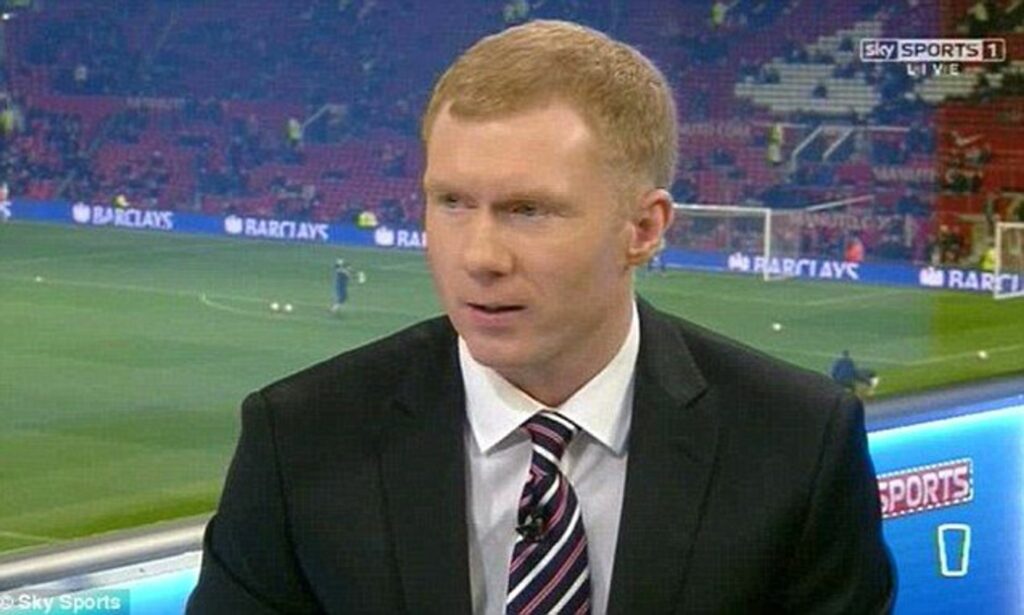 Paul Scholes is widely regarded as one of the greatest midfielders in the history of football. He spent his entire career playing for Manchester United, where he won numerous domestic and international titles. After retiring from playing, Scholes became a football pundit, providing analysis and commentary on matches for various media outlets.
Scholes is known for his insightful and honest analysis of the game. He has a deep understanding of tactics and the nuances of play, which he is able to articulate well for audiences. His opinions are often sought after by other football pundits and journalists, as well as managers and players.
One of the things that sets Scholes apart from other pundits is his willingness to criticize his former team, Manchester United. He has been vocal in his criticism of the team's performances when he feels they have not lived up to their potential, and his opinions are respected because of his credibility and expertise.
Overall, Paul Scholes is an excellent football pundit. He brings a wealth of knowledge and experience to his analysis, and his ability to provide honest and insightful opinions makes him a valuable addition to any broadcast team.
Paul Scholes Records and Achievements:
"My toughest opponent? Scholes of Manchester. He is the complete midfielder. Scholes is undoubtedly the greatest midfielder of his generation… There is no doubt for me that he [Paul Scholes] is still in a class of his own. He's almost untouchable in what he does. I never tire of watching him play. You rarely come across the complete footballer, but Scholes is as close to it as you can get. One of my regrets is that the opportunity to play alongside him never presented itself during my career " said Zinedine Zidane on Scholes when asked about the toughest opponent he has faced.
Manchester United:
Premier League: 1995–96, 1996–97, 1998–99, 1999–2000, 2000–01, 2002–03, 2006–07, 2007–08, 2008–09, 2010–11, 2012–13.
FA Cup: 1995–96, 1998–99, 2003–04.
Football League Cup: 2008–09, 2009–10.
FA Charity Shield/FA Community Shield: 1996, 1997, 2003, 2008, 2010.
UEFA Champions League: 1998–99, 2007–08.
Intercontinental Cup: 1999.
FIFA Club World Cup: 2008.
England U18:
UEFA European Under-18 Championship: 1993.
Individual:
Jimmy Murphy Young Player of the Year: 1992–93.
Premier League Player of the Month: January 2003, December 2003, October 2006, August 2010.
Premier League PFA Team of the Year: 2002–03,[148] 2006–07.
Premier League 10 Seasons Awards (1992–93 to 2001–02).
Domestic & Overall Team of the Decade.
English Football Hall of Fame Inductee: 2008.
Premier League 20 Seasons Awards (1992–93 to 2011–12).
Fantasy Teams of the 20 Seasons (Panel & Public choice).
FWA Tribute Award: 2012.
FIFPro World XI Nominee: 2005, 2007.
Paul Scholes Net Worth:
The former Manchester United legend Paul Scholes's net worth is around $25 million as of now in 2020 and the iconic midfielder earned most of the amount from football and also done many endorsements for many brands as well.