George Best Biography:

As the name says, Geoge Best is regarded as one of the greatest players of all time. He was an exceptional winger and was regarded as one of the best dribblers. His playing style combined pace, skill, balance, two-footed goal-scoring ability, and exceptional dribbling skills to get past defenders. He was one of the best for both clubs Manchester United and Country Northern Ireland.
Best ruined his own career by acquiring a playboy lifestyle. He suffered from alcoholism and was a drug addict which had become a matter of controversy throughout his career. It kept on causing problems for him both on and off the field. After retirement, Best suffered from several diseases and financial problems. In an interview, he said, "I spent a lot of money on booze, birds [women] and fast cars – the rest I just squandered".
George Best Biography contains his success story and his downfall caused by him only.
George Best Family:
George Best was the first child born to Richard Dickie Best, who was a member of the orange order and mother Anne Best who was a housewife. George was blessed with four sisters and one brother. Best was born on 22nd May 1946 and grew up in Cregagh, East Belfast and was brought up in Free Presbyterian Faith. To help out his father George used to carry strings of the banner to his Cregagh lodge.
Best was also academically gifted and also went to Grosvenor High School, but he soon played truant as the school specialized in rugby. Best then moved to Lisnasharragh Secondary School, reuniting him with friends from primary school and allowing him to focus on football. His father died on 16th April 2008 and mother in 1972.
George Best first wife Angela Mac Donald Janes and Gorget Best met in The United States while playing for Los Angeles Aztecs, and got married On 24th January 1978, The couple had their first child in the year 1981, a boy named Calum.
The following year they separated and in 1986 they were officially divorced. In 1995, Best married Alex Pursey(George Best Wife) in London. They had no child and were divorced in 2005 when Alex had put allegations on Best being violent towards her and had punched her thrice on the face.
George Best Kids: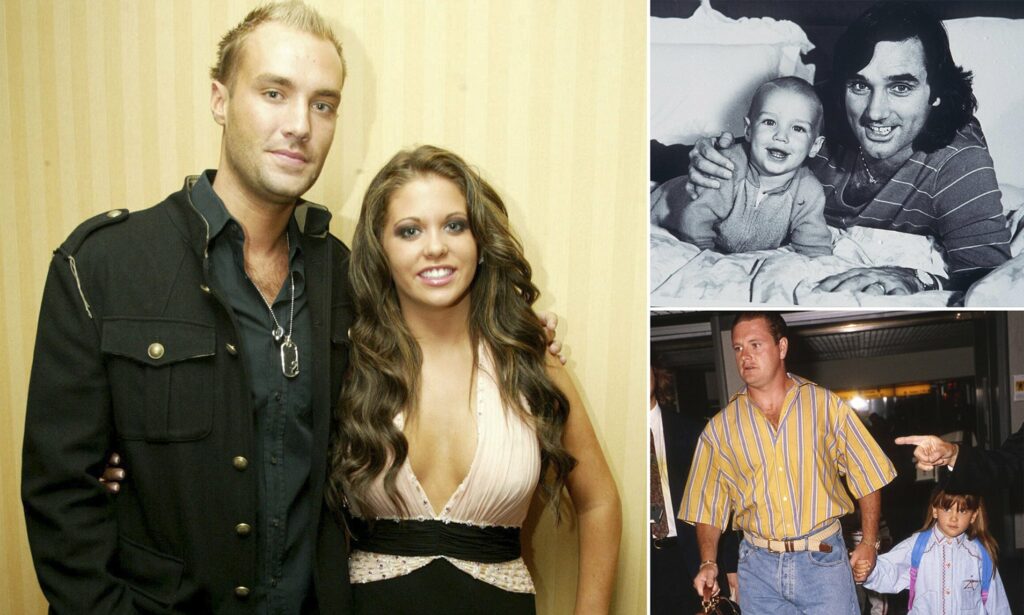 George Best, the incredible Northern Irish footballer, had two kids. Their names are Calum Best and Angie Best.
Calum Best: Calum Best is George Best's child from his relationship with model Angie Best. Calum was brought into the world on February 6, 1981, in San Jose, California. He is a TV character, model, and incidental entertainer. Calum has showed up truly Programs, for example, "Superstar Elder sibling" and "Love Island." He has likewise filled in as a model for different style brands.
Angie Best: Angie Best is George Best's little girl from his union with Angie MacDonald. She was brought into the world in 1982. Angie Best is a wellbeing and wellness master and has created books on health. She has additionally showed up in all actuality Programs, including "Big name Elder sibling."
Career:
Geroge Best is one of the stalwarts in the game of football, he was one of the players who was highly rated at that time because of his wonderful dribbling abilities, because of his performance he was named the European player of the year in the year 1968.
Manchester United:
At the age of 15, Best was discovered in Belfast by Manchester United scout Bob Bishop, whose telegram to United manager Matt Busby read: "I think I've found you a genius." His local club Glentoran had previously rejected him for being "too small and light".
Best was subsequently given a trial and signed up by United's chief scout Joe Armstrong. His first time moving to the club, Best quickly became homesick and stayed for only two days before going back home to Northern Ireland.
He returned to Manchester and spent two years as an amateur, as English clubs were not allowed to take Northern Irish players on as apprentices. He was given a job as an errand boy on the Manchester Ship Canal, allowing him to train with the club twice a week.
George Best Manchester United official debut was made for the first team when he was aged 17, on 14th September 1963 in a match against West Bromwich Albion which had resulted in a 1-0 victory for United but before scoring his first goal for the senior team he was again dropped back to the reserves.
In the next season, best was kept in the team by manager Matt Busby and Best had ended the season making 26 appearances and scoring six goals. United was defeated in the FA Cup semi-finals that season, which took away the chance of Best to break the record of youngest player to feature in FA Cup Final, this was a crucial chapter in the George Best Biography.
Best's dribbling skills were so good that opponents could not snatch away the ball from him and start using rough means. This was noticed by manager Busby and he started to teach Best how to avoid rough challenges.
The season 1964-1965 was Best's first full season where he scored 14 goals in 59 games and helped United to claim the League title. He tried his level best but could not make up to the FA Cup Final and was eliminated in the Semi-Final.
Best had received the status of a superstar at the age of 19 after scoring two crucial goals in the European Cup quarter-finals against Beneficial on 9th March 1966. When the team returned to England, Best's talent and showmanship attracted a huge crowd towards him and he had started making headlines on front pages of the newspapers.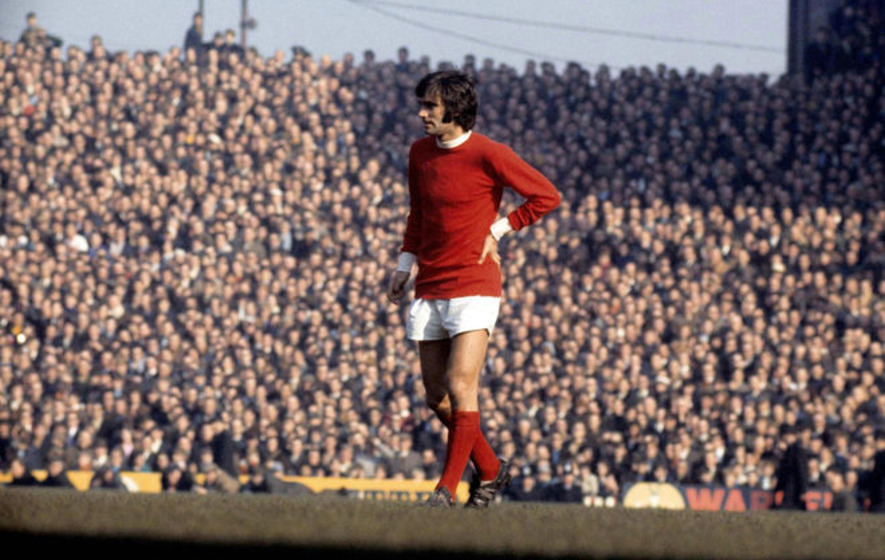 United failed to win any major trophy that season because Best got injured and suffered a twisted knee on 26th March 1966 due to a bad tackle by Preston North End player.
The medical staff said that Best had a light injury in the ligament which will keep him out for the rest of the season but Best secretly met Glentoran's physiotherapist who adjusted his ligament with a little pain and Best played the last match of the season which resulted in a 2-0 defeat.
The 1996-1997 season turned out to be another successful season for Manchester United. They claimed the league title with Best scoring 10 goals in 45 games. The season 1997-1998 was a memorable season for United fans. Due to the European Cup win. After disposing of Maltese Hibernians, United advanced past Yugoslavian Sarajevo with a 2–1 home win, Best assisted John Aston for the first and scored the second himself.
In the quarter-finals United advanced past Polish club Górnik Zabrze 2–1 on aggregate, having held on to their aggregate lead in front of 105,000 fans at Silesian Stadium.
Facing six times champions Real Madrid in the semi-finals, Best scored the only goal of the home fixture with a 15-yard strike that Alex Stepney described as "One of Best's finest goals." In the tie at the Bernabeu, Best was marked effectively by Manuel Sanchis Martinez, but on the one time, Best got the better of him he made a telling cross to Bill Foulkes, who calmly found the back of the net to level the game at 3–3 and to win the aggregate tie 4–3.
His exceptional performance that season had won him the Ballon d'Or,George Best Biography elucidates that, He became the youngest player to win the FWA Player Of The Year.
On 6th February 1970, in a match against Northampton Town in the FA Cup, Best had scored 6 goals which led to an 8-2 win. The last goal had made the Northampton goalkeeper say "I remember thinking George was going to go one way, but he dropped his shoulder and went the other, and by then I was already on the deck.
He was just too good for me.", he also stated "It's been a joke on the circuit ever since. You know, I'm on one side of the street, George Best is on the other. He nods to me and I dive under a bus."
It was in 1970 when Best began to get into trouble with his discipline, he was fined by the Football Association for receiving three bookings for misconduct, and he was suspended by United for two weeks after missing his train to Stamford Bridge so as to spend a weekend with actress Sinead Cusack.
During the season 1971-1972, Best's sent off against Chelsea was a subject to be highlighted because it had made him subject to death threats and served as an excuse to miss the training sessions for January and have quality time with Miss Great Britain 1971, Caroly Moore.
He finished the season with 27 goals in 54 appearances and announced his retirement from football but nevertheless turned up for preseason and continued to play.
United started declining in the season 1972-1973 and Best rarely talked with newer and less talented players and never even tried to motivate them. Instead during the time of decline, he was found missing in the whole month of December to party at London Nightclubs. He was suspended and put up on the club's transfer list. Best again announced his retirement the second time but came back on 27th April.
Best's last competitive game for the club was on 1 January 1974 against Queens Park Rangers at Loftus Road, which United lost 3–0. He failed to turn up for training three days later and was dropped by Docherty, though he claimed Docherty was deceitful with him.
Best was arrested and charged with stealing a fur coat, passport, and checkbook from Marjorie Wallace, but was later cleared of all charges. United went on to suffer relegation into the Second Division in 1973–74. Best played in Manchester when shirt numbers were allotted to positions and not player- he wore number 7,10,8,9 and 11.
In total Best made 470 appearances for Manchester United in all competitions from 1963 to 1974, and scored 179 goals. Over the next decade, he went into an increasingly rapid decline, drifting between several clubs, including spells in South Africa, the Republic of Ireland, the United States, Scotland, and Australia.
Later Career:

Best played only 5 competitive matches for Jewish Guild in the South African league. Although he had attracted a large crowd in the stadiums but went on scoring 0 goals. He also had to face several criticisms for not attending training sessions.
Best had a brief spell at Cork Celtic in December 1975 and January 1976. He made his League of Ireland debut against Drogheda United at Flower Lodge on 28 December. He played only three league games. He also had a brief resurgence in form with Second Division club Fulham in 1976–77, showing that, although he had lost some of his paces, he retained his skills.
George Best Biography covers that in his career he played for three clubs in the United States: Los Angeles Aztecs, Fort Lauderdale Strikers and later San Jose Earthquakes; he also played for the Detroit Express on a European tour. Best was a success on the field, scoring 15 goals in 24 games in his first season with the Aztecs.
Best returned to the UK to play for Scottish club Hibernian ( Commonly known as HIBS). The club was suffering a big decline in fortunes and relegations in Premier Division and expected that Best would bring back good time, but Best failed to save HIBS from relegations.
HIBS sacked Best after he went on massive drinking with French Rugby Team who were in Edinburg. Best was brought back a week later and played for 20 minutes. The 20-minute fees helped him to pay off an income tax bill.
In late 1982, Bournemouth manager Don Megson signed the 36-year-old Best for the Third Division side, and he remained there until the end of the 1982–83 season and announced his final retirement at the age of 37. Best played his last match for Newbery Town against Shamrock Rovers in August 1983, exactly 20 years after starting his career for Manchester United.
He also was a guest player for an exhibition match between Dee Why Football Club and Manly Warringah held on 27 July 1983, Dee Why won the match 2–1, with Best having scored the winning goal. On 8 August 1988, a testimonial match was held for Best at Windsor Park. Among the crowd were Sir Matt Busby, Jimmy Murphy, and Bob Bishop, the scout who discovered Best. Best scored twice in that game.
International Career: Northern Ireland

Best was capped 37 times for Northern Ireland, scoring nine goals. Of his nine international goals, four were scored against Cyprus and one each against Albania, England, Scotland, Switzerland, and Turkey. Largely surrounded by teammates of lesser ability with Northern Ireland than with his club and lower expectations, as a result, Best considered his international career as being "recreational football".
He is regarded as one of the greatest players never to have played at a World Cup. 1974 World Cup-winning West Germany captain Franz said: "George Best was one of the most talented players of all time and probably the best footballer who never made it to a major world final." On 15 May 1971, Best scored possibly the most famous goal of his career at Windsor Park in Belfast against England.
As Gordon Banks, the English goalkeeper released the ball in the air in order to kick the ball downfield, Best managed to kick the ball first, which sent the ball high over their heads and heading towards the open goal. Best outpaced Banks and headed the ball into the empty goal but the goal was disallowed by the referee.
Geroge Best Biography Shrouds that Before the 1982 World Cup, Northern Ireland manager had shown interests to keep Best in the squad but at the age of 35, his skills were no more same as that of earlier and he had worsened his own condition by drinking massively on daily basis. He also had his last appearance for Northern Ireland five years earlier and this prevented the manager from including him in the squad. Best was disheartened and wished to play the World Cup.
Death: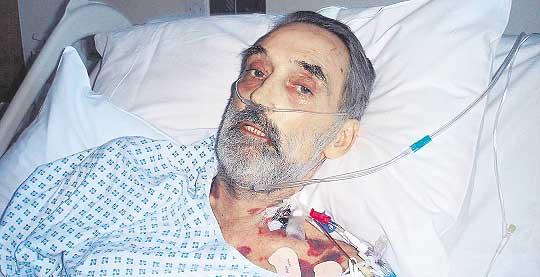 He was taken to the private Cromwell Hospital in London on October 3, 2005, with a kidney infection caused by the adverse effects of immunosuppressive medicines meant to keep his body from rejecting his donated liver. Newspapers reported on October 27 that Best was near death and had delivered a final note to his loved ones.
Close friends from the game, including Rodney Marsh and the other members of the "United Trinity," Bobby Charlton and Denis Law, came to pay their respects at his bedside. Treatment was terminated in the early hours of November 25, 2005, and he died later that day, at the age of 59, from a lung infection and multiple organ failure.
Net Worth:

Although George Best had been financially broking, he had a net worth of $250 thousand at the time of his death in 2005. At the peak of his career in the late 60s, George was earning around $150 thousand per year which is the same as around $1 million per year from salary and endorsements, after adjusting for inflation.
George Best Records and Achievements:

George Best Biography mounts all the accolades he has won in his illustrious career.
Manchester United:
• Football League First Division: 1964–65, 1966–67.
• Charity Shield: 1965, 1967.
• European Cup: 1968.
Individual:
• Football League First Division Top Scorer: 1967–68.
• FWA Footballer of the Year: 1967–68.
• Ballon d'Or: 1968; Third place 1971.
• PFA Team of the Year Second Division: 1977.
• Football League 100 Legends: 1998.
• Honorary doctorate from Queen's University Belfast: 2001.
• Freeman of Castlereagh: 2002.
• Inaugural inductee into the English Football Hall of Fame: 2002.
• BBC Sports Personality of the Year Lifetime Achievement Award: 2002.
• UEFA Jubilee Awards – Northern Ireland's Golden Player: 2003.
• UEFA Golden Jubilee Poll: #19th.
• FIFA 100.
• Golden Foot: 2005, as a football legend.
• PFA Merit Award: 2006.
• PFA England League Team of the Century (1907 to 2007).
o Team of the Century 1907–1976.
o Overall Team of the Century.
• FWA Tribute Award: 2000.
• European Hall of Fame (Player): 2008.
• FIFA Player of the Century.
o FIFA internet vote.
o FIFA Magazine and Grand Jury vote.
• World Soccer The Greatest Players of the 20th century.