David Beckham Biography: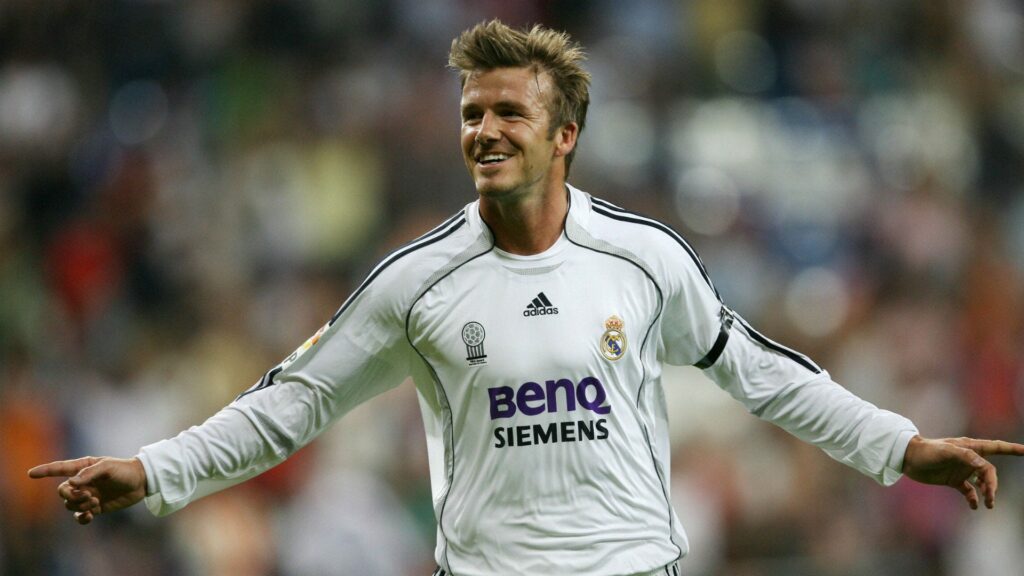 Nowadays in Sports, the Superstars are not only just sports stars they are also global brand icons of many brands and they are the icon of many fans around the world. Each and every sports person now have their own social media followers and they are not just players to their fans they are the role models for them.
Now the famous Portuguese footballer Cristiano Ronaldo, Lionel Messi, Neymar has been the icons in the football fraternity, and they are also role models for many, this trend has been brought in the sport by none other than the flamboyant David Beckham, who has got the skills in the field and also the style quotient off the field.
The Superstar has achieved many accolades with his club and country in his career and also jumbles his styling sense and brought a new ideology for the football fans.
David Beckham Biography covers about his family, his wife, and about his success stories with Manchester United, and Real Madrid and about his retirement as well.
David Beckham Family: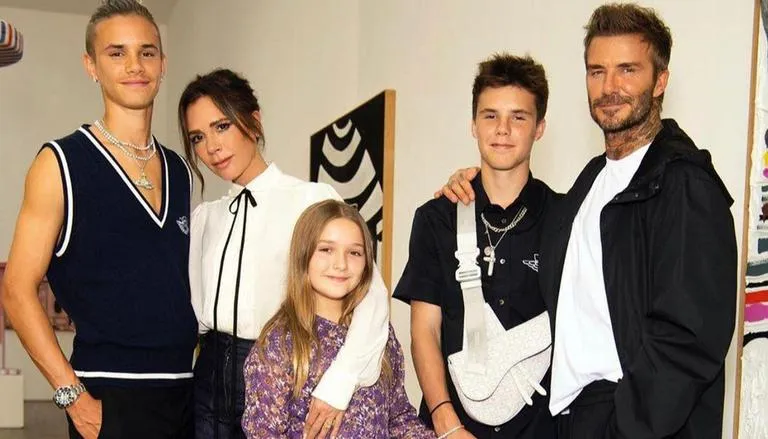 David Beckham was born on May 2nd, 1975 in London in England, David Beckham Father David Beckham Edward Alan who was a kitchen fitter and David Beckham Mother Sandra Georgina a hairdresser.
In his family, David Beckham also has two sisters, his older sister named Lynne Georgina, and a younger sister named Joanne Georgina.
In his Childhood days, the English star did his schooling from Chase Lane Primary School as a child and then he did his higher studies from the Chingford Country High School since his childhood David Beckham was more inclined towards the game of football and David Beckham football journey starts a local team called Ridgeway Rovers.
Since 1997 David Beckham was in a relationship with the famous one of the spice girls' members Victoria Adams, and after dating Victoria Beckham(David Beckham Wife) for a year on 24th January 1998 David Beckham proposed Victoria Beckham and on 4th July 1999 David Beckham Royal Weeding with Victoria Beckham(David Beckham Wife) took place in Luttrellstown Castle in Ireland.
David and Victoria Beckham have four children named Brooklyn Beckham, Romeo Beckham, Cruz David Beckham, and David Beckham daughter Name Harper Seven Beckham.
David Beckham Career:
David Beckham in his prestigious career represented clubs Like Manchester United, Real Madrid, AC Milan, Paris Saint Germans, and his motherland England on many big occasions.
Manchester United:
David Beckham parents are huge Manchester United player, and David Beckham inherit the love of Manchester United from his parents, to follow his dreams in football, he attended Bobby Charlton's football schools in Manchester and won the chance to take part in a training session with clubs like Barcelona, Norwich City, West Ham United, and in Tottenham Hotspur.
After such trials finally in 1991 on 8th July he signed for Manchester United, David Beckham was a part of young group players including Ryan Giggs, Garry Neville, Phil Neville, Paul Scholes, and all of them were coached by Eric Harrison, and in the year 1992, he won the youth FC cup trophy in May, David Beckham Manchester United journey is the most alluring chapter in David Beckham Biography.
In the 1994-195 season, David Beckham was sent to loan by Manchester United to Preston North End club to get some first-team football, where he impressed the fans by scoring two goals in his five games and in the next season he returned to Manchester United and made his debut for them on 2nd April 1995 against the Leeds United where the match ends as a draw.
In his first season, Manchester United came second in the league behind to Blackburn Rovers and missed out their third Successive trophy by the distance of one point.
Under the legendary manager, Sir Alex Ferguson David Beckham gained a great deal of confidence when the legendary manager suggests the club he wants to give chances to young players rather than buying players from other clubs., though at that time United faced great criticism from worldwide not to singing any big names band it gradually increased when they lost their first match against Aston Villa by 3-1 goals, and Beckham scored the only goal in that match.
However United swiftly changed their plans for the season and David Beckham managed to concrete his place in the right midfield side in the United Lineup and helped his team to win the Premier League title and FA cup trophy in the same season.
In the 1996-97 season, David Beckham was adoring the No.10 Shirt that had worn by the legendary Mark Huges, at that time David Beckham becomes a popular name in the game of football after scoring a stunner against Wimbledon from 60 yards out over goalkeeper's head into the net.
In 1996-97 season also Beckham helped his side to retain the Premier League trophy and in that year David Beckham was voted the PFA young players of the year awards by his colleagues before the starting the 1997-98 season David Beckham was handed the No.7 shirt by Manchester United, a number which was worn by legendary Eric Cantona and George Best.
David Beckham is a part of the legendary Manchester United treble-winning team who won the Premier League, Champions League, and FA Cup in the same season, a wonderful feat in the English football, in the 1999 Champions League final against Bayern Munich, David Beckham played the role of a central midfielder after Paul Scholes and Roy Keane were suspended from the match, United was losing the game by 1-0 goal against the Germans side, but two assists from David Beckham from Corners helped Manchester United to win the Champions League crown.
In early 2000, Beckham's relationship with Ferguson started to deteriorate when Ferguson gave Beckham permission to miss the training to look after he's won, but when Ferguson saw the picture of David Beckham Wife Victoria Beckham in a London Fashion week, he became furious on him as he suggested that Victoria could have take care of their children as well.
Though in that year also David Beckham played a crucial role In Manchester United's league title run and won a fourth Premier League title with them and in the next year he signed a three-year contract with the club, Arguably 2001-02 was David Beckham's best season with the United where he totals 16 goals in his 42 matches.
In the 2002-03 Beckham lost his position in the team to Ole Gunnar Solskjaer and following their defeat in the FA Cup final to Arsenal, Sir Alex Ferguson throw or hit a boot towards Beckham which hits under his eye and cause required stitches and due to this after the end of the season, Beckham left the club and join Real Madrid.
In his career, David Beckham played 265 games for Manchester United and scored 61 goals, and with United, he won six Premier League crowns, Two FA Cup trophies, One Champions League crown.
Real Madrid: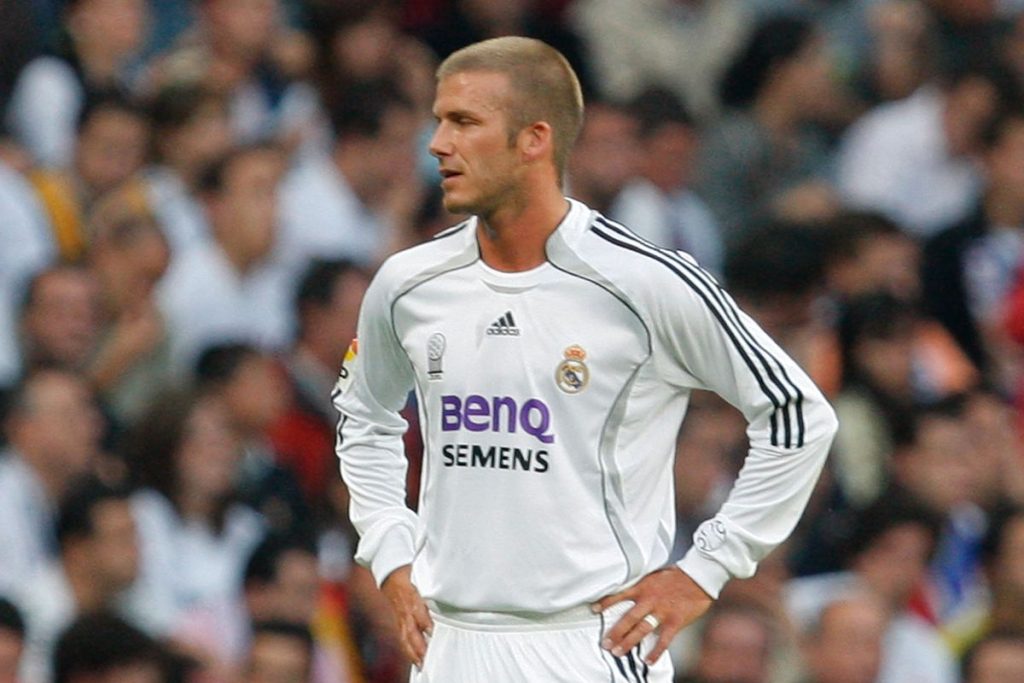 In the 2003 Summer Transfer Window Manchester United went eager to sell David Beckham following the incident with Sir Alex Ferguson, and Barcelona on the other side was keen to get the services of the Englishman, even two clubs were also agreed to for the transfer but in the last moment, David Beckham rejects the proposal of Barcelona and decided to join the Spanish capital side Real Madrid for €37 million on a four-year contract.
After the successful transfer to Madrid, the Spanish club unveil the superstar on 2nd July in front of 500 onlookers in the Real Madrid's basketball facility, at Madrid Beckham choose the No.23 Jersey as the club captain Raul was the No.7 jersey Beholder at that time in Madrid.
In 2003 David Beckham Real Madrid Journey started and in 2003 Real Madrid won the Spanish super cup over a two-leg match were in the return fixture David Beckham scored the final goal for his which helps them to win the match by 3-0 goals.
In his time he was paying in the star-studded team, players Like Ronaldo, Zinedine Zidane, Luis Figo, and Roberto Carlos, Casillas, Raul, though the Englishman did not take too much time to settle into the Madrid team, where he scored five goals for them in his first 16 appearances.
His time at Real Madrid was not as good as Manchester United, In Madrid, David Beckham made 116 appearances with 13 goals to his name and he has won only one La Liga crown with the Spanish giants.
La Galaxy:
In his Real Madrid time David Beckham announced that in the year 2007 He would leave Madrid to join the MLS side LA Galaxy, he announcement went global, many worldwide media suggests that the deal went was made for US$20 million David Beckham MLS move was something which took the league to a new level.
David Beckham's arrival announcement news helps the club to sell 11,000 new season ticket sales, The arrival of David Beckham in La Galaxy was a crucial episode in David Beckham Biography.
On July 21st David Beckham made his first LA Galaxy coming off as a substitute in the 78th Minute where they eventually lost the match to Chelsea in World Series of Soccer, Hollywood stars like Tom Cruise, Katie Holmes, and many others were present on that day to witness Beckham.
In his time at LA Galaxy two times David Beckham went on loan to Italian giants AC Milan, in the 2009 and 2010 season, After returning from Milan on a loan In 2009 David Beckham was jeered by the LA Galaxy fans for missing the first half of the season, however, in that season he had a more successful season with them than the previous one where Beckham helped LA Galaxy to reach to the Western Conference Final, where they eventually lost to Real Salt Lake in the shoot outs.
During the 2011 MLS season, David Beckham trained with the Tottenham Hotspur team and the media claimed that both the clubs were agreed on a deal for the magician, but later on, the Tottenham manager claimed that it was LA Galaxy who blocked the move.
In the year 2011 and in 2012 David Beckham helped his team to win the MLS crown in back to back years and becomes the first English player to win the domestic leagues in three countries, in 2012 he also announced that the 2012 MLS Final Cup would be his last game for the club.
In the year 2019, LA Galaxy unveil a statue of David Beckham just outside the stadium, and it is the first kind of its own in the MLS
Paris Saint Germain:
In the year 2013 on 31st January before the transfer window ends it was established that David Beckham will join the French Capital side Paris Saint Germain, The Englishman signed only five months contract with the club and also confirmed that all the amount that he will earn as a salary in PSG will be given to the local Children Charity.
On February 24th,2013 David Beckham PSG debut was made against Marseille as a Substitute, and his appearance for the club made him the 400th player in the history of the club and on 12th April 2003 he becomes the Champions of France with PSG by defeating Lyon to 1-0 goals.
International Career:
David Beckham England debut was made on 1st September on 1996 in a world cup qualifying match against Moldova, and he was also a part of the 1998 world cup team for England, though he made his first world cup appearances for England in 1998 in their last group game against Colombia where he struck a wonderful goal for his country from 30 yards out free-kick and help his country to win the match by 2-0 goals.
David Beckham also played major tournaments like 2000 and 2004 Euro Cup and 2002 and 2005 world cup and lead his country in major tournaments as well, he is one of the fifth English players who has got more than 100 caps for his national side.
David Beckham Rewards& Achievements:
Ballon d'Or – Runner-up: 1999.
FIFA World Player of the Year – Silver Award: 1999, 2001.
Premier League Player of the Month: August 1996.
Premier League top assist provider: 1997–98, 1999–2000, 2000–01.
PFA Young Player of the Year: 1996–97.
FWA Tribute Award: 2008.
Sir Matt Busby Player of the Year: 1996–97.
England Player of the Year: 2003.
ESM Team of the Year: 1998–99.
UEFA Club Footballer of the Year: 1998–99.
UEFA Club Midfielder of the Year: 1998–99.
UEFA Team of the Year: 2001, 2003.
Premier League 10 Seasons Awards (1992–93 to 2001–02).
Domestic & Overall Team of the Decade.
Goal of the Decade (vs. Wimbledon, 17 August 1996).
BBC Sports Personality of the Year: 2001.
BBC Sports Personality of the Year Lifetime Achievement Award: 2010.
Real Madrid Player of the Year: 2005–06.
PFA Team of the Year: 1996–97 Premier League,[335] 1997–98 Premier League,[336] 1998–99 Premier League,1999–2000 Premier League.
FIFA 100.
ESPY Awards:
Best Male Soccer Player: 2004.
Best MLS Player: 2008, 2012.
English Football Hall of Fame: 2008.
MLS Comeback Player of the Year Award: 2011.
PFA Team of the Century (1997–2007): 2007.
International Federation of Football History & Statistics (IFFHS) Legends.
UEFA President's Award: 2018.
Orders and special awards.
Officer of the Order of the British Empire by Queen Elizabeth II: 2003.
United Nations Children's Fund (UNICEF) Goodwill Ambassador (2005–present).
"Britain's Greatest Ambassador" – 100 Greatest Britons awards.
The Celebrity 100, number 15 – Forbes, 2007.
Number 1 on the list of the 40 most influential men under the age of 40 in the UK[349] – Arena, 2007
Time 100: 2008.
Gold Blue Peter Badge winner, 2001.
Do Something Athlete Award, 2011.
A.C. Milan Hall of Fame.
David Beckham Individual Records:
First Englishman to win league titles in four countries (England, Spain, United States, France).
First England player to score at three FIFA World Cups.
First British footballer to play 100 UEFA Champions League games.
Seventh in the Premier League's all-time assist provider chart, with 80 assists in 265 appearances.
The fourth highest number of games as captain of the England national football team: 59.
David Beckham Retirement:
David Beckham Retirement was announced On May 16th,2013 after claiming the French League title with PSG, and ends his 21 years old prolonged, glorious career to an end.
David Beckham stated: "I wouldn't have achieved what I have done today without my family. I'm grateful for my parents' sacrifice, which made me realize my dreams," Beckham said in a statement. "I owe everything to Victoria and the kids, who have given me the inspiration and support to play at the highest level for such a long period… If you had told me as a young boy I would have played for and won trophies with my boyhood club Manchester United, proudly captained and played for my country over 100 times and lined up for some of the biggest clubs in the world, I would have told you it was a fantasy. I'm fortunate to have realized those dreams."
David Beckham Post-retirement:
In 2005 during his playing time, he opened David Beckham Academy Football School, and it has been operating in two cities London and in Los Angles.
After his retirement on 5th February 2014 MLS has announced that David Beckham is willing to buy an MLS expansion team for $25 million, which he receives as a part of a deal with LA Galaxy in 2007.
Later on after all the work, Beckham's new team Inter Miami started their MLS journey on 1st March 2020, David Beckham now is looking after his new club in MLS.
David Beckham also made appearances in the films named Goal and in the sequel of the movie, Goal II: Living the Dream, also the famous footballer did dubbing in the famous superhero movie named Deadpool 2.
David Beckham Net Worth:
According to some sources, Net Worth of David Beckham is around $400 million, and most of his earning are from football, and from his ample brand endorsements.
When the superstar joined the MLS giants LA Galaxy it was reported that he had earned $1 million per week from the club.
David Beckham and Victoria Beckham (David Beckham wife) have some amazing car collection to their garage, cars like Ferrari 36 spider, Bentley Mulsanne, Ferrari 575M Maranello, and many more luxurious cars.
David Beckham House which he brought in Worsely is a four-bedroom house which he directly brought from the developer, after his marriage, Victoria and David Beckham brought a country house set in 24 acres Sawbridgeworth, Hertfordshire, which the British media named "Beckingham Palace".
David Beckham Cars: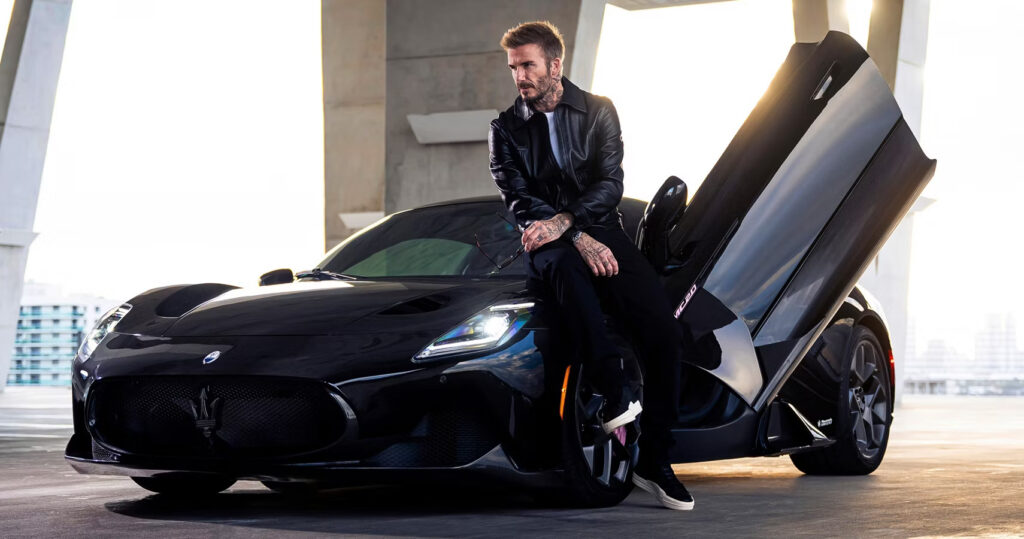 David Beckham is known for his passion for cars, and he has owned a wide variety of luxury and sports cars over the years. Some of the cars that David Beckham has in his garage are:
Rolls-Royce Phantom Drophead Coupe
Bentley Continental Supersports
Ferrari F430 Spider
Porsche 911 Turbo Cabriolet
Range Rover Sport
Aston Martin V8 Vantage
Chevrolet Camaro SS
Audi S8
Jaguar XJ
BMW X5