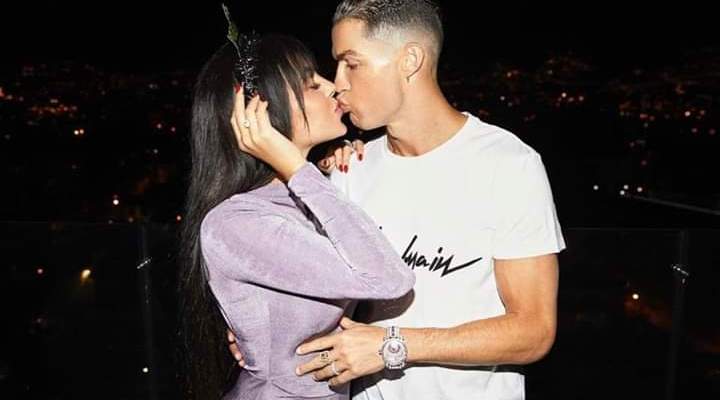 Cristiano Ronaldo dos Santos Aveiro, who is commonly known as Cristiano Ronaldo and affectionately called CR7 by his fans, is a professional football player from Portugal who currently plays as a forward for the Spanish club Real Madrid and the Portugal national team.
The player who is often considered as the greatest player of the world and of all time was born on 5 February 1985 on the Portuguese island of Madeira in São Pedro, Funchal, and was brought up in the Funchal parish of Santo António.
Cristiano Ronaldo Family:
Cristiano Ronaldo's father, José Dinis Aveiro, was a municipal gardener and a part-time kit man for the club Andorinha. Cristiano Ronaldo mother, Maria Dolores dos Santos Aveiro, was a cook. Ronaldo was the youngest child of the family, Now Cristiano Ronaldo family comprises his mother, his children, and his girlfriend Georgina Rodriguez. Ronaldo's siblings were named brother Hugo, Elma, and Liliana Cátia.
Now at this stage the Portuguese superstar is considered as one of the best players in the game, from joining Manchester United till Juventus in his illustrious career he has won many accolades but in all that success there is tinged of sorrow in Ronaldo's life,
Cristiano Ronaldo father José Dinis Aveiro was not there to witness his success, his father died in 2005 when he was just 20 years old.
In an interview the Juventus star broke down into tears when questioned asked him about his father's passing, the Superstar stated:
"I really don't know my father 100 per cent,"

"He was a drunk person. I never spoke with him, like a normal conversation. It was hard.

"To be the number one and he don't see nothing, and he don't see to receive awards, to see what I became."
In Cristiano Ronaldo family, his mother(Maria Dolores dos Santos Aveiro) is the dearest person to the superstar, when the superstar is off the field he loves to spend most of his time with his family members, football fans have often seen his mom Maria Dolores with the superstar holding the trophies and awards in the ground or in any occasion.
Cristiano Ronaldo elder brother Hugo is the director of "Museu CR7" and he is into the construction business and it is Ronaldo who helps him to creates his own construction business and get rid of drugs as he already lost his father who died because of consumption of alcohol.
Ronaldo's sisters run a clothing business. Ronaldo's elder sister Katia was fond of Music and since her childhood, she has always wanted to be a professional singer and the superstar Cristiano Ronaldo make her dream come true when he supported her elder sister to launch her career in music under the stage name La Ronalda.
Cristiano Ronaldo family comrise with his son named Cristiano Jr is the firstborn baby of the Juventus man, in year 2010 the Portuguese star announced on a social media platform that he has become a father of a baby boy, Cristiano jr was born in U.S.A to a surrogate mother.
Cristiano Ronaldo Jr is also followed his fathers path and he is now put himself in the race to be a professional footballer and also Cristiano Ronaldo Jr has alreay become a celebrity, Cristiano Ronaldo Jr is the first born for the football mystro.
In 2017 Cristiano Ronaldo Children welcomes two twins baby named Eva Maria and Mateo to a surrogate mothera.
In that same year, Cristiano Ronaldo announces that Cristiano Ronaldo Wife Georgina Rodriguez expecting their first child Alana and on the 12th of December Alana Martina was born. Cristinao Ronaldo Children Alana Martina was a stronghold for the relationship between Cristiano and his girlfriend Georgina Rodriguez
Cristiano Ronaldo Career:
Ronaldo started playing football as a child for the amateur team in the club Andorinha. Ronaldo's professional career began when he was signed by Sporting CP after a three-day trial for a fee of £1,500.
He started believing that he could be a professional footballer from the age of 14 and Ronaldo's education was stopped so that he could focus entirely on football.
His career could not be ended prematurely as he was diagnosed with a racing heart. He underwent surgery where a laser treatment was used to cauterize the affected area of the heart and soon after the operation, Ronaldo resumed his training.
When Ronaldo was just 20 years old, his father died of an alcoholism-related liver condition in September 2005 at the age of 52. This is the reason Ronaldo does not consume alcohol.
Once an article in the popular magazine Daily Mirror was published stating that a Portuguese superstar has been spotted heavily drinking in a nightclub in July 2008 while recovering from an injury. The allegations were proved false and Ronaldo later received libel damages.
After his move to the Italian giants, Juventus from Real Madrid, the 35-year-old superstar is now Ronaldo and his family is living in the north side of Italy, According to some sources the Ronaldo managed to join two villas in Gran Madre de Dio in the heart of Turin, Cristiano Ronaldo and his family are also staying with the superstar in Turin.
Cristiano Ronaldo Lovestory:
After breaking up with Russian model Irina Shayk in January 2015, Ronaldo's five-year-long relationship, the Portuguese superstar's name was attached to many models and actresses. But none lasted for a longer period of time.
Right now in this sporting world, Cristiano Ronaldo loves Georgina Rodriguez is the most famous wag, but before becoming the girlfriend of the winger she has not lived the life of such lavishness.
Who is Georgina Rodriguez?
Georgina Rodriguez is from jaca and was born on 27 January 1994 in Buenos Aires, Argentina to parents Jorge Rodriguez and Ana Maria Hernandez.
It was at the end of 2016 in the month of November, the news of a relationship with Spaniard Georgina Rodriguezemerged when the couple was spotted in Disneyland Paris.
We would like to clear the confusion that Georgina Rodriguez and Cristiano Ronaldo are only in a relationship and not married, though the couple are been together for many years and many suggest that soon they will tie their knot.
Georgina Rodriguez and Ronaldo were spotted on many occasions together holding each other's hands in the early stage of their relationship and also in many occasions it was seen the Spanish beauty was there in the stands to Support the Portuguess superstar and now they both are living their life together in Saudi with their beloved Childrens.
How Cristiano Ronaldo and Georgina Rodriguez meet?
Georgina Rodriguez flew to England at 17 and there she got a job as a nanny for a pair in Bristol and there she focused to learn English and also earning £9.50 an hour,
After she expertise her knowledge in English she returns back to his country Spain for her dream work in a high-end retail shop, and in the year 2016 Georgina Rodriguez got her dream job in Gucci, while she was busy in her work, she got the eye of the former Real Madrid star Cristiano Ronaldo.
It is also believed that Georgina Rodriguez caught the eye of Cristiano in the VIP area of a Dolce and Gabbana event.
After their meeting at the Gucci store, Cristiano Ronaldo and Georgina Rodriguez met again in some other brand's event, where they managed to spend some time in some relaxed atmosphere, and many times Ronaldo wife admitted that it was love at first sight for both of them.
Since then the couple began their relationship secretly for a few months. But after the incident in Disneyland Paris, the whole world came to know about Georgina, and then the couple upped their public displays of affection and also followed each other on social media platforms.
Often famous news channels of Spain shared pictures of Georgina Rodriguez in the stands with her daughter or sometimes with Eva and Mateo or with the boy Cristiano Jr.
She was also seen on the pitch, clicking a photo with her boyfriend, after Real Madrid won the third consecutive Champions League Trophy in 2018 by defeating Liverpool in the finals.
Ronaldo and his wife managed to wrap their relationship, in the beginning, once it was in the knowledge of the football fans that both are in a relationship, the football fans turn into the shop of Gucci to see Ronaldo Spouse, once fans approach the stores in numbers because of the chaos Georgina Rodriguez got dismissed from her dream job.
Cristiano Ronaldo contact gave another job to the love of his life in some different store where she was getting 1,200 euros in a month, but later once again the supermodel lost her job as fans went to the store to click a selfie with the Spanish beauty and the management ask her to leave the job to maintain the chaos.
About her experience she said: "I was hiding, but fans were looking for me at the store. They used to call up and ask about me, pretending to be clients.

"There were always photographers waiting for me. The director told me to go down to the basement because he did not want to see me in the store. I started to be very uncomfortable and then I left."
Later after her relationship with Cristiano Ronaldo, she started her career as a model in Madrid and is currently being signed by the Madrid agency Uno Models.
Georgina Rodriguez Work Life: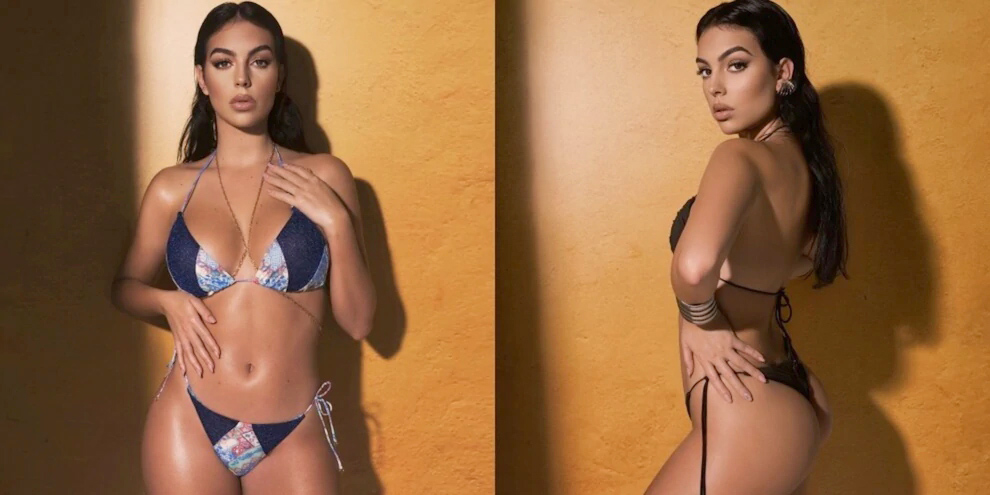 Georgina Rodriguez used to work in the Gucci store and from being a saleswoman for the brand now to be a high-end client for the brand, from her house to now living in a £5 million mansion in Italy.
Now, the Spanish model is also living in style too, jetting off in a private plane with the superstar and also driving some extravagant sports cars.
Since Ronaldo started dating, Georgina Rodriguez becomes a star in her own way.
Since the beginning of their relationship, the Spanish supermodel is very clear become not to be another wag like others, earlier she has also stated that she has no intention to spend Ronaldo's money on shopping, instead of that wife of Ronaldo some active role to manages their fortune.
She stated:"I loved earning money for myself and I never let myself be helped when someone offered to lend me a hand,"

"I am realistic and if I see that I can buy something not too expensive I do. If I can't wear a Chanel, I buy a Zara. Why brag about something that does not belong to you?"
Cristiano Ronaldo Children:
Fromer Manchester United Cristiano Ronaldo is extremely confidential when it comes to his personal life and there was much mystery around Cristiano Ronaldo Children and the superstar purposefully chose not to say it about to others.
we get to know about Cristiano Ronaldo children and about Cristiano Ronaldo Family more about when the superstar started to post about them on his social media platforms.
On4th July, in the year 2010 Cristiano Ronaldo announces that Cristiano Ronaldo Jr. was born and he has become 25-year-old father, many reports suggest that Cristiano Ronaldo Jr.
His first child was born in the U.S from a surrogated mother and the superstar Cristiano was his child's sole guardian, and Cristiano Ronaldo's son is also a huge football lover and also plays for the Juventus under 10 teams, and many times we have seen Cristiano Ronaldo and his son training together and participating together, and all of them complete Cristiano Ronaldo Family.
After his firstborn Child Cristiano Ronaldo stated:
"It is with great joy and emotion that I inform I have recently become father to a baby boy."
"As agreed with the baby's mother, who prefers to have her identity kept confidential, my son will be under my exclusive guardianship.
"I request everyone to fully respect my right to privacy (and that of the child) at least on issues as personal as these."
Two years after the born of Cristiano Ronaldo Jr, in the year 2017,8th June Cristiano Ronaldo welcomed twins Eva and Mateo, to some reports it suggests that the twins were born in the U.S via a surrogated mother, and unfortunately Cristiano Ronaldo missed the twins birth as he was in Chile at that time.
After that Cristiano Ronaldo was in a committed relationship with the Spanish model Georgina Rodriguez, the couple started dating in the year 2016, and in when in 2017 Eva Maria and Mateo were born reports suggest that at that time Georgina Rodriguez was also pregnant at that time.
On November 12, 2017, Georgina Rodriguez gave birth to Cristiano Ronaldo fourth Child named Alana Martina, after which Georgina shared a picture with Cristiano Ronaldo's 2 children.
Now Portugal man and his girlfriend are pretty busy taking care of their three daughters well they might get some help from Cristiano Ronaldo's proud mother who stays with them and also from the first son Cristiano Jr who seems to be a responsible elder brother of the daughter. Mateo is considered a naughty one although Eva and Mateo are twins. The Cristiano Ronaldo family is a pretty big one now with the children. Cristiano Ronaldo family prefers to keep their personal life away from social media.
After the Birth of her first Children Alena Martina Georgina Rodriguez said:"We both chose the name. Cristiano chose Alana and I chose Martina,"
"We decided to give her both names that each of us chose. We thought it was even more special."
She also revealed how her boyfriend treated her post-baby. "I'm very proud of him,"
"When we got home from hospital, he'd organized a surprise dinner, with all our nearest and dearest.
"I felt like the luckiest woman in the world."
Ronaldo and Georgina set to break Saudi Law by staying together: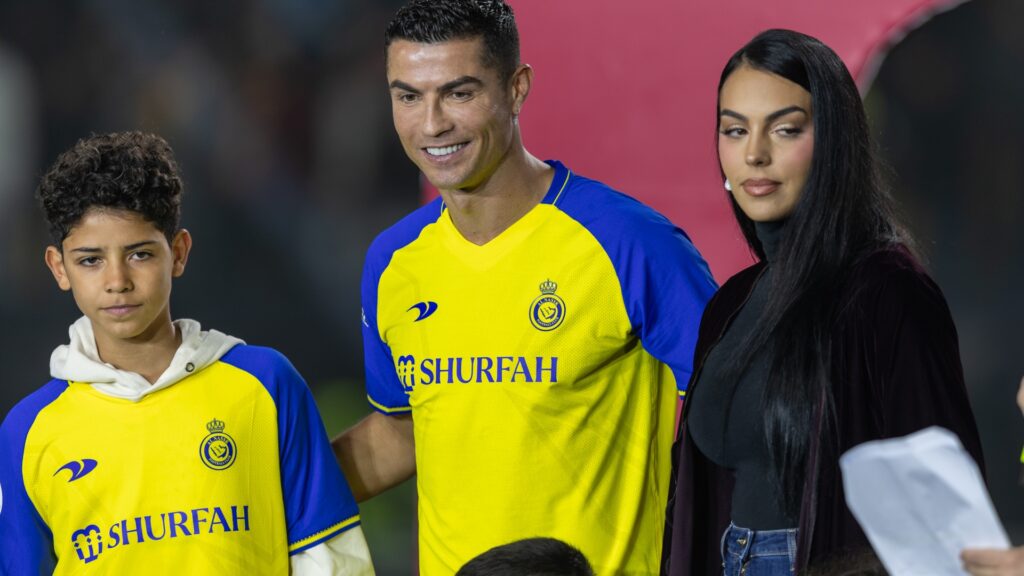 Cristiano Ronaldo and his long-term Girlfriend Georgina Rodriguez are set to overstep the law by living respectively in Saudi Arabia. Ronaldo and Georgina are together however not wedded and under Saudi regulations, it against the law against the law to reside in a similar house without being hitched, yet they aren't supposed to be rebuffed by Authorities.
The 37-year-old joined Al-Nassr last month after his sharp exit from Manchester Joined together and will supposedly procure £175m per year.
Citing two separate Saudi attorneys, the lawful experts anticipated that the important specialists should not become engaged with Ronaldo's circumstances.
Cristiano Ronaldo unlocked the Door of Asian Football for the rest of European Footballers, as he became the face of the Saudi League on the next Year many European Players Followed his footsteps to join the Saudi League and now the Superstar's presence is creating a big in the Asian Football and Saudi is making his own place in the World Football Map.
Once Said:
"Although the laws still prohibit cohabitation without a marriage contract, the authorities have begun to turn a blind eye and do not persecute anyone. Of course, these laws are used when there is a problem or a crime."
"The Saudi Arabian authorities, today, do not interfere in this matter [in the case of foreigners], but the law continues to prohibit cohabitation outside of marriage," added the other.