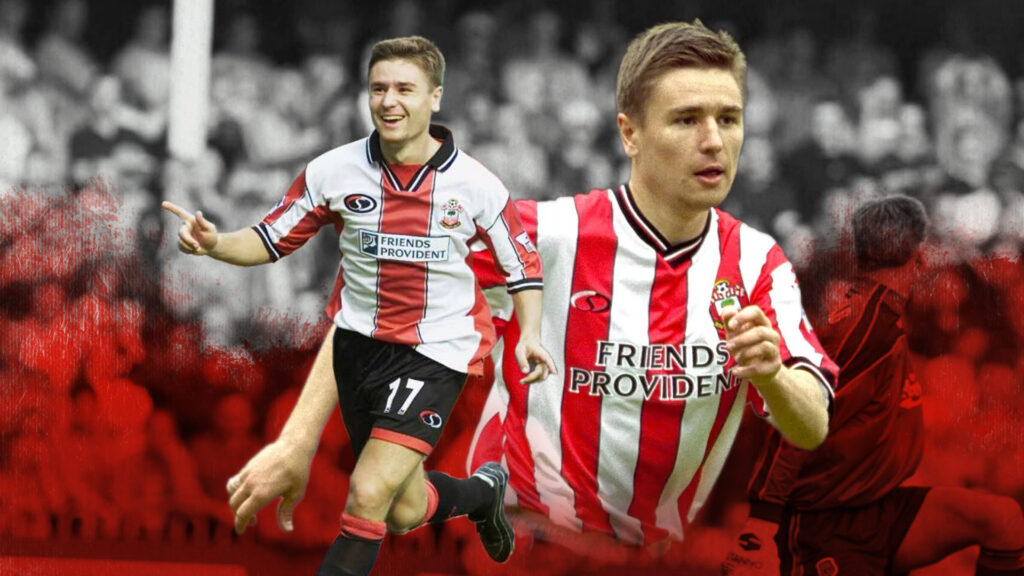 Football players from small European countries have a hard time breaking out on the big scene. It's rare to see them play at a European giant, and even when they do, most falter at the attempt. Their leagues and national teams and players rarely get the media attention Cristiano Ronaldo does. But, ever so often, you'll see a quality player such as Marian Pahars tearing up a big league.
The Latvian players is one of the rare few to make it to the Premier League. We're not talking about a simple spell with just a few appearances. During his time in the PL, Pahars was a feared striker for Southampton and a favorite of bettors. He was often part of totalizators and goal betting markets as he had a keen eye for goal and managed to humble defenders with his trickery. Betting on the PL took off during his spell in England, and week after week, Pahars appeared as one of the top prospects in goalscoring betting markets.
Who Was Marian Pahars?
Marian Pahars was one of the best Latvian prospects of all time. Born in 1976, he made his name known as a young player at the now-defunct Latvian team of Skonto. After making the jump to the first team, he scored a total of 44 goals for the club in 85 appearances, raising the eyebrows of many European football agents. His correct name is Marians Pahars, but the s was dropped by English commentators by mistake and his new name stuck.
During his time at Skonto, Pahars was compared to Michael Owen. The Liverpool forward was tearing up the league on his own, and Pahars' style of play up front draw many comparisons. He was quick, skilful with the ball, and always had an eye for goals. He first started his professional career as a midfielder but was later moved up front. It proved a fantastic solution.
In 1995, Pahars scored 8 goals in 9 games for Skonto at the age of 19. Next season, he scored twelve times in 28 matches. He also received his first call up for the Latvian national team and became a regular. A new star was born in the small country, and it was only a matter of time before the giants came knocking.
In his last year at Skonto, 1998, Marians Pahars bagged 19 goals in 26 games. During the season, he had trials with Werder Bremen, Salernitana, and Salzburg. Bigger clubs were also monitoring his situation, but due to lack of exposure, they all stayed put. However, Gary Johnson was the managed of the Latvian national team at the time, and he had high praise about Pahars while talking to Southampton manager Dave Jones. The St. Mary team needed a boost up front, and the pacy and tricky winger seemed like the perfect solution. Pahars didn't mind playing for a team that was in a desperate situation in the PL, as he relished the challenge of playing in the Premier League.
A move was agreed for around £800,000 after he impressed in a trial with the reserve squad, scoring a hat-trick in a massive 7-1 victory.
The Golden Years
Signing for Southampton in 1999, Pahars made history as the first Latvian ever to play in the Premier League. Around a month later after joining, he made his debut as a 70-minute substitute against Coventry City. Two weeks later, it was time for him to do a show for the home crowd. The Saints were playing the Blackburn Rovers in a pivotal match that might have secured their fate that season. Every point counted as Southampton was fighting to stay in the PL. Little did they know that their fate would depend on an unlikely hero.
Marians Pahars started that match on the bench, coming on late in the second half to score a precious equalizer. He instantly reenergized his team and even had a chance to settle the match which eventually ended in a 3-3 draw. A new star was born for the Saints, and he once again delivered on the biggest stage.
Going into the final round of the season, the Saints needed a win to guarantee Premiership status. They played at home against a tricky Everton side, and their hero—Marians Pahars, scored a brace to secure the team's status in the PL for next season. Everyone was overjoyed with the signing, and Pahars continued delivering great performances. In the 1999-2000 season, he was the Saints' top scorer with 13 goals. However, by that time, Dave Jones has been replaced with English great Glenn Hoddle. The new manager had a new role for Pahars, putting him in a wider position to scare the opposition with his pace and dribbles. It was the right thing to do, and he started the new season with a bang.
He scored 6 times to start the 00-01 season before Hoddle moved him to a deeper position. That was a costly mistake. Pahars played to the best of his abilities, but he only scored three times more. He was still a force up front dishing out assists to his teammates, but it was clear he wasn't enjoying his role.
The following season was more or less the same, and Pahars quickly found himself on the bench. He provided goals off it including the winner against Charlton Athletic at the Saints' new stadium – St. Mary. Together with his new striking partner James Beattie, they formed a deadly duo.
The following season have been hampered by injuries. Pahars required a hernia operation in 2002 which put him off the field for a while. He was never the same player afterwards. A severe ankle injury in late 2002 saw him miss months, and later injuries spelled the end of his journey in the Premier League.
But, during his time, Pahars was one of the fan-favorites. He played to the death for the Saints and became a cult hero. His time came to an end in 2006, when he was treated to a lap of appreciation by his teammates and a standing ovation by the home crowd. He came in a virtual unknown, but left as one of the Saints' legends.