Diego Maradona Biography: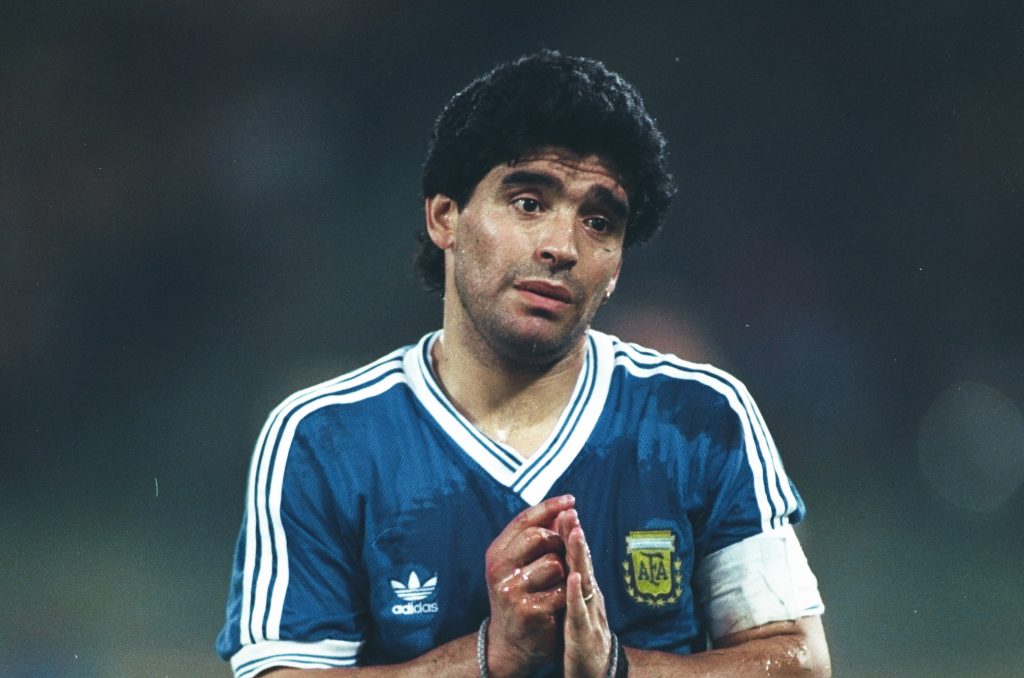 One of the Greatest Scotsman the world has ever witnessed, the Argentine Hero Diego Armando Maradona is a phenomenon in the history of the sport. In his career, he has been at his best whenever he stepped on the turf, the true idol of many young aspirant young players.
In his time, there was no better than him in the world of football, and he always seems to mesmerize the fans with his magical skills on the pitch, In his career, he won all the Spanish League with Barcelona and also won the Serie A trophy with Napoli and also been awarded the Ballon d'Or award for his telegraphic performance for the teams.
EARLY LIFE: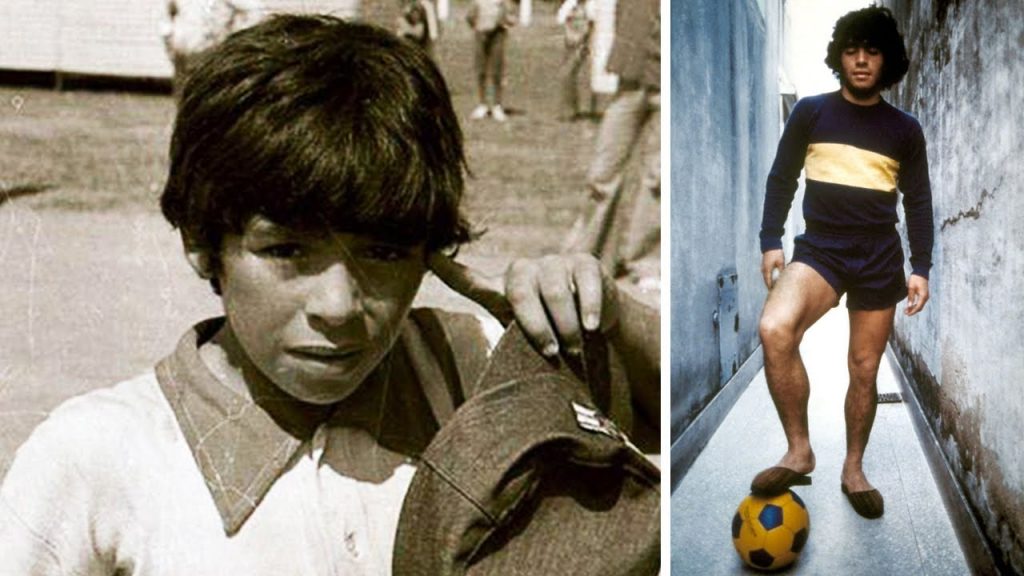 Diego Maradona, born on 30th October 1960 at the Policlinico (Polyclinic) Evita Hospital in Lanus, Buenos Aires Province and raised in Villa Fiorito (a shantytown on the southern outskirts of Buenos Aires), is a former Argentine footballer, and now, a football manager. Maradona is considered as one of the greatest footballers to ever play the game.
A very talented dribbler and passer of the ball, he was given the nickname "El Pibe de Oro", meaning "The Golden Boy", the name he was called with his entire career. The nickname "El Pibe de Oro", has some old Argentine tradition in it. Jonathan Wilson describes the 'Pibe' in his book 'Angels with Dirty Faces: "the urchin who will make his way through life with a combination of charm and cunning" and as a football player the 'Pibe' remains "absolved of responsibility; encouraged almost, never to mature into adulthood".
He was born to a poor family. He was the first son in the family after three daughters and has two younger brothers, Hugo and Raul, both of them were also professional footballers.
In the year 1950, his parents left their native place Esquina, and settled in Buenos Aires. At the age of eight, Maradona was spotted by a talent scout while he was playing for Estrella Roja (his neighborhood club). He later joined Los Cebollitas (a youth team of Argentinos Juniors), the junior team of Buenos Aires. At an early age, Maradona led Los Cebollitas to a 136-game unbeaten streak. He used to amuse the crowd in the stadium as a ball-boy, at the age of 12, by showing his skills with the ball during the half-time of the first division games. The Brazilian playmaker Rivelino and Manchester United winger George Best were his inspirations during his childhood.
An efficient playmaker in the mid-field, donning the Jersey No 10, Maradona was the first player in the history of football to set the world record transfer fee twice, once when he transferred to Barcelona and later, when he transferred to Napoli. He soon made his professional senior team debut as he signed with Argentinos Juniors at age 14 and made his first-division debut in 1976, 10 days before his 16th birthday. Only four months later he made his debut with the national team, becoming the youngest Argentine ever to do so. Although he was excluded from the 1978 World Cup-winning squad because it was felt that he was still too young, the next year he led the national under-20 team to a Junior World Cup championship.
CLUB CAREER: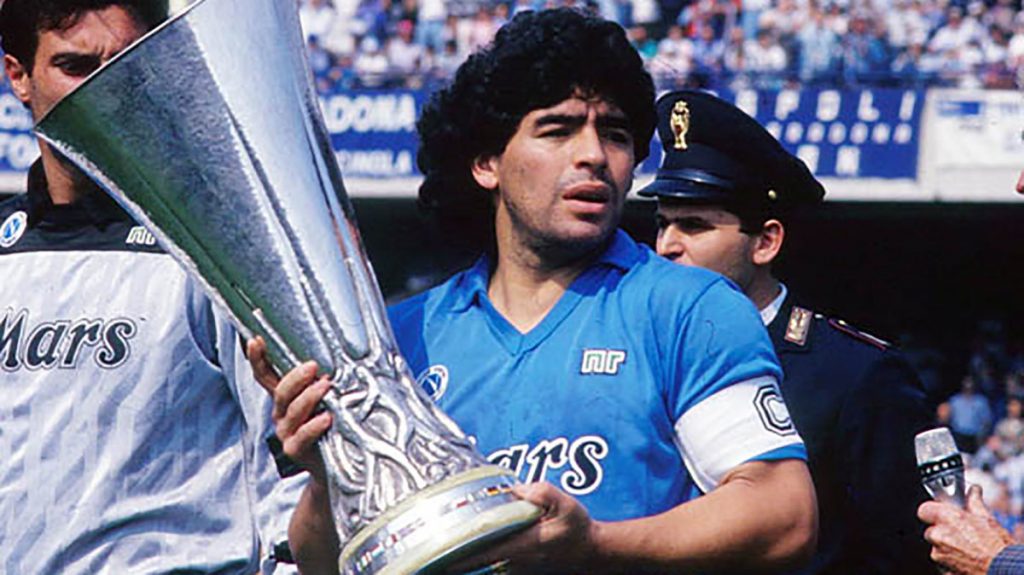 Maradona made his professional debut for Argentino Juniors, 10 days before his 16th birthday,[21] vs. Talleres de Córdoba, on 20th October 1976, wearing Jersey no 16 and became the youngest player in the history of Argentine Primera Division. He stated after the game, "That day I felt I had held the sky in my hands." Talking about and remembering Maradona's debut game 30 years later, Cabrera (who was on the opposition side) said, "I was on the right side of the field and went to press him, but he didn't give me a chance. He made the nutmeg and when I turned around, he was far away from me".Maradona scored his first goal in the Primera División against Marplatense team San Lorenzo on 14 November 1976, two weeks after turning 16.
Maradona spent five years at Argentinos Juniors, from 1976 to 1981, scoring 115 goals in 167 appearances before his US$ 4 million transfer to Boca Juniors. Maradona expressed his will to be transferred to Boca Juniors, the team he always wanted to play for, despite getting numerous offers from other teams. He signed his contract with Boca Juniors on 20th February 1981 and made his debut for the club two days later against Talleres de Cordoba and scored twice. Maradona played his first Superclasico match against River Plate (who had offered to make his highest paid player in their club earlier) at La Bombonera stadium. Boca defeated River Plate with 3 goals to nil and Maradona scored one goal.
Boca had a successful season, with Maradona on their side, winning the league title and that was the only title Maradona won in the Argentine domestic league.
Maradona was transferred to Barcelona after the 1982 World Cup for a then world record fee of $ 7.6 million. In 1983, Barcelona won the Copa del Rey beating Real Madrid and the Spanish Super Cup beating Athletic Bilbao. Barcelona again defeated Real Madrid on 26th June 1983 in one of the world's biggest club games, El Clasico. In the match, Maradona scored and became the first Barcelona player to be applauded by rival fans. Despite all the success and fame, Maradona had a difficult tenure in Barcelona due to illness and injury and some controversial incidents on the pitch.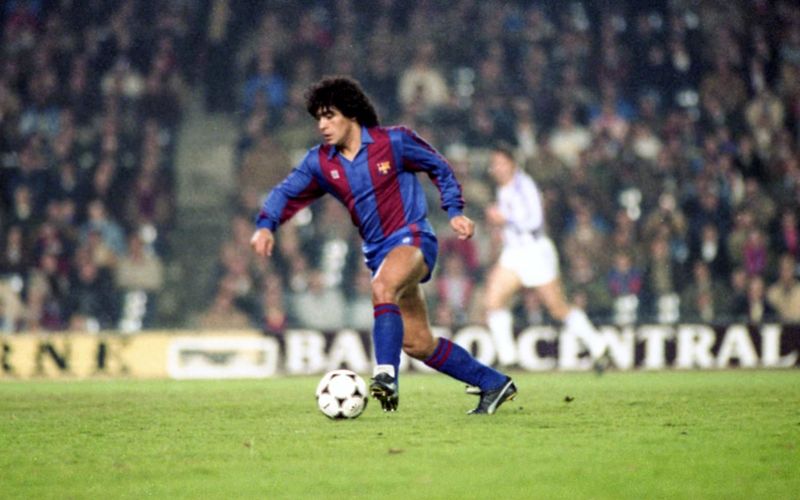 An unforgettable mass brawl incident took place in front of Spanish King Juan Carlos and the crowd of 1,00,000 fans inside the stadium and more fans watching on tv. Fans started throwing objects and 60 people were injured. The violent and chaotic fight was started between Maradona and Goikoetxea. The match was being played between Barcelona and Athletic Bilbao at the end of the 1983-84 season at the Santiago Bernabeu in Madrid. It was the last game he played for Barcelona and the incident culminated in his transfer out of the club. Talking about the incident, one Barcelona executive said, "When I saw those scenes of Maradona fighting and the chaos that followed, I realized we couldn't go any further with him."
Maradona was transferred to Napoli in Italy's Serie A for another world record fee of $ 10.48m. He was presented to the world media as a Napoli player on 5th July 1984 and was welcomed by 75,000 fans at his presentation at Stadio San Paolo. Sportswriter David Goldblatt commented, "They [the fans] were convinced that the saviour had arrived." A local newspaper stated that despite the lack of a "mayor, houses, schools, buses, employment, and sanitation, none of this matter because we have Maradona". Prior to Maradona's arrival, Italian football was dominated by teams from the north and center of the country, such as A.C. Milan, Juventus, Inter Milan and Roma, and no team in the south of the Italian Peninsula had ever won a league title.
At Napoli, Maradona reached the peak of his professional career and soon inherited the captain's armband from Napoli veteran defender Giuseppe Bruscolotti. He quickly became an adored star among the club's fans; in his time there he elevated the team to the most successful era in its history. quickly became an adored star among the club's fans; in his time there he elevated the team to the most successful era in its history. Led by Maradona, Napoli won their first-ever Serie A Italian Championship in 1986–87. The following season, the team's prolific attacking trio, formed by Maradona, Bruno Giordano and Careca, was later dubbed the "Ma-Gi-Ca" (magical) front-line.
Apart from all these, other achievement during his era at Napoli included the Coppa Italia in 1987, (second place in the Coppa Italia in 1989), the UEFA Cup in 1989 and the Italian Supercup in 1990. Maradona was the top scorer in Serie A in 1987–88, with 15 goals, and was the all-time leading goalscorer for Napoli, with 115 goals, until his record was broken by Marek Hamšík in 2017.
In an interview, when asked about who was the toughest player he ever faced?, A.C. Milan central defender Franco Baresi stated, "Maradona, when he was on form, there was almost no way of stopping him", the same statement was also shared by his Milan teammate Paolo Maldini, who stated, "The best player I ever played against was Maradona."Later on, in honor of Maradona and his achievements during his career at Napoli, the number 10 jersey of Napoli was officially retired.
As controversies started growing around him, after serving a 15-month ban for failing a drug test for cocaine, Maradona left Napoli in disgrace in 1992, and despite interest from Real Madrid and Marseille, he signed for Sevilla, where he stayed for one year. In 1993, he played for Newell's Old Boys and in 1995 returned to Boca Juniors for a two-year stint.
Maradona has also played for Tottenham Hotspur in a testimonial match for Osvaldo Ardiles against Internazionale, shortly before the 1986 World Cup. Again, Maradona was given a testimonial match in November 2001, played between an all-star World XI and the Argentina national team.
INTERNATIONAL CAREER: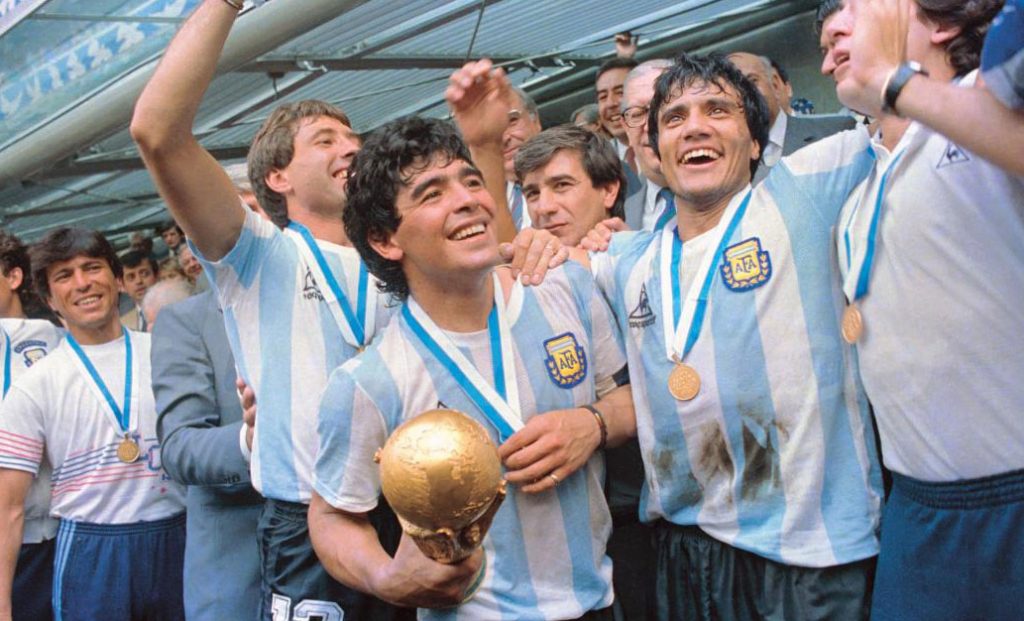 Maradona scored 34 goals in his 91 appearances for the Argentina National team. He made his full international debut at age 16, against Hungary, on 27 February 1977. Maradona was left off the Argentine squad for the 1978 World Cup on home soil by coach César Luis Menotti who felt he was too young at age 17.
At age 18, Maradona played the 1979 FIFA World Youth Championship in Japan and emerged as the star of the tournament, shining in Argentina's 3–1 final win over the Soviet Union. On 2 June 1979, Maradona scored his first senior international goal against Scotland at Hampden Park. He went on to play for Argentina in two 1979 Copa América ties during August 1979, which they lost against Brazil and another a win over Bolivia in which he scored his side's third goal.
Maradona played his first World Cup tournament in 1982 in Spain. Argentina played Belgium in the opening game of the 1982 Cup at the Camp Nou in Barcelona. The Argentine side was defeated in the second round by Brazil and Italy. Maradona played in all five matches without being substituted, scoring twice against Hungary. He was fouled repeatedly in all five games.
Maradona captained the Argentine national team to victory in the 1986 World Cup in Mexico. His first goal of the tournament came against Italy in the second group game in Puebla. Argentina eliminated Uruguay in the first knockout round in Puebla, setting up a match against England at the Azteca Stadium in Mexico City. After scoring two different goals in the quarter-final win against England, he was considered a legend.
Talking about his two different goals, especially the most debated first goal, the French newspaper L'Equipe described Maradona as "half-angel, half-devil".Replays showed that the first goal was scored by striking the ball with his hand. Maradona was evasive, describing it as "a little with the head of Maradona and a little with the hand of God".Ultimately, it came to be known as the "Hand of God". On 22 August 2005, Maradona acknowledged on his television show that he had hit the ball with his hand purposely, and no contact with his head was made and that he immediately knew the goal was illegitimate. This became known as an international fiasco in World Cup history. The goal stood, much to the wrath of the English players.
Maradona's second goal, just four minutes after the hand-goal was later voted by FIFA as the greatest goal in the history of the World Cup. Argentina beat West Germany 3–2 in front of 115,000 fans at the Azteca with Maradona lifting the World Cup as captain.Maradona captained Argentina again in the 1990 World Cup in Italy to yet another World Cup final.
During the 1994 World Cup in the United States, Maradona played in only two games scoring one goal against Greece, before being sent home after failing a drug test for ephedrine doping. After scoring against Greece, Maradona had one of the most infamous World Cup goal celebrations as he ran towards the side-line cameras and shouting with a distorted face and bulging eyes. This turned out to be Maradona's last international goal for Argentina in what was his last appearance for his country. FIFA expelled him from the USA 1994 World Cup and Argentina was subsequently eliminated in the second round by Romania in Los Angeles.
His failed drugs test at the 1994 World Cup led to the end of his international career, which had lasted 17 years with 34 goals from 91 games, as well as one winner's medal and one runners-up medal in the World Cup.
Achievements:
Argentine Primera Division top Scorer – 1978, 1979, 1980.
FIFA World Youth Championship Golden Ball – 1979.
Argentine Football Writer's Footballer of the Year – 1979, 1980, 1981, 1986.
South American Footballer of the Year – 1979, 1980.
FIFA World Cup Golden Ball – 1986.
FIFA World Cup Silver Shoe – 1986.
FIFA World Cup All-Star Team – 1986, 1990.
World Soccer Award's Player of the Year – 1986.
Coppa Italia Top Scorer – 1987-88.
South American Team of the Year – 1995.
Ballon d'Or for Services to Football (France Football) – 1996.
World Team of the Year – 1998.
FIFA Player of the Century – 2000.
FIFA Goal of the Century (second goal against England in 1986 World Cup) – 2002.
Golden Foot (FIFA Legend) – 2003.
Globe Soccer Awards Player Career Award – 2012.
AFA Team of All Time – 2015.
World Soccer Greatest XI of all time – 2013.