Stuart Binny and Mayanti Langer are one of the power couples in the Indian sports fraternity, the stunning Mayanti Langer has a huge fanbase for her glittering presence on the screen.
After their couple of years of marriage, the power couple got blessed with a baby boy in 2020, the stunning anchor Mayanti Langer took social media to announce the news and why she will not be there in Dubai for the thirteenth edition of the IPL.
The Official broadcaster also confirmed that Mayanti Langer won't be there in Dubai to host the most anticipated cash-rich tournament this year.
Stuart Binny Family:
Mayanti Langer Husband Stuart Terence Roger Binny was born in the year 1984 3rd June, in Bangalore and he is the son of the former Indian test cricketer Roger Binny.
In his early life Stuart Biddy did his schooling from the Frank Anthony Public School in Bangalore, and also he attended his high school from St.Joshep's Indian high school where his father was the Cricket coach at that point of time.
Later on, Stuart Binny also got trained under the IACA coach Imtiaz Ahmed.
After few years of relationship with his long time girlfriend Mayanti Langer, Stuart Binny married her in the year 2012.
Stuart Binny Wife- Mayanti Langer Biography:
Stuart Binny beautiful Wife name Mayanti Langer was born on 8th February 1985 in New Delhi, Her Father Sanjiv Langer was a Lt. General with the Indian Army and got posted in the USA, and her mother Parminda Langer was a teacher.
After Mayanti Langer's father posted to the USA, they all went to the USA and she spent her childhood over there, and Mayanti Langer Grandparents are Lt. General Rajinder Nath Batra and Mrs. Priya Batra.
Cricketer Stuart Binny wife Mayanti Langer Completer her High School in the USA after that when she returned to India she joined the Hindu College under Delhi University and also persuaded her Bachelor's degree in Arts.
Since Childhood Mayanti was a huge fan of Football and also played football in her School level and most of the people don't know about the face that Mayanti Langer Received from Super Soccer Academy in Delhi and also after completing her College Mayanti Langer wanted to be a graphic designer.
Mayanti langer Career:
Stuart Binny Wife Mayanti Langer is a household name in India when it comes to Sporting Anchoring with his Charming personality and the alluring speech she grabs the attention of the viewers.
Mayanti Langer once tried to do an experiment as a sports anchor and one day she decided to do that and did her first anchoring at the "FIFA Beach Football" and after hat consignment, she decided to take this anchoring as a profession.
After the successful event, Mayanti Langer got an offer of as a host and associate producer for football café of Zee Sports, after that Wife of Stuart Binny(Mayanti Langer) went on to work for many football shows on the Zee Network and done interviews during pre-match shows, Half time shows, and post-match shows.
< div id="Mayanti_Langer"
In her Career Stuart Binny Wife (Mayanti Langer) also did anchoring in the prestigious Nehru Cup as well at Ambedkar Stadium and also many don't know she did anchoring in the Indian Cricket League for Zee Sports.
Mayanti Langer anchors the FIFA 2010 Football world cup in India with ESPN which includes the Pre-match shows and the post-match shows, in that process, she has worked with the expert like John Dykes.
In 2010, Stuart Binny's Wife Mayanti Langer also hosted the Commonwealth Games at Delhi with Charu Sharma.
Famous Sports Event that Mayanti Langer Hosted are:
Nehru Cup Football tournament.
2010 Commonwealth Games in India.
2010 FIFA World cup in India with John Dykes.
2014 Indian Super League football.
2014 Champions League Cricket tournament.
2015 ICC Cricket World cup for Star Sports.
2014 and 2018 Indian Super League.
Stuart Binny and Mayanti Langer Marriage:
As Stuart Binny is a famous Cricketer and Mayanti Langer is also into sports as an anchor, Stuart Binny and his wife met each other for the first time in a cricket field.
At that time Stuart Binny Wife Mayanti Langer was in the initial stage of her career and she was getting ready to make an interview, the producer just tells Mayanti to take the interview of Stuart Binny who is a good player and just got engaged recently and to her Producer's instruction Mayanti Langer Interviews Stuart Binny and later it was cleared to her and after that interview both become good friends.
After that their friendship turned into love and after a couple of years of Relationship, the Stuart Binny with his wife decided to stay together for the rest of their life, and on 27th September in 2012, Mayanti Langer and Stuart Binny got hitched and till now they are one of the power couples of Indian sports fraternity.
Stuart Binny also accepted the fact that Binny wife Mayanti Langer was the lady luck in his career, as he says after his marriage with Mayanti Langer he career got skyrocketed, their auspicious marriage was a secret affair, only their family and friends were Invited.
Big Relief to Binny and his daughter in law Mayanti Langer: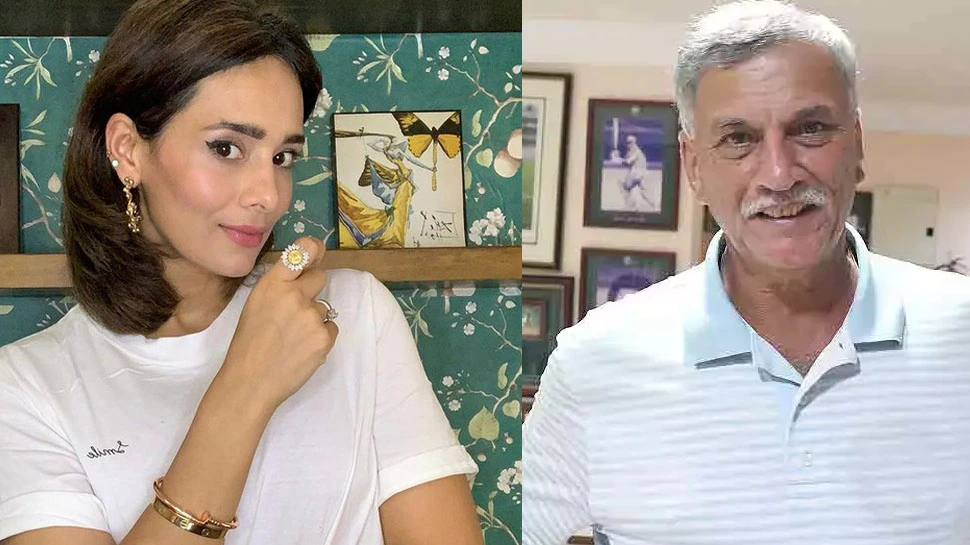 BCCI President Roger Binny and his little girl in-regulation Mayanti Langer have a major help. Since Morals Equity Official Vineet Saran has dismissed Sanjeev Gupta's grumbling. In which he was blamed for an irreconcilable situation.
Roger Binny has as of late turned into the Leader of BCCI. His child Stuart Binny's significant other Mayanti Langer functions as an anchor for Star Sports, IPL, and India's homegrown matches. Sanjeev Gupta had grumbled about this claiming irreconcilable situation. Vineet Saran had pulled out of an irreconcilable situation to Roger Binny and looked for a composed answer from Roger Binny to the charges evened out against him by 20 December.
Social Media Handles of Mayanti Langer:
Mayanti Langer Twitter:https://twitter.com/mayantilanger_b
Mayanti Langer Instagram:https://www.instagram.com/mayantilanger_b/