Sachin Tendulkar Son Arjun Sachin Tendulkar or Arjun Tendulkar was born on 24 September 1999 in Mumbai, Maharashtra. Arjun is an aspiring young cricketer. He is the son of former Indian Cricketer Sachin Tendulkar and Anjali Tendulkar.
Who is Sachin Tendulkar's son?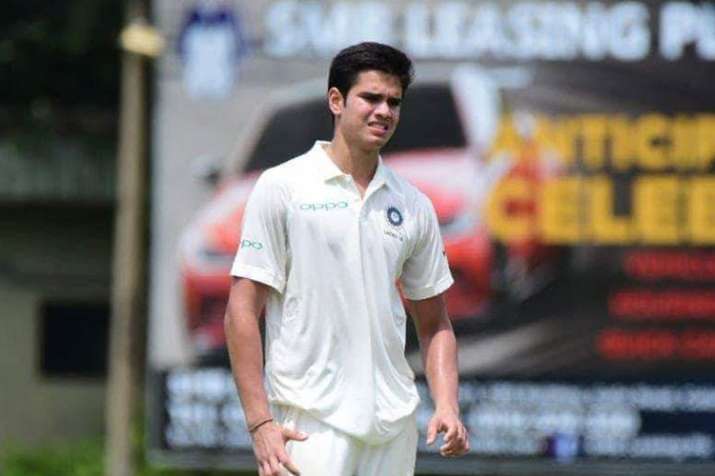 Arjun Tendulkar is Sachin Tendulkar's son. Sachin Tendulkar is a former Indian cricketer.
Arjun Tendulkar completed his education from Dhirubhai Ambani International School, Mumbai. After that he started walking on his father's footsteps of becoming a Cricketer, from the start Arjun knew that the path is going to be challenging.
Arjun is a left-handed batsman and a left-handed fast bowler. Arjun made his Twenty20 debut for his domestic side Mumbai on 15 January 2021, for Mumbai in the 2020-2021 Syed Mushtaq Ali Trophy against Haryana. He played two T20 games during the tournament, picking up a single wicket in each match.
On his debut, Arjun Tendulkar took one wicket for 34 runs in his 3-over spell.
What does Sachin Tendulkar's son do professionally?
Professionally, Sachin's son, Arjun is a cricketer. He started playing cricket when he was just 8 years old, his father, Sachin enrolled him in a cricket coaching club.
Arjun played his first match on 22 January 2010, at a U-13 Tournament in Pune. In November 2011, while playing for his school, Dhirubhai Ambani International, he took 8 wickets by giving only 22 runs.
The very same year in January, Arjun played his first ever national match at the Cadence Trophy Tournament in Pune.
In June 2012, Sachin Tendulkar's son hit his first century whilst playing for Khar Gymkhana in a U-14 match against Goregaon Centre in Cross Maidan.
Arjun Tendulkar was picked to play in a U-14 BCCI Tournament, West Zone league match in 2014.
In July of 2018, Arjun was a part of India's U-19 squad for the tour of Sri Lanka.
On 17 July 2018, Arjun claimed his maiden international wicket by dismissing Kamil Mishra of Sri Lanka in the first day of the Youth Test match against Sri Lanka U-19 in Colombo.
What is Arjun Tendulkar's height? Sachin Tendulkar son
Even though the Cricket Icon of Indian cricket is just 165 cm, his son, Arjun stands tall at 191 cm, 6.1ft.
Which IPL team is Arjun Tendulkar playing for?
The son of Master Blaster, Sachin Tendulkar, Arjun was bought by the Mumbai Indians for his base price of Rs 20 lakh at the IPL auction ahead on 18 February 2021 for Indian Premier League.
Although, Arjun Tendulkar is yet to make an IPL debut for the Mumbai Indians. Sachin's son Arjun warmed the benches of Mumbai Indians for the past two seasons.
In a Show "SachInsight" Sachin Tendulkar, expressed his desire and said he would have liked to watch Arjun play one day in the Indian Premier League.
I've never involved myself in the selection process and leave the matter to the team added Tendulkar.
The cricket icon has always guided his son in every possible way in an Interview he said that Sachin tells his son Arjun that the path is going to be challenging and tough but you will succeed if your love with cricket continues.
Gets More Cricket Related News on Sportslibro.com