Cricket is a worldwide sport which is played and celebrated throughout the world by many greats and icons. It is a religion for many cricket lovers in India. There are many sports champions, there are many sporting legends, and then finally, there is God, and that is Sachin Ramesh Tendulkar for us. Very few cricketers and sportspersons have achieved what Sachin has achieved in his illustrious 24 years long cricketing career. The Bombay boy needs no introduction, but his life story sure needs to be cherished and remembered. Let us have a profound look into Sachin Tendulkar biography.
Sachin Tendulkar Biography:
Family Background: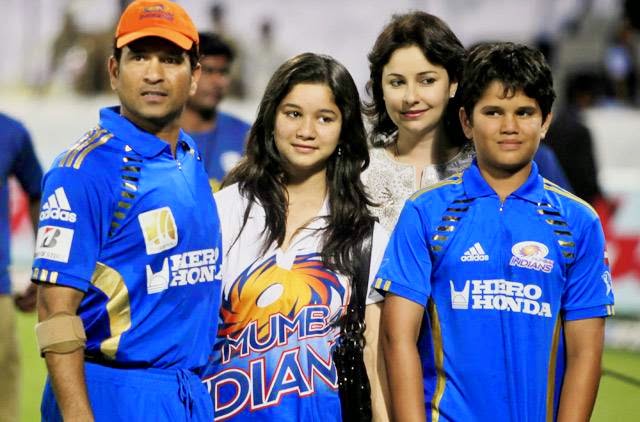 Sachin Ramesh Tendulkar born at Nirmal Nursing Home in Dadar, Bombay (now Mumbai) on 24 April 1973 to a Rajapur Saraswat Brahmin Maharastrian family. He is a former Indian international cricketer who captained the Indian national team. He is regarded as one of the greatest batsmen in the history of Cricket. He was born to Ramesh Tendulkar and Rajni Tendulkar. His father, Ramesh Tendulkar, was a well-known Marathi novelist & poet and his mother, Rajni Tendulkar, worked in the insurance industry.
Ramesh named Tendulkar after his favourite music director, Sachin Dev Burman. Sachin Tendulkar has three elder siblings two half-brothers Nitin Tendulkar and Ajit, and a half-sister Savita Tendulkar. Sachin was Ramesh Tendulkar's second wife Rajni's son. Sachin has a very close relationship with his father Ramesh Tendulkar, he always guided and adviced him to be a good person. He used to live in Sahitya Sahawas cooperative housing society in Bandra East. Sachin did his schooling from Sharadashram Vidyamandir High School in Dadar.
Sachin Tendulkar started his cricketing journey started in Shivaji Park, Dadar, as he was introduced to Ramakant Achrekar's academy by his brother Ajit Tendulkar. However, during the trials he felt pressurized and overwhelmed and he couldn't get selected. Then later on, Ajit requested Achrekar Sir to hide behind a tree and watch him play from distance, Tendulkar didn't felt any pressure and gave a stunning performance and was immediately selected in the academy.
His coach, Ramakant Achrekar played an very important role in shaping Sachin's career and guided him throughout his cricketing career. He sadly passed away on January 2, 2019, in Mumbai. Sachin Tendulkar, also spoke to the Times of India about his coach and quoted that, "Like many of his students, I learnt my ABCD of cricket under Sir's guidance. His contribution to my life cannot be captured in words. He has built the foundation that I stand on."
Ramakant Achrekar won the prestigious Dronacharya award in 1990, for his contribution to the cricket world. He also won the Padma Shri in 2010. He also was a selector for the Mumbai cricket team.
Journey:
Sachin Tendulkar became a popular name in the cricketing world right from his school days and became a child prodigy. His raw talent was visible to all. He led his school team to many victories. His world record stand with his friend Vinod Kambli of 664 runs where he scored 329 runs at the Sharadashram Vidyamandir.
Vinod Kambli and Sachin instantly became very good friends before debuting for India as they both studied in the Sharadashram Vidyamandir. Later on, Sachin also played Club Cricket for India's Club Cricket and represented John Bright Cricket Club in Bombay. He also trained in MRF pace foundation in Chennai as a fast bowler but was last advised by Sir Denis Lillee, former Australian Fast bowler, to focus more on Batting technique.
On 14 November 1987, the 14-year-old, Tendulkar was selected to represent Bombay in the Ranji Trophy, for the 1987–88 season. However, he was not selected for the final eleven in any of the matches, though he was often used as a substitute fielder. He narrowly missed out on playing alongside his idol, Sunil Gavaskar, who had retired from all forms of cricket after the 1987 Cricket World Cup.
A year later, on 11 December 1988, aged 15 years and 232 days, Sachin Tendulkar made his debut for Bombay against Gujarat at Wankhede stadium and scored 100 not out in that match, making him the youngest Indian to score a century on debut in first-class cricket. Sachin finished the season with 583 runs with an average of 67.77, becoming the highest run scorer for Bombay.
He was selected to play for the team by the then Bombay captain Dilip Vengsarkar after watching him easily playing India's best fast bowler at the time, Kapil Dev, in the Wankhede Stadium's Cricket practice nets, where the Indian team had come to play against the touring New Zealand team. Later on, Sachin Tendulkar went onto score centuries both in the Irani and Duleep trophies.
ODI & Test debut: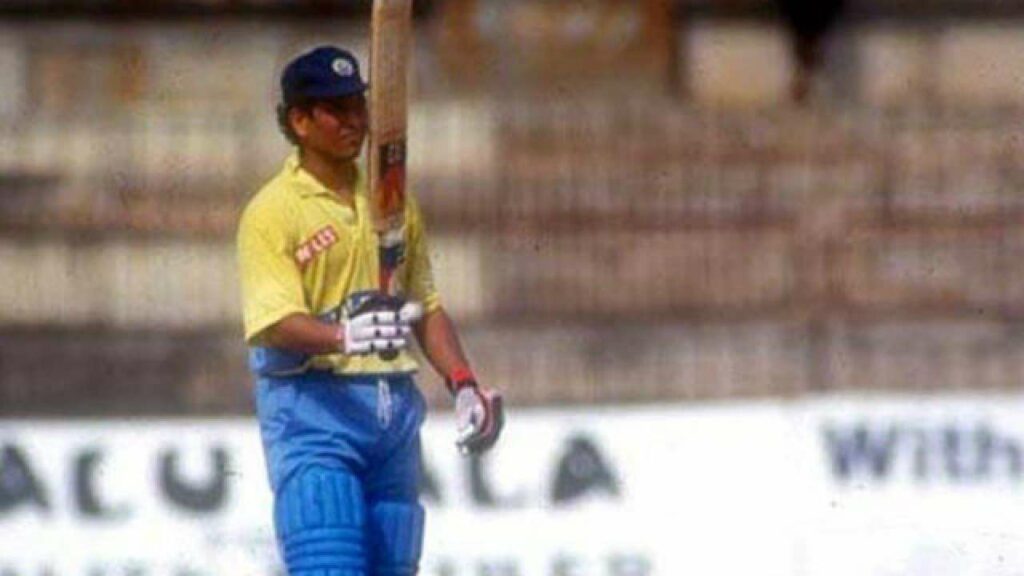 In 1989, Sachin Ramesh Tendulkar made his international ODI debut in December 1989 against Pakistan and Test debut on 15 November 1989. He became the youngest ever to debut for India in both formats. Although, he only made 15 runs, before being bowled by Waqar Younis, who also made his debut in that match. In the fourth and final Test in Sialkot, Sachin was hit on the nose with a deadly bouncer bowled by Waqar Younis, and was bleeding continuously but he declined any medical assistance and continued to bat even as he spilled blood from his nose.
He was selected on a tour of New Zealand in which he scored 117 runs at an average of 29.25 in Tests including an innings of 88 in the second Test. He was dismissed without even scoring in one of the two one-day games he played, and scored 36 in the other. He was also selected for a tour to England in 1990.
On 14 August, he became the second youngest cricketer to score a Test century as he made 119 not out in the second Test at Old Trafford in Manchester, his knock helped India to draw and save from a certain defeat in the match. Wisden described his innings as "a disciplined display of immense maturity".
Sachin was also selected on the tour to Australia before the 1992 Cricket World Cup. Sachin Tendulkar played with superior elegance and scored an unbeaten 148 runs knock in the third Test at Sydney, making him the youngest batsman to score a century in Australia. Sachin scored 114 on a fast and bouncing pitch in the final Test at Perth against one of the best pace attacks comprising of Merv Hughes, Bruce Reid and Craig McDermott.
Sachin Tendulkar scored his first ODI century, against Australia of the Singer World Series at the R.Premedasa Stadium in Colombo on September 1994, he smashed 110 runs against the Aussies.
Sachin Tendulkar has scored 49 ODI centuries against 11 different opponents all over the world scoring the most centuries against Australia. In 2012 Sachin became the first cricketer to score 100 international centuries. His 100th test century came against Bangladesh in 2012, during the Asia Cup. Sachin also became the first batsman to score a double century in ODI Cricket. He's also holds the record for the most number of runs in both ODI and Test cricket.
Sachin holds the record for the most number of test centuries before turning 20. In the year 2000, Sachin passed Brian Lara as the leading test run scorer as he scored 13000 test runs. Sachin Tendulkar has scored 50 test centuries the most in his glorious cricketing career. Sachin Tendulkar is the only player to have accomplished the 30,000 run mark in international cricket. He's also the only player to accomplish rare ODI triple of scoring 15000+ runs along with taking 150+ wickets and 100+ catches.
Slowly, Sachin became a dependable figure in the team and rose through ranks. Sachin Tendulkar was the leading run scorer at the 1996 World Cup as he scored two centuries, He was the only Indian batsman to perform well in the semi-final against Sri Lanka. Tendulkar fell amid a batting collapse and the match referee, Clive Lloyd, awarded Sri Lanka the match after the crowd began rioting and throwing litter onto the field. He was also the Man of the Tournament at 2003 World Cup. Due to his small built Sachin was nicknamed, "The Little Master" or "Master Blaster".
In the 2011 ICC Cricket World Cup, Sachin Tendulkar played and integral part in the Indian Cricket Team, Triumph as India defeated Sri Lanka in the 2011 final and lifted the Cricket World Cup after 28 years.
Ball tampering incident:
In 2001 during India's tour of South Africa in the second test match between India and South Africa at St George's Park, Port Elizabeth, match referee Mike Denness fined four Indian players for excessive appealing, as well as fined the Indian captain Sourav Ganguly for not controlling his team. Sachin was also given a suspended ban of one Test match ban game by Denness for allegedly ball tampering.
Television cameras picked up images that suggested Tendulkar may have been involved in cleaning the seam of the cricket ball. The incident quickly escalated to include sports journalists accusing Denness of racism, it later led to Denness being prohibited from entering the venue of the third Test match. The ICC revoked the status of the match as a Test as the teams rejected the appointed referee. The charges against Tendulkar and Sehwag's ban for excessive appealing triggered a massive backlash from the Indian public.
Sachin Tendulkar Cricket Technique: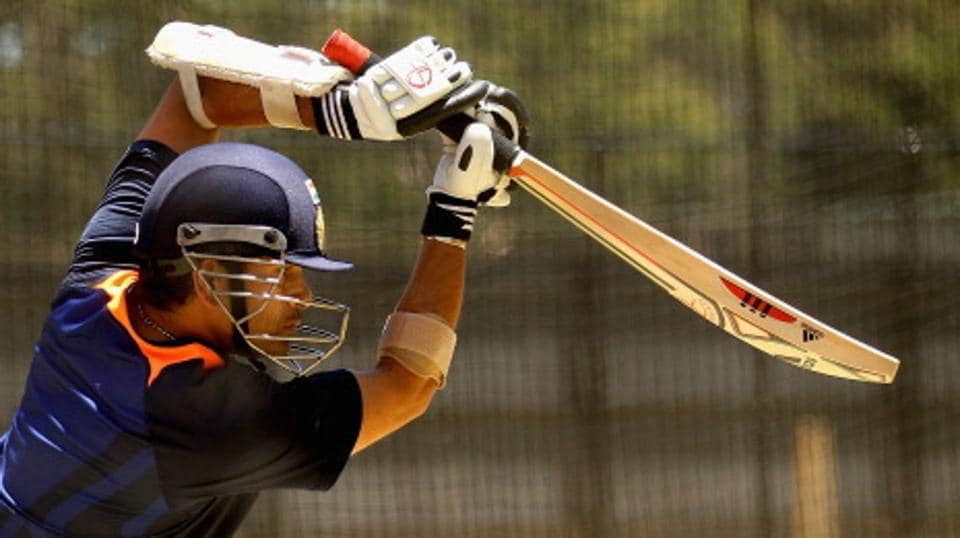 Master Blaster, Sachin is considered as the most elegant batsmen in the world. His balance and grace have always emerged. Tendulkar has always preferred hard and bouncy pitches as he has scored the most against South Africa and Australia. However, he could easily adapt his game and can easily play in any given conditions. He is also renowned for his picture-perfect straight drive. The straight drive is often said to be his favourite shot. Sachin Tendulkar can also bowl medium pace, leg spin, and off spin.
Sachin Tendulkar Retirement: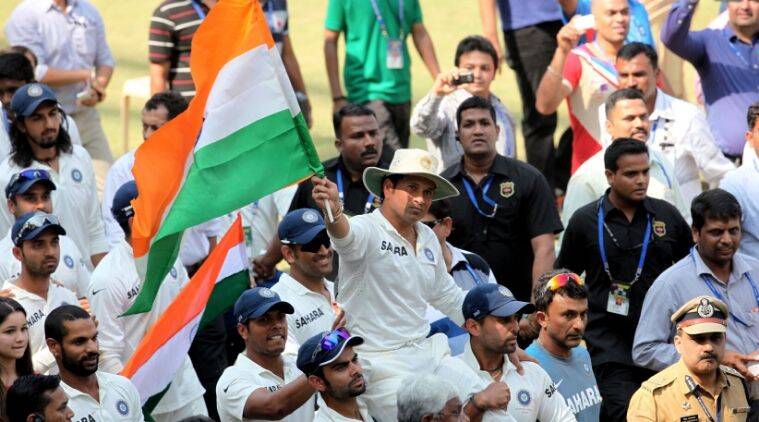 On November 16, 2013, "The God of Cricket", Sachin Tendulkar said goodbye to the cricketing world at the Wankhede Stadium in Mumbai as his 24 year long illustrious cricketing career came to an end. He announced his retirement ODI cricket after several disappointing knocks Tendulkar played his last ODI match in December 2012 and Twenty20 match in October 2013. His 200th test match against the West Indies was his last test match as on 16th November 2013 Tendulkar announced his retirement and gave farewell to the cricketing world as a player. Sachin Tendulkar played 664 international cricket matches in total, scoring 34,357 runs.
In 2013, Tendulkar was included in an all-time Test World XI compiled in 2013 to mark the 150th anniversary of Wisden Cricketers' Almanack and he was only batsman of post war era along with Viv Richards to get featured in the team.
In 2019 he was inducted into the ICC Cricket Hall of Fame. Sachin Tendulkar was also awarded with a lifetime membership of the Sydney Cricket Ground (SCG) in 2012. The Indian Postal also recieved a stamp of Sachin, making him only the second Indian after Mother Teresa to have such a stamp released in their lifetime.
Sachin Tendulkar writing:
Like many other greats Sachin Tendulkar is ambidextrous, means he uses both of his hands. Sachin plays with his Right-hand and writes with his Left-hand.
Idian Premier League: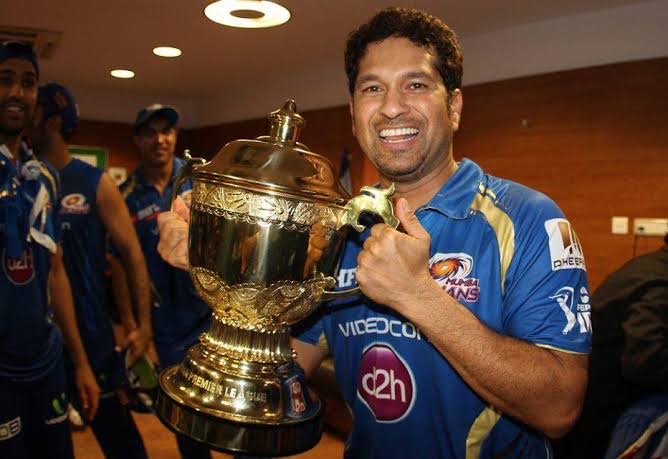 Sachin Tendulkar playing in the Indian Premier League. He was made the Icon player and captain for his home side, the Mumbai Indians in the first edition of Indian Premier League in 2008. He was signed for a sum of $1,121,250, 15% more than the second-highest paid player in the team, Sanath Jayasuriya
In 2010 edition of Indian Premier League, Mumbai Indians reached the final of the tournament. Tendulkar made 618 runs in 14 innings during the tournament, as he broke Shaun Marsh's record of most runs in an IPL season. He became the player of the tournament for his performance during the season. He also won Best Batsman and Best Captain awards at 2010 IPL Awards ceremony. Sachin has scored more than 500 runs in IPL in two different seasons as a captain. Sachin Tendulkar also captained Mumbai Indians in 4 league matches of second edition of the league. Mumbai Indians failed to qualify for semifinals after losing the initial two matches. Although, Tendulkar scored 135 runs in total.
In the 2011 IPL, Tendulkar scored his maiden T20 hundred against Kochi Tuskers Kerela. He scored 100 not out off 66 balls. In 2013, Sachin retired from Indian Premier League. In 2014 he was appointed as the Mumbai Indian's 'Team Icon'. Sachin played his last match in 2013 Indian Premier League final, where he scored 14 runs , in Mumbai Indians triumph. In his 78 matches in the IPL, Tendulkar scored a total of 2,334 runs at the time of his retirement he was the fifth-highest run-scorer in the competition's history. Mumbai Indians retired the number 10 jersey as a tribute to Sachin Tendulkar.
Later on, In 2021 Sachin became the Mentor for Mumbai Indians and guided many young prospects with his supervision and skills.
Sachin Tendulkar Family:
The Indian Cricketer met his soulmate Anjali Tendulkar, at the Mumbai International airport when he was returning from his first international tour. It was love at first sight for Sachin. Later, He was luckily introduced by a common friend to Anjali, who was practising medicine that time. Anjali knew nothing about sports back then.
After dating for five years, the couple tied the knot and got married in 1995. Sachin and Anjali Tendulkar are blessed with a daughter, Sara Tendulkar and a son, Arjun Tendulkar.
His son Arjun Tendulkar is walking on his Father's footsteps and is turning out to be an extremely talented cricketer, he's currently playing for the IPL Franchise, Mumbai Indians and is yet to make debut for The India Cricket Team. Arjun Tendulkar has played for India U-19 Team.
Sachin's daughter Sara Tendulkar is an aspiring model she started her modelling career in 20121, after Sachin Tendullkar biography released. She featured in an ad for Ajio. She is also an Medical Student she completed her degree from University College London.
Sachin Tendulkar Net Worth: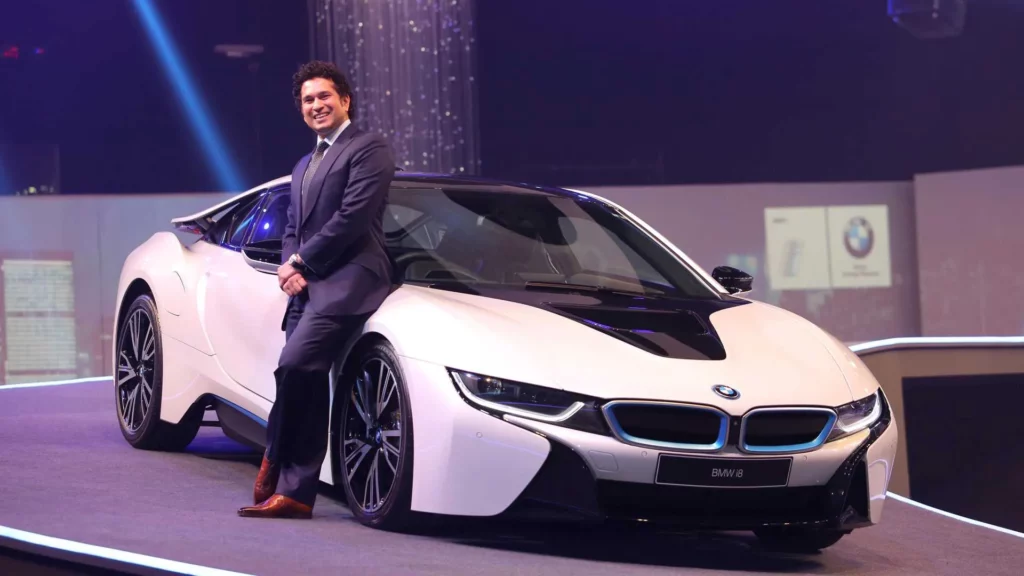 Sachin Tendulkar has earned quite a fortune due to his illustrious cricketing career and multiple endorsements, his net worth is around $168 Millions and his annual income is estimated to be around $ 11 Million. In 2013, he was listed in the 51 on the Forbes list as "The World's Highest-Paid Athletes." Tendulkar made $9 million in the year 2016 only through brand deals and investments.
Sachin Tendulkar has endorsed many brands such as Coca-Cola, BMW, and Adidas. He is also a co-owner of Bengaluru Blasters in Premier Badminton League and Kerala Blasters in ISL. Tendulkar also owns more than ten luxury cars estimated around 15 crore and properties worth more than 520 crores. Tendulkar is also a partner at two restaurant chains, Tendulkar's and Sachin's.
In April 2012, Sachin Tendulkar became a Rajya Sabha member after being nominated by the President. He donated the salary and allowances he earned as a Rajya Sabha MP in six years to the Prime Minister's Relief Fund.
Post playing career:
After retirement 2015 he was appointed by BCCI into the Cricket Advisory Committee (CAC). He was one of three in the committee along VVS Laxman and Sourav Ganguly. He resigned from this job after allegations of conflict of interest on CAC was formed by BCCI to appoint a head coach for Indian cricket team. On 23 June 2016, CAC appointed Anil Kumble as national team's head coach.
In 2019, Sachin Tendulkar became a Cricket commentator during the 2019 ICC Cricket World Cup.
Sachin Tendulkar Records:
The long list of Sachin Tendulkar's record which he holds is never-ending. Right from his debut as the youngest player at the age of 16, Tendulkar continued breaking records and setting new ones.
ODI Records – Centuries:
Sachin Tendulkar holds the highest number of centuries 49 and fifties 96.
The former Indian cricketer holds the Most centuries in a calendar year 9 in 1998. He is also the first cricketer to score a double century. Sachin Tendulkar also holds the record for scoring the most number of 150+ runs.
Sachin Tendulkar also won the most number of Man of the Match awards 62 and has won the Most Man of the Series awards 15.
Test Records:
Sachin Tendulkar is the Leading test run scorer 11,953. He also holds the record for the most number of centuries 51.
Sachin is the Joint-fastest cricketer to reach 10,000 runs in Test cricket with Brian Lara
He also holds the record for scoring 1000+ Test runs in a calendar years (6 times – 1997, 1999, 2001, 2002, 2008, 2010)
Sachin Tendulkar is the only player in the world to have scored 5 Test centuries before turning 20
Awards and Honours: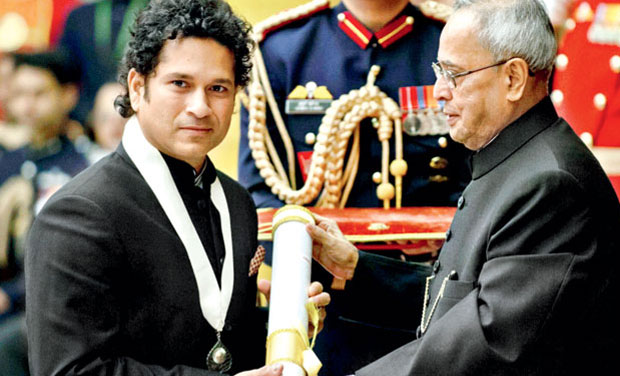 Arjuna Award – 1994.
Rajiv Gandhi Khel Ratna Award – 1997.
Padma Shri – 1999.
Maharashtra Bhushan Award – 2001.
Padma Vibhushan – 2008.
Cricketer of the Year – 2010
Bharat Ratna – 2013.
"Most Influential People in the World" – Time 100 List.
Aged just 15 years and 232 days, Tendulkar made his debut for Bombay against Gujarat at home and scored 100 not out in that match, making him the youngest Indian to score a century on debut in first-class cricket.
He followed this by scoring a century in his first Deodhar and Duleep Trophies, confirming his status as the next big thing in Indian cricket.
Sachin Tendulkar Biography describes his entire Domestic cricket journey.
after achieving the feat the master Blaster quoted:"It's been a tough phase for me … I was not thinking about the milestone, the media started all this, wherever I went, the restaurant, room service, everyone was talking about the 100th hundred. Nobody talked about my 99 hundreds. It became mentally tough for me because nobody talked about my 99 hundreds."
Sachin Tendulkar-Records and Achievements:
National honors:
1994 – Arjuna Award, by the Government of India in recognition of his outstanding achievement in sports.
1997–98 – Rajiv Gandhi Khel Ratna, India's highest honor given for achievement in sports.
1999 – Padma Shri, India's fourth-highest civilian award.
2001 – Maharashtra Bhushan Award, Maharashtra State's highest Civilian Award.
2008 – Padma Vibhushan, India's second-highest civilian award.
2014 – Bharat Ratna, India's highest civilian award.
Other Honors:
1997 – Wisden Cricketer of the Year.
1998, 2010 – Wisden Leading Cricketer in the World.
2002 – In commemorating Tendulkar's feat of equalling Don Bradman's 29 centuries in Test Cricket, automotive company Ferrari invited him to its paddock in Silverstone on the eve of the British Grand Prix on 23 July, to receive a Ferrari 360 Modena from the F1 world champion Michael Schumacher.
2003 – Player of the tournament in 2003 Cricket World Cup.
2004, 2007, 2010 – ICC World ODI XI.
2006-07, 2009-10 – Polly Umrigar Award for international cricketer of the year.
2009, 2010, 2011 – ICC World Test XI.
2010 – Outstanding Achievement in Sport and the Peoples Choice Award at The Asian Awards in London.
2010 – Sir Garfield Sobers Trophy for cricketer of the year.
2010 – LG People's Choice Award.
2010 – Made an Honorary group captain by the Indian Air Force.
2011 – Castrol Indian Cricketer of the Year award.
2012 – Wisden India Outstanding Achievement award.
2012 – Honorary Member of the Order of Australia, given by the Australian government.
2013 – Indian Postal Service released a stamp of Tendulkar and he became the second Indian after Mother Teresa to have such stamp released in their lifetime.
2014 – ESPNCricinfo Cricketer of the Generation.
2017 – The Asian Awards Fellowship Award at the 7th Asian Awards.
2019 – Inducted into the ICC Cricket Hall of Fame.
2020 – Laureus World Sports Award for Best Sporting Moment (2000–2020).
Get more cricket-related news on sportslibro.com