The T20 version of cricket has been dubbed one of the most thrilling in recent memory. The fast-paced style of the show appeals to viewers of all ages, and it keeps them coming back for more.
Some of the top T20 batters have adapted to this format like fish to water, which has aided T20 cricket's growing popularity.
Read more Most Powerful Batsman in the world
Read more about Top 10 famous Cricket players
The list of best t20 batsmen of all time is provided below:-
10) Kevin Peterson:
Kevin Pietersen is a former England international cricket player, a cricket commentator, and a conservationist. He is a right-handed batsman and occasional off-spin bowler who represented England in all three forms from 2005 to 2014, including a brief stint as captain.
Kevin was a destructive batsman who used to dominate the shortest format during its early days.
2007 T20 Championship and 2009 World Cup: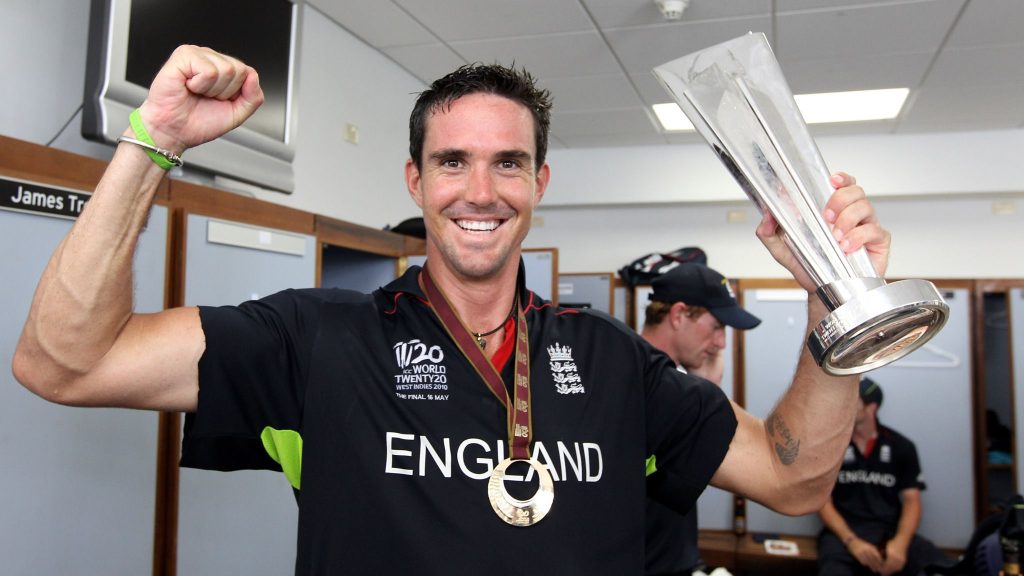 Pietersen made 79 runs off 37 balls in England's first Twenty20 match against Zimbabwe on September 13, his greatest Twenty20 performance, with seven fours and four sixes in an English total of 188–9. England won the match by 50 runs, although Pietersen's contribution was the most in the competition.
Over the course of four additional matches, he scored another 99 runs, giving him a series average of 35.60. He also has the most England fours (17) and the joint-highest number of England sixes (6). He also had England's best strike rate of any batter.
In the 48-run triumph against Pakistan, he top-scored with 58 off 38 balls and smashed three sixes (one of which was measured at over 100m).
He also top-scored in the three-run victory over India later in the competition. Pietersen finished the tournament as England's highest runscorer with 154 at an average of 38.50, despite missing the first match.
Cricinfo selected him to their 'Team of the Tournament' for the 2009 T20I World Cup.
KP played 37 T20 cricket matches and scored 1176 runs with an average of 37.9 and strike rate of 141.5
9) Glenn Maxwell:
Glenn Maxwell is an Australian professional cricketer who has represented Australia in the ODI and Twenty20 versions of the game, as well as in Test cricket.
Maxwell is a right-handed batsman who bowls off the break.
In Australian domestic cricket, he plays for Victoria and the Melbourne Stars.
Debut and Growth at the International Stage:
In 2010, he began his professional cricket career by playing for Victoria in the Twenty20 Big Bash. In the 2015 World Cup, he hit 102 off 52 balls against Sri Lanka, the second quickest World Cup century to record.
He is known for his flamboyant shot-making and inventiveness in the short form of the game. In 2016, he also hit an unbeaten 145* off 65 balls against Sri Lanka, the fourth-highest total in Twenty20 Internationals.
The destructiveness of Maxwell can be well understood when someone says that a young guy smashes top-class bowlers of Sri Lanka in their prime.
To date, Maxwell has played 39 T20 matches for Australia and has scored a total of 1982 runs which include 3 centuries and 9 half-centuries.
Surprisingly he has 34 wickets as an all-rounder for the team.
Franchise Cricket: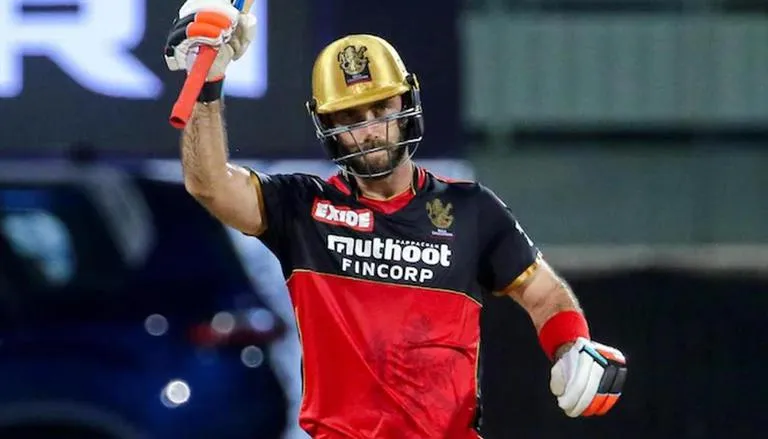 During the BBL11 series, Maxwell struck 154 not out for the Melbourne Stars against the Hobart Hurricanes, breaking the record for the greatest individual score in BBL history and propelling his side to the best team total in BBL history.
In the initial years of the IPL, Maxwell was not able to make a mark with the bat or the ball in the league.
He continuously had to change teams until in 2021, Royal Challengers Bangalore bought him. He finished the season as the team's highest scorer, with 513 runs.
He was retained by them for the 2022 IPL season as well.
8) Andre Russell:
Andre Russell is a Jamaican professional cricketer who plays as an all-rounder for the Jamaica in West Indies domestic cricket.
He has appeared in almost 300 Twenty20 matches for a variety of teams in leagues all around the world. Andre Russell hit a century in a record 40 balls in the 2018 Caribbean Premier League and also grabbed a hat-trick in the same game, becoming only the second player in T20 history to do so.
In the 2019 IPL, Andre Russell ended the season with an impressive strike rate of 205 which is something unreal for a batsman. He was also the third-highest run-scorer in the tournament.
He emerged as the highest wicket-taker and the highest run-scorer for his team.
7) Brendon McCullum: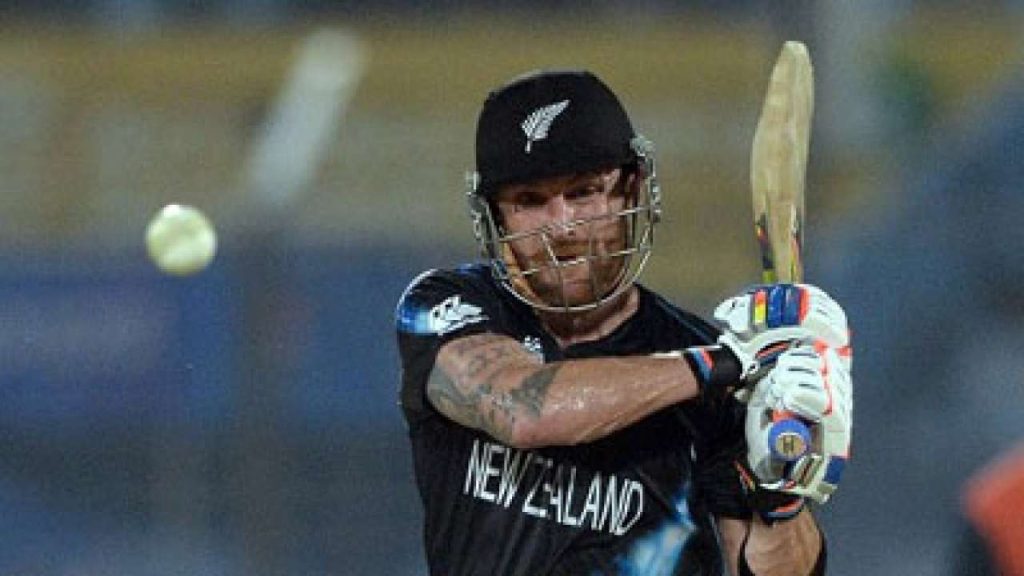 Brendon McCullum is a New Zealand cricket coach, broadcaster, and former player who played all formats and was a captain in all formats.
McCullum was known for his swift scoring, and he holds the record for the fastest test century of all time. He is regarded as one of New Zealand cricket's most successful batters and captains.
In August 2019, he announced his retirement from all forms of cricket.
McCullum is the previous highest run-scorer in Twenty20 International cricket, and he is the first and, so far, only one of two Kiwi players to have scored two T20 International century and 2000 runs in T20 Internationals.
McCullum was the first T20I batsman to score two tonnes. He previously held the record for the highest individual score in a Twenty20 International (123), which he achieved against Bangladesh in 2012.
McCullum played 71 T20 cricket matches for New Zealand and scored a total of 2140 runs which included 2 centuries and 13 half centuries.
He was a member of the Kolkata Knight Riders in the first IPL competition in 2008. On 18 April 2008, in the first-ever IPL match, he scored 158* against RCB, the greatest Twenty20 individual score in an innings.
This broke the previous record of 141 set by Cameron White of Australia. During the match, McCullum faced one over from White and scored 24; it was White's only over in that match. In the same game, he set a record for the most sixes (13) in a Twenty20 inning.
6) David Warner:
David Warner is a former vice-captain of the Australian national cricket team and an international cricketer from Australia.
Warner, a left-handed opening batsman, is the first Australian cricketer in 132 years to be picked for a national squad in any format despite having no first-class experience.
He is regarded as one of the finest batters of his generation. In domestic cricket, he has represented New South Wales and the Sydney Thunder.
David Warner is one of those top-order destructive batsmen who can change the game at any time.
The aggressive David warner used to smash all prime bowlers left and right with no mercy.
David Warner has represented Australia for 88 t20 matches and has scored 2554 runs which include 1 century and 22 half-centuries and it seems like a lot more is on its way.
Warner set a KFC Twenty20 Big Bash record by reaching his half-century in 18 balls against Tasmania.
Warner was elected captain of the Sydney Thunder in the inaugural season of the newly re-vamped Big Bash League, and in his debut match for the Thunder, he hit 102 not out off 51 balls, with a strike rate of 200 runs per 100 balls.
Warner has been one of the best batters in the IPL. He has three Orange Caps and has scored over 5000 runs.
5) Rohit Sharma:
Rohit Gurunath Sharma is an Indian international cricketer who currently serves as the Indian national team's captain.
Rohit Sharma is largely regarded as one of the best batters in limited-overs cricket, as a right-handed opening batsman and occasional right-arm off-break bowler.
In domestic cricket, he represents Mumbai. In the Indian Premier League, Rohit Sharma captained the Mumbai Indians, who have won the championship a record five times under his leadership.
India's all-time greats: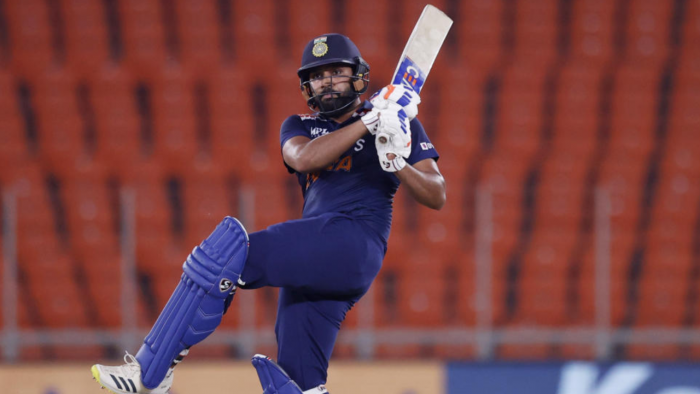 Rohit Sharma debuted in T20 cricket with some of the greats of Indian cricket at the 2007 ICC World Twenty20 and made his mark by scoring an unbeaten 50 from 40 deliveries against hosts South Africa in the quarter-finals.
This enabled India to win the match by 37 runs and they went on to defeat Pakistan in the final when Sharma scored 30 (not out) from 16 deliveries.
Sharma struck 106 in the first Twenty20 international at the HPCA Stadium in Dharamshala on October 2, 2015, during South Africa's tour of India.
With that, he became the second Indian cricketer to score a century in all three international forms.
Indian Premier League: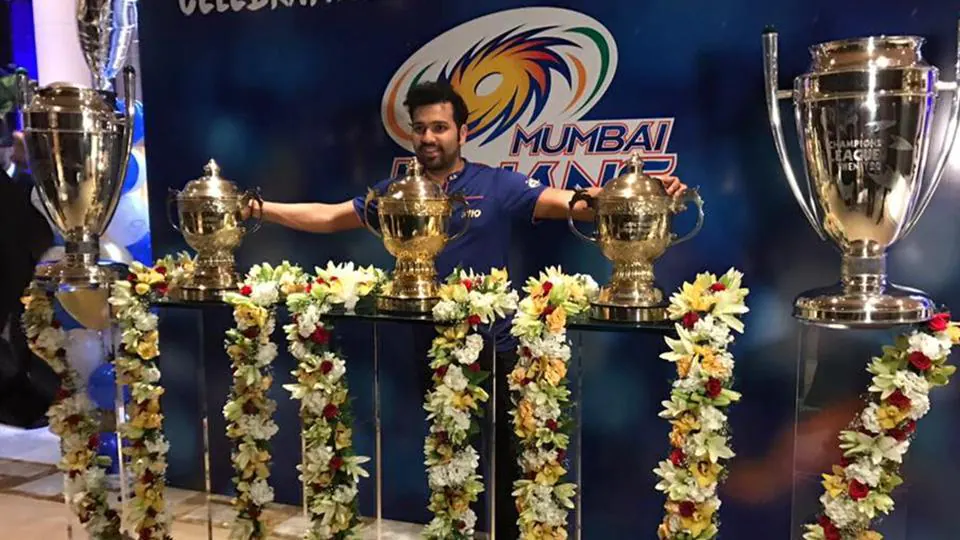 In the 2012 IPL, he struck his only IPL century, 109 (not out), against the Kolkata Knight Riders. Mumbai has won the IPL in 2013, 2015, 2017, 2019, and 2020 under his leadership.
Sharma has been one of the most successful players in the IPL, serving as captain of the Mumbai Indians since 2013, a team that has won the competition five times under his leadership.
He is now one of six players in the competition who have scored 5,000 career runs.
4) Virat Kohli:
Virat Kohli is a former captain of the Indian national cricket team and an international cricketer from India.
As a right-handed batter, he represents Delhi in domestic cricket and Royal Challengers Bangalore in the Indian Premier League.
He is widely regarded as one of the finest batters of his generation, and some consider him to be one of the best limited-overs batsmen in history.
T20 cricket records and Strike rate:
Virat Kohli leads the T20I run-scorers with the most 50-plus scores. He is the first cricketer to have been named T20 World Cup Player of the Tournament twice.
In the T20 World Cup 2014, he scored 319 runs with four fifties and was the tournament's highest run-scorer.
Virat has represented India for 97 t20 cricket matches and has scored a total of 3296 runs and a top score of 94 not out. Virat has saved India by playing crucial knocks probably a lot of times.
He has scored 30 half-centuries and has a strike rate of 137.67. Being the best batsman of the era, Virat is yet to score a century in the shortest format of the game.
IPL: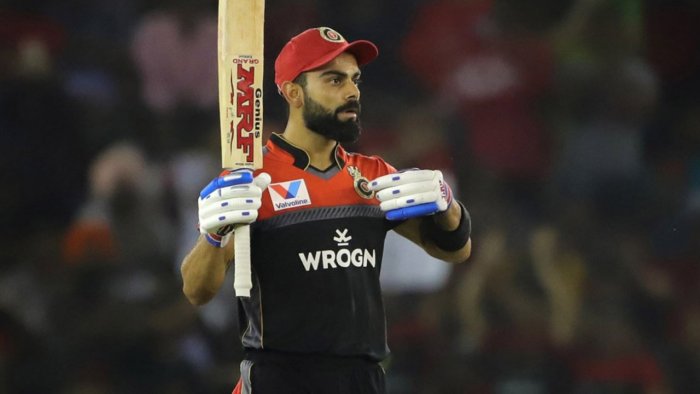 Kohli was signed as a young player by the IPL side Royal Challengers Bangalore for $30,000 on a one-year deal. He captained the IPL side for eight seasons but failed to win a title.
The Royal Challengers Bangalore finished second in the 2016 IPL, and Kohli shattered the record for most runs in an IPL season (of 733 runs) by amassing 973 runs in 16 matches at an average of 81.08, earning the Orange Cap as well as the Most Valuable Player Award of the Vivo IPL 2016.
Virat Kohli achieved four centuries in the competition, having never scored one in the Twenty20 format prior to the commencement of the season, and he also became the first player in IPL history to surpass the 4000-run mark.
On March 28, 2019, Kohli became the second player in IPL history to score 5000 runs, behind Suresh Raina. During the same season, Kohli surpassed Raina to become the IPL's highest run-scorer after scoring 84 runs against KKR.
Kohli became the first player in IPL history to score 6000 runs on April 22, 2021, against the Rajasthan Royals.
3) Kieron Pollard:
Kieron Adrian Pollard is a cricketer from Trinidad and Tobago. He is the captain of the West Indies cricket team in limited-overs cricket and the Trinbago Knight Riders in the Caribbean Premier League.
He is an all-rounder with a right arm medium-fast bowling style.
Following his performance in the 2009 Champions League, he was recruited by the Southern Redbacks and Somerset for their respective domestic Twenty20 seasons.
He was the equal highest-paid player for the Mumbai Indians in the 2010 IPL.
The destructiveness of Pollard in terms of T20 cricket can be understood when someone says that in March 2021, Pollard hit six sixes in an over by Sri Lankan bowlers.
Pollard is one of those players who can provide with both bat and bowl as Pollard has a superb economy rate.
Pollard can fit in any team because of the key criteria he fulfills which is being an all-rounder he is a consistent performer when it comes to facing bowlers in death overs.
Being a bowler as well, he has taken the highest of 4 wickets and is yet to take five-wicket hauls.
In t20 cricket, the team would love to have a batsman like Pollard.
2) Ab de Villiers: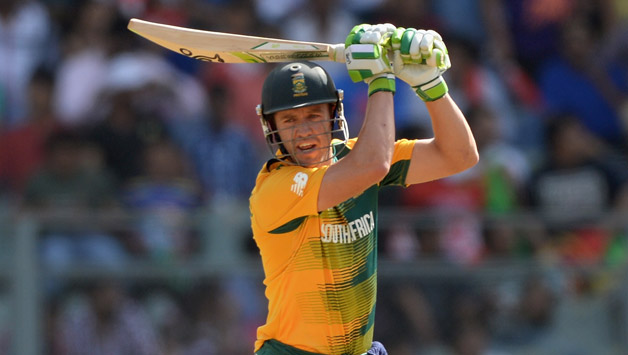 Ab de Villiers represented South Africa Cricket team for more than 15 years and, De Villiers was named the ICC One-Day International Player of the Year three times and was selected one of the five Wisden cricketers of the decade at the end of 2019.
Ab De Villiers is recognized for a variety of unconventional strokes, notably behind the wicket-keeper, and is regarded as one of the most imaginative and destructive batters of the current era, as well as one of the best of all time.
He is known as "Mr. 360" because of his ability to play shots all around the wicket, and "Superman" because of his acrobatic fielding. In T20 cricket, he is regarded as an aggressive batsman who can play a variety of positions.
South Africa T20 cricket can never see another Ab de Villiers who could play all kinds of balls with such ease.
Ab de Villiers used to smash death bowlers for fun. De Villiers saved his team on a majority of occasions. Fans used to have hope until they saw De Villiers standing at the crease.
Three of his four Twenty20 centuries have come in the IPL while playing for RCB and he has played in over 150 matches in the league. Ab De Villiers announced his retirement on 19 November 2021 From the Indian Premier League.
1) Best T20 batsman of all time–Chris gayle:
Chris Gayle is undoubtedly the greatest batsman in t20 cricket.
Chris Gayle is a Jamaican cricketer who represented the Indies from 1999 to 2021. Chris Gayle, a devastating hitter, is widely considered one of the greatest Twenty20 batsmen of all time, and by some the finest ever.
He was a key member of the The Indies teams that won the 2004 ICC Champions Trophy, the 2012 ICC World Twenty20, and the 2016 ICC World Twenty20.
Playing for Royal Challengers Bangalore, Gayle scored a 30-ball century, which became the highest individual T20 score (175 not out).
Chris Gayle holds the record for most centuries in T20 cricket (22), 15 more than his nearest rival Brendon McCullum. 15 out of his 22 T20 centuries have been not out.
He also equaled the record for the fastest 50 in T20 cricket while playing for Melbourne Renegades in the Big Bash League.
The overall strike rate of Chris in terms of t20 cricket is 137.51.
Chris holds the record for the most sixes in T20. These stats about Chris are enough to prove that there is no other players who can match their level of Chris in terms of T20.
Get more cricket-related news on Sportslibro.com