Gautam Gambhir's wife Natasha Jain belongs from a business family and after dating the Cricketing superstar or the present politician Gautam Gambhir couple of years, on 28th October in 2011 Natasha Jain tied her knot with the 2011 world cup winner as she happily agreed to change her name to Natasha Gambhir.
After their marriage now the couple was blessed with two beautiful cherubs Azzeen and Anaiza and happily living her life with them.
Gautam Gambhir Family: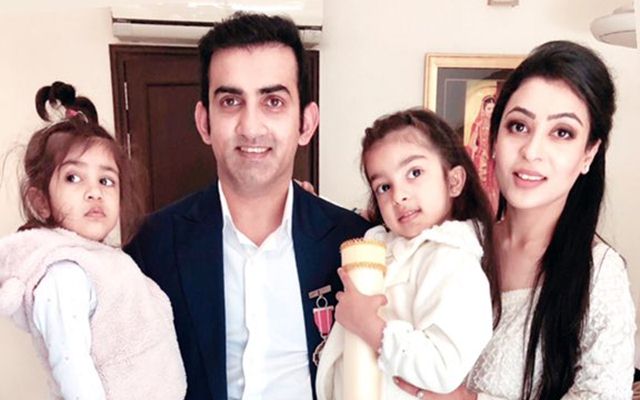 Gautam Gambhir's Family comprise of Gambhir's father named Deepak Gambhir who runs a textiles business and his mother Seema Gambhir is a housewife and Gambhir also has a young sister named Ekta who is two years younger than the left-hand batsman.
In his family in the year 2011, he welcomes a new member Natasha Jain after the couple got hitched after memorable 2011 and Gautam Gambhir and Natasha Jain are blessed with two Daughters name Aazeen Gambhir and Anaiza Gambhir.
Gautam Gambhir with his family stays in Gautam Gambhir house in Rajendra Nagar which is worth INR 15 crore which he used as his main residence in India, though there is another existence of Gautam Gambhir House which is the capital of Indian which he used for his public meetings.
Gautam Gambhir Wife -Natasha Jain Biography:
Gautam Gambhir's wife Natasha Jain was born on 26th July in 1984 in Amritsar, Punjab, which indicates right now Natasha Jain age is 35 years old as in 2020. In her family, there are five members including her, and she belongs from a business class family, her father named Ravindra Jain is a Businessman and her mother Neera Jain is a housewife and also Natasha Jain two more siblings named Ekansh Jain (Brother) and Rushna Jain (Sister).
Natasha Jain is very simple and admired by his loved ones, and her innocent charm spread the happiness where her footsteps follow.
She did her Schooling from G.D Goenka Public School, and after completing her Degree Gautam Gambhir Wife(Natasha Jain) did her BBA Degree from East Delhi.
Natasha Jain is very simple and admired by his loved ones, and her innocent charm spread the happiness where her footsteps follow.
Natasha Jain and Gautam Gambhir Love affair: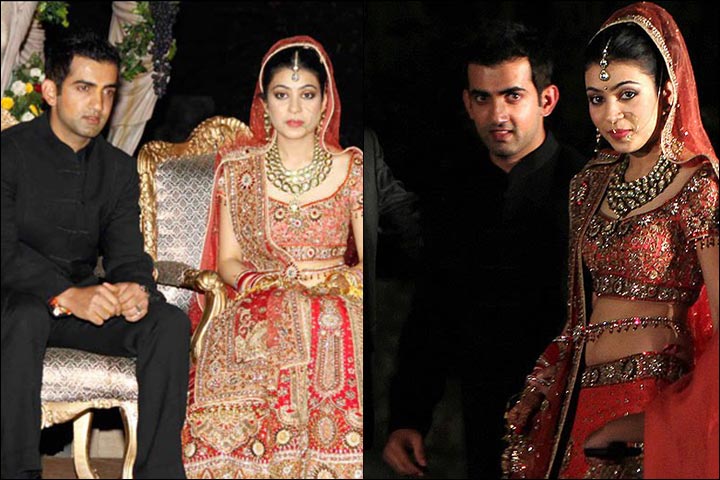 Gautam Gambhir Wife Natasha Gambhir has got all the qualities within herself that can make any man fall head over heels for her. Natasha Gambhir has got such qualities which even forced Gambhir, who was the highest-paid cricketer at once and one of the most successful captains to win the IPL title, to fall in love with her.
In contrast with the Southpaw, she never had that much interest in Cricket and also she was not aware of the immense popularity that Gautam Gambhir as a cricketer which he had in his time, it was not the fact that Gautam Gambhir was that famous for his matches or his game which makes her fall for him rather for his easy going and grounder character makes her fall for the former Indian opener.
Both of theirs fathers had their own business administration and because of the business administration both the fathers possessed, Gautam Gambhir and his wife first met, in the initial level both of them becomes friends, and after a couple of years of friendship it was turned into a love for both the person and Natasha also acts as a Ladyluck for the Indian Southpaw,she has been a constant Support for the Former Indian opener.
Telling about their love stories Natasha Jain quoted: "We'd known each other, been friends for 2-3 years, and then we decided to get married. Our families had also known each other for the last 30 years — our fathers knew each other — and then we became friends. We both decided (to get married) first, and then took our parents' consent. We'd been engaged for about a year before marriage."

And also Natasha Expressed her felling about Gautam Gambhir why she was fell for the Southpaw, she explained: "When I met him, I realized he was a star — when we used to go out for dinners, I realized he was really popular and stuff, but when we were thinking marriage, then the whole celebrity status… I did think about how life is going to be with a celebrity. When you're friends and you're talking, you don't really think of such things, but when you're talking about marriage then it's a little different, you think about things from a different angle.
The Indian batsman Gautam Gambhir was also clear about his life partner who will be a clam and simple person who can keep him calm, and when he sees that quality into Natasha Jain, he held her hand without any hesitation for the rest of his life.
Gautam Gambhir elucidates: "The most important thing was to find a girl who has a good head on her shoulders, because — as I've always mentioned — when you get married to someone who's a public figure, it's very important to be down to earth. Because it's easy to get carried away; you'll have a lot of comforts, but it's important to have a good head on your shoulders to keep you grounded. And I think I've got the right person."
And also the best quality Gautam Gambhir found in Natasha Jain was she never discussed any single thing with him, no matter how good or bad the match was for the Indian opener.
Gambhir stated: "The best part about her is that she doesn't discuss cricket with me. I play too much cricket, so I don't want to come back to the room and again discuss cricket."
Gautam Gambhir and Natasha Jain Marriage:
After their four years of friendship and relationship, the couple confessed about their intentions to their respective parents and both of the parents gave their nod to the couple and were also happy with their union and so are Gautam Gambhir and Natasha Jain, but the Indian hero only had one condition for this marriage that he would hitch after the 2011 ICC Cricket World cup.
Gambhir Expressed: "My only decision was to get married after the 2011 World Cup. Obviously, we'd known each other before that, but I wanted to play the 2011 World Cup because that was my first 50-over World Cup and I wanted to do really well. Luckily, we won, and I was the highest run-getter. We'd already decided to get married, but my only condition was after the World Cup."
Finally, after claiming the title on home soil after 28 years, Gautam Gambhir's marriage took place on 29th October 2011.
Gautam Gambhir and Natasha Jain had a traditional Punjabi wedding ceremony in Amritsar with Mahendi and Sangeet Ceremony and only 100 people were invited in the ceremony as both of them wanted a small and fun weeding, only their close friends and family members were there in the ceremony and it was held in the Gurgaon Farmhouse.
Recollecting about his guest list Gautam Gambhir elucidates:
"Actually, we tried to make it as less as possible (the guest list) — I think Natasha's family was very considerate in that sense as well because I told them it has to be as less as possible. We couldn't have cut more than that, it couldn't have been shorter, but we tried to invite very few and very close people, and we managed to do that."
The couple got blessed with their first child in the early month of 2014, and Gautam Gambhir's Twitter account was flooded with congratulatory messages, it was the time when he was with his iPL team Kolkata Knight Riders side, the couple named their first child Aazeen Gambhir.
On June 21st, 2017, Gautam Gambhir and Natasha Jain Gambhir had their second child named Anaiza Gambhir, Gambir posted a Twitter post with his first daughter to the new ones calling the baby "Little Angle".
Natasha Jain Gambhir Social Media handles:
Natasha Jain Facebook: https://www.facebook.com/natashajaingambhir/
Natasha Jain Twitter: https://twitter.com/natashagambhir2?lang=en
Natasha Jain Instagram: https://www.instagram.com/natashagauti/?hl=en