Cricket may not be a global sport, but it is the world's second most popular sport. Cricket is considered a religion in the few nations where it is practiced.
And the participants are worshipped as gods. In terms of International cricket, people tend to be in love with test and ODI cricket, and in terms of domestic league, people love the Indian Premier League.
The players who have the capacity in International cricket to perform in test cricket and ODI cricket, seem to be loved by the fans. The top famous cricketers in the world are:-
10) David Warner: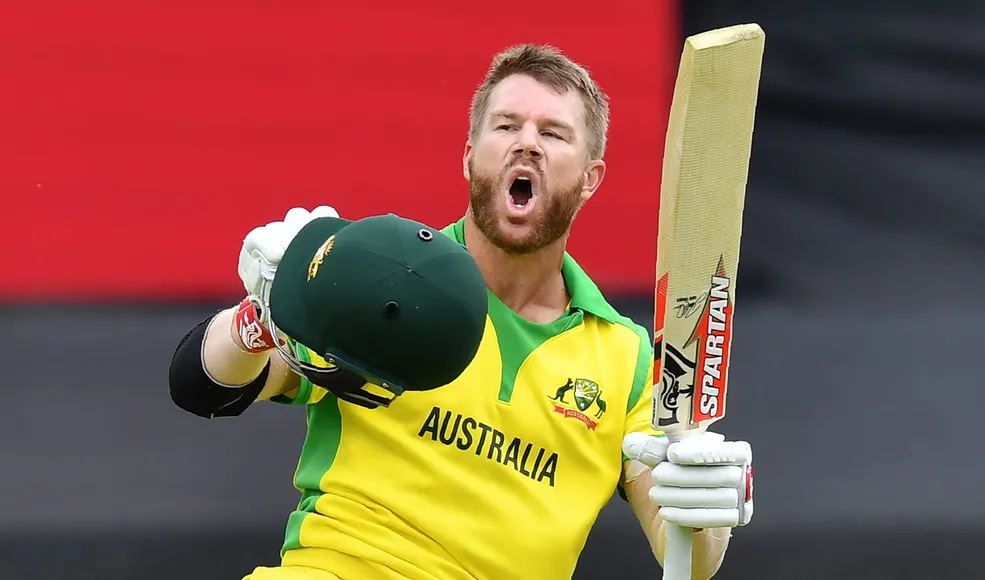 The left-handed explosive batter is the Australian international cricketer, and former captain of the Australian national team. has the power to turn the game on its head and drastically alter the game's complexion. He is an outstanding ODI and Test cricketer.
He rose to prominence in the cricketing world as a result of some outstanding performances for Australia, but mostly as a result of the IPL. Captaining the Sunrisers Hyderabad team has brought him closer to both Indian and international cricket fans.
Unique Batting Style:
He is a cross between Gayle and Rohit Sharma in that he can knock sixes with both power and timing. He is one of Australia's top ten best run-scorers in Test cricket.
At the 2020 T-20 cricket world cup, the explosive left-handed batsman David Warner played a major role to help Australia bag the trophy home. The explosive batsman is all set to join the Delhi Daredevils IPL team for the 2022 edition of Tata IPL. Currently, David has a net worth of $10 million.
Social Media reach :
Instagram-2.4m followers, Twitter- 2m followers
9) Virender Sehwag: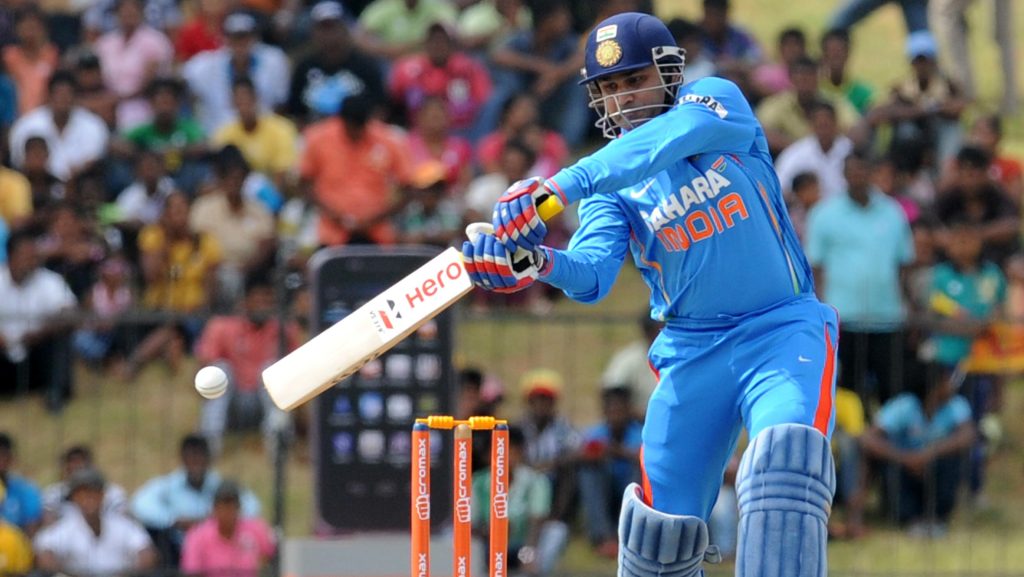 He was born on October 20, 1978, and was the most daring player to ever play this wonderful game of cricket. He was one of those players who was never worried when batting and liked to sing songs while the bowler ran into a bowl. With his tweets and commentary, he has established himself as a distinctive character on the field as well as a hilarious personality off the field, earning him a spot on the list of the Most Famous Players. People used to joke that he didn't know what kind of cricket he was playing since he just had one way of hitting the ball for a boundary.
The face of Aggression:
Experts predicted that his aggressive and reckless batting would prevent him from becoming a great Test player, but he proved them wrong by scoring two triple hundreds and more than five double hundreds in his 104-match Test career.
The finest thing about Sehwag was his calm demeanor. When it came time to bat, he always knew what he had to do. "The job of the ball is to be hit for a boundary, and batsmen are the ones who have to accomplish it," he once stated. This comment demonstrated his class, as well as his style and approach to cricket.
Social Media Reach :
Instagram-5.2m followers, Twitter- 20.4m followers
8) Imran khan: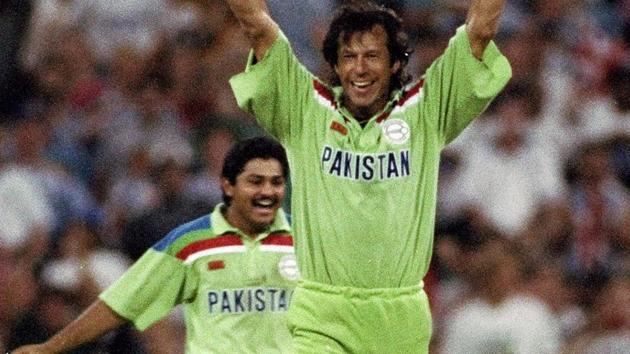 Imran Khan is a Pakistani politician and former cricketer who was the country's 22nd Prime Minister from 2018 to 2022. He was the first Pakistani prime minister to be deposed by a no-confidence vote.
Early Career:
Khan graduated from Oxford's Keble College in 1975. He made his international debut at the age of 18 in a 1971 Test series against England. Khan played till 1992, was the team's captain sporadically between 1982 and 1992, and achieved Pakistan's first and only Cricket World Cup title in 1992. Khan was admitted into the ICC Cricket Hall of Fame after scoring 3,807 runs and taking 362 wickets in Test cricket. He is regarded as one of cricket's best all-rounders.
Social media Reach:
759k Instagram followers
14 million Twitter followers
7) AB De Villiers: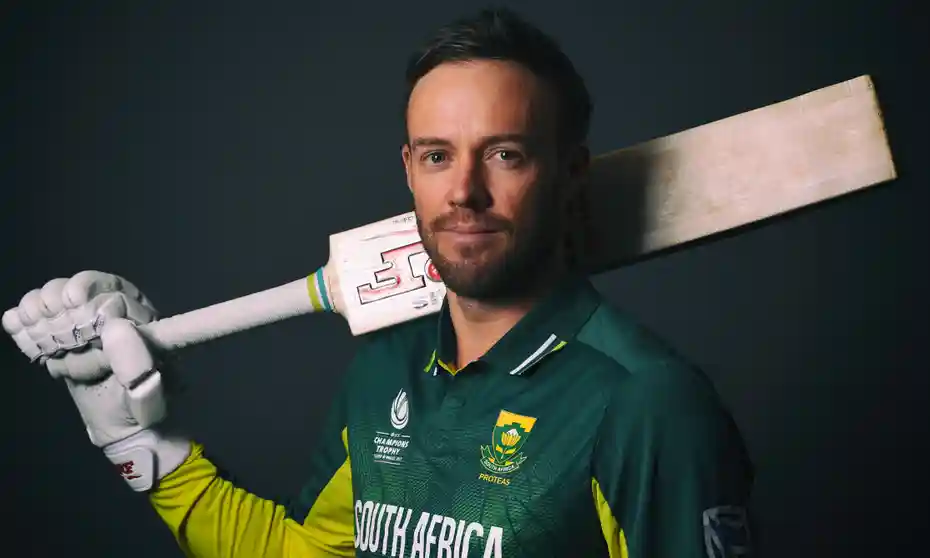 Abraham Benjamin de Villiers is a former professional cricketer from South Africa. He owns the record for the quickest 50, 100, and 150 in ODI cricket, and he is the first batter in history to average more than 50 with a strike rate of more than 100. (batsmen with a minimum of 5000 runs).
Mr. 360:
He is largely recognized as one of the all-time great batters and is usually called " Mr. 360 ".
He is recognized for changing the game by frequently employing offensive unorthodox strokes, notably against the yorker. During his 15-year international career, De Villiers was named the ICC ODI Player of the Year three times and was selected as one of the five Wisden cricketers of the decade at the end of 2019.
Ab De Villiers has left a mark in every ODI match and test match he played for South Africa. Today he is one of the most popular cricketers and a remarkable athlete.
People used to think that he can only perform in test matches but he showed them his aggressive side whenever he played for his ipl team Royal Challenger Bangalore.
Social Media Reach:
Instagram 16,635,927 Followers
6) Shoaib Akhtar:
Shoaib Akhtar is a former Pakistani cricketer and pundit. He was known as the "Rawalpindi Express" because he was the first bowler to be recorded bowling at 100 miles per hour, which he accomplished twice in his career.
Popularity Due to controversies
Akhtar made his Test debut as an opening fast bowler in November 1997 and his first One Day International three months later. Throughout his career, he has been embroiled in a number of scandals, frequently accused of unsportsmanlike behavior in the game.
Akhtar was sent home after a Test match series in Australia in 2005 for a suspected bad attitude, and he earned a suspension a year later after he tested positive for the performance-enhancing drug nandrolone.
However, the restriction placed on him was removed after he filed an appeal.
In 2008, Akhtar was banned for five years for publicly criticizing the Pakistan Cricket Board, although, in October 2008, the Lahore High Court suspended the ban, and Akhtar was selected in the 15-man squad for the Twenty20 Quadrangular Tournament in Canada.
Social Media Reach:
Instagram: 1 million
Twitter: 4.9 million
YouTube: 3.14 million
5) Virat Kohli: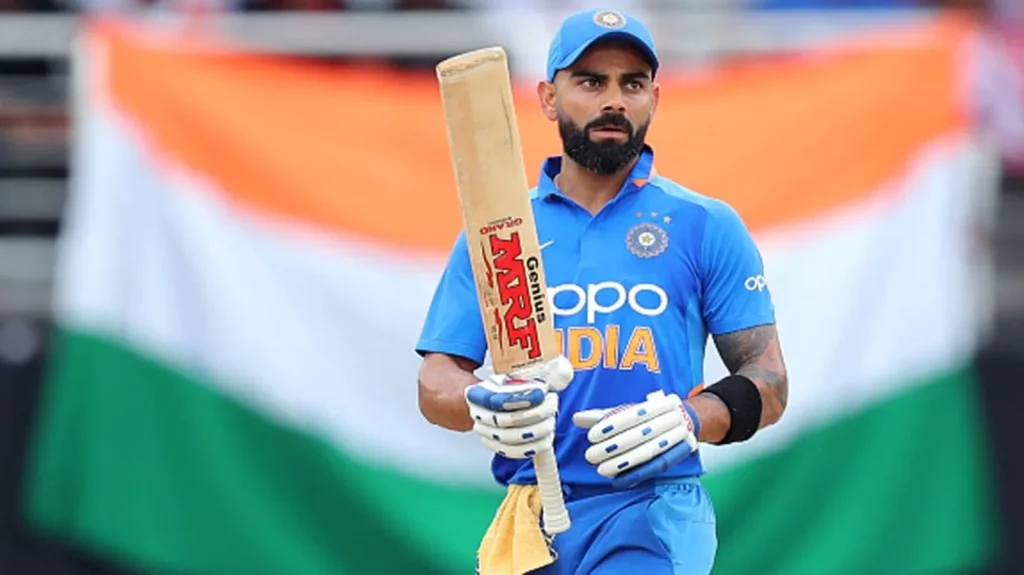 Virat Kohli is an Indian international cricketer who serves as the captain of the country's Test squad. As a right-handed batter, he represents Delhi in domestic cricket and Royal Challengers Bangalore in the IPL. Kohli is widely recognized as one of the greatest cricket players of all time and is frequently regarded as one of the top cricket players in the world.
In 2011, Kohli made his Test debut as an Indian cricketer. In 2013, he was ranked top in the ICC ODI batters rankings for the first time. At the ICC World Twenty20, he was named Man of the Tournament twice (in 2014 and 2016). He also owns the global record for being the fastest to complete 23,000 international runs in the shortest amount of time.
Gaining Popularity:
Virat Kohli managed to gain utmost popularity in the cricketing world after 2013 which kept on increasing and is still increasing. At present, he is the most followed cricketer on all kinds of social media platforms. He is one of those few cricketers to make it to the list of most-followed people on social media as well and probably the only Indian player to have achieved this milestone.
Social Media reach:
Instagram 186 million, Twitter 15 million
4) Chris Gayle: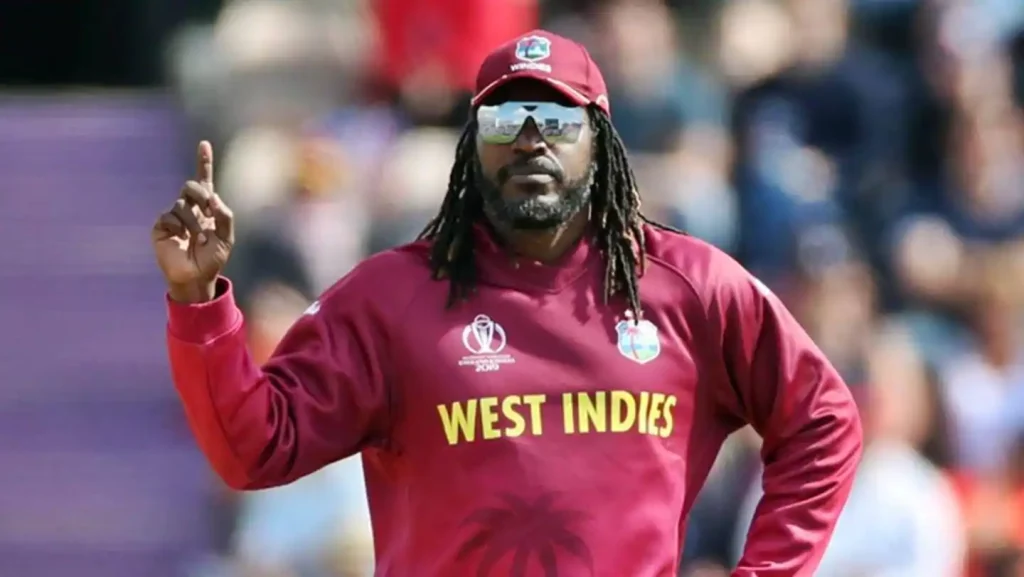 Chris Gayle is a professional cricket player who represents the West Indies cricket team in international cricket as an opening batsman.
Universe Boss:
Gayle, a devastating hitter, is widely considered one of the greatest Twenty20 batsmen of all time, and by some the finest ever. Gayle was a key member of the West Indies teams that won the 2004 ICC Champions Trophy, the 2012 ICC World Twenty20, and the 2016 ICC World Twenty20.
World Records:
Chris Gayle has established multiple world records in all three versions of the game. He has the most international caps for the Windies and is the only player to have three centuries — a triple hundred in a Test match, a double hundred in One Day International cricket, and a hundred in T20Is. Gayle is the only player in T20 cricket history to have scored over 14000 runs and smashed over 1000 sixes.
Gayle is also the highest run-scorer for the West Indies in both ODIs and T20Is and is the only player to have scored more than 10,000 runs for the West Indies in ODI cricket, along with Lara. Gayle has over 200 international wickets with his right-arm wrist spinning off-spinner bowling in addition to his batting. This gave him the title of " Universe Boss ".
Social Media reach:
Twitter 4.8 million, Instagram 4.1 million
3) Sir Donald Bradman: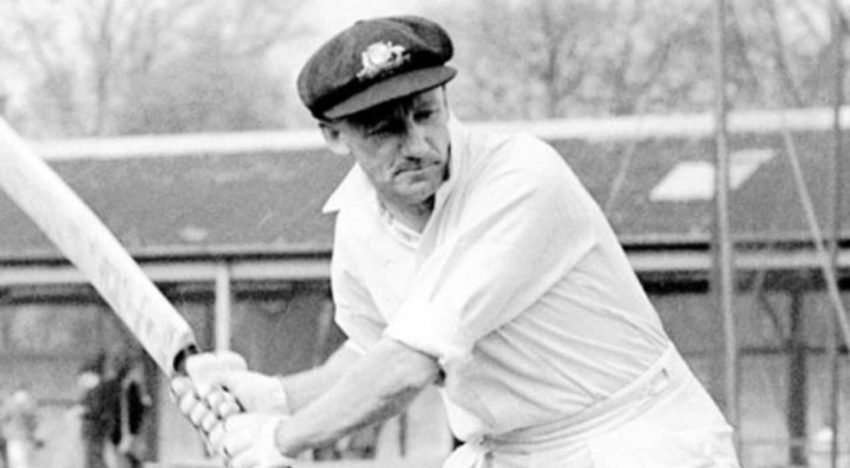 Sir Donald George Bradman, nicknamed "The Don," was an Australian cricketer widely considered as the greatest batsman of all time. Bradman's lifetime Test batting average of 99.94 is often considered to be the greatest achievement by any athlete in any major sport. According to mythology, the young Sir Don Bradman practiced alone with a cricket stump and a golf ball.
Setting Records:
In slightly over two years, Bradman ascended from bush cricket to the Australian Test squad. Before his 22nd birthday, he had set multiple records for greatest scoring, some of which still stand, and he had become Australia's sporting idol at the height of the Great Depression.
Sir Don Bradman loathed the constant praise, and it affected the way he behaved with others. The media's attention on his individual accomplishments harmed his relationships with some teammates, authorities, and journalists, who saw him as aloof and suspicious.
WWII:
After a forced hiatus during WWII, he made a dramatic comeback, captaining an Australian team known as "The Invincibles" on a record-breaking unbeaten tour of England. " The Don " had to give up the sport due to health issues but he managed to write his name in the history of the game with gold. To date, people cannot forget his greatness of him and this is what gives him one of the top spots among terms of most famous cricketers.
2) Mahendra Singh Dhoni: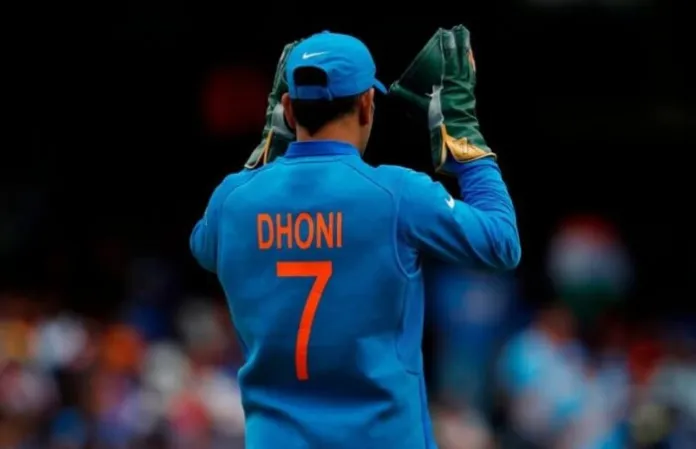 MS Dhoni is without a doubt the best wicketkeeper-batsman in cricket history. He has made his mark in all kinds of cricket, including One Day International Cricket, test matches, and T20s. Dhoni is ranked first among all wicketkeepers around the globe.
Big Brain:
His fast hands and out-of-the-box thinking have altered the way modern cricket operates. Under MS Dhoni's captaincy, a lot of excellent cricketers like Yuvraj Singh and Virat Kohli have risen and proven their value at the international level.
MS Dhoni is a former Indian player and is a present player of the Chennai Super Kings. Under the captaincy of Dhoni, India won the cricket world cup after a long wait of 28 years. He also helped the Indian team leave a mark in terms of the Asian test championship match.
India won the inaugural T20 world cup in 2007 and the Champions trophy in 2013 as well. Dhoni also holds the top 3 spots alone in terms of quickest stump outs by a wicketkeeper.

Social Media Reach :
Instagram 27.8 million
1) Sachin Tendulkar:
Sachin Tendulkar is a former cricketer for the Indian cricket team. He is widely regarded as one of the greatest batsmen in International cricket history.
God of the Game:
He is the all-time leading international run-scorer, the only player to score 100 international centuries, the first batsman to score a double century in a One Day International, the all-time leading run-scorer in both Test and ODI cricket, and the only player to reach 30,000 runs in international cricket.
In 2013, Sachin Tendulkar was the only Indian cricketer named to an all-time Test World XI to honor the 150th anniversary of Wisden Cricketers' Almanack. His aliases include "Little Master" and "Master Blaster." Sachin Tendulkar played with a batting average of 53.78 in terms test cricket and 44.83 in terms of ODI.
Honors:
Sachin Tendulkar earned the Arjuna Award in 1994 for great sports accomplishments, the Khel Ratna award in 1997, India's highest sporting honor, and the Padma Shri and Padma Vibhushan awards in 1999 and 2008, respectively, India's fourth- and second-highest civilian honors.
On November 16, 2013, a few hours after his final match, the Prime Minister's Office announced the decision to give him the Bharat Ratna, India's highest civilian honor.
The excellence of Sachin gave him the title of God in terms of the game and made him the most famous player in international cricket.
Social Media reach:
Instagram 33.4 million, Twitter 36.2 million
Get more cricket related News on Sportslibro.com