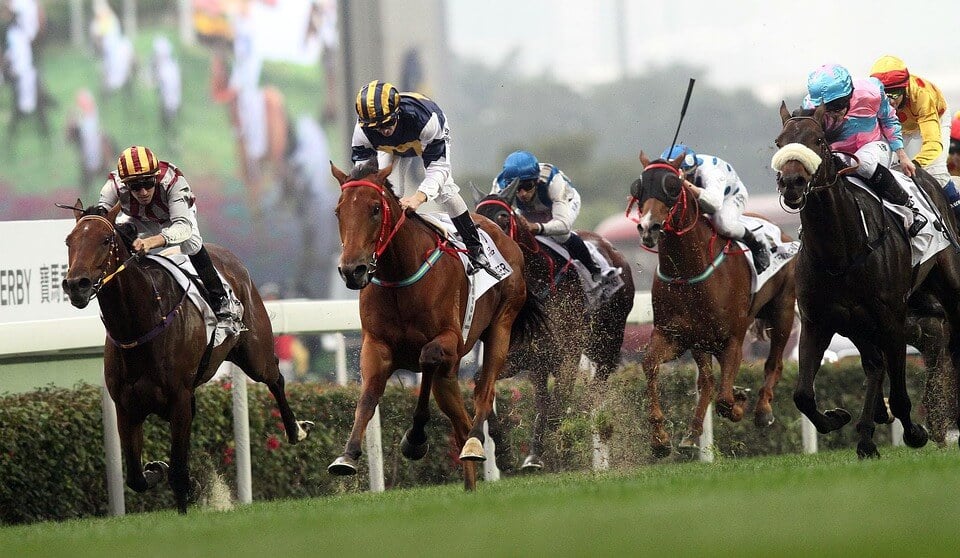 They call it the greatest steeplechase in the world, and it's certainly the most challenging both for horse and jockey.
To win, both have to successfully navigate the four mile, two and a half furlong course jumping over no less than 30 fences and race at their very best for a sinew-straining nine to eleven minutes.
And while winning the Gold Cup at the Cheltenham Festival may be the most prestigious prize in jump-racing, it's the National that really hits the headlines, not to mention attracts the greatest amount of betting of any horse race in the UK. Nearly all online sportsbooks offer horse racing betting for many major events allowing users to instantly back their favoured horse online.
With so much public attention, it's the race where legends are made, whether it's Bob Champion winning on board Aldaniti or Red Rum pulling off the unprecedented feat of three wins in different years.
For the jump jockeys on board the horses, it has been a long and tough road to reach this, probably the most challenging test that they'll face in the saddle.
The first steps
The very first question any jockey must ask themselves is whether they are going to have the right physique and level of fitness to be a success. Although the physical requirements aren't quite as extreme as those wanting to race on the flat, they are demanding. Generally speaking, a jump jockey's adult height and weight shouldn't exceed 5'6" and 9 stone respectively.
Given that preparation for becoming a jockey usually starts at the age of around 16 this can be a difficult call to make. After all, a late teenage growth spurt could easily put an end to any racing ambitions.
Back to school
While they're still waiting to see if they will eventually measure to these requirements when they've stopped growing, the young would-be jockey has to go to one of the various racing schools around the UK including the British Racing School in Newmarket. Here they will take a Foundation Course called Level 1 Diploma in Racehorse Care.
Over the 12 to 18 week course the young person learns all aspects of caring for racehorses under training as well as getting plenty of experience in riding too. The most important qualification for the course is having genuine passion for horses and horseracing and applicants also need to pass a fitness test to show that they have what it takes to put up with the rigours of working in a yard.
The apprenticeship begins
At the end of the course, the racing school will usually fix each student up with an apprenticeship in a trainer's yard. Here they will be paid around the National Minimum Wage of around £200 a week. Duties will include everything from mucking out stables to preparing horses for travel as well as exercising as part of their training regime.
The trainer will keep a particularly close eye on the last of these duties to help assess whether they see a jockey in the making. If they do, then they will put them on a Jockey Licence Course. If they pass this then they will be granted a Conditional Jockey Licence.
Early days of racing
A Conditional Licence will mean the jockey will be allowed to take part in races in which the horses are being ridden by professionals. To compensate for their relative inexperience conditional jockeys are given a weight allowance in these races.
Often these will be at the less glamorous courses up and down the country – so travelling to somewhere like Cartmel for a race on a cold and rainy November Tuesday afternoon is a real test of commitment.
Moving on up
Having served their time, and had some success as a conditional jockey, riders can then move on to be a jockey proper.
Although some become linked with particular trainers and stables they work as freelancers and are are paid a fixed racing fee for each race of £214.63. They also receive a share in any winnings for a horse they are riding. For a first place this is currently 11.03% of the total winnings and 3.44% for a place. As a jockey's profile rises, they can also look for sponsorship opportunities to increase their income.
Gradually, a successful jockey will get to ride in bigger and better races on faster horses, with the ultimate aim of being to pick and choose which horses they are going to ride.
Making it to Aintree
One of the biggest hurdles of all that they have to overcome is to be chosen as one of the 40 jockeys who will get to ride in the National. It pays to have a good relationship with a trainer and it might also help if the owner of the horse is your father, as Sam Waley-Cohen discovered when he romped home on Nobel Yates last year.
As to who will win this year, we'll just have to wait and see. But we can be sure that it will be one of the greatest achievements in this particular jockey's career.