There are people who were good as a player but turned out to be a bad managers, there are people who were bad as players but successful as a manager, and then comes the legend Zinedine Zidane who was one of the greatest midfielders the world has seen and also presents the most successful manager of the Laliga side Real Madrid.
After retiring as a player, the European Soccer Player decided to go for coaching and started his managerial career with Real Madrid Castilla. He has achieved almost everything both as a manager and a player. He became the only manager in history to win three consecutive UEFA Champions League in just two and a half seasons.
Zinedine Zidane biography is all about his success story, family, and all his dedication and hard work through the years.
FAMILY: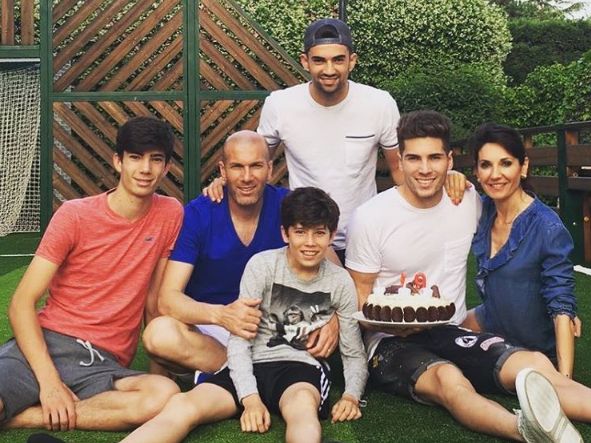 Zinedine Yazid Zidane was born on 23 June 1972 in La Castellane, Marseille, in Southern France. He is the youngest of five siblings. Zidane is a Muslim of Algerian Kabyle descent. His father Smail worked as a warehouseman and nightwatchman at a department store, often on the night shift, while his mother Malika was a housewife.
The family had emigrated to Paris in 1953 before the start of the Algerian War. Zidane's neighborhood was full of high crime rates and an unemployment rate. Zidane always credits his father for his strict upbringing.
Love Life: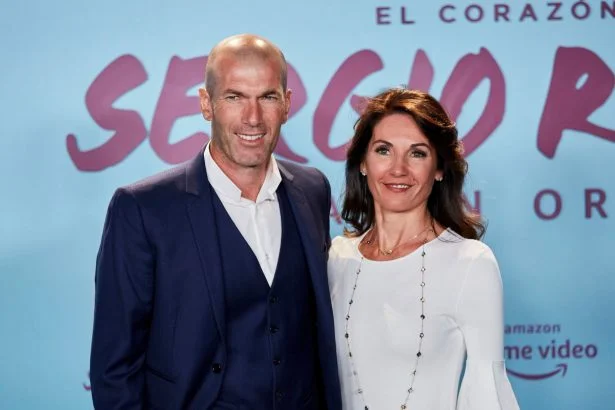 When aged 17, Zinedine Zidane met his future wife Veronique Fernandez while playing for Cannes. They were married in 1994 and have 4 sons, Enzo who plays for CD Alves, Luca who is a Racing Santander Goalkeeper, Theo a midfielder in Juvenil A and Elyaz a defender in Cadete B in the Real Madrid Academy. Zidane has a complete family. His elder brother Farid's death on 12th july 2019 had left Zidane terrified.
CAREER:
EARLY CAREER:
Zinedine Zidane had his first introduction to football at the age of five when he saw children in his neighborhood play. At the age of ten, Zinedine Zidane joined the junior team of a local club from Castellane by the name of US Saint-Henri. Zidane stayed at the club for a year and a half and later joined SO Septemes-Les-Vallons when the September coach Robert Centenero convinced the club's Director to get Zidane.
CANNES: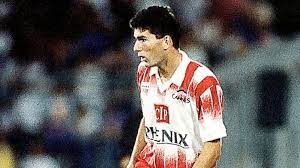 Zinedine Zidane was set for a six-week stay but his playing skills and ball control had impressed the coach so much that he turned out to stay there for four years. In Cannes, coaches noticed that Zinedine Zidane was raw and sensitive and could anytime attack the spectators who insulted him or his family.
Jean Varraud started teaching Zidane to control his anger. During the first week, Zidane spent most of the time on cleaning duties as a punishment for punching opponents who mocked Ghetto origins.
Zinedine Zidane made his debut for Cannes on 18th May 1989 against Nantes and two years later on 10th February 1991, Zidane got his first goal for Cannes which was also against Nantes. After the match, Cannes FC Chairman gifted Zidane a car that he had promised.
Zidane started to show his impact on the game which impressed the coaches. Zidane, in his first full season, had helped the team to finish in the fourth position in the league which was the highest ever, and qualified for the UEFA Cup.
BORDEAUX: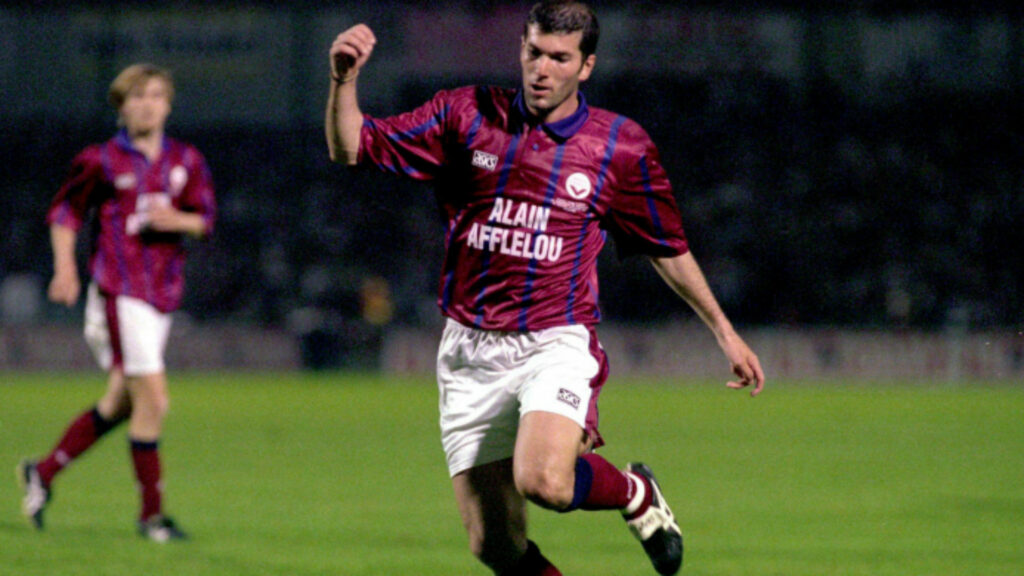 Zinedine Zidane was transferred to Girondins de Bordeaux in the 1992–93 season, winning the 1995 Intertoto Cup after beating Karlsruhe and finishing runner-up against Bayern Munich in the 1995–96 UEFA Cup, in four years with the club. Zidane had a set midfield there with Bixente Lizarazu and Christophe Dugarry which has both for France and Bordeaux. Zidane had impressed everyone with his game and big European clubs started making bids for him.
JUVENTUS: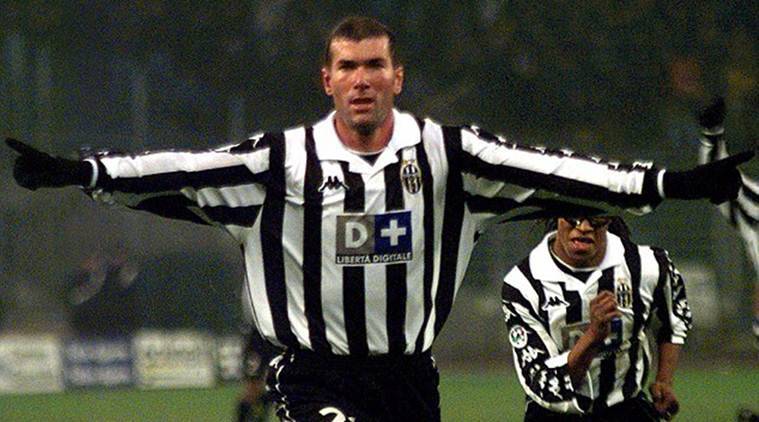 Zinedine Zidane signed with Juventus in 1996. Zidane's impact in the game helped him make up for the European 11 which was supposed the face World 11 in December 1997.
During the 1997 Champions League final against Borussia Dortmund, Zidane was closely marked by Paul Lamber which constricted Zidane from showing his impact on the game, and lost 3-1. The following season Juventus made up to the third Champions League final but lost 1-0 to Real Madrid.
That year Zidane was named as FIFA World Player of The Year and also received the Ballon d'Or. Juventus, in the season 2001-2002 was eliminated in the group stage of the Champions League, after Zidane was banned for head-butting Hamburger SV player Jochen Kientz.
REAL MADRID:
In 2011, Real Madrid signed Zidane with a record fee of 150 billion Italian lire. Zidane was the latest addition to the Galacticos era of global stars signed by Real Madrid every year, in his first season at the club Zidane scored a famous match-winning goal, a volley hit with his weaker foot, in Madrid's 2–1 win over Bayer Leverkusen in the 2002 UEFA Champions League Final, completing his personal quadruple.
The goal has been cited as one of the greatest in Champions League history. The next season Zidane helped Real Madrid win the La Liga and also won the FIFA World Player of The Year for the third time.
In his final season for Real Madrid, he failed to win any major trophy but had won the hearts of the fans. He scored an incredible hat-trick against Sevilla which resulted in a 4-2 win. He finished the season with 9 goals and 10 assists in 28 games. On 7th May 2006, Zidane announced his retirement after the 2006 FIFA World Cup and played his last match Villareal which ended in a 3-3 draw.
INTERNATIONAL CAREER:
Zidane was a member of the French under-21 squad that won a bronze medal at the 1993 Mediterranean Games in Languedoc-Roussillon. He earned his first cap with France as a substitute in a friendly against the Czech Republic on 17 August 1994, which ended in a 2–2 draw after Zidane scored twice to help France.
WORLD CUP: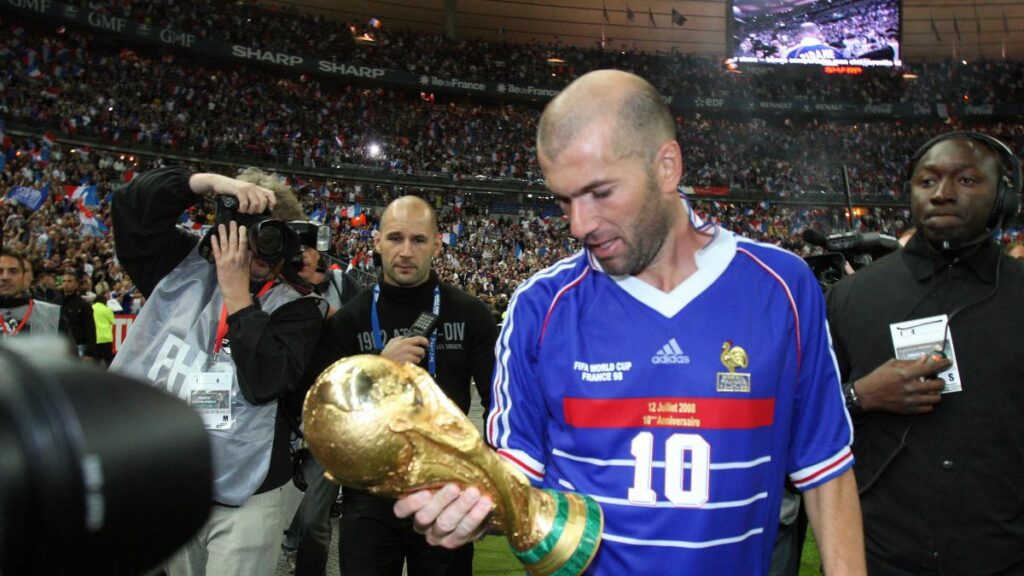 The 1998 FIFA World cup was the first World Cup played by Zidane. Zinedine Zidane was sent off in the second match against Saudi Arabia for a stamp on Fuad Anwar and without their playmaker, the team struggled but managed to reach the round of 16 where the playmaker returned and played a major role in leading the team till the finals with comfort.
In the finals, Zidane scored 2 crucial goals in the first half leading to a 2-0 lead in the first half and in the second half another goal was scored by Petit which increased the lead to 3-0 and France lifted their first ever World Cup trophy where Zidane was named as the Man of The Match. Zidane had instantly become a national hero.
France entered the 2002 World Cup as the favorites but Zidane suffered a thigh injury during the warm-up matches and France went goalless in the first two group stage matches. Zidane could not see his team fall back so despite not being fully fit, Zidane took the risk to play in the third match but could not help his team qualify.
On 27 May 2006, Zidane earned his hundredth cap for France in a 1–0 friendly win over Mexico, in what would also be his last match at the Stade de France. The France team was considered to be just an ordinary one and everyone expected the same result as of 2002 World Cup.
France made a slow start to the World Cup and Zidane was sent off in the third match of the Group stage but in the knockouts Zidane started showing the World why he is the best. He took the team to the finals and had become the favorites to win.
They had to face Italy. Zidane opened the scoring in the finals which a Panaeka penalty and became the third player to score in two World Cup finals. The match headed to extra time where Zidane was sent off at the 110th minute for headbutting Marco Materazzi in the chest.
France lost 5-3 in the penalties. Later in an interview, Zidane revealed that Marco had been consistently abusing Zidane's mother and sister and at last Zidane lost his control.
EURO CUP: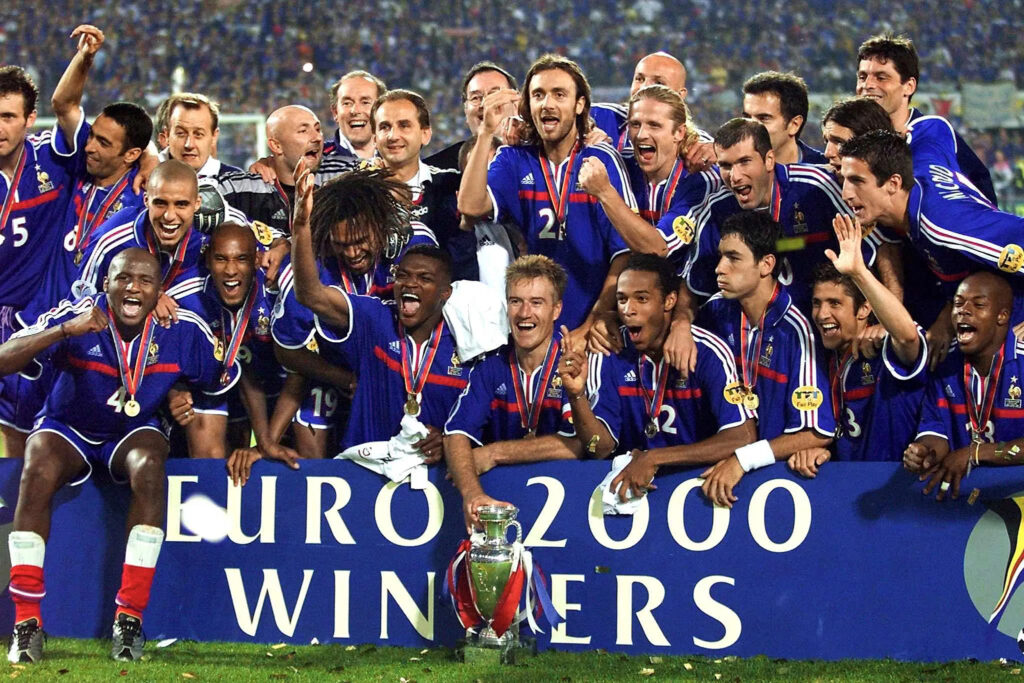 In the 1996 Euro Cup, Zidane was not well established in the team and was not in a good form. Yet he went on scoring in the penalty shoot-out in the quarter-final and Semi Final but France could not make it to the Finals.
After the 1998 World Cup, Zidane was on the peak of his game and won the Euro 2000. He scored two goals in the tournament, a curving free kick against Spain which had left everyone shocked and a golden goal against Portugal in the penalties in the Semi-Finals.
At Euro 2004, France topped their group with wins over England and Switzerland, before being knocked out in the quarter-finals by eventual champions Greece in a surprise 1–0 loss. In the opening match against England, Zidane scored a free kick and penalty in stoppage time to turn impending defeat into a 2–1 victory.
After France's elimination, Zidane announced his retirement from international football but eventually came back for the World Cup 2006 where he announced his final retirement.
MANAGERIAL CAREER:
REAL MADRID CASTILLA:
In 2014, Real Madrid announced that Zidane would be the head Coach of Real Madrid's b team. On 29 August, the director of the Spanish National Football Coach Education Centre (CENAFE), Miguel Galán, reported Zidane for acting as Real Madrid Castilla's head coach without the necessary coaching badges.
REAL MADRID: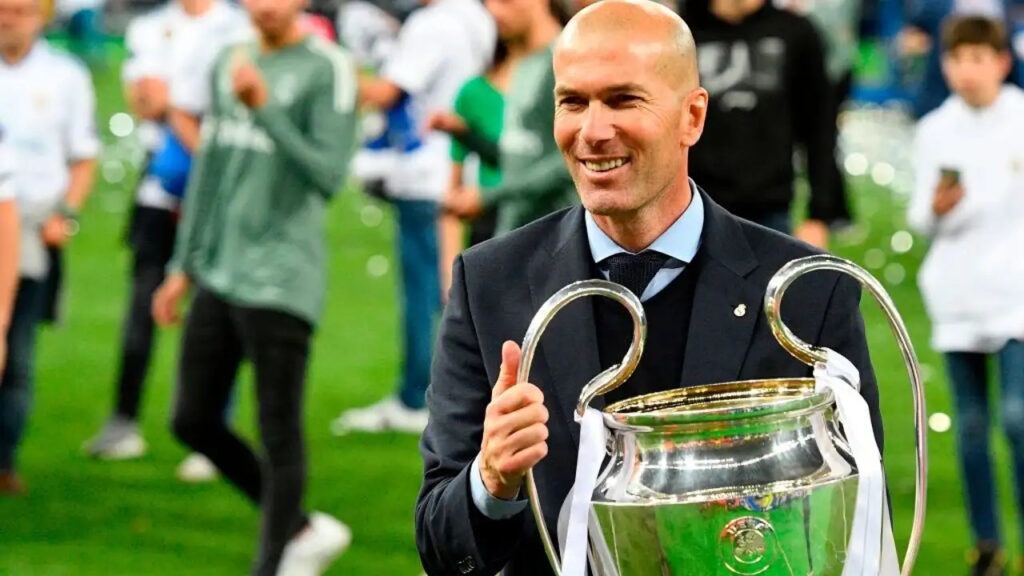 On 4th January 2016, Real Madrid announced the dismissal of their manager and appointed Zinedine Zidane as the new head manager on a two-and-a-half-year deal. In his first match, Real Madrid had beaten Deportivo 5-0 and in the first El Classico he went on winning 2-1 and started establishing him as a successful manager.
He became the second manger in the history to win trophies with Real Madrid both as a manager and a player. On 4th May Zidane played his first UEFA Champion League final as a manager and won the title against Manchester united.
In his next full season, Zidane went on winning 16 consecutive matches and breaking the record established in 1960-61. Zidane also helped Real Madrid to claim their 33rd Laliga title and went on winning three consecutive Champions League.
Five days after winning the 3rd Champions League, Zidane announced his resignation as Real Madrid manager, citing the club's "need for change" as his rationale for departing.
Following some poor results for Real Madrid in the months following Zidane's departure – culminating in elimination from the Copa del Rey's semi-final stage at home to Barcelona, a league loss to the same opponent at the same venue which opened up a 12-point gap between the clubs, and an unexpected home 4–1 defeat to Ajax in the Champions League which brought the long run of success in that competition to an end, all within the space of a week, Zidane decided to return as the head coach on 11th March 2019 and had a contract until summer 2022.
On 27th May 2021, Zinedine zidane decided to end his second spell at Real Madrid.
During his time with RMA, he won the Fifa club world cup final, Uefa Super cup and the European championship.
Zidane Net Worth: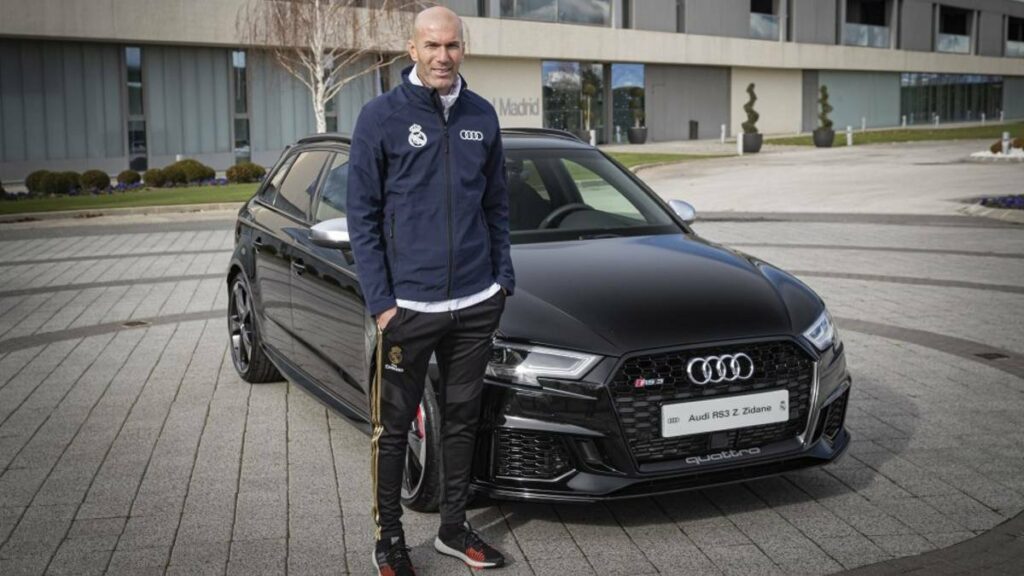 Zinedine Zidane, otherwise called Zizou, is a resigned French proficient footballer who is as of now a football supervisor. As of my insight cutoff date of September 2021, his total assets was assessed to be around $120 million USD.
Zidane procured a huge part of his abundance during his playing vocation, which spread over from 1989 to 2006, during which he played for top football clubs like Cannes, Bordeaux, Juventus, and Genuine Madrid. He came out on top for various championships and grants during his profession, including the FIFA World Cup and the UEFA Champions Association, and was generally viewed as one of the best football players ever.
In the wake of resigning from playing, Zidane moved into training and has been the lead trainer of Genuine Madrid on two separate events, driving the group to various homegrown and worldwide titles. All things considered, his instructing vocation has added to his total assets too.
Get More Football Related News on Sportslibro.com