Robin Van Persie Biography: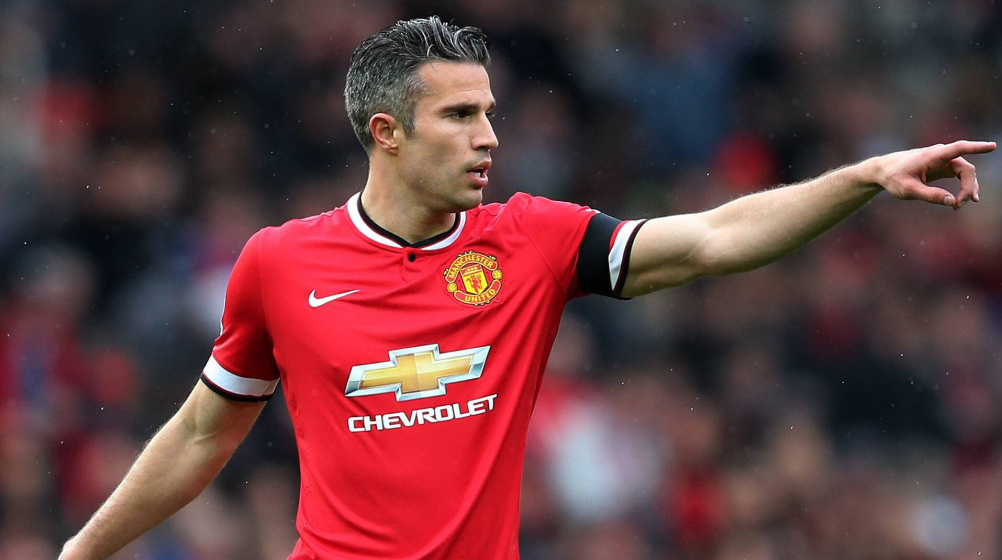 The Flying Dutchman Robin Van Persie was one of the finest strikers in recent history. Van Persie's speed, skills, and exceptional ball control allowed the coaches to use him both as a striker and a winger. He was also capable of playing as a supporting forward. He was a complete forward who could provide assists and score amazing goals or just create space for other players to enter.
His presence always made a positive impact on the game. He won the FIFA Pukas award after the FIFA World Cup 2014 for the most beautiful goal of the year. In 2011, he scored a club record of 35 goals in a season for Arsenal and winning the golden boot twice in the Premier League.
Robin Van Persie biography is about his family and his memorable career.
Robin Van Persie Family:
Robin Van Persie was born on 6th August 1983 at Rotterdam in the Netherlands. His father Bob was a sculptor and his mother Jose Ras was a painter, jewelry designer, and a teacher for specially able children. After the divorce of his parents, he was raised by his father. It was said that Van Persie was one of the most misbehaved children in the school and it was his interest in football that made him behave and disciplined.
Van Persie is married to Moroccan Bouchra, née Elbali. The couple has two children, a son named Shaqueel born in 2006 and a daughter Dina born in 2009. There were rumors about Van Persie turning into Muslim after marriage and then he said in a press conference "It's not true. I am not a Muslim, nor a Christian or a Jew. I have been raised liberally. If you want to become a Muslim it should come from the heart. I would not do it just to please my wife. To believe for me is a quest for being a good man."
Robin Van Persie Career:
In his long Illustrious career, the Frenchman has won many accolades like FA cup, Premier League titles, and many other awards and accolades to his name, and the only player in the premier league winning golden boot award two times with two different clubs, and Robin Van Persie Biography gives all the information about his wonderful career.
Feyenoord: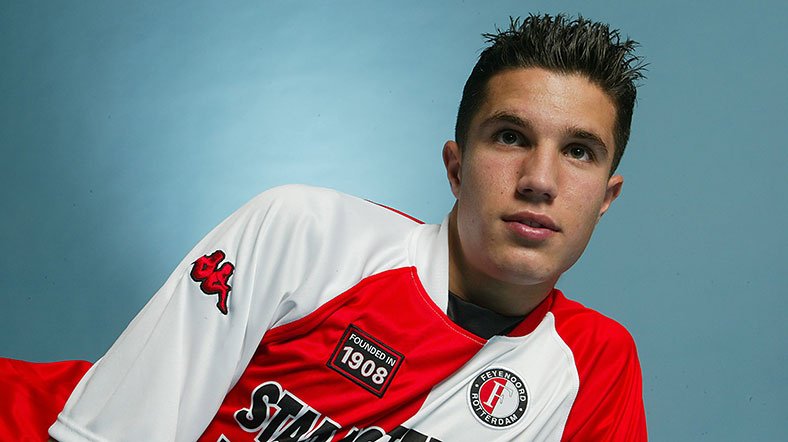 At the age of 16, Van Persie left his youth team to join Feyenoord where he soon made his debut for the first team at the age of 17. After starting for Feyenoord in the final of the UEFA Cup, Van Persie received the KNVB Best Young Talent award. The next season he signed a three and a half year deal with the club. In the KNVB Cup, Van Persie scored five times in a 6-1 victory against AGOVV Apeldoorn.
However, his frequent disputes with manager Bert van Marwijk his position to the reserve squad. In a match with Ajax, Van Persie was assaulted by a pitch invader. On the eve of 2002 UEFA Super Cup final against Real Madrid, Van Persie was sent back after the manager asked him to warm up but his body language was of unserious nature. In his first full season, he scored 8 goals in 28 games and was the runner up in the KNVB Final.
Before the start of the 2003 – 2004 season, Feyenoord wished to extend the contract of Van Persie but the increasing disputes between him and the manager held him back from signing the extension. These disputes again made him spend most of the time on the bench and playing only 28 games and scoring just 6 goals, and Robin Van Persie Feyenoord stint did not go well, so Feyenoord initially put him on the transfer list but no team was ready to buy him because of his earlier disciplinary issues. Later Arsenal decided to make a bid for the forward.
Arsenal: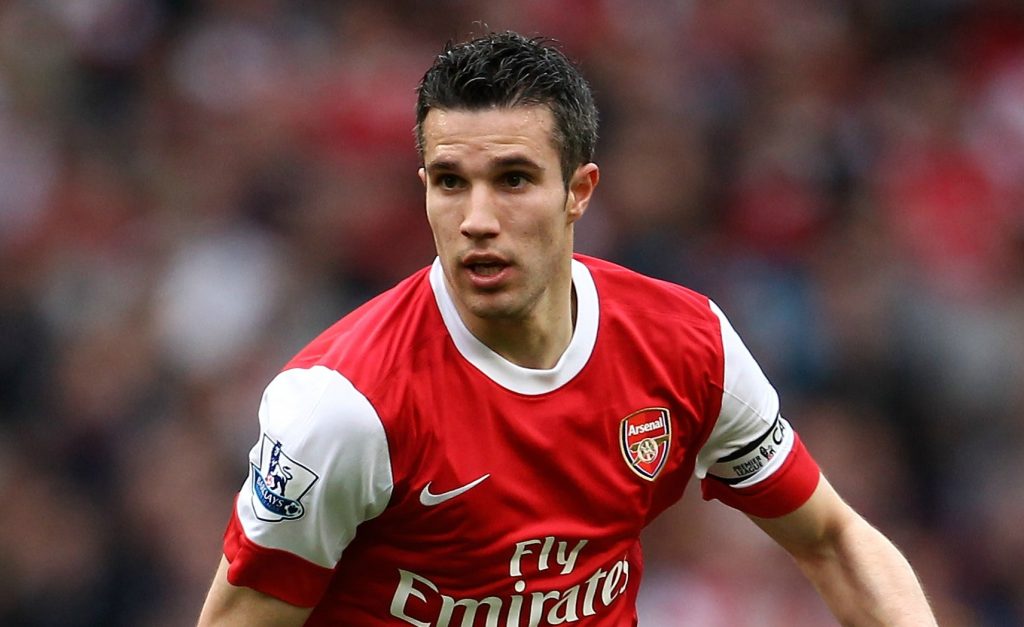 On 17 May 2004, Van Persie signed a four-year deal with Arsenal for £2.75 million. Arsenal manager Arsene Wenger had seen the potential in Van Persie and had a plan of converting Van Persie from a left-winger to a pure striker and commented: "He can play on the left side of midfield, as a creative player behind the main strikers or as a target man". Robin Van Persie Arsenal debut was made against Manchester United in the Community Shield and won the trophy by 3-1. During the initial time of the 2004 – 2005 season, he spent most of the time on the bench, his move from his boyhood club to Arsenal was a changing factor in Robin Van Persie Biography.
He made his debut on 27 October by scoring Arsenal's opening goal in a 2–1 League Cup win over Manchester City. Van Persie was benched for a number of games but came on in the FA Cup Semi-Finals after Thierry Henry suffered a calf injury. In the finals, he came on as a substitute and scored in the penalty shoot out to beat Manchester United and Robin Van Persie team win the FA Cup over Manchester United, in that season Van Persie finished the season with 10 goals in 41 games.
At the start of the 2005 – 2006 season, Van Persie made an incredible start with scoring 8 goals in 8 games. His incredible form earned him a contract extension until 2011. Two days after signing the contract, he suffered a broken toe after an opponent stepped on his foot in a FA Cup match against Cardiff.
Van Persie played the next three matches with a hole cut into his shoe to alleviate the pain until he was rested by the manager in the Premier League match against West Ham on 1st February. Arsenal reached the Champions League finals where Van Persie was an unused substitute and Arsenal lost 2-1 to Barcelona, and Van Persie Champions league dream got shattered with that defeat.
The 2006 – 2007 season started for Van Persie with an amazing volley against Charlton Athletic which made Arsene Wenger say " It's a lifetime goal. He has played for too long and I don't think he has scored one like that ". After a spectacular start to the season, his season was again ended early on 21st January when he fractured the fifth metatarsal in his right foot while celebrating his late equalizer in a match against Manchester United. Still, he managed to finish the season as the club's top scorer with 13 goals.
The 2007 – 2008 season was full of injuries for Van Persie. After the departure of Thierry Henry to Barcelona before the start of the season, Van Persie established himself as a regular striker for the team. He went on scoring seven goals in the first 10 games.
He was sidelined for two months after he suffered a knee injury during International Duty. He made his comeback on 12th December in the Champions League. He picked up, however, a recurrent injury that kept him sidelined until January when he played 45 minutes in a League Cup game against Tottenham Hotspur. He was withdrawn at half-time following another injury scare and featured sporadically throughout the rest of the campaign.
Van Persie started the 2008 – 2009 season with a brace against Newcastle United and scored his 50th Arsenal goal in a 4-4 draw in the North London Derby against Tottenham Hotspurs. In January 2009, every Arsenal goal that month was either scored or assisted by Van Persie.
He showed one of the most inspirational performances against Hull City where he struck the post with a freekick, and provided three assists and later received the Man of the Match award.
Van Persie started the 2009–10 season with two assists in the first match against Everton, which led to a 6–1 victory. He scored his first goal of the season in the 4–2 loss against Manchester City, where he later had his head stomped on by former teammate Adebayor.
He played exceptional football throughout the month of October but on 14th November, he injured his ankle in an international friendly and was initially expected to be out for six weeks, but further tests showed that he would be out of action for five months. He made his return on 14th April 2010 in a 2-1 loss against Tottenham Hotspurs.
He was expected to start the 2010 – 2011 season in a good way and made his 200th appearance on 28 August but an ankle injury suffered in the same game placed him on the sidelines once again. He returned as a substitute for Arsenal's 1–0 home defeat to Newcastle United on 7 November. On 1 January 2011, Van Persie scored his first goal of the season in a 3–0 victory over Birmingham City.
On 22nd January 2011, Van Persie scored his first hat trick in a 3-0 win against Wigan Athletic. Van Persie scored a goal in the Champions League round of 16 against Barcelona from an almost impossible angle which stunned everyone.
In the return leg against Barcelona, Van Persie received a yellow card in the first half for a foul committed and was sent off after he took a shot on goal even after the referee had blown the whistle for Offside and received a second yellow card. Van Persie stated " It was a total joke. How can someone hear properly in front of 95000 active fans ". He also equaled the record held by Cristiano Ronaldo and Thierry Henry by scoring 18 league goals from the turn of the year to the end of the season.
At the start of the 2011 – 2012 season, he scored the fastest goal of the season in 28 seconds against Sunderland. Van Persie showed consistent good performance and maintained a good goal-scoring ratio throughout the season. Arsenal was going through the inconsistent form from January 2012.
On 26th February in the North London Derby against Tottenham Hotspurs, Arsenal went 2–0 down at half in the first half, but Van Persie equalized before half-time. In the second half, he gave the assist to Walcott's goal as Arsenal performed a remarkable comeback to win the game 5–2. He finished the season with 30 goals winning the Premier League top scorer of the season. On 4th July he announced that he is not interested in signing a new contract with Arsenal, and in that year Van Persie leaves Arsenal and joined Manchester United.
Leaving Arsenal for Manchester United was a bit drastic move in Robin Van Persie Biography.
Manchester United:
On 17 August, Van Persie Man Utd move got sealed for an initial £22.5 million, with an additional £1.5 million to follow if United won a Premier League or Champions League title within the next four years. He signed a four-year contract with the club.
On 20th August, Robin Van Persie Man Utd official debut was made against Everton in a 1-0 loss coming on as a substitute in the 68th minute. With his first shot on goal, he scored his first goal in a 3-2 win against Fulham. On 2 September 2012, he scored his first hat-trick for United in another 3–2 victory against Southampton, helping United bounce back from a 2–1 deficit, and his third goal was his 100th in the Premier League. On 22 April, he netted a first-half hat-trick against Aston Villa and helped Manchester United claim their 20th Premier League title, and with it, Robin Van Persie Premier League dream came true with the Red Devils, Robin Van Persie 2012 year was a great success in his career, it was the most alluring frame in Robin Van Persie Biography.
The 2013 – 2014 season started with Van Persie scoring twice in the Community Shield Final against Wigan Athletic to win the title by 2-0. In the 2014 – 2015 season, Van Persie scored his first goal in the 4th league game against Leicester City to grab a 5-3 victory.
On 26 October 2014, Van Persie scored a late equalizer against Chelsea wherein the dying minutes of injury time, Marouane Fellaini's header from Ángel Di María's free-kick was saved by Chelsea keeper Thibaut Courtois, and Van Persie smashed in the rebound to equalize. On 11th January he suffered an ankle injury in a 1-0 defeat against Southampton.
Fenerbahce:
On 14 July 2015, Van Persie joined the Turkish side Fenerbahce on a three-year deal for a fee of £3.84 million. He made his debut two weeks later in the UEFA Champions League qualifier against Shaktar Donetsk coming on as a 68th-minute substitute.
Robin Van Persie Fenerbahce debut on 14th August coming on as a 60th-minute substitute in a 2–0 win at Eskişehirspor. Six days later he scored his first goal for the new club with his first of only two touches in the entire match.
A second spell at Feneyoord:
On 19 January 2018, Van Persie agreed to return to Feyenoord after canceling his contract with Fenerbahçe. On 28 February, Van Persie scored his 300th career goal in the Semi-final of the 2017- 2018 KNVB Cup. On 22nd April he scored in the finals to grab a 3-0 win against Alkmaar and claim the club's 13th trophy.
In October 2018, he announced that at the end of the 2018 – 2019 season, he is willing to retire from football. On 12 May 2019, Robin Van Persie last match as a footballer he played against ADO Den Haa, where his team lost by 2–0 Goals. He ended his career from where he had started.
International Career:
Robin Van Persie initially made his debut for the Netherlands under 17, under 19 and under 21. Robin Van Persie Netherlands debut was made in 2005 in a friendly match against Romania. A month later, he scored his first senior international goal in a 4–0 win over Finland.
Van Persie was included in the 2006 FIFA World Cup squad even after not being a regular for his club. He only scored one goal in the tournament in the group stage match against Ivory Coast through a beautiful freekick after which the Netherlands had to take an early exit in the Round of 16.
During the 2010 FIFA World Cup qualification round, Netherlands qualified with a 100% win record and were ready to make an impact in the tournament. Van Persie scored in the third match of the group stage against Cameroon to grab a 2-1 victory and came out as group winners.
From the round of 16, Netherlands had boosted themselves and came out to be underdogs to reach the Finals. In the finals, Van Persie and teammate Arjen Robben made an exceptional attempt to score which was matched by the incredible save of the Spanish Keeper Iker Casillas. Spanish midfielder Andres Iniesta scored a winner in the extra time and Robin Van Persie Country lost the FIFA World cup to Spain.
Robin Van Persie 2014 world cup went really well he was the one who was leading his country in the world cup quest 2014, Van Persie was the top scorer in the FIFA World Cup 2014 qualification stages with 11 goals. In the team's opening match of the 2014 FIFA World Cup, Van Persie captained the Netherlands to a 5–1 win over champions Spain which was seen as a rematch of the 2010 World Cup Final.
Van Persie scored two goals among which one was a flying header which earned him the FIFA Puskar award which was for the most beautiful goal of the year. In the quarter-final against Costa Rica, Van Persie scored in the shoot out to grab a 4-3 victory. In the third position match, Van Persie scored his fourth goal of the tournament in a 3-0 win over Brazil.
Van Persie was the only player since 1966 in World Cup history to score with his left foot, right foot, and head, as well as scoring from a free-kick and a penalty kick.
During the 2008 Euro cup qualification round, Van Persie scored 4 goals and during the tournament, he was expected to be used as a winger. On 13th June he scored his first goal of the tournament in a 4-1 victory against France. The Netherlands were eventually knocked out in the second stage.
Van Persie scored a record of 4 goals in the historic 11-0 victory against San Marino for the Euro 2012 qualifiers. On 13 June 2012, Van Persie scored in a 2–1 loss to Germany in the group stage. Having missed two earlier chances, he picked up the ball near the halfway line, turned, and ran at the German defense, before firing into the bottom corner from the edge of the penalty area. The Netherlands had to take an early exit after not being able to qualify from the group stage.
During the Euro 2016, the captaincy was handed to Arjen Robben. In a do or die match, Van Persie came on as a 38th-minute substitute against the Czech Republic and scored an own goal which handed the Czechs victory, despite scoring later on in a 3–2 defeat. The result meant that the Dutch did not qualify for an international tournament for the first time since 2002.
After this later in 2017, he announced his retirement from the National team.
Robin Van Persie Records and Achievements:
"Van Persie is the complete player. He has the entire package. He is a good footballer, but he scores loads of goals at the same time.'' Was said by one of the best footballers Lionel Messi.
The achievements and records of Robin Van Persie are as follows:-
Feyenoord:
KNVB Cup: 2017–18.
Johan Cruyff Shield: 2018.
UEFA Cup: 2001–02.
Arsenal:
FA Cup: 2004–05.
FA Community Shield: 2004.
UEFA Champions League runner-up: 2005–06.
Football League Cup runner-up: 2010–11.
Manchester United:
Premier League: 2012–13.
FA Community Shield: 2013.
Netherlands:
FIFA World Cup runner-up: 2010; third place: 2014.
Individual:
Van Persie playing against Swansea City in 2011.
Dutch Football Talent of the Year: 2001–02.
KNVB Best Young Talent Award: 2001–02.
Premier League Player of the Month: November 2005, October 2009, October 2011, December 2012, April 2013.
BBC Goal of the Month: September 2006, December 2008, December 2011, August 2012, April 2013.
Premier League top assist provider: 2008–09.
Premier League Golden Boot Landmark Award: 2011–12 (10 goals),[166] 2011–12 (20 goals),[167] 2011–12 (30 goals).
Premier League Golden Boot: 2011–12, 2012–13.
PFA Players' Player of the Year: 2011–12.
PFA Fans' Player of the Year: 2012.
PFA Team of the Year: 2011–12 Premier League,[171] 2012–13 Premier League.
FWA Footballer of the Year: 2011–12.
ESM Team of the Year: 2011–12.
Arsenal Player of the Season: 2011–12.
Sir Matt Busby Player of the Year: 2012–13.
BBC Goal of the Season: 2012–13.
FIFA FIFPro World XI shortlist: 2011, 2012, 2013.
FIFA FIFPro World XI 2nd team: 2013.
Premier League 100 Club's Greatest Goal Award.
Netherlands all-time top goalscorer: 50 goals.
Manchester United Goal of the Season: April 2013 vs Aston Villa.
2014 FIFA World Cup qualification Top scorer (11 goals).
FIFA Puskás Award(3rd place) 2014.
Eredivisie Player of the Month: August 2018.
Records:
Arsenal:
Most goals in a 38-game league season: 30 goals (in the Premier League, 2011–12).
Most goals in a calendar year (35), 2011–12.
Most goals scored at the Emirates Stadium: (64).
Manchester United:
The only player to score two 90th-minute winning goals in the Premier League (shared with two players) 2012/13.
The third-fewest matches needed for a player to reach 15 goals (21 matches, behind only Ruud van Nistelrooy (19 matches), Dwight Yorke (20 matches).
Feyenoord:
The oldest player in Eredivisie history with two goals in a Klassieker (35 years, 174 days).
Premier League:
Most Premier League goals scored from the turn of the year to the end of the season (18) 2010/11 (shared with Thierry Henry and Cristiano Ronaldo)
A number of teams scored against in a season: 17, joint record.
20-team league:
Ian Wright (Arsenal, 1996–97)
Robin van Persie (Arsenal, 2011–12)
Mohamed Salah (Liverpool, 2017–18)
Most consecutive away league matches scored in: 9, Robin van Persie (for Arsenal, 1 January 2011 to 22 May 2011).
Most games scored in a Premier League season: (21), 2012/13 (shared with Cristiano Ronaldo).
The only player to win the golden boot with two clubs 2012/13.
Highest goal-scoring Dutch player in Premier League (144 goals).
International:
2014 FIFA World Cup – Only player since 1966 to score with his left foot, right foot, and head, as well as scoring from a free-kick and a penalty kick.
Netherlands male national team all-time top scorer.
Robin Van Persie Net Worth:
Robin van Persie's total assets was assessed to be around $50 million. Van Persie is a resigned Dutch expert footballer who played as a striker for a few clubs, including Feyenoord, Munititions stockpile, Manchester Joined together, and Fenerbahçe. He additionally played for the Netherlands public group.
All through his vocation, Van Persie was profoundly fruitful, bringing home various championships and grants. His on-field achievement, joined with his support arrangements and undertakings, have added to his significant total assets. Nonetheless, important total assets assessments can change over the long run and may not be precise all of the time.