Roberto Carlos Biography:
Roberto Carlos is also known as Roberto Carlos da Silva Rocha is a retired Brazilian footballer. He is now working as a football ambassador. He started his career as a forward for Brazil but spent most of his career as a left-back. He is also described as the most offensive-minded left-back in the history of football and also widely considered one of the best left-backs in history.
Roberto Carlos was nicknamed as El Hombre Bala (The Bullet Man ) due to his powerful bending free-kicks. He is also known for his stamina, running speed, technical skills, crossing ability, long throw-ins, and 24- inch (61cm) thighs.
Roberto Carlos biography is about his immense style of play and his career which will be covered in this article.
Roberto Carlos Family: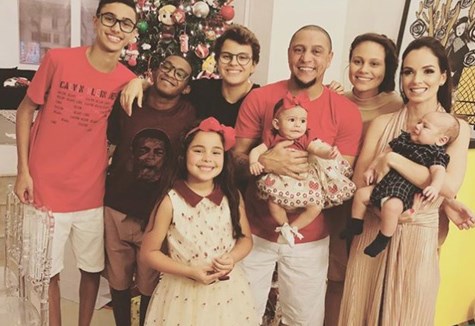 Roberto Carlos was born in a catholic family. Roberto was the only child of his parents Oscar Da Silva and Vera Lucia Da Silva, who are strong Roberto Carlos has two sisters namely Cristiane Da Silva Rocha, Giseli da Silva Rocha, and Silvia Da Silva Rocha
Roberto Carlos was initially married to Alexandra Pinheiro but got separated after 12 years of marriage. Roberto Carlos has 3 children from his wife Alexandra Pinheiro.
After separation Roberto pays the alimony to Alexandra Pinheiro. In 2003 they both signed an agreement in which Roberto has to pay $36,000 per month of pension while Alexandra lived in Spain, where he played for Real Madrid until 2008. As she returned to Brazil In 2005, the value was evaluated. Roberto never stopped paying alimony to any of his children. He always fulfilled the medical, cloth, and food needs of his children.
Roberto Carlos finally settled with Mariana Luccon in 2009. Both became best of friends and lovers. After their marriage that year, he relocated to Brazil to continue his football.
Roberto Carlos Biography suggests that Roberto Carlos has 8 children, 4 sons, and 4 daughters.
ROBERTO CARLOS DAUGHTERS: Rebeca da Silva Rocha, Giovanna da Silva Rocha, Roberta da Silva Rocha, Manuela da Silva Rocha.
ROBERTO CARLOS SONS: Christopher da Silva Rocha, Roberto Carlos Júnior da Silva Rocha, Carlos Eduardo da Silva Rocha, Luca da Silva Rocha, Roberto Carlos Early Life.
Roberto Carlos was born on 10th April 1973 in Garça, Sao Paulo, Brazil. He was born and grew up in a poor family. Like most of the Brazilian kids, he also fell in love with Football and plays it in free time. He started working at the age of 12 in a textile factory named Torsao Cardeiro in order to help his poor family.
Despite playing in a lesser-known club-like União São João in 1992 and only being 19 he was called up for the Brazil National team. This marked the beginning of the energetic and turbulent nature of Brazilian football and the rest is history.
Roberto Carlos Career:
I owe all clubs for which I worked, even to my little União São João, because we must never forget our origins. But I owe my coming to Spain to Atlético Mineiro, who gave me the opportunity to work on the team in 1992, a trip to the country. So I made a point to make it clear and I thank this important club for me to have opened the doors here in Europe.
—Roberto Carlos paying tribute in 2014 to the two Brazilian clubs whom he started his career with.
Roberto Carlos started his professional career playing for lesser-known club União São João in 1992 at the age of 19, he was called up for the Brazilian national team. He then joined Atlético Mineiro in August 1992 on loan and went on a tour of Europe with them. In 1993 Roberto Carlos joined Palmeiras where he played two seasons, winning two consecutive Brazilian league titles. Almost signing for Aston villa but chooses Inter Milan in the Seria A but only played one season there. He also scored with a 30-yard free-kick on his debut against Vicenza, but his season was unsuccessful at Inter Milan.
Real Madrid:
Roberto Carlos joined Real Madrid in 1996 close 7season, where he was given the no. 3 shirt and held the position as the team's first-choice left-back for the season 1996-97 until the 2006-2007 season. He has played 11 seasons with Real Madrid, he appeared in 584 matches in all competitions, scoring 71 goals. He is Real Madrid's most capped foreign-born player in La Liga with 370 appearances, after breaking the previous record of 329 held by Alfredo di Stefano in January 2006.
He has won four La Liga titles with Madrid and played 1998, 2000, and 2002 Uefa champions league final and Roberto Carlos 2002 Champions Trophy assist to Zinedine Zidane out of which the Frenchman scored the winning goal, which is considered one of the greatest goals in champions league history. Roberto Carlos was named Club defender of the year and included in the Uefa team of the year in 2002 and 2003, this was the peak in the Roberto Carlos Biography.
In the later part of his Real Madrid career, Carlos was named as one of the club's "three captains" alongside Raul and Guti. Renowned for getting forward from his left-back position and scoring spectacular goals, in February 1998, he scored arguably his most memorable goal for Real Madrid with a bending volley struck with the outside of his left foot from near the side-line in a Copa del Rey match against Tenerife in what was described as an "impossible goal".
On 6 December 2003 Roberto Carlos scored the opening goal for Madrid as they beat Barcelona in El Clasico at Camp Nou for the first time in a La Liga match in 20 years.
Roberto Carlos left Real Madrid on his contract on expiration in 2007 to Fenerbahçe. He has a great career in Spain for Madrid.
Fenerbahçe: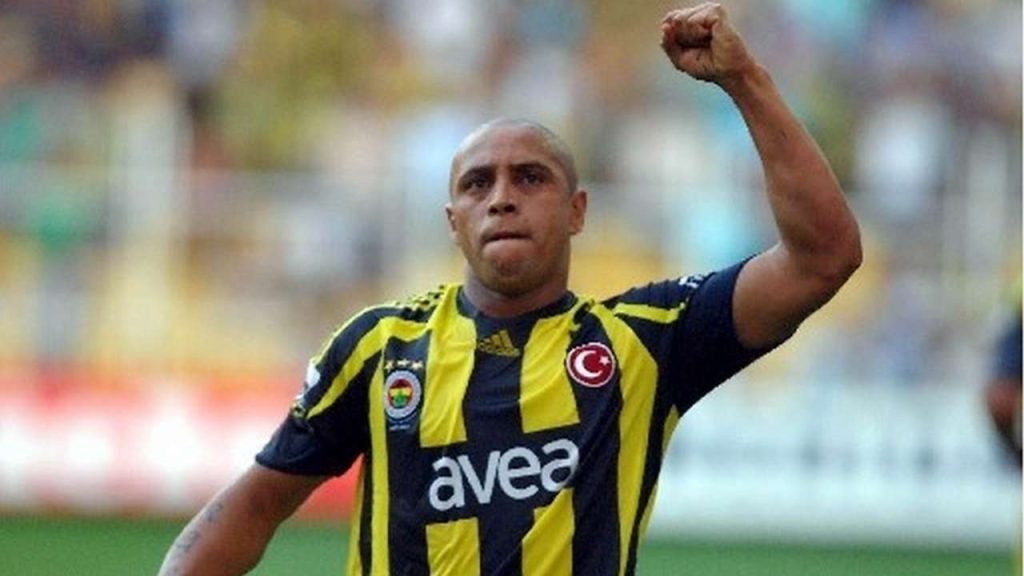 Roberto Carlos signed a two-year contract(with one year optional) with Fenerbahçe on 19 June 2007. The first official match he played for Fenerbahçe was against Besiktas by a 2-1 score to Fenerbahçe winning the Turkish Super Cup. On 25 August 2007, he scored his first goal for Fenerbahçe from a diving header in a league match against Sivasspor. That diving header goal against Sivasspor was the only 3rd header goal of his career, Moving to Fenerbache from Madrid was one of the major setbacks in Roberto Carlos Biography.
Later on the season, he got injured during the final period of the season and missed the title race between Fenerbahçe and rivals Galatasaray but eventually, his team lost the title race, but a guaranteed place in the champions league. He announced that he was unhappy about the final result and would do his best to carry the domestic trophy back to the Şükrü Saracoğlu Stadium.
On 7 October 2009, Roberto Carlos announced that he would leave Fenerbahçe, when his contract expired in December 2009. He also offered to return to Real Madrid and play for free though he also said the return to the Brazilian domestic leagues was a possibility, he announced his departure on 25 November. He made his last appearance for Fenerbahçe on 17 December, as a late substitute against Sherif Tiraspol in the Uefa Europa League.
Corinthians:
Roberto Carlos returned to his country in 2010 to play for Corinthians, after being away for 15 years from Brazil. He joined his friend and former teammate Ronaldo in the team. Roberto Carlos scored a goal against Internacional and helped Corinthians to move to the top of the table of Campeonato Brasileiro Serie A. Roberto Carlos scored an impressive goal directly from a corner kick against Portuguesa on 16 January 2011.
Roberto Carlos was threatened by fans after the Copa Libertadores da America defeat to Colombian club Tolima. Roberto Carlos requested his release by the club, which promptly facilitated by Corinthians.
Anzhi Makhachkala:
Roberto Carlos signed a two-and-a-half-year contract with Russian premier league club Anzhi Makhachkala on 12 February 2011, worth approximately €10 million. Roberto Carlos was named the captain of the team on 8 March. Roberto Carlos was playing in the defensive midfield position for the team, Roberto Carlos Biography says that in the Rusian club Makhachkala he was one of the marquee players for the club.
On 25 April 2011, he scored his first goal from a penalty on the 58th minute against Dynamo Moscow in 2-2 draw. He also scored his second goal from a penalty against Rostov that ended as a victory for Anzhi Makhachkala on 30 April and on 10th June he scored his third goal on a 20th minute in 2-0 win over Spartak Nalchik. Overall Roberto Carlos scored a total of 5 goals in 28 appearances for Anzhi Makhachkala.
On 30 September, he became the caretaker coach of Anzhi following the sacking of Gadzhi Gadzhiyev, before Andrei Gordeyev assumed the role also in a caretaker capacity. IN August 2012, Anzhi coach Guus Hiddink confirmed his retirement at a news conference in Moscow, also stating, "Roberto was a world-class football player. Every master's career ends at some point."
Roberto Carlos retired in 2012, playing for Anzhi despite having played a handful of matches for Delhi Dynamos where he was primarily appointed as the head coach. He has had managerial opportunities at Anzhi, Sivasspor, Akhisar Belediyespor, and Delhi Dynamos.
International career:
Roberto Carlos made his international debut on 26 February in an international friendly against the USA. He has won the 2002 FIFA World Cup, and it was the most successful year in Roberto Carlos Biography
Roberto Carlos played in three consecutive World Cup 1998, 2002 and 2006 and four Copa America in 1993, 1995, 1997 and 1999. He also played in the 1997 FIFA Confederations cup and 1996 Olympic games.
Roberto Carlos has 125 caps for Brazil and scoring 11 goals for the team. He was especially famous for his free-kick against France National team In an Inaugural match of Tournoi de France 1997 on 3 June 1997. The ball curled so much that the ball boy ten yards to the right ducked instinctively, thinking that the ball would hit him. Instead, it eventually curled back on target, much to the surprise of goalkeeper Fabien Barthez, who just stood in place. That particular attempt is considered by some to be the greatest free-kick of all time.
Roberto Carlos scored a free-kick goal against China in the 2002 World Cup. After the tournament, he was also included in the World Cup All-star team. In July 2006, Brazil was defeated by France 1-0 in the Quarter Finals of World Cup, he announced his retirement from the national team, saying, "I've stopped with the national team. It was my last game."
He said he no longer wanted to play for Brazil because of the criticism he faced from fans and Brazilian media for his failure to mark goal scorer Thierry Henry on France's winning goal.
After retirement from Brazil National team, continued playing for the club he said he hoped to play the 2010 World Cup. But that didn't happen.
Roberto Carlos Records and Achievements:
Roberto Carlos Biography covers all the crucial Achievements he has in his career.
Club:
Palmeiras:
Campeonato Brasileiro Série A (2): 1993, 1994.
Campeonato Paulista (2): 1993, 1994.
Torneio Rio-São Paulo: 1993.
Real Madrid:
La Liga (4): 1996–97, 2000–01, 2002–03, 2006–07.
Supercopa de España (3): 1997, 2001, 2003.
UEFA Champions League (3): 1997–98, 1999–2000, 2001–02.
Intercontinental Cup (2): 1998, 2002.
UEFA Super Cup: 2002.
Fenerbahçe.
Turkish Super Cup (2): 2007, 2009.
International:
Brazil
FIFA World Cup: 2002.
Copa América (2): 1997, 1999.
FIFA Confederations Cup: 1997.
CONMEBOL Men Pre-Olympic Tournament: 1996.
Umbro Cup: 1995.
Lunar New Year Cup: 2005.
1996 Summer Olympics: Bronze Medallist.
Individual.
Bola de Prata (3): 1993, 1994, 2010.
FIFA World Player of the Year: 1997 (Silver Award).
ESM Team of the Year (7): 1996–97, 1997–98, 1999–00, 2000–01, 2001–02, 2002–03, 2003–04.
FIFA World Cup All-Star Team (2): 1998, 2002.
Trofeo EFE: 1997–98.
UEFA Club Defender of the Year (2): 2002, 2003.
UEFA Team of the Year (2): 2002, 2003.
Ballon d'Or: 2002 (Runner-up).
Golden Foot: 2008.
Sports Illustrated Team of the Decade: 2009.
ESPN World Team of the Decade: 2009.
Campeonato Brasileiro Série A Team of the Year: 2010.
FIFA 100.
Brazilian Football Museum Hall of Fame.
Roberto Carlos Net worth:
Roberto Carlos, the resigned Brazilian expert footballer, had an expected total assets of around $200 million USD.
All through his profession, Roberto Carlos played for a few high-profile clubs, including Palmeiras, Bury Milan, Genuine Madrid, and Fenerbahçe. He likewise played for the Brazilian public group, winning the World Cup in 2002.
Notwithstanding his profit from football, Roberto Carlos has likewise produced pay from different supports and undertakings. He has been a brand diplomat for organizations like Pepsi, Nike, and Emirates Carriers, among others. Furthermore, he possesses a lodging in Brazil and has put resources into land projects in a few nations.
It is vital to take note of that total assets gauges are dependent upon future developments and may not reflect current conditions.