Oliver Kahn Biography: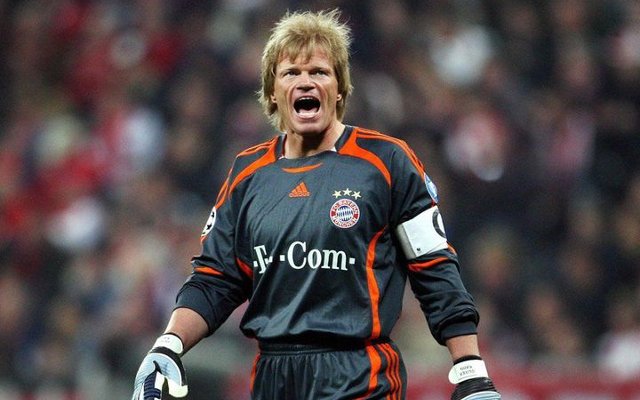 Oliver Kahn was one of the most successful goalkeepers in the recent history of football. He is regarded as one of the greatest goalkeepers of all time. The success of his career was defined by his 8 Bundesliga title, six DFB-Pokals, Champions League title, and most importantly the only goalkeeper to win the World Cup Golden Ball.
His quick reactions, athleticism, and aggressiveness towards the ball could stop any striker from scoring. When the whole team lost hope, Kahn came up with some extraordinary saves to get the team motivated. Kahn's aggressive nature always remained a matter of controversy but it never affected Kahn and he always remained at the top of the game.
Oliver Kahn biography is about his family, career, and success story not known by many.
Oliver Kahn Family: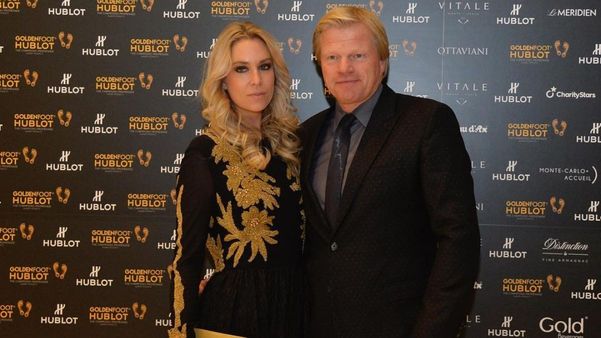 Oliver Rolf Kahn was born on 19th June 1969 in Kalsruher. Kahn's father Rolf was a professional footballer for Kalsruher SC and his mother Erika was of Latvian origin. He had an elder brother Axel who also played professionally for his father's club Kalsruher SC. Kahn was partly of Latvian descent. Kahn was always supported by his father to make a career in football and so he sent him to the Kalsruher SC junior team at the age of six.
In 1999, Kahn decided to marry Simone. The couple had two children – Maria born on 28th December 1998 and David born on 7th March 2003. The couple had separated in 2003 and finally divorced in 2009 after briefly reconciling. On 8th July 2011, Kahn decided to marry his girlfriend Svenja in Munich. The couple had one son on 1st February 2011 named Julian.
Oliver Kahn Career:
Oliver Kahn is one of the most successful German players in the history of the game, he is the one who has played most of his career with the German giants Bayern Munich and won eight Bundesliga titles, One Champions league title and International cup and six DFB-Pokal with them, and he is the one who also has got four UEFA best European goalkeeper awards as well.
Karlsruher SC:
Oliver Kahn Biography says that At the age of six, Kahn had to join Kalsreher SC where his father played professionally. Kahn initially started as an outfield player but later decided to play as a goalkeeper. During the season 1987-1988, Kahn was first time included in the senior team squad and went on making his debut in a 4-0 defeat against FC Koln on 27th November 1987.
Kahn came into the first choice of the manager in 1990. His game had made him the key player of Kalsreher SC in a very little time. He became the main player for Kalsruher SC reaching the 1993-1994 UEFA Cup semi-final. They defeated Valencia 7-0 in the round of 16 that too in Valencia's home ground. Although Kalsruher SC was defeated in the Semi-Finals, Kahn had successfully attracted the attention of big clubs towards himself.
Bayern Munich:
At the beginning of the 1994-1995 season, Bayern Munich made a record transfer fee of €2.385 million ever made for a goalkeeper to sign Kahn. Kahn had to stay out initially due to the rupture of his cruciate ligament for 6 months. When he returned, Bayern won the 1996 UEFA Cup Final 3-1 against Bordeaux and went on winning the German Goalkeeper of the year for the second time.
Oliver Kahn 1999 year Champions league final loss was a big setback in his career, in that year Bayern Munich successfully reached the 1999 Champions League Final and faced Manchester United. Although Bayern Munich scored an early goal in the sixth minute of the game, the two goals by Teddy Sheringham and Ole Gunnar Solskjær in injury time led to United's victory.
On 3rd March 2001, Kahn saw Bayern Munich losing 3-2 and in the final minutes when his team received a corner, he went on to head the ball but instead of heading, he punched the ball inside the opponent's goal and received his first red card. In the 2001 Champions League final, after the game headed to a penalty shoot-out, Kahn went up saving three shots against Valencia, and with that Oliver Khan Champions League dream came true and for his outstanding performance at the finale, he has also received the man of the match.
He also received the UEFA Fair Play Award for this match, after he walked up to a disappointed Santiago Cañizares, the opposition goalkeeper, after the penalty shoot-out and attempted to comfort him. Bayern Munich also went on winning the Intercontinental Cup that season, and that was the nozzle time in Oliver Khan Biography.
Oliver Kahn started to decline from the start of the 2002-2003 season due to frequent injuries and personal problems. This led Kahn to concede a goal from a soft shot from Roberto Carlos in the knock out round of the 2003-2004 Champions League knock out round against Real Madrid. The newspaper Daily Mail read "Once again on the big occasion Kahn was undone by a Brazilian, just as he was in the 2002 World Cup Final. Only this time it was a Roberto Carlos free-kick which he let slip, not a Rivaldo shot, for a goal as embarrassing as it is potentially catastrophic for Bayern"
Oliver Kahn Biography narrates that In 2006, before a match against Arminia, Kahn wanted to practice some more and asked teammate Michael Reinsing to have some practice shots. Unfortunately, one shot hit Kahn in his eye and caused swelling and discoloration which kept him out for the match. Bayern somehow won the match by 2-0 with Rensing on goal.
On 2nd September 2007, Kahn aged 38, played his 535th Bundesliga match, and made him an all-time leading goalkeeper in matches played in Bundesliga. Kahn also established the record of most clean sheets of 197 in the Bundesliga history.
Kahn played his last European match for Bayern in a 4–0 defeat to Zenit Saint Petersburg in the UEFA cup semi-final on 1st May 2008. His last Bundesliga match for Bayern was the 4–1 victory against Hertha Berlin on 17th May 2008. It was his 557th appearance in the German top-flight. On 2nd September 2008, he received his testimonial farewell in a match against select Germany XI which ended in a 1-1 draw.
He played his last match for Bayern Munich on 27th May 2008 in a friendly match against Mohun Bagan which ended 3-0 in favor of Bayern Munich during the Bayern Munich tour of Asia in 2008. The match the attendance of 120000 fans in the stadium when Kahn brought an end to his twenty-year-long successful career.
International Career:
Kahn was initially called for the German national team but he served as a late back-up for the 1994 FIFA World Cup. Kahn had made his first international debut on 23 June 1995 in a 2–1 victory against Switzerland in a friendly match which was two months after recovering from his cruciate ligament injury. Along with Oliver Reck, Kahn was a reserve keeper of the squad and had won the 1996 UEFA European Football Championship in England.
Kahn spent the 1998 FIFA World Cup on the bench unless Andreas Kopke, the first choice keeper announced his retirement after the World Cup. After two years, in the 2000 UEFA Euro Cup, Germany had to take an exit in the group stage and after that, the Germany captain Oliver Bierhoff announced his retirement, and Kahn was appointed as the new captain.
Oliver Kahn 2001 year didn't go well for the Geman shot-stopper, During the World Cup qualifiers, Kahn experienced one of the worst performances in his career for Germany against England in Munich, Germany was favored to win as they had beaten England 1–0 in 2000 at the Wembley Stadium. However, they were defeated routed 5–1, which included a stunning hat-trick by Michael Owen of England.
Despite the defeat, Germany had successfully qualified for the World Cup after winning a playoff against Ukraine, and Kahn remained as Germany's first-choice goalkeeper for the World Cup. Germany entered the World Cup with zero expectations. Kahn had decided to remind the world why is Oliver Kahn one of the best. From that start of the tournament itself, Kahn had started to pull out some exceptional saves.
Oliver Kahn world cup 2002 dream was near when he led the team to the World Cup final against Brazil. Before the final, he suffered a torn ligament in the ring finger, Despite the injury, he decided to play the finals for his team. The pain was unbearable for him. Kahn conceded the first goal by fumbling a rebounded shot from Rivaldo to the feet of striker Ronaldo in the 67th minute. The match ended with Brazil as the Champion by 2-0.
Kahn refused to blame his injury and said, " There is no consolation. It was the only mistake I made in seven games and was brutally punished ". Kahn had conceded only three goals in seven matches in the whole tournament. He received the golden gloves as well as the World Cup Golden ball. Kahn was the only keeper, in history to receive the World Cup golden ball.
Germany was one of the strongest teams to enter the 2004 Euro Cup but was again eliminated in the group stages. This had moved Kahn and he decided to give up his captaincy to Michael Ballack. Germany's new manager Jurgen Kinsman had decided to switch the position of first choice keeper between Kahn and the backup Jens Lehman just to keep up the competition. After a lot of controversies, Oliver Kahn 2006 world cup dreams shatters and it was announced that Jens would be the first choice in the 2006 FIFA World Cup.
Kahn did not utter a single word and seemed happy with the decision. Germany was eliminated in the Semi-Finals but Kahn openly praised Lehman for pulling out two saves in the penalty shoot-out. In the third position match, Kahn has given the first team and the captaincy. He pulled out some extraordinary saves by deflecting a shot by Portuguese forward Pauleta after he beat the German defense, and later saved Deco's shot made from just inside the penalty area and earned the bronze medal for Germany. After the World Cup, Kahn announced his retirement from international football.
Oliver Kahn Post Retirement:
After his retirement, Oliver Kahn started taking interest in media. He joined the ZDF Sports team as an analyst for Germany National Team games. Later in 2009, he was the part of China Central Television which aimed at finding China's youngest goalkeeper. In 2011, he proposed the same plan in German Channel SAT1 under the name NEVER GIVE UP and the winner would receive a contract to play in the Bundesliga.
Oliver Khan Trophy News:
Oliver Kahn is a Former German World Cup Winner who played as a goalkeeper. He had a Very successful Career with the German giants Bayern Munich and also with the German National Team. Here are some of his major trophy wins:
With Bayern Munich:
8 Bundesliga titles (1997-98, 1998-99, 1999-2000, 2000-01, 2002-03, 2004-05, 2005-06, 2007-08)
6 DFB-Pokal titles (1997-98, 1999-2000, 2002-03, 2004-05, 2005-06, 2007-08)
1 UEFA Champions League title (2000-01)
1 UEFA Cup title (1995-96)
1 Intercontinental Cup title (2001)
With the German national team:
FIFA World Cup runner-up (2002)
UEFA European Championship runner-up (2008)
FIFA Confederations Cup third place (2005)
Individually, Oliver Kahn was also a very successful player and won many Accolades for his Brilliant performance, including the FIFA World Cup Best Goalkeeper award three times (2002, 1998, and 1994), the UEFA Club Footballer of the Year award in 2001, and the German Footballer of the Year award four times (1999, 2001, 2002, and 2003).
Oliver Kahn Oliver Kahn Achievements and Records:
"Oliver Kahn was recently asked if there was anyone who could tell him what to do. 'Who can?' he mused. 'The only thing which engages me is what I can do to be successful.' In other words, nobody can tell Bayern Munich's goalkeeper Oliver Kahn what to do. He is, and always has been, alone with his obsession to become the master of his chosen art." Said Amy Lawrence of The Guardians in 2002. Oliver Kahn always followed on a principle which is " NEVER GIVE UP ".
The achievements and records to conclude the successful career of Oliver Kahn are:-
Club:
Karlsruher SC II:
Oberliga Baden-Württemberg: 1989–90.
Verbandsliga Nordbaden: 1988–89.
Bayern Munich:
Bundesliga(8): 1996–97, 1998–99, 1999–2000, 2000–01, 2002–03, 2004–05, 2005–06, 2007–08.
DFB-Pokal(6): 1997–98, 1999–2000, 2002–03, 2004–05, 2005–06, 2007–08.
DFB-Ligapokal(5): 1997, 1998, 2000, 2004, 2007.
UEFA Champions League: 2000–01.
UEFA Cup: 1995–96.
Intercontinental Cup: 2001.
International:
UEFA European Championship: 1996.
FIFA Confederations CupThird place: 2005.
FIFA World CupSecond place: 2002.
FIFA World CupThird place: 2006.
Individual:
Best BundesligaKeeper: 1994, 1997, 1998, 1999, 2000, 2001, 2002.
kickerBundesliga Team of the Season: 1996–97, 2001–02.
IFFHS World's Best Goalkeeper: 1999, 2001, 2002.
Best European Goalkeeper: 1999, 2000, 2001, 2002.
UEFA Club Football Awards– Best Goalkeeper: 1999, 2000, 2001, 2002.
ESM Team of the Year: 1999–2000, 2000–01.
UEFA Champions League Final Man of the Match: 2001.
German Footballer of the Year: 2000, 2001.
Ballon d'Or– Third place: 2001, 2002.
UEFA Fair-Play Award: 2001.
FIFA World Cup Golden Ball: 2002.
FIFA World Cup Yashin Award: 2002.
FIFA World Cup All-Star Team: 2002.
FIFA World Player of the Year– Silver award: 2002.
FIFA 100.
Golden Foot: 2017, as a football legend.
Oliver Kahn Net Worth:
After Assembling information from some sources we collected that in the present year 2020 Oliver Kahn's net worth is around $ USD 9 Million and his primary income source was from the game of football and other than this from various endorsements and ventures.