Luis Figo Biography:
Luis Figo was one of the greatest midfielders of his generation. He was one of the most creative midfielders who uses to break opponents' defense as smoothly as wingers. In his career, he has played for both the big teams Barcelona and Real Madrid. He was an important part of the Real Madrid Galacticos era.
Luis Figo had a successful career which can be concluded by all the trophies he has won and all the records he has established. Only one regret he had that he failed to win any major trophy for his Country. He has the record for the second-highest number of assists in La Liga history.
Luis Figo biography is all about his family, career, and the struggle which gave him success.
Luis Figo Family: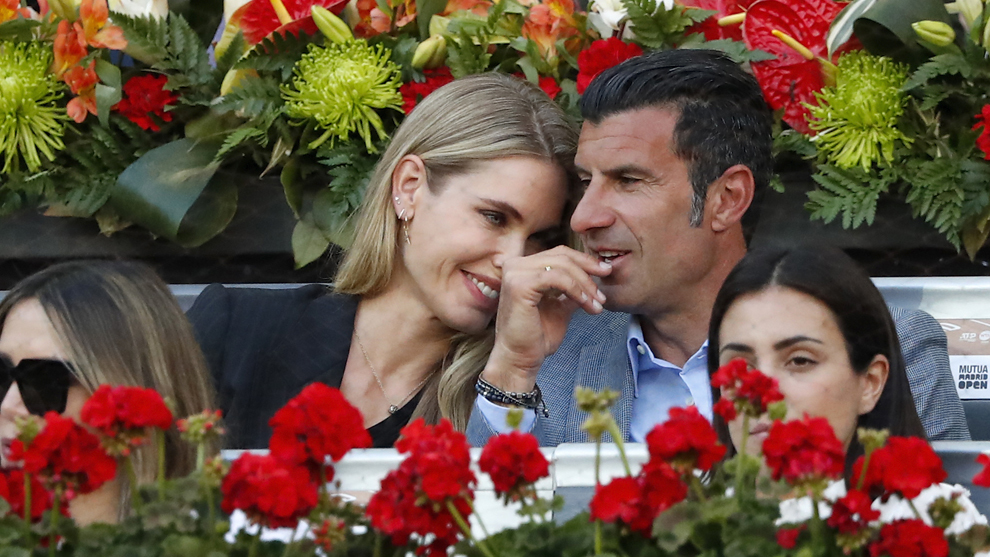 Luis Figo was the only child of António Caeiro Figo and Maria Joana Pestana Madeira who had migrated from Alentejo to Lisbon during the early 1970s. Figo grew up in a working-class neighborhood in the Cova Da Parade district in Almada. He started playing futsal at a young age on the streets with his friends and at the age of 12, he moved to Academy of Sporting Club De Portugal (Sporting CP).
Luis Figo had been dating Swedish model Helen Svedin since 1996. The couple finally got married in 2001. The couple has 3 beautiful daughters – Daniela Figo born in march 1999, Martina Figoborn in April 2002 and Stella Figo born in December 2004.
Luis Figo Career:
Luis Figo had an incredible career which many players just dream to have. He had successfully achieved his dream of being one of the greatest of his era.
Sporting Fc: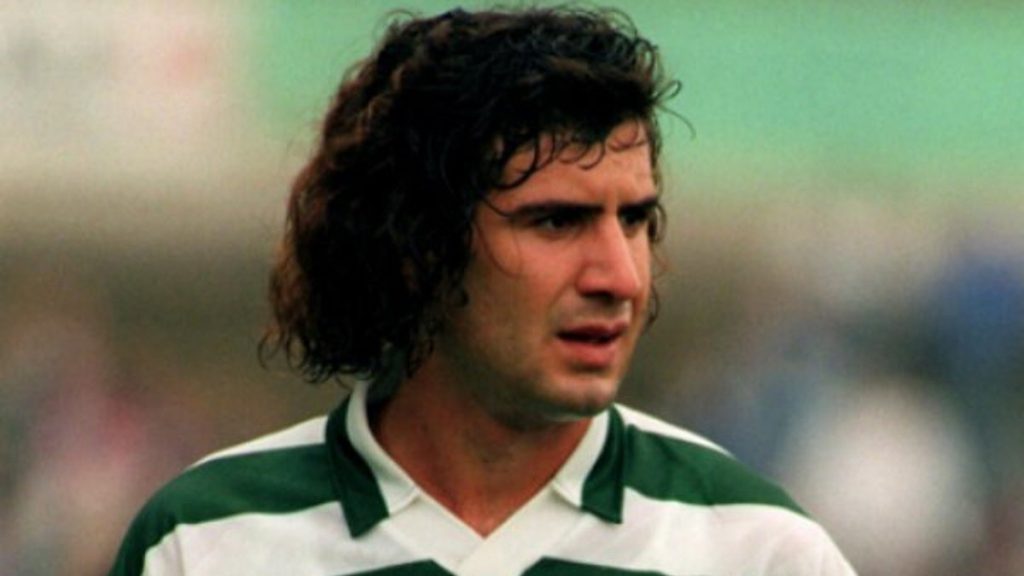 Figo in his youth career played for Sporting CP. Luis Figo footballer made his senior team debut for Sporting CP on 1st April 1990 during the season 1989 – 1990 against Maritimo as a substitute which ended in a 1-0 win. On 7th December 1991, Luis Figo has scored his first goal against Toreense. Figo scored the equalizer and the match ended in a 2-1 victory for Sporting, Luis Figo sporting career ended in 1994 – 1995, he failed to win the league title but successfully won the Portuguese Cup.
Fc Barcelona: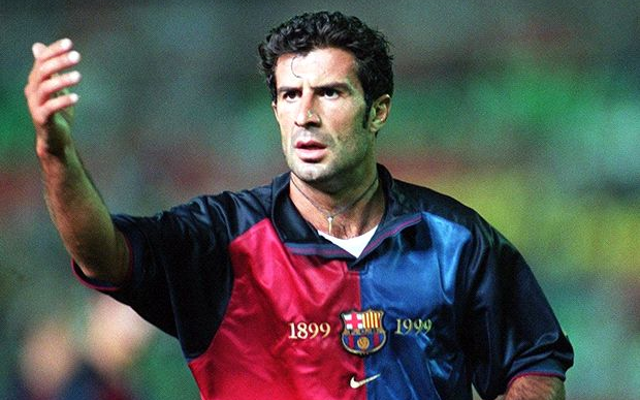 In the 1995 summer transfer window, Figo initially looked for a move to Italy and ended up signing contracts with both the Italian Clubs Juventus and Parma which resulted in a two-year ban for the Portuguese in Italian transfer. Later he considered a move to Manchester City who could not sign him because the English clubs were allowed to sign Portuguese players only at a specific time. Later Luis Figo FC Barcelona move got completed for a fee of £2.25 million, Luis Figo Biography Covers that his move to Spanish giants was great spring in his career.
Luis Figo Barcelona career really took off when He won the UEFA Cup Winners Cup during the season 1996 – 1997. He also went on winning successive League Titles. He had started providing unbelievable assists to the strikers. Figo went on to score 30 goals in his 172 appearances for Barcelona. He was revered in Barcelona because his presence in a Barcelona shirt had given to Catalonia a sense of external approval.
Real Madrid: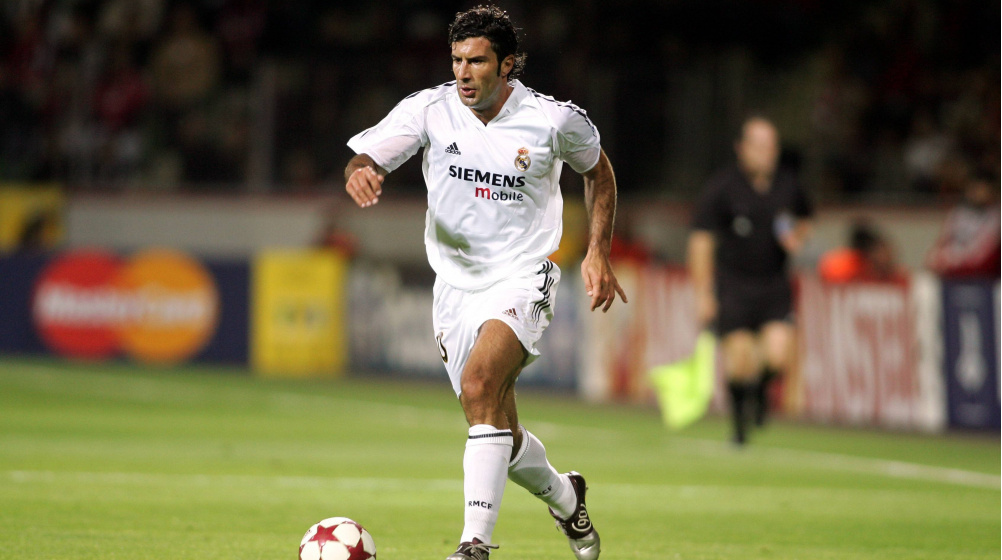 Luis Figo Real Madrid career began In July 2000, when Figo shocked the whole world by making a move to Barcelona's biggest rival Real Madrid for a record-breaking fee of €62 million. Luis Figo was the first signing of the Real Madrid Galactico era. Figo Real Madrid had made the Barcelona fans feel betrayed and they had started to make him the new focus of Real Madrid – Barcelona Rivalry.
He was a star player at Barcelona and one of his Barcelona teammates said "Our plan was simple: give the ball to Luís. He never ever hid.", Luis Figo Barcelona to Madrid move shocked the whole football world and FCBarcelona fans cannot accept that move, they were filled with anger by the move.
Luis Figo 2000 won the Ballon d 'Or award largely for what he did in Barcelona though at that time he was with their bitter rivals Real Madrid, the year 2000 was an important year in Luis Figo Biography.
Figo went to play his first El Classico in the Camp Nou on 21st October 2000. He was welcomed with banners hung and written "traitor", "Judas", "Scum" and "Mercenary". Every time he came out of the tunnel, he heard the sound of 98000 fans at the Camp Nou Jeering him and taunting him which had forced him to put his finger on his ears.
When the match started, there were several things being thrown on him such as oranges, lighters bottles, and mobile phones. Figo was appointed as a regular corner taker but he could not take the corners due to these attacks. Real Madrid teammate Michel Salgado said "By the second or third corner I turned to Luís Figo and said: 'Forget it, mate. You're on your own'. I used to offer Luís the chance to take the short corner, drawing up close to him near the touchline, but not this time. Missiles were raining down from the stands: coins, a knife, a glass whiskey bottle.
Johnnie Walker, I think. Or J&B. Best to keep away. Short corners? No thanks." The match ended 2-0 in favor of Barcelona but it had hurt Figo a lot. Real Madrid defender Ivan Campo said in a press conference "That night when Figo first went back was incredible. I've never heard anything like it. Luís didn't deserve that.
He'd given his all for Barcelona. It was built up before: 'a traitor's coming,' the media said. No, Luís Figo is coming, one of the greats for you. That night hurt him, you could see. His head was bowed and he was thinking: 'bloody hell, I was here last season …' But my lasting emotion was admiration: you've got balls."
In his first season with Real Madrid, he claimed the League title and he went on scoring 14 goals that season. In the following season, Real Madrid won the UEFA Champions League, and Luis Figo Champions league crotchet came true though in that season Luis Figo missed both the league matches against Barcelona that season- one due to injury and the other due to suspension.
In November 2002, Figo played for the second time in the Camp Nou. There was no more hatred residing among the players but the fans had decided to make the game dirty. Figo had decided that this time he would take the corners and throw-ins.
Every time he went near the fans' area, he was welcomed with cans, golf balls, and bottles. In the second half, it took Figo 2 minutes to take a corner because whenever he started the run-up, he was interrupted by some of the other things thrown by the fans. When he went to take the corner on the other side, he slowed to pick up the missiles and as he prepared to take the corner he moved away some of the debris while giving an ironic thumbs-up and smiling.
The situation had worsened so much after this that every time he started his run-up, he was hit by an object and the referee had to suspend the game for almost 20 minutes. During the break, a pig's head was picked up on camera, which was among the debris near the corner flag. Figo in that season with Real Madrid went on winning the Laliga 2002-2003.
After spending five years with Real Madrid, Lusi Figo to Real Madrid moved to his dream league Serie A and joined the Italian giant's Inter Milan.
Inter Milan:
In the summer transfer window 2005, Figo Inter Milan move was predicted as the Serie A giants are following up with the midfielder for a longer period, and finally, Figo joined Inter Milan free of cost after the expiration of his term with Real Madrid. It was his dream to play in the Italian League which was initially stopped due to the transfer ban in the Italian League. Figo was joined by his friend Jose Mourinho at the managerial level in 2008., Luis Figo Biography expresses his move to Inter Milan was a dream come true for the footballing genius.
Luis Figo Inter Milan quest went for four seasons with the Italian giants, he successfully claimed the league title every season. His Freekick against Roma in the extra time of the Copa Italia was one of his most memorable freekicks. On 16th May 2009, Inter claimed the league title and Luis Figo announced his retirement from football. His final game was on 31st May against Atlanta where he captained the team. When he was being substituted for the last time, he received a standing ovation from all the fans present in the stadium.
At the press conference, he said "I am leaving football, not Inter. I hope to be able to help this club to become even greater also after my retirement. I will certainly work for Inter in the future on the club board. I never imagined that I was going to remain here for such a long time. What I will never forget is the love that I have received since my first day here from my teammates and president Massimo Moratti. I will never forget it; Inter has given me the chance to start a winning cycle with some extraordinary people."
International Career:
Luis Figo was the one who brought Portugal's " Golden Generation ". Figo won a FIFA World Youth Championship in 1991, the same year Lusi Figo Portugal debut was made against Luxembourg on 16 October 1991, in a friendly match that ended 1–1 when he was only 18 years old. He scored his first goal for the senior team against 11 November 1992.
During the qualifiers of the 2002 World Cup, Figo scored 6 goals in 9 matches. He was made the captain of the Portugal National Team before the World Cup and everyone had high expectations, especially from Figo. Sadly Portugal was knocked out in the group stages and Figo failed to make an impact on the game.
In the 2006 World Cup, Portugal looked strong enough under the captaincy of Figo, and at that time Luiz Felipe Scolari was in charge of the Portuguese national team and Luis Figo and Cristiano Ronaldo were the ones who were spearheading the Portuguese team to their world cup quest, Portugal won all the three matches of the group stages and headed to beat the Netherlands in the round of 16 and England in the Quarter Finals. In the Semi-Finals, Zidane's penalty knocked out Portugal.
During the third-place match, due to some controversies, Figo did not start and Pauleta played as the captain. Portugal were 2-0 down against host Germany. In the 77th minute, Figo came in and was immediately handed the captain band. Though Portugal had conceded another goal, Figo had assisted a consolation goal to teammate Nuno Gomes. It was his last international match and after that, he had passed on the Captaincy and the number 7 jersey to Cristiano Ronaldo.
In the Euro 2000 qualifiers, Figo scored 3 goals of 10 matches. In the first match of the tournament, Figo scored the first goal to make a come back against England and end the match in a 3-2 win. Portugal entered the semi-finals as group toppers but was eventually knocked out in the Semi-Finals.
In the 2004 Euro, Portugal was unstoppable under the captaincy of Luis Figo and reached the Finals and were the favorites to win the finals. Greece won the final by a headed goal at the 57th minute by Charistae. The defeat in the finals had made Figo too sad and he had announced his retirement from international football but somehow was convinced to play the finals.
Even after going trophyless, still, this was known as the " Golden Generation ". Portugal was in its best form in the last 40 years. All happened under the captaincy of Luis Figo.
Luis Figo Post-retirement:
On 28th January 2015, Former Football Player Figo announced his interest to run for the FIFA Presidential Elections with endorsers Jose Mourinho and David Beckham. In his manifesto, Figo mentioned his support for expanding the World Cup to 48-team finals tournaments and promised greater investment in grassroots football and national federations. Although on 21st May, Figo withdrew from the election campaign saying he did not want absolute power.
Luis Figo Net Worth:
Luis Figo has an incredible net worth of $50 million. Most of his income has come from his playing career and the rest from his partnership with different brands.
Luis Figo Records and Achievements:

The achievements and records established by Luis Figo are as follows:-
Club:
Sporting CP:
Taça de Portugal: 1994–95.
Barcelona:
La Liga: 1997–98, 1998–99.
Copa del Rey: 1997, 1998.
Supercopa de España: 1996.
UEFA Cup Winners' Cup: 1997.
UEFA Super Cup: 1997.
Real Madrid:
La Liga: 2000–01, 2002–03.
Supercopa de España: 2001, 2003.
UEFA Champions League: 2002.
UEFA Super Cup: 2002.
Intercontinental Cup: 2002.
Inter Milan:
Serie A: 2005–06, 2006–07, 2007–08, 2008–09.
Coppa Italia: 2006.
Supercoppa Italiana: 2006, 2008.
Individual:
UEFA Under-21 Championship Golden Player: 1994.
Portuguese Golden Ball: 1994.
Sporting CP Player of the Year: 1994.
Portuguese Footballer of the Year: 1995, 1996, 1997, 1998, 1999, 2000.
ESM Team of the Year: 1997–98, 1999-00.
La Liga Foreign Player of the Year: 1999, 2000, 2001.
UEFA European Championship Team of the Tournament: 2000, 2004.
World Soccer (magazine) Player of the Year: 2000.
Ballon d'Or: 2000.
FIFA World Player of the Year: 2001.
FIFA World Player of the Year – Silver Award: 2000.
UEFA Team of the Year: 2003.
UEFA Champions League top assist provider: 2004–05.
FIFA World Cup All-Star Team: 2006.
Inter Milan Player of the Year: 2006.
FIFA 100.
Golden Foot: 2011, as a football legend.
IFFHS Legends.
Orders:
PRT Order of Prince Henry – Officer BAR.png Officer of the Order of Prince Henry.
 Medal of Merit, Order of the Immaculate Conception of Vila Viçosa (House of Braganza).
Luis Figo Accolades:
Luis Figo is a Former Portuguese Fame footballer who is widely regarded as one of the greatest footballers of his generation and also one of the famous player for his country. Throughout his illustrious career, Figo has won numerous individual Trophies and receives many recognitions, as well as several team trophies with his club and country. Here are some of his most notable accomplishments:
FIFA World Player of the Year: 2001
Ballon d'Or: 2000
UEFA European Footballer of the Year: 2000
UEFA Champions League Winner: 2002
Spanish La Liga Winner: 1996, 1997, 1998, 1999, 2000, 2001
Spanish Copa del Rey Winner: 1996
Portuguese Primeira Liga Winner: 1995
Portuguese Cup Winner: 1995
UEFA European Championship Winner: 2016 (as Portugal's assistant coach)
UEFA Champions League Top Scorer: 2000-2001
FIFA World Cup All-Star Team: 2006
FIFA 100 (a list of the 100 greatest living footballers selected by Pelé): 2004
These are just a few of the many accolades that Luis Figo has earned over the course of his career. He is widely regarded as one of the greatest footballers of all time and his achievements on the pitch have cemented his legacy as a true legend of the game.