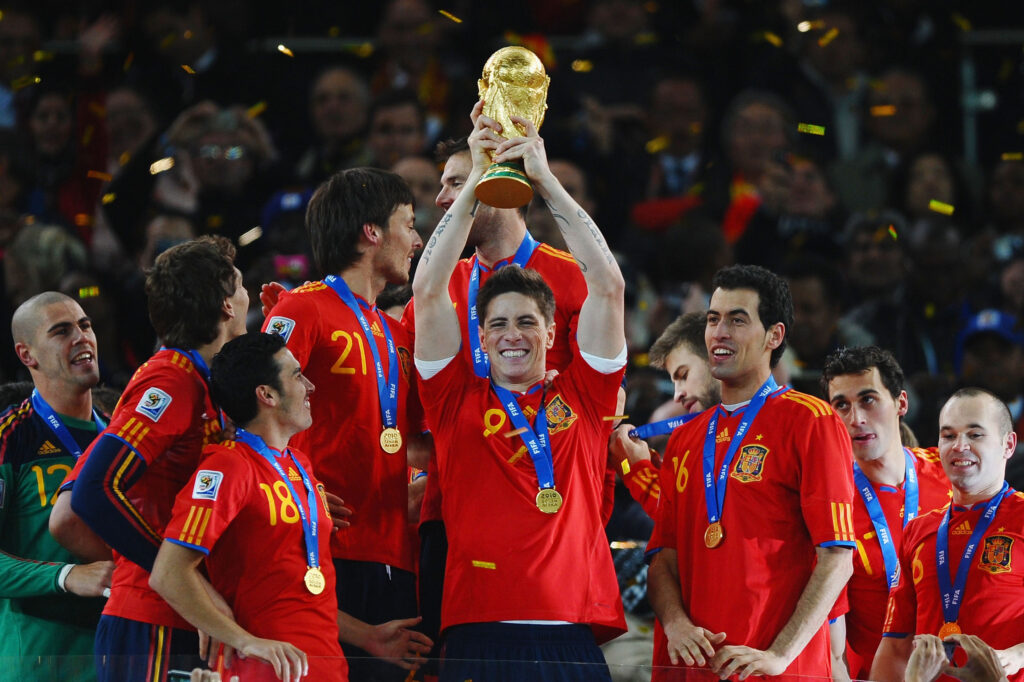 Fernando Torres was one of that rare strikers who was capable enough of being a world-class player and also possessed world-class skills. He had an eagle's vision and could either score or provide assistance or just create space for others to attack.
He was a really hard-working player and his only aim was to put pressure on the opposition defenders. He always believed in one theory which is to break the defense and win the game. He was a technically proficient and extremely successful striker.
Fernando Torres in his prime was considered to be one of the best strikers in the world. He could have kept the tag of best only if several injuries did not take away his form, pace, and confidence and brought down his goal-scoring ratio.
He played for the Spanish National team and won the Euro Cups in 2008 and 2012 and successfully won the FIFA World Cup 2010. He also bagged the top scorer award in the Euro 2012 and scored the winner in the finals of the Euro 2008.
While signing for Liverpool, he broke the club's record transfer fee. Fernando Torres bio is about his family and one of the memorable careers that his hard work and talent earned him.
Fernando Torres Biography covers his world cup and Euro Winning Stories.
Fernando José Torres Sanz: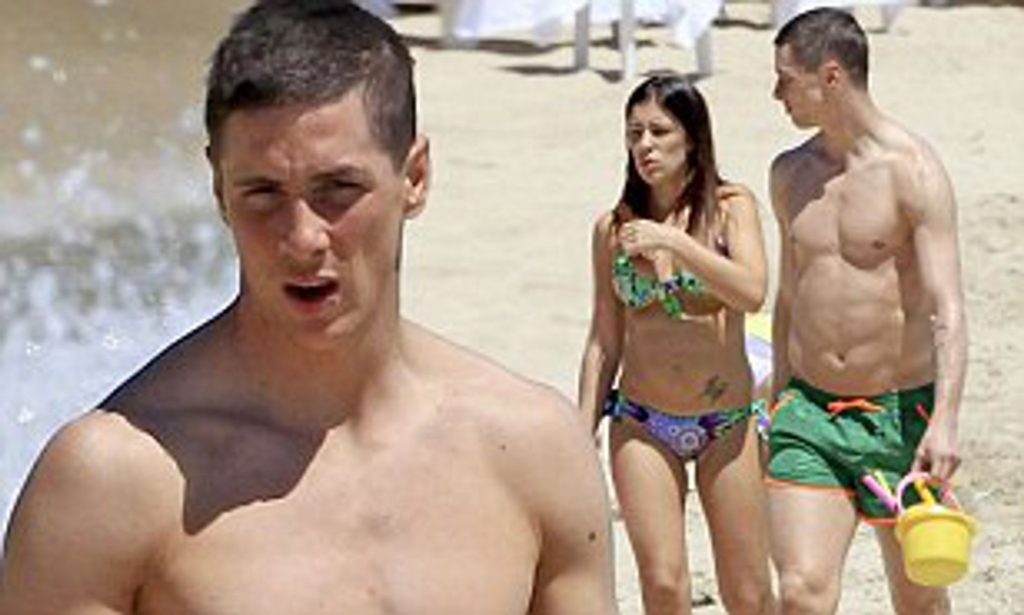 Fernando José Torres Sanz was born on 29th March 1984 at Fuenlabrada in Madrid. His father José Torres was a daily wage worker and his mother Flori Sanz was a housewife.
His grandfather was not passionate about football but was a supporter of Atletico Madrid. When aged 5, Torres got his first club Parque 85, and started playing as a goalkeeper but later started as a regular striker. Then he joined an 11 side team Rayo 13 and ended his first season with 55 goals and earned a trial at Atletico Madrid when aged 11.
On 27th May 2009, Torres married Olalla Domínguez Liste in a private ceremony with just two witnesses at the local town hall in El Escorial, Madrid. The couple has two children – daughter Nora, born on 8 July 2009 at the Hospital La Rosaleda, in Santiago de Compostela, Galicia, and a son, Leo, born on 6 December 2010 at Liverpool Women's Hospital.
Fernando Torres Biography–CAREER:
CLUB CAREER:
Atlético Madrid Club: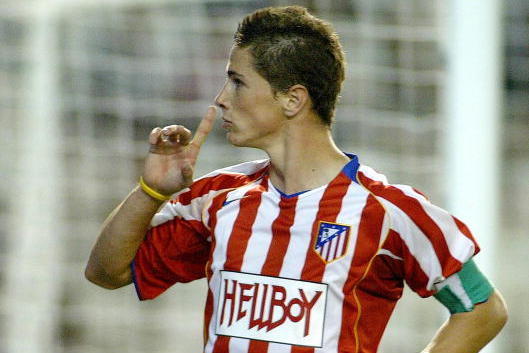 In 1998, Atlético sent an under-15 team to compete in the Nike Cup, in Spain and Europe, to play against youth teams from other clubs where Atlético won the tournament and Fernando Torres won the honor of the best player in Europe of his age group. Fernando Torres signed his first professional contract with the club in 1999 at the age of 15.
The 2000 – 2001 season began unlucky for him when he suffered from a cracked shinbone which kept him out of play until December. However, after his return, he started training with the senior team to get ready for the pre-season and made his debut on 27th May 2001 against Leganes.
A week later he scored his first goal for the senior team against Albacete. At the end of the season, Atletico missed promotion to La Liga by a short margin.
In the 2001-2002 season, Torres ended up scoring 6 goals in 36 appearances and helped Atletico qualify for the La Liga. In the La Liga, Fernando Torres scored 13 goals in 29 games and helped Atletico finish 11th in the league. In July 2003, Chelsea made a bid of £28 million for Torres which was turned down by Atletico's board of directors.
In the 2003 – 2004 season, Fernando Torres ended up scoring 19 goals in 35 appearances and finishing 3rd joint top scorer in the league and helped Atletico finish 7th in the league. At the age of 19, he was given the captaincy of the team. However, Atletico failed to qualify to the UEFA Cup by a short margin but qualified for the 2004 UEFA Intertoto Cup. Atletico successfully qualified to the finals but lost 3-1 in penalties against Villareal.
In 2005, Chelsea was again ready to make a bid for Fernando Torres again put Atletico made it clear they were not interested in any offer for Torres. Later in January 2006, the club President said they were willing to listen to offers for Torres. In the 2006 – 2007 season, Torres netted 16 goals.
It was said that Liverpool had made an offer for Fernando Torres but this was turned down when Atletico President said they had received no offer from Liverpool.
Liverpool Football Club:
Liverpool signed Fernando Torres for a club-record fee of £25 million. On 11th August 2007, Torres made his debut for Liverpool in a 2-1 win against Aston Villa. On 19th August 2007, Torres scored his first goal for the club in a 1-1 draw against Chelsea.
On 25th September he scored the first hat trick on his career in a 4-2 victory against Reading in the League Cup. He became the first player for Liverpool after Robbie Fowler in the 1995 – 1996 season to score 20 goals in a single season.
In the Champions League, he scored against Arsenal in the quarter-finals to help Liverpool qualify for the semi-finals. He scored 24 Premier League goals and set a new record for the most prolific foreign goal scorer in a debut season in England, crossing Ruud van Nistelrooy's 23 goals.
Fernando Torres started the 2008 – 2009 season by opening the scoring in a 1-0 win against Sunderland. He suffered a hamstring tear in a 0–0 draw against Aston Villa, which would keep him out for two to three weeks. Torres made his return in a 2–1 victory against Marseille in the Champions League.
On 22 October 2008, Liverpool played Fernando Torres' former club Atlético in the Champions League but his injury meant he missed out on the game. Atlético president Enrique Cerezo had given him a VIP invitation to watch the game, but he declined this to continue his rehabilitation from injury in Merseyside.
After his return against Marseille, he picked up a hamstring strain which kept him out for further 2-3 weeks. Torres returned to action on 3 January 2009 as a substitute with a goal in the 2–0 win over Preston North End, his first in the FA Cup. On 24th May 2009, Torres scored his 50th Goal for Liverpool against Tottenham on his 84th appearance.
On 14th August 2009, Fernando Torres signed another contract with the club. By signing, Torres had the option of a one-year extension after the contract's expiration in 2013. On 19th September 2009, Fernando Torres scored two goals in a 3-2 win over West Ham which took Liverpool to the third position in the Premier League table.
On 25 October 2009, he scored the first goal in a 2–0 victory for Liverpool over Manchester United, after which Rafael Benítez praised Torres' performance, saying, "We were waiting for that final pass. When it came we knew he would score".
His late winner against Aston Villa on 29 December 2009 made him the fastest Liverpool player ever to score 50 league goals. He ended the season with 22 goals in 32 games.
The next season, Fernando Torres scored his 50th goal at Anfield in a 1-0 victory against West Brom on 29th August 2010. He scored his last goal for the club on 22nd January 2011 in a 3-0 win against Wolverhampton Wanderers.
CHELSEA Football Club: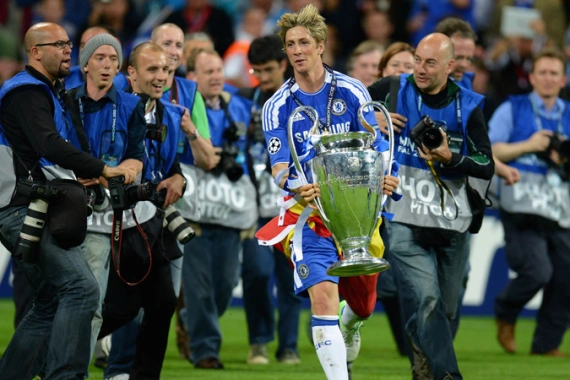 On 31st January 2011, Fernando Torres joined Chelsea for £50 million, which set a new record for a British transfer and made him the sixth most expensive footballer in history. e made his Chelsea debut on 6 February 2011 in a 1–0 home defeat to former club Liverpool.
On 23 April 2011, Fernando Torres scored his first goal for Chelsea against West Ham United in a 3–0 victory, which ended a run of 903 minutes of football without a goal.
Torres started the fresh season on 14th August 2011 in a 2-2 draw against Stoke City. On 18th September, he scored his first goal of the season in a 3-1 defeat against Manchester United. After scoring the second goal of the season against Swansea City, he received his first Premier League red card after a two-footed challenge on Mark Gower.
On 29th April 2012, he scored his first hat trick for Chelsea in a 6-1 win against Queens Park Rangers. In the 2012 Champions League final, Torres came on as a 2nd half substitute where Chelsea won the title after defeating Bayern Munich 4-3 on Penalties. Fernando Torres ended the season with 11 goals in 49 appearances.
The 2012-2013 season started with Fernando Torres scoring the opening goal in the Community Shield finals against Manchester United but had to face a defeat of 3-2. On 28th October 2012, Torres was sent off after receiving 2 yellow cards – the second one for diving and left his team with nine on the field after teammate Branislav Ivanović was also sent off and the team went on to lose 3–2.
On 21 November 2012, Roberto Di Matteo was replaced as Chelsea manager by Rafael Benítez, who had previously coached Torres at Liverpool. It was reported that one reason for Benítez's appointment was to help Torres return to his best form. Fernando Torres ended his goal drought of 11 hours in the game after scoring twice against Nordsjælland in a 6-1 victory. He ended the season with 22 goals in 64 matches.
Chelsea's new Jose Mourinho manager allowed Fernando Torres to start the first match of the 2013 – 2014 season against Hull City even after having a poor form. He scored his first goal of the season in the 2013 UEFA Super Cup against Bayern Munich.
On 22nd October 2013, Torres made his 100th start for Chelsea against Schalke 04 in a Champions League match and scored two goals in a 3–0 win.
AC MILAN: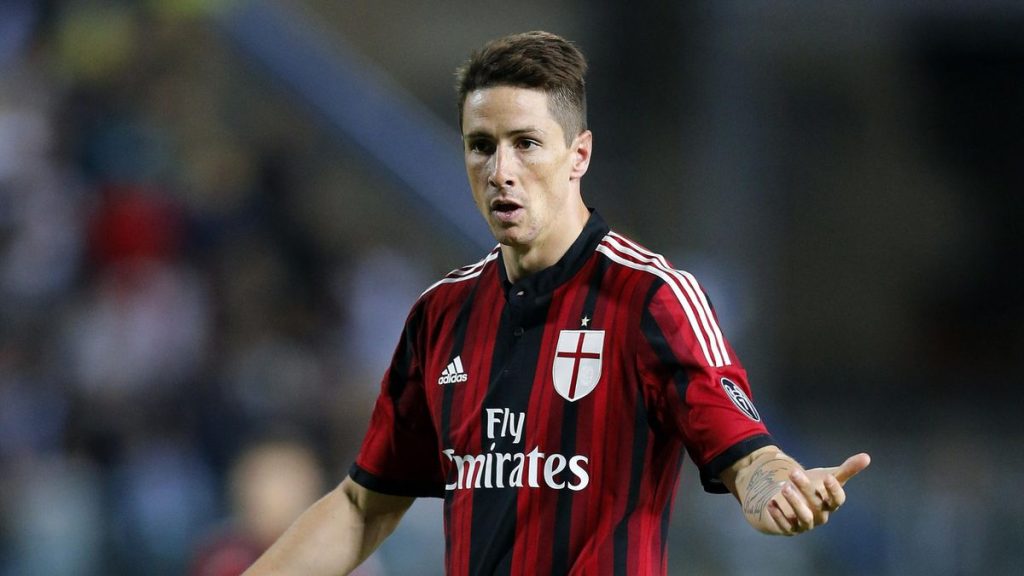 On 31st August 2014, Torres joined AC Milan on a 2-year loan. On 20th September 2014, Torres finally made his debut for Milan in a 1-0 defeat against Juventus playing for the last 14 minutes. Two days later he scored his first goal for the club from a header in a 2-2 draw against Empoli.
BACK TO ATLETICO MADRID: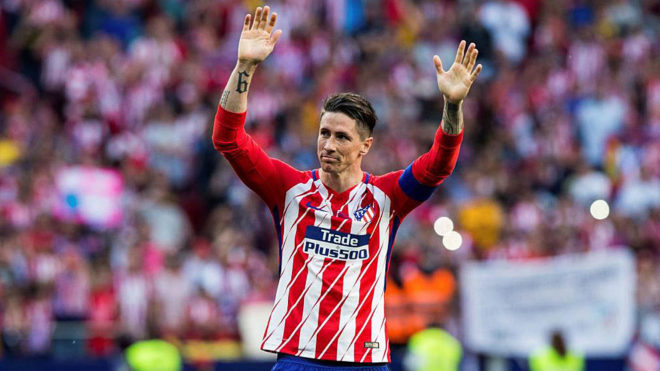 On 29th December 2014, Fernando Torres joined Atletico Madrid on a one-and-a-half-year deal. On 7th January 2015, he made his start in the second spell in the Copa Del Rey against Real Madrid where he was substituted at the 59th minute and Atletico won 2-0.
Eight days later in the second leg, he went on scoring twice. In the quarter Finals, Fernando Torres got the lead in the first minute against Barcelona but were defeated 3-2. On 6 February 2016, Fernando Torres clinched his 100th goal with Atlético Madrid in a 3–1 victory against Eibar on his 295th appearance for the club.
On 5 July 2016, Fernando Torres signed for Atlético permanently on a one-year contract. In February 2016, he scored his 100th goal for Spanish Football after scoring a brace against Leganes.
On 4 July 2017, Torres signed a new one-year contract with the club to stay with the club for one more year after they were banned from signing new players. In his last match for Atletico, he scored a brace in a 2-2 draw against Eibar.
SAGAN TOSU:
On 10th July 2018, Torres signed for J1 side Sagan Tosu. On 22nd August he scored his first goal for the club against Vissel Kobe.
On 21st June 2019, he announced his intention to retire at the end of the season. On 23rd August 2019, he played the last match of his career against Vissel Kobe which ended in a 6-1 defeat for Sagan Tosu.
INTERNATIONAL CAREER:
On 6th September 2003, Torres made his debut in a friendly against Portugal. On 28th April 2004, he scored his first international goal against Italy.
EURO CUP:
He was selected in the Spanish squad for the Euro 2004 and appeared as a substitute in the first two group games and was allowed to start in the deciding game against Portugal. While Portugal was in a 1-0 lead, Torres in an attempt to score hit the crossbar but failed to score.
Torres was called up of the Spanish squad during the 2008 Euro. He assisted David Villa to score the first goal of the tournament for Spain. Torres was subject to criticism after he refused to shake hands with the manager after being substituted.
He said he wasn't angry but was irritated with himself. Fernando Torres scored the winner and was named the man of the match in the final against Germany. He later said
"It's just a dream come true. This is my first title and I hope it's the first of many. Victory in a Euro, it is almost as big as a World Cup. We are used to watching finals on television, but today we were here and we won. My job is to score goals. I want to win more titles and be the most important player in Europe and the world."
Torres was selected for the Euro 2012 and was ready to make an impact for Spain. In his first match of the tournament, he scored twice against the Republic of Ireland to seal a 4-0 victory for Spain. Spain headed to the finals of the tournament and were ready for a tough fight by Italy.
Torres came on as a substitute and scored one goal and assisted one goal for Spain to take an easy 4-0 win. The tournament earned Torres his first International Golden boot.
WORLD CUP:
In the 2006 FIFA World Cup qualification round Torres scored 7 times in 11 games making him the top scorer. He made his debut in the World against Germany which ended in a 1-0 victory for Spain.
He scored his first World Cup goal in a 4-0 win against Ukraine. Torres scored twice against Tunisia, first in the 76th minute to take Spain 2–1 into the lead and earning the 90th penalty for Spain. He ended the tournament as Spain's joint top scorer with David Villa.
Torres's 2010 World Cup campaign fell in danger after he had to undergo knee surgery on 18th April 2010. He was yet selected in the World Cup squad. Torres came on as a 61th minute substitute in Spain's opening game which ended in a 1-0 defeat against Switzerland.
His next two starts against Honduras and Chile were described as a below-par performance which eventually benched him for the other matches. He was given a chance to come on as a substitute in the 105th minute of the finals where Spain was facing the Netherlands. Andres Iniesta scored the winner for Spain to make Spain the World Champions.
Torres was unexpectedly selected in the 2014 World Cup squad for Spain ahead of Álvaro Negredo and Fernando Llorente. He came on as a substitute in the first two group games and after elimination was confirmed he was given to start against Australia. He scored the 2nd goal in the 3-0 win.
Although he has not announced his unavailability for the national team but he is not being seen in the future of Spanish National team.
Fernando Torres Controversy: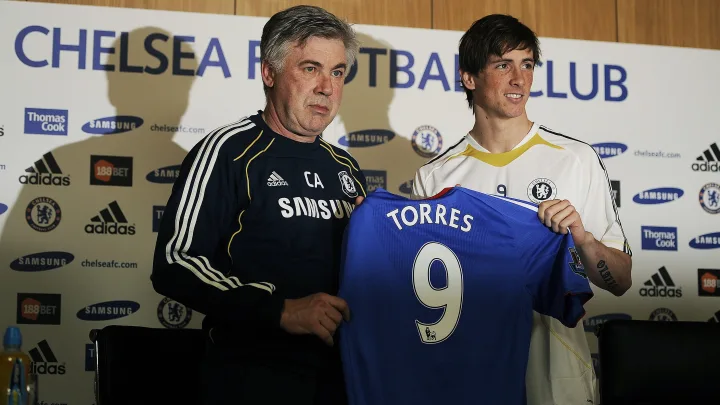 There have been a couple of contentions encompassing previous Spanish footballer Fernando Torres during his profession. The following are a couple of prominent ones:
Liverpool takeoff: Torres was a fan #1 at Liverpool, however in January 2011 he took a disputable action to Chelsea for a revealed £50 million exchange charge. Numerous Liverpool fans felt double-crossed by Torres' choice to leave, and some consumed his pullover in fight.
Racially heartless remarks: In 2011, Torres was censured for offering a racially obtuse remark during a Liverpool-Chelsea match. After the game, he was sorry and said that he didn't intend to cause offense.
Jump against Barcelona: During a Heroes Association match among Chelsea and Barcelona in 2012, Torres was blamed for plunging to win an extra shot. The choice demonstrated disputable, as replays showed that there was negligible contact among Torres and Barcelona safeguard Dani Alves.
Red card against Tottenham: In 2013, Torres was shipped off briefly yellow card during a match against Tottenham. Notwithstanding, many fans and observers felt that the choice was cruel, and that Torres had been unreasonably designated by the arbitrator.
ACHIEVEMENTS AND RECORDS: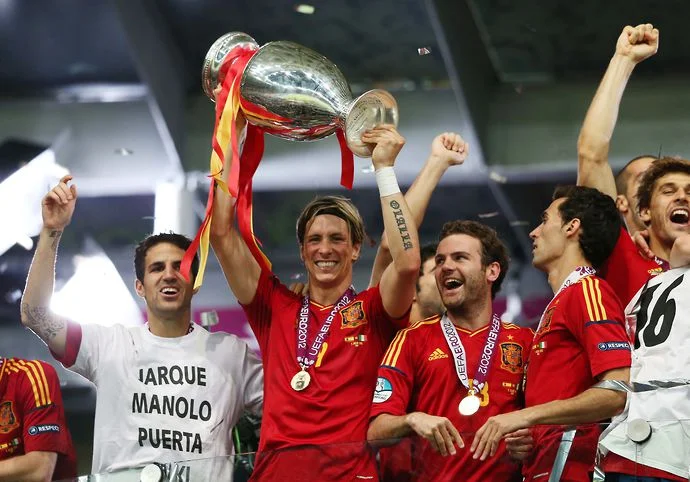 The achievements and records of Fernando Torres which concludes his memorable career are:-
Atlético Madrid
Chelsea
Spain U16
Spain U19
Spain
Individual
Decorations:
Gold Medal of the Royal Order of Sports Merit: 2011
Get more football-related news on Sportslibro.com