Didier Drogba was one of the best strikers Chelsea ever had. He was the first-ever captain to help Ivory Coast qualify for the FIFA World Cup in 2006.
His physical strength, speed, ability in the air, powerful and accurate strikes, and his ability to retain possession of the ball made him better than other strikers. The defenders could not isolate him even after playing a lone striker because of his intrusive approach.
Didier Drogba was from the beginning a big game player who always went on scoring in important games.
Didier Drogba was the prime reason to get his country's recognition in the World of Football. Didier Drogba led his country in the 2006 and 2012 African Cup. In his career, he scored a total of 275 goals in 602 appearances for both club and country.
Didier Drogba biography is about his family and about his career which just many players dream to have.
Didier Drogba Biography–FAMILY: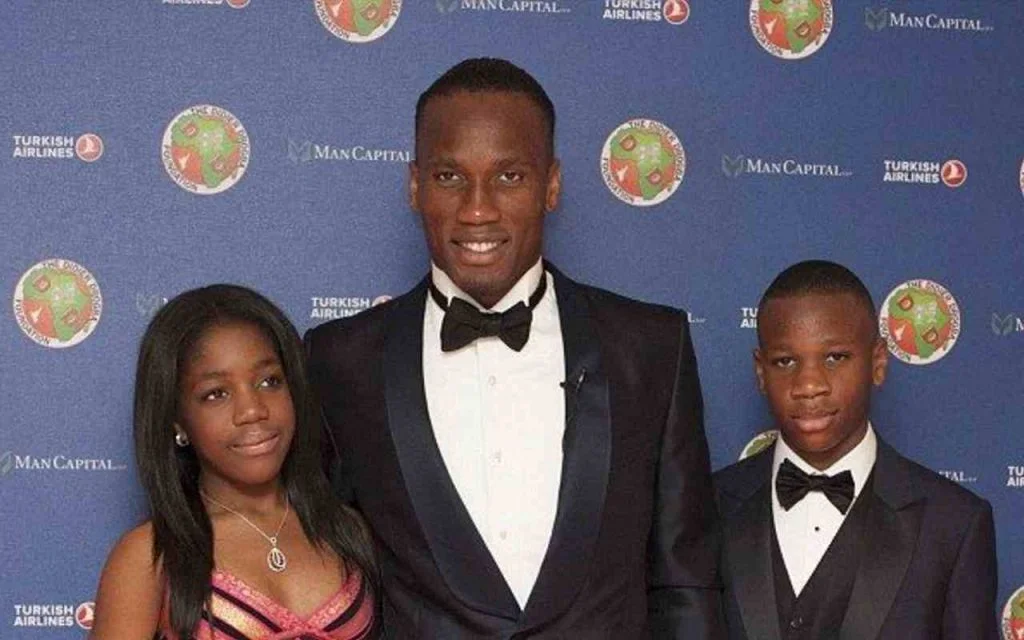 Didier Yves Drogba Tébily was born on 11th March 1978 at Abidjan in Ivory Coast. His father Albert and mother Clotilde were extremely poor and both took jobs wherever they could.
At the age of 5, Didier Drogba was sent to France by his uncle Michel Goba who was a professional footballer. Soon Didier Drogba felt homesick and came back soon after three years. Both his parents lost their jobs and he had to return to his uncle.
Soon his parents also settled in France where he had started playing with the semi-professional club Levallois.
Didier Drogba is married to Lalla Diakité, a Malian woman whom he met in Paris, and the couple has three children together. The eldest son Isaac was born in France in 1999 and played for Chelsea Youth Academy but in February 2018 he signed for French side Guingamp.
CAREER:
CLUB CAREER:
LE MANS: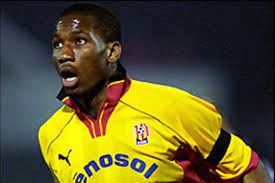 After completing his schooling, Didier Drogba joined the training with Ligue 2 side Le Mans but his first two years were interrupted by injuries, and was physically struggling to cope up with daily training and daily matches.
His coach Marc Westerloppe later said, "it took Didier Drogba four years to be capable of training every day and playing every week". Furthermore, Drogba's complicated family life meant that he had never attended a football academy and only began daily football training as a fully grown adult".
At the age of 21, Didier Drogba signed his first professional contract with the club in 1999. After the birth of his first child, he understood his responsibilities and decided to become a professional footballer.
In his first season, he went on to score 7 goals in 30 games but the next season was again interrupted by an injury. The following season however he scored 5 goals in 21 games.
GUINGAMP: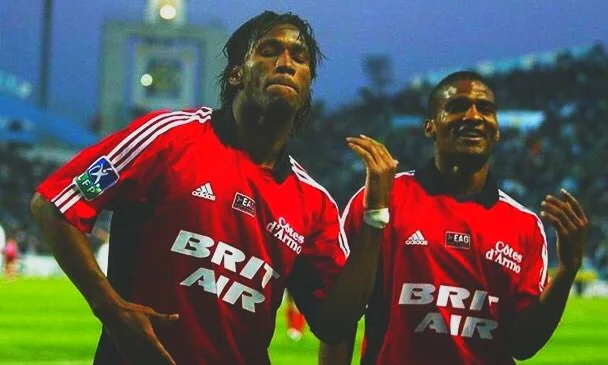 During the 2001 – 2002 season, Guingamp was most likely to suffer relegation before midway through the season they signed the African footballer Didier Drogba for £80,000. Didier Drogba scored three goals in 11 games and saved the team from relegation.
The coach was not convinced to keep him further but later agreed and Didier Drogba grabbed the attention of other big clubs by scoring 17 goals in 34 games and the team finished at a record position of seventh.
MARSEILLE: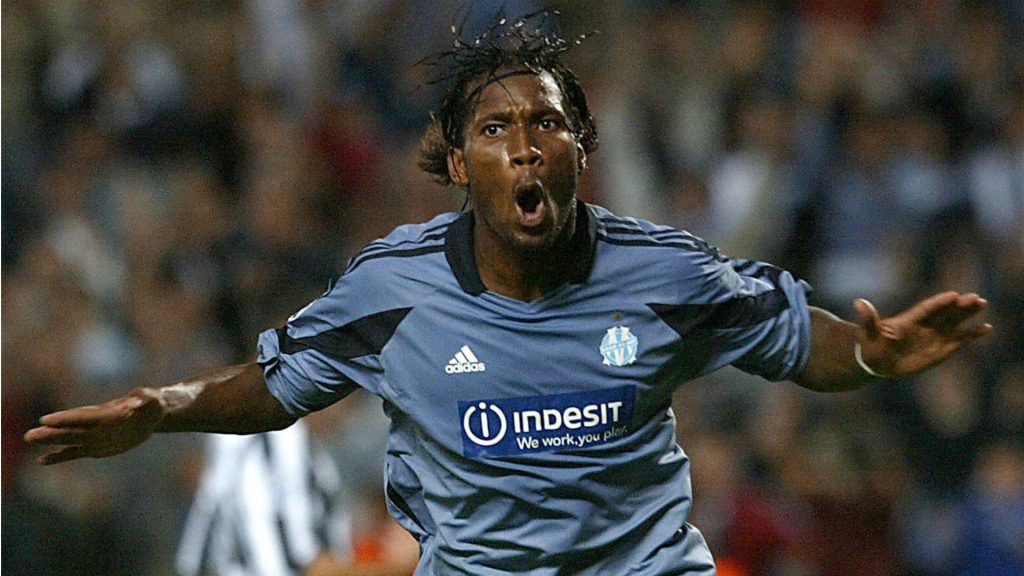 After seeing his brilliance during the 2002-2003 season, Marseille signed Didier Drogba for a fee of £3.3 million. Didier Drogba stayed in Marseille for one season and scored 19 goals in Ligue 1.
He also scored 5 goals in UEFA Champions League and six in the UEFA Cup. That season he grabbed the National Union of Professional Footballers (UNFP) Player of the Year award.
CHELSEA FC:
2004 – 2008: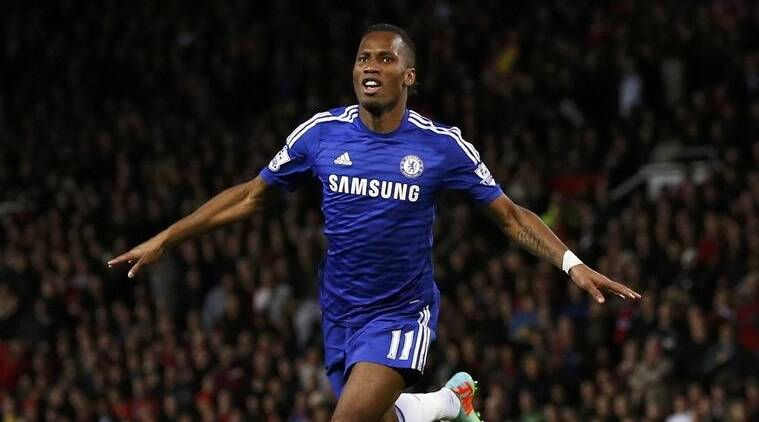 In July 2004, Chelsea FC signed Didier Drogba for £24 million which was the highest ever bid made for any player from the Ivory Coast. Didier Drogba scored his first goal for Chelsea against Crystal Palace.
His season was interrupted when he pulled a stomach muscle against Liverpool which kept him out of action for two months. That season, Chelsea lifted the Premier League title and the Football League cup but the management was disappointed with Didier Drogba scoring 16 goals in 40 games.
The next season he scored two goals in the Community Shield Finals to grab a victory against Arsenal. That season Chelsea successfully claimed the League title and Chelsea became the first club to win back-to-back English Titles in the Premier League era. Didier Drogba again ended the season with just 16 goals.
In the 2006-2007 season, African footballer Didier Drogba made a comeback to score a total of 33 goals in all competitions to win the Premier League Golden boot. That season he scored the late winners against Liverpool and Everton and also scored a 93rd-minute equalizer against Barcelona.
He also scored the winner in the FA Cup Final against Manchester United. Didier Drogba faced problems off the pitch during the end of the season as his transfer from Marseille to Chelsea in July 2004 came under scrutiny. The Stevens inquiry in June 2007 expressed concerns because of the lack of co-operation from agents Pinhas Zahavi and Barry Silkman.
At the start of the 2007-2008 season, Chelsea manager Jose Mourinho decided to leave Chelsea which made Didier Drogba sad and he said that even he wanted to leave if Mourinho left and he had talks with several clubs like Barcelona, Real Madrid, and Milan but later refused to leave Chelsea.
In the training ground, Didier Drogba suffered an injury for which he had to undergo an operation that forced him to miss some key matches against Valencia, Liverpool, and Arsenal. Upon his return, Drogba scored a goal in the 2008 League Cup Final, making him the all-time leading scorer in League Cup Finals.
On 26 April 2008, Didier Drogba faced controversy after a clash with Manchester United defender Nemanja Vidic. Vidic went to have stitches under his lip after losing a tooth in the clash. There was discussion about whether Didier Drogba had the intention or not to injure his rival.
After a lot of controversies, FIFA found only a yellow card to be adequate punishment. Chelsea made history by defeating Liverpool in the Champions League semi-finals where Didier Drogba went on to score two goals in the 2nd leg.
In the 117th minute of the Champions League final, Drogba was sent off after slapping Manchester United Defender Vidic and Chelsea lost the game 6-5 on penalties.
2008 – 2012: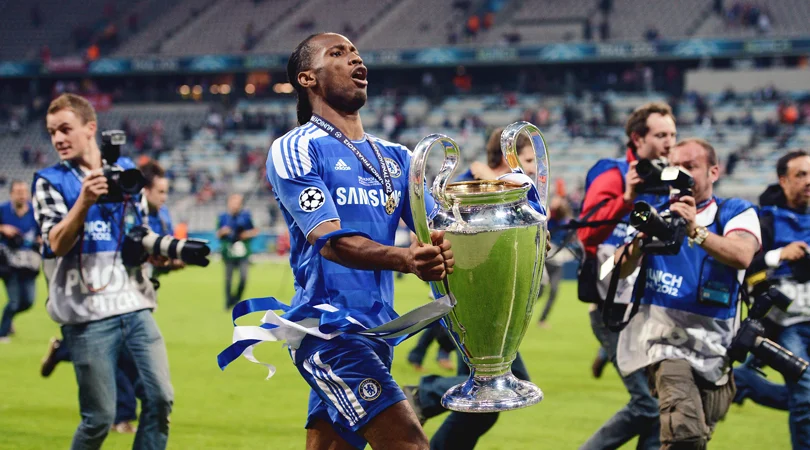 The start of the 2008 – 2009 season was missed by Didier Drogba until November due to injury. After returning in mid-November, he had to suffer a three-match ban after throwing a coin back into the stands. After missing many games through injury and suspension, Didier Drogba had lost his first-team place and manager Scolari favored playing Nicolas Anelka as a lone striker rather than pairing the two.
After the appointment of the new manager, Didier Drogba gained back his position and went on to score four goals in five games. Didier Drogba also caused controversy after Chelsea was defeated in the Champions League semi-final by Barcelona.
He felt that many decisions had gone against Chelsea and he confronted referee Tom Henning Øvrebø after the final whistle. He received a yellow card in the process and was given a 6-match European ban which was later reduced to 5. In the 2009 FA Cup final, he initially scored an equalizer and later went on to win 2-1.
Didier Drogba began the 2009 and 2010 seasons by winning the Community Shield against Manchester United. He scored his 100th goal for Chelsea in a 3–1 defeat against Wigan Athletic. He had to miss the first three Champions League matches for Chelsea with a ban after slapping Vidic.
Didier Drogba started the fourth game against Atlético Madrid. He scored two goals in the last ten minutes and the match ended 2–2. On 9th May 2010, he helped Chelsea claim the league title after scoring a hattrick in an 8-0 win against Wigan Athletic. He also claimed the golden boot and in the 2010 FA Cup final, he scored the winning freekick against Portsmouth.
The next season started with a loss for Chelsea in the Community Shield Final against Manchester United. His season ended in October when it was found that he was suffering from malaria.
Didier Drogba scored his 100th Premier League goal for Chelsea on 10 March 2012, in a 1–0 win over Stoke City. He is the first African player to reach that landmark. In the FA Cup final, Drogba scored a late winner against Liverpool to claim a 2-1 victory and also scored a crucial goal against Barcelona in the Champions League Semi-Finals.
In the Champions League Finals, Didier Drogba scored a late equalizer in the 88th minute to draw the game against Bayern Munich and won the Champions League Title in the penalties by beating Bayern Munich 4-3.
On 22nd May 2012, Didier Drogba was released by Chelsea.
2014 – 2015 – Return to Chelsea: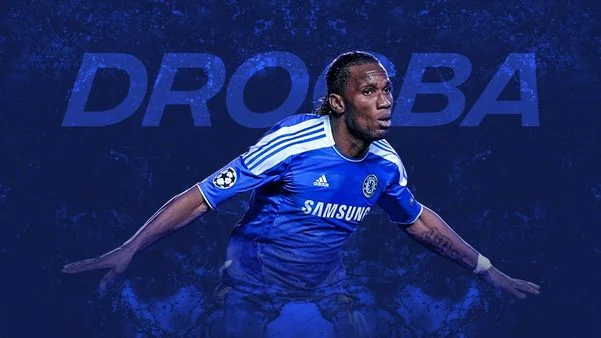 In 2014, after the return of Mourinho, on 25th July Didier Drogba decided to come back to Chelsea and signed a one-year contract. On 18th August, Didier Drogba played his first match after return where he came on as a substitute in a 3-1 win against Burnley.
After his return, he scored his first Premier League goal against Manchester United, and the match also marked his 350th appearance as a Chelsea player.
On 24th May 2015, he announced that the last game for Chelsea that season would be his last game as a Chelsea player.
SHANGHAI SHENHUA: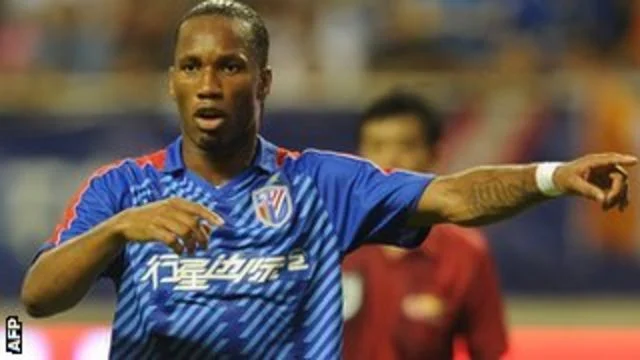 On 19th June 2012, Drogba decided to join the Chinese side Shanghai Shenhua on a two and a half year deal. On 22 July, Drogba made his debut for Shanghai Shenhua in a 1–1 away draw against Guangzhou R&F and he scored his first goal against Hangzhou Greentown in a 5-1 victory.
GALATASARAY: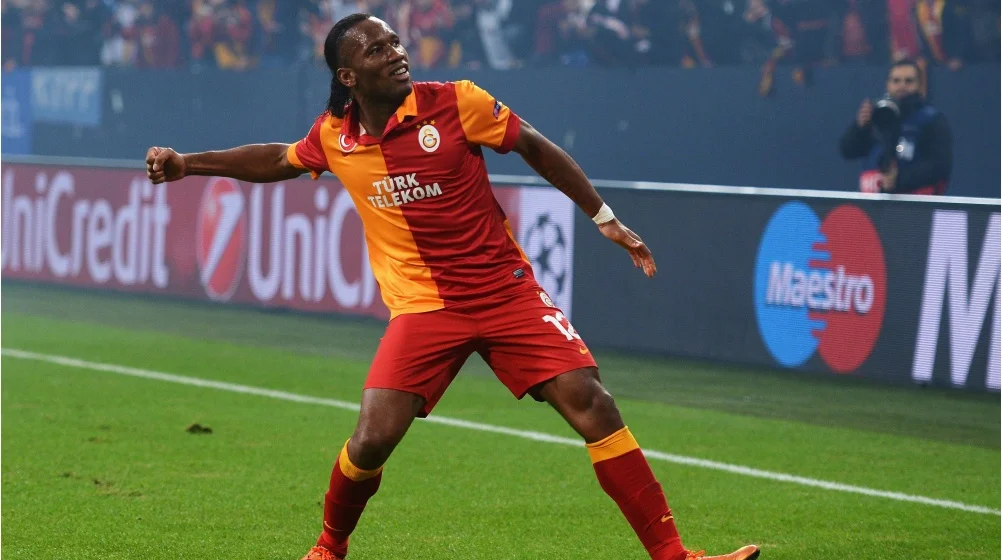 On 28th January 2013, Drogba signed with the Super Lig side Galatasaray on a one-and-a-half-year deal. On 15 February, Drogba scored his debut goal for Galatasaray just five minutes after coming off the bench against Akhisar Belediyespor in a match that ended 2–1.
On 9 April, Drogba scored his first goal for Galatasaray in the Champions League quarter-final game, against Real Madrid.
MONTREAL IMPACT: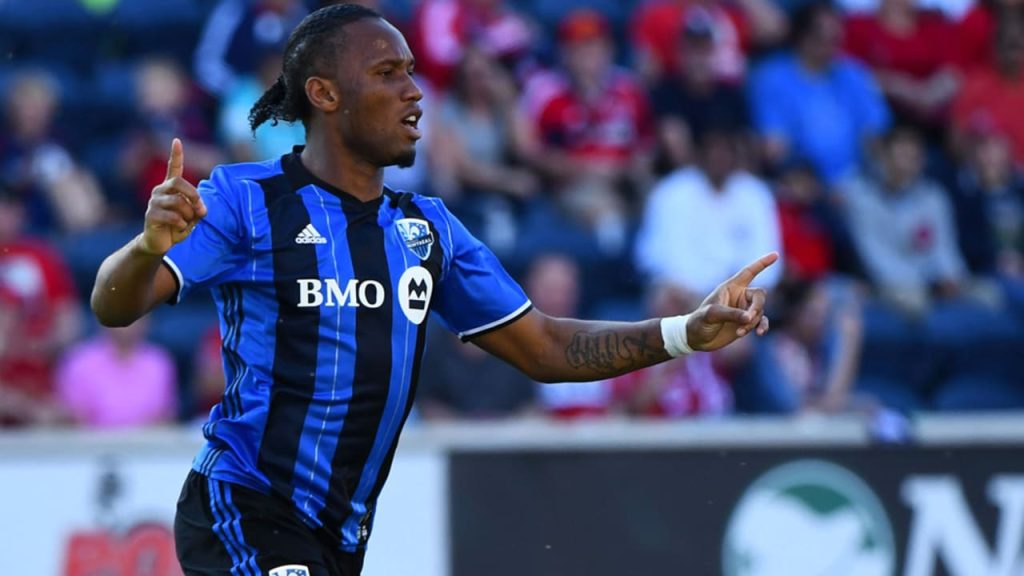 On 27th July 2015, Drogba signed with Montreal Impact with a one-and-a-half-year deal. On 23 August, he made his debut in a 0–1 home loss against the Philadelphia Union. On 5 September, Drogba scored a hat-trick on his first MLS start, the first player to do so in the league's history. Additionally, it was considered a "perfect hat-trick", with one goal scored with either foot and one with the head.
On 14 October 2016, following his exclusion from the starting lineup of a match against Toronto FC by manager Mauro Biello, Drogba refused to play for the team that night, removing his name from the squad. With both his fitness, due to a lingering back injury, and his role in the team in question, Drogba refused to travel with the team.
PHOENIX RISING: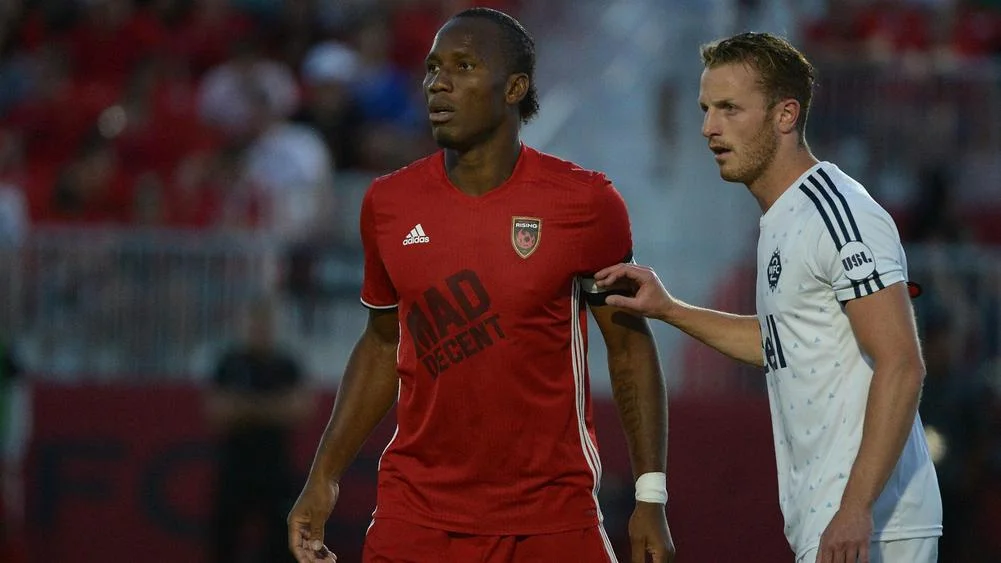 On 12th April 2017, Drogba signed with the USL side Phoenix Rising FC and also became the Minority owner of the club. He made his debut for the club on 10 June 2017, and scored a goal and an assist, leading the team to a 2–1 victory over Vancouver Whitecaps FC.
In July 2017 Drogba stunned everyone after scoring an impressive last-minute free kick in a game against Orange County to draw the game. In November 2018, Drogba at the age of 40 finally decided to retire as a professional player.
INTERNATIONAL CAREER:
WORLD CUPS: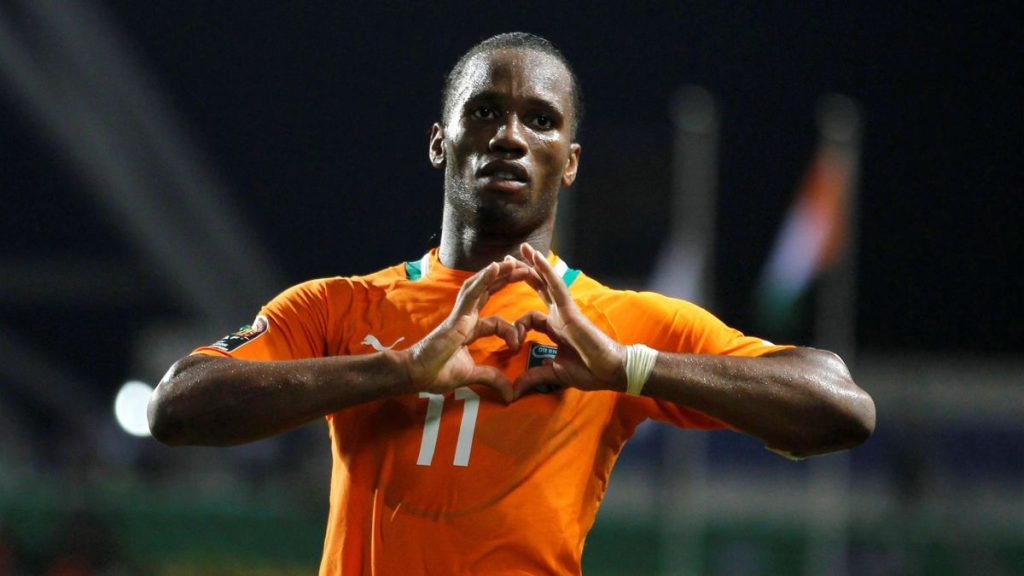 Drogba helped his country to qualify for the FIFA World Cup first time ever in 2006. In the 2006 World Cup, Ivory Coast were given the group of death. Drogba scored the first World Cup goal of his career and of his country's in the opening game against Argentina, but his team lost 2–1. After the defeat in the second match, the Ivory Coast was eliminated from the Competition.
Drogba scored six goals in five games of qualification to help Ivory Coast qualify for the World Cup 2010. Drogba played the first match with a protective guard for his broken guard against Portugal which ended in a goalless draw.
On 20 June 2010, Drogba became the first player from an African nation to score against Brazil in a World Cup match, scoring with a header in the 78th minute as the Ivory Coast was defeated 1–3. Ivory Coast was again defeated in the group stages itself.
Drogba decided to play his last 2014 World Cup. In the first match, his team was trailing 1-0 but after Drogba came in as a substitute, his team scored twice to gain a 2-1 victory but the luck did not favor and they were again eliminated in the group stages which made Drogba announce his retirement from International Football on 8th August 2014.
AFRICA CUP OF NATIONS: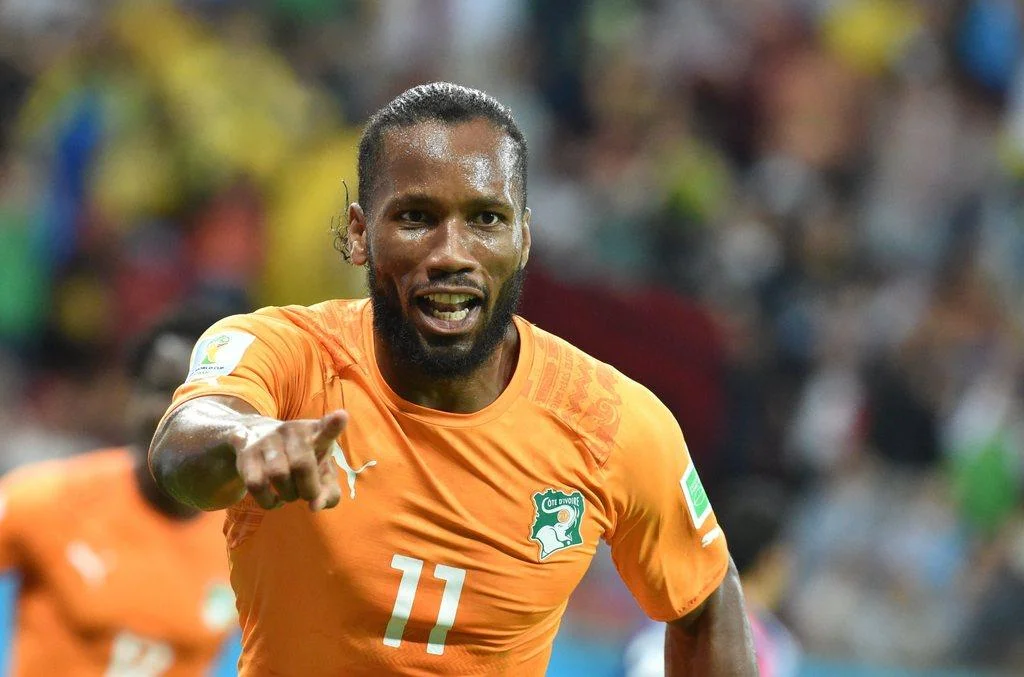 In February 2006, African footballer Didier Drogba captained Ivory Coast to their second Finals of the tournament where Ivory Coast had to suffer a defeat of 4-2 in the penalty shootouts against Egypt.
In the 2008 Africa Cup of Nations, Ivory Coast looked unstoppable with Drogba scoring in every game. In the semi-finals, Egypt somehow managed to defeat Ivory Coast 4-1 and eventually became the champions of the Tournament.
In the 2010 Africa Cup of nations, Drogba scored once against Ghana in the group stages but eventually lost 3-2 in the quarter-finals against Algeria.
In the 2012 Africa Cup of Nations, Drogba scored the first goal for his team in the tournament against Sudan and his only goal in the group stage. The team eventually went to the finals where Drogba missed a crucial penalty in the last 15 minutes of the game which resulted in their defeat.
Outside Football:
Peace Bringer:
Drogba is credited with playing a vital role in bringing peace to his country. Drogba made a desperate plea to the combatants after the Ivory Coast qualified for the 2006 World Cup by defeating Sudan on October 8, 2005, a plea that was met with a cease-fire after five years of civil conflict.
According to Carl Anka, "Drogba, tormented by religious and political conflicts, saw an opportunity to bring his country together and allowed TV cameras inside the Elephants locker room, where he delivered a speech to the camera. The guy spoke, and the nation listened, and the elections were held without incident."
Later, Drogba assisted with the relocation of an African Cup of Nations qualifier to the rebel stronghold of Bouake, which helped to solidify the peace process.
Didier Drogba Foundation: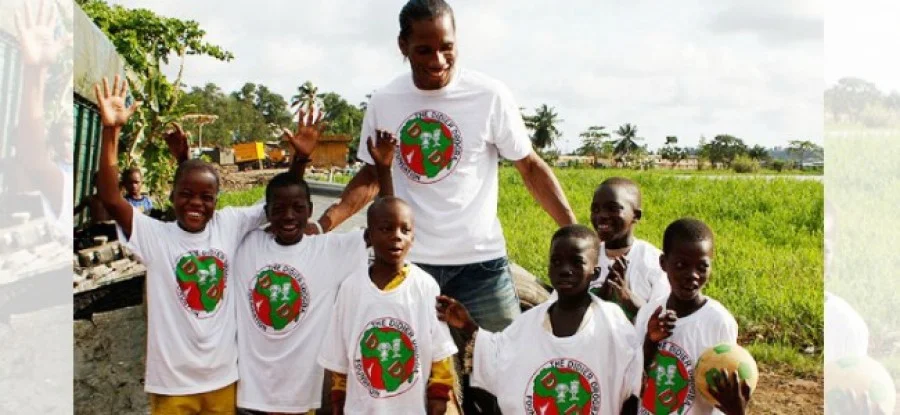 Chelsea and Didier Drogba's newly formed "Didier Drogba Foundation" declared that they, too, will donate the deal's price to the Foundation's cause. "I determined the Foundation's first project should be to develop and sponsor a hospital offering people basic treatment and a chance merely to stay alive," Drogba said after a recent trip to the Ivorian capital's other facilities.
Didier Drogba Controversy: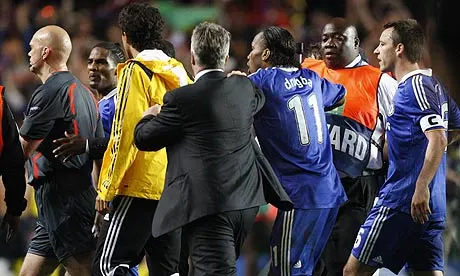 Didier Drogba, the resigned Ivorian proficient footballer, has had his reasonable portion of contentions during his vocation. The following are a couple of models:
Ref conflict: In the 2009 UEFA Champions Association semi-last among Chelsea and Barcelona, Drogba was shipped off for a foul and faced the ref, Tom Henning Øvrebø, after the game, blaming him for predisposition towards Barcelona. Drogba was consequently prohibited for six matches and fined by UEFA.
Ivorian Nationwide conflict remarks: During the Ivorian Nationwide conflict in 2005, Drogba involved his foundation as a footballer to request quiet and solidarity in his country. In any case, he likewise offered remarks that were viewed as steady of the revolutionary powers, which prompted analysis from some Ivorians.
Galatasaray episode: In a Turkish Super Lig match in 2013, Drogba was blamed for purposely stepping on the foot of a rival player, Emre Belözoğlu, which prompted a fight between the two groups. Drogba denied the claims, however was fined and given a three-match boycott by the Turkish Football Organization.
Good cause establishment discussion: In 2016, Drogba's cause establishment, the Didier Drogba Establishment, was blamed for abusing reserves expected for the development of an emergency clinic in the Ivory Coast. Drogba denied any bad behavior, however the establishment was at last broken down and its resources moved to another cause.
In spite of these contentions, Drogba stays a profoundly regarded figure in the football world and is broadly viewed as one of the best African footballers ever. He has likewise been commended for his generous work, remembering his endeavors to advance harmony and improvement for the Ivory Coast.
ACHIEVEMENTS AND RECORDS: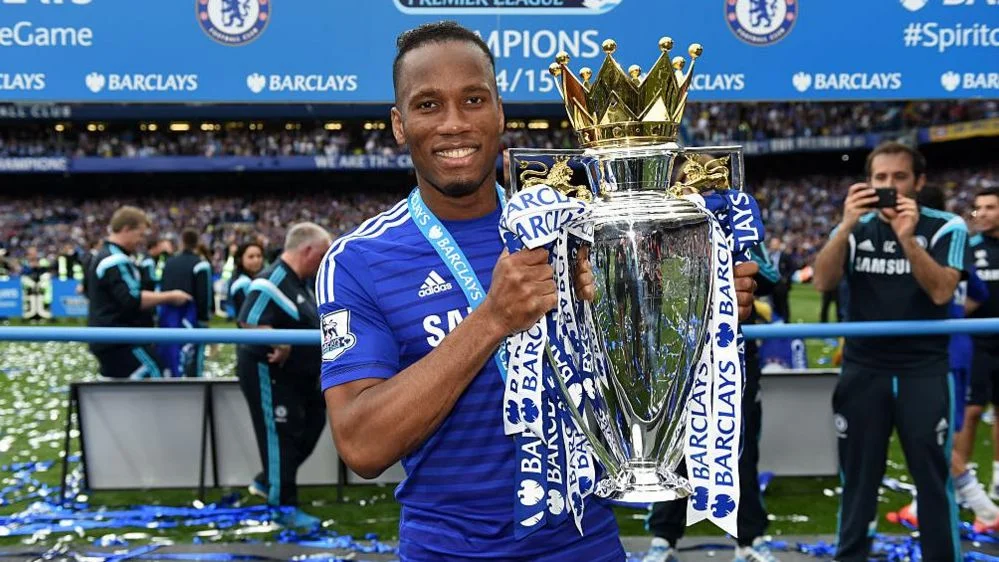 Recently in an interview, Jose Mourinho said " In my return to Chelsea, the club President said "we have enough money now so do you want to buy Ronaldinho?" And I replied no instead bring me back Didier Drogba that's enough for me ".
The Achievements and Records of the African footballer Didier Drogba are:-
Club:
Chelsea
Premier League: 2004–05, 2005–06, 2009–10, 2014–15
FA Cup: 2006–07, 2008–09, 2009–10, 2011–12
Football League Cup: 2004–05, 2006–07, 2014–15; runner-up: 2007–08
FA Community Shield: 2005, 2009
UEFA Champions League: 2011–12
Galatasaray
Süper Lig: 2012–13
Turkish Cup: 2013–14
Turkish Super Cup: 2013
Phoenix Rising
Western Conference (USL): 2018
Individual
Africa Cup of Nations Team of the Tournament: 2006, 2008, 2012
African Footballer of the Year: 2006, 2009
Alan Hardaker Trophy: 2007
Ballon d'Or: 2006 (8th place), 2007 (4th place), 2009 (9th place)
BBC African Footballer of the Year: 2009
CAF Team of the Year: 2005, 2006, 2009, 2010, 2012
Chelsea Players' Player of the Year: 2007
Chelsea Player of the Year: 2010
ESM Team of the Year: 2006–07
FA Community Shield Man of the Match: 2005
FA Cup Final Man of the Match: 2010
FIFA FIFPro World XI 5th team: 2013
FIFA Ballon d'Or: 2010 (9th place), 2012 (8th place)
FIFA World Player of the Year: 2005 (10th place), 2006 (6th place), 2007 (4th place), 2009 (6th place)
FIFPro World XI: 2007
FWA Tribute Award: 2015
Golden Foot: 2013
Ivory Coast Player of the Year: 2006, 2007, 2012
Ligue 1 Goal of the Year: 2003–04
Ligue 1 Player of the Month: January 2004, May 2004
Ligue 1 Player of the Year: 2003–04
Ligue 1 Team of the Year: 2003–04
MLS All-Star: 2016
MLS Player of the Month: September 2015, October 2015
Montreal Impact Top Scorer: 2015
Onze d'Or: 2004
Premier League Golden Boot: 2006–07, 2009–10
PFA Team of the Year: 2006–07 Premier League, 2009–10 Premier League
Time Top 100: 2010
Turkish Footballer of the Year: 2013
UEFA Best Player in Europe Award: 7th place 2012
UEFA Champions League Final Man of the Match: 2012
UEFA Team of the Year: 2007
UNFP Trophy of Honour: 2019
Records
Chelsea
Most goals scored by a non-English player: 164 goals
Most goals scored in FA Cup Finals: 4 goals
Most goals scored in Football League Cup Finals: 4 goals
Most goals scored in Cup Finals: 9 goals
Most goals scored in the UEFA Champions League: 36 goals
Most goals scored in international games as a Chelsea player: 46 goals
Most Premier League hat-tricks: 3
Most Premier League goals in a season: 29 (2009–10)
Most Premier League Golden Boot wins: 2 (2006–07 and 2009–10)
Most goals in all competitions in a season by a foreign player: 37
Most Champions League hat-tricks: 1
English Domestic
The only player to ever both score in and win both English domestic cup finals in the same season
The only player to score in three League Cup finals
The only player to score in four FA Cup finals
Europe
Most goals scored in the UEFA Champions League by an African player: 44 goals.
Most appearances in Champions League by an African player: 94 matches.
Most goals scored for an English team in the Champions League: 36 goals with Chelsea.
One of eleven players to score hat-tricks for multiple clubs in the Champions League.
Ivory Coast
Ivory Coast all-time top scorer: 65 goals
First Ivory Coast goal at FIFA World Cup (v. Argentina, 10 June 2006)
Most Ivory Coast Player of the Year wins: 3 (2006, 2007 and 2012)
Premier League
Most goals scored in the Premier League by an African player: 104 goals.
Most assists in the Premier League by an African player: 54 assists.
Most goals and assists combined for with another player: 36 with Frank Lampard.
One of seven players to score an opening weekend hat-trick.
One of six players to score a hat-trick in consecutive games.
Get more Football related news on Sportslibro.com