The former captain of Pakistan cricket team, Shahid Afridi, is one of the successful all-rounders in the history of the game. He has been the pioneer of the game and has always dominated the opposition with both bat and ball.
While bowling, Shahid Afridi mainly relied on change of pace rather than spin. However he is mainly remembered for his aggressive style of batting. Afridi is a right-handed batsman and right-handed leg-spin bowler.
More Articles Related To Cricket:
Sahibzada Mohammad Shahid Khan:
Sahibzada Mohammad Shahid Khan Afridi
was born on 1 March 1980 in Khyber Pakhtunkhwa in Pakistan. He was born to an Afridi tribe of Pashtuns. His father's name was Sahabzada Fazal-ur-Rehman Afridi. His mother's name is unknown. His brothers are Tariq Afridi, Iqbal Afridi, Mushtaq Afridi, Ashfaq Afridi, Shoaib Afridi and Javed Afridi.
Nadia Afridi:
Afridi is nicknamed 'Boom Boom' in international cricket. Shahid Afridi is married to his maternal cousin Nadia Afridi. Nadia afridi and Shahid has four lovely daughters named Aqsa, Ansha, Ajwa and Asmara. Shahid has been living a peaceful life with Nadia afridi.
Shahid Afridi Career:
Early Career:
After some crucial performances in the U19 championship in 1994-95 season, Afridi was drafted to the senior national team. He played for Karachi Whites and helped them win the season by taking 42 wickets in 5 games with an average of 9.59.
Later he played against England A and the youth West Indies team. Along with that Shahid Afridi also played a few first-class games for Karachi Whites in the senior National Championship.
Senior team Debut:
Afridi got his big break in the four-nation Sameer Cup in 1996-97. He made his debut against Kenya on 2 October by replacing injured Mushtaq Ahmed. He didn't bat and went wicketless in that game.
Creating Records:
However in the next game against Sri Lanka, Afridi made the record of fastest century in just 37 balls. He also hit 11 sixes, which also equaled the most in a single ODI. The fastest century record was later broken by New Zealand's Corey Anderson and is currently held by South Africa's AB de Villiers.
After playing 66 ODIs, Shahid Afridi finally made his Test debut against Australia on 22 October 1998. He instantly made his mark as he took five wickets in the first innings. However with the bat he only had scores of 10 and 6.
But Afridi made amends in his batting in the next Test against India. He opened the batting and scored his maiden century, scoring 141 runs from 191 balls. He also took 3 wickets for 54 runs in that game.
County cricket:
Shahid Afridi signed a contract with Leicestershire club in 2001. There he played some fruitful innings which included a score of 164. He also scored 95 in the semi-final of C&G Trophy and helped Leicestershire defeat Lancashire.
In 2003, Derbyshire County Cricket Club signed Afridi for first two months. In June 2004, Kent signed Afridi for 3 Twenty20 matches and one Totesport League match.
In 2005 Afridi returned to Test format and started making his presence felt. Throughout 2005, Shahid Afridi was more consistent with both his batting and bowling. Under then coach Bob Woolmer, Afridi's shot selection improved a lot.
Retirement:
Afridi announced temporary retirement from Tests on 12 April 2006. This was because he wanted to focus particularly on 2007 World Cup and also give time to his family. However he reversed his decision on 27 April as coach Bob Woolmer needed Afridi as he was one of the main players in the squad. Afridi played in the England series and it was the last Test until 2010.
T20 Format:
The 2007 World Cup was a disaster for Pakistan as they exited from the group stage. It was more painful for Afridi. This was because long before the tournament began, on 8 February 2007, he was handed a four-match ODI suspension.
This happened because cameras captured Shahid Afridi thrusting his bat to a spectator who had swore at him. The ban meant that Afridi was unavailable for the first two games of the World Cup. However both PCB and Afridi didn't appeal against the ban.
Fortunately things changed for Afridi in the 2007 World Twenty20. Although he couldn't do much with the bat. But his performances with the ball earned him the Player of the Tournament award.
Pakistan lost the tournament to India by 5 runs. But in 2009 Twenty20 World Cup, Afridi exceeded with both bat and ball. He scored 50 in the semis and 54 in the final and led his team to victory. As a result he was named Player of the Match in the final.
Controversy: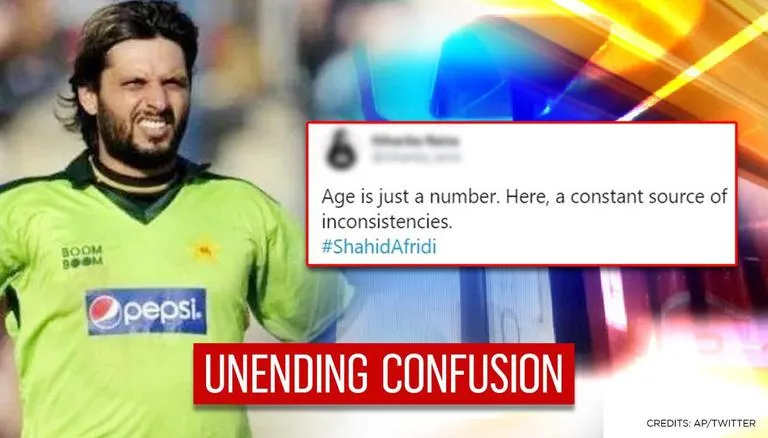 Shahid Afridi, a Former Pakistani cricketer, has been engaged with a few discussions all through his vocation. Here are a portion of the prominent ones:
Ball-altering discussion: In 2010, Afridi was found on camera gnawing the ball during a match against Australia, which prompted a ball-altering contention. He was therefore prohibited for two T20 coordinates and fined.
Comments about Kashmir: In 2020, Afridi offered questionable comments about the contested district of Kashmir, which ignited shock in India. He alluded to the Indian government's choice to repudiate the extraordinary status of Jammu and Kashmir as "unsatisfactory" and required the Unified Countries to mediate regarding this situation. His remarks were generally condemned, and numerous Indian cricketers, including Gautam Gambhir, required his restriction from cricket.
Captaincy Afridi:
After the 2009 World T20, Younis Khan retired from T20Is and Afridi was named captain. In March 2010, Afridi was also named the captain of the ODI team. When Afridi once again made his return to Test cricket, he was named captain of all the three formats on 25 May 2010.
After captaining in the first Test against Australia in July 2010 at Lord's, Afridi announced his retirement from Tests. Afridi captained Pakistan in the 2011 ODI World Cup, where they lost to India in the semis by 29 runs.
After the World Cup, Pakistan toured West Indies where they lost the T20I series but won the ODI series. After that coach Waqar Younis fell out with Afridi and as a result Afridi was sacked from captaincy. Misbah-ul-Haq was named captain in place of Shahid Afridi.
Differences with the Board: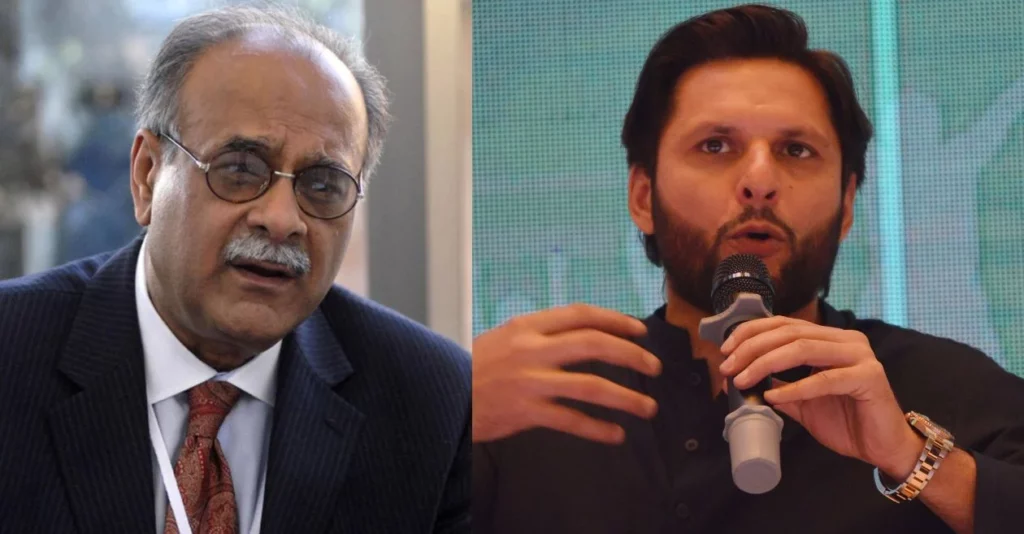 On 30 May, Afridi announced his conditional retirement in protest against the Pakistan Cricket Board. There was a long legal battle which was later settled out-of-court. In October Ijaz Butt was replaced as Chairman of PCB. As a result Afridi also withdrew his retirement.
PCB included Afridi in the squad and he played some games. Afridi played for the Rest of the World side in the Bicentenary Celebration match at Lord's. Afridi retired from ODIs after the 2015 World Cup, where Pakistan lost in the quarter-final against Australia.
After 2016 ICC World T20, everybody thought Afridi would retire from T20Is. However on 3 April 2016, Afridi announced he will not retire. Rather he stepped down from captaincy. However in September 2016, PCB said that Afridi will retire which agitated him.
Finally in 2017, after 21 years, Shahid Afridi retired from international cricket. He had played 27 Tests, 398 ODIs and 99 T20Is. Among them Afridi scored 1,716 (Test), 8,064 (ODI) and 1,416 runs (T20I). With the ball he has taken 48 (Test), 395 (ODI) and 98 wickets (T20I).
Shahid Afridi T20 Franchise Career:
For the first two seasons of the Pakistan Super League, Afridi played for Peshawar Zalmi. He also won the title with them in the second season. After that season he was made the president of Karachi Kings. Later ahead of the PSL drafts, he was transferred to Karachi as a player.
In the inaugural season of the Afghanistan Premier League in 2018, Afridi was chosen as an icon player for the Paktia Panthers. In June 2019, he played for Brampton Wolves in the 2019 Global T20 Canada tournament. In July 2019, he was selected to play for Belfast Titans in the inaugural edition of the Euro T20 Slam cricket tournament. However, later the tournament got canceled.
Shahid Afridi Records:
1. He was the first player to hit fastest century (in 37 balls).
2. Record holder of most number of sixes in ODI cricket (351).
3. Became first player to score half-century in successful run chase in World T20 final.
4. First player to score a fifty and take atleast one wicket in World T20 final.
5. Only player to win Player of the Final (2009) and Player of the Tournament (2007) in World T20 history.
6. Afridi got the vote of the Best ODI Bowling Performance of 2009 by ESPNCricinfo (6-38 against Australia).
7. First player to get 50 wickets in T20Is.
8. First player to complete the double of 500 runs and 50 wickets in T20Is.
9. Second player to score 4,000 runs and take 300 wickets in ODIs.
10. Joint leading highest wicket-taker in 2011 World Cup (21 wickets, along with India's Zaheer Khan).
11. Second best bowling figures of 7/12 in the history of ODI cricket (against West Indies).
12. Most number of wickets in T20Is (40) as a captain.
13. Best bowling figures as a captain in a T20I (4-14).
14. Most runs conceded by a bowler in his entire T20I career (2362).
15. Most number of T20I wickets on away soil (29).
16. First player to score hat-trick in 10-over format (3-19) for Pakhtoons vs Maratha Arabians in the 2017 T10 Cricket League.
17. Holds the record for longest six in ODI (158 metres against South Africa).
18. Only cricketer to score half-century and take 5 wickets in two separate occasions in ODI cricket.
19. Only cricketer to score a 50 in his 50th T20 International match.
20. Has the joint highest Player of the Match awards (11) in T20Is (along with Afghanistan's Mohammad Nabi).