Ravi Shastri was one of the many players who were the product of cricket in Bombay. He was one of the players who could play ultra-defensive cricket as well as can up the strike rate when required. Primarily, he was an all-rounder of the game as he used to bowl as well.
This is the journey of Ravi Shastri biography.
Ravishankar Jayadritha Shastri Family: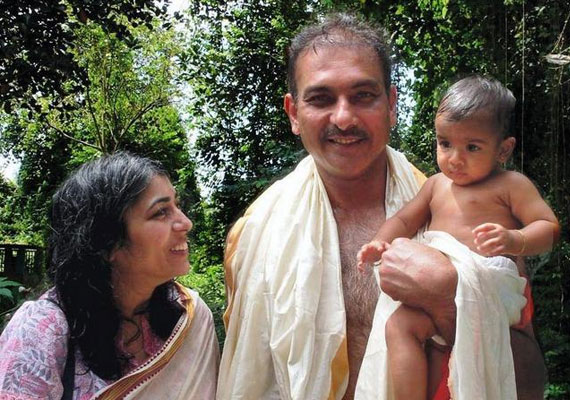 He was the only child of M. Jaydratha Shastri and Lakshmi Shastri who was born on 27th May 1962 in Bombay ( now Mumbai ), Maharashtra. He went to Don Bosco High school for his schooling and started playing cricket in his childhood days only.
Wife: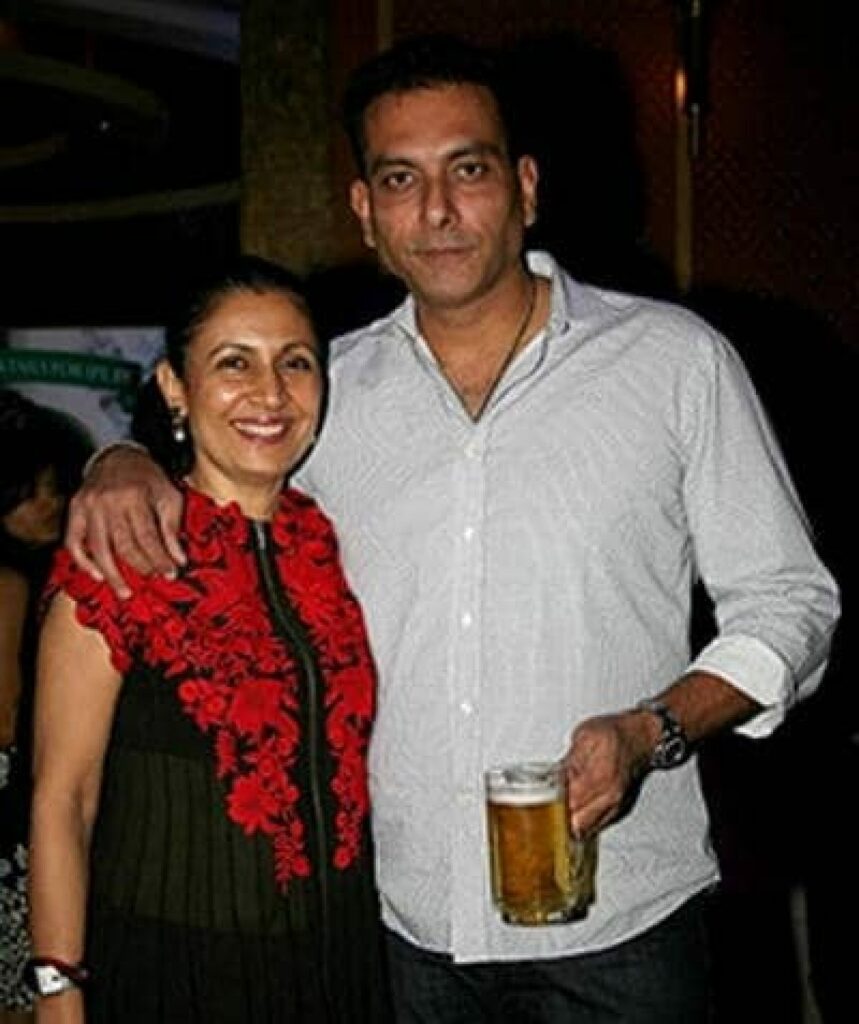 Shastri married Ritu Singh, who was a classical dancer, in 1990 but later in 2012 they got divorced. They both had a daughter between them named Aleka Shastri, who was born very late in 2008.
Early Career: Ravi Shastri Biography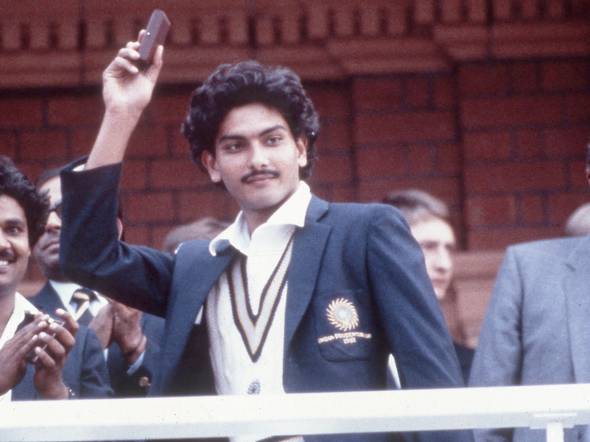 He was serious about cricket since his childhood days. Due to a lack of opportunities in school, he knew he had to go to a college where there are opportunities to play cricket. So, he went to study at R.A. Poddar College which had produced many good cricketers from India.
His life took a turn, when, he was selected to play for Bombay in Ranji Trophy in the last year of junior college when he was just 17 years 292 days old. Later, an Indian under–19 team was scheduled to tour Pakistan in 1980–81. Shastri was included in the coaching camp by National Coach Hemu Adhikari.
Best moment of the career:
Interestingly, Ravi Shastri's best moment of his domestic career and probably one of the top moments of his life arrived after he started playing international cricket. In the 1984/85 season, Bombay had their next match against Baroda.
He did not get the chance to bat in the first innings but in the second innings when he came into bat no one expected what was going to happen next. He scored a magical and dominating 200 runs off just 123 balls where he broke the record of Sir Gary Sobers for scoring the fastest ever double hundred in first-class cricket.
Test Career – Indian national cricket team:
He debuted against New Zealand in 1981 at Wellington. It was a dream start for debutant Shastri who was bowling his first over to the Kiwi captain, Geoff Howarth. He bowled a maiden over to the captain.
Although India lost the match, it was a great start for the 18-year-old Shastri as he picked up 3 wickets each in both innings of the Test match. He was not scoring runs in the series but, was continuously picking up wickets.
Cementing his position: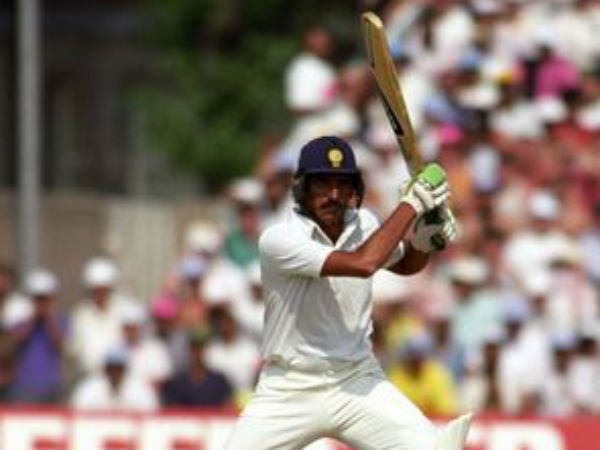 He next played for India against England on England's tour of India. He was regularly picking up wickets but was not up to the mark with the bat until the 3rd Test match of the series. India was battling at 254/7 against England's 476 but, the 7th wicket partnership of 128 runs between Ravi Shastri and Syed Kirmani avoided the follow-on and the match was ultimately drawn. Ravi Shastri scored the first half-century of his Test match career, unfortunately, missing a hundred by 7 runs.
His maiden hundred came almost 2 years after his International Test debut against Pakistan. It was the 6th Test match of the series and Ravi Shastri was opening the innings with Sunil Gavaskar. Ravi Shastri scored 128 runs with subtle support of 89 runs by Dilip Vengsarkar to take India to an above-par total of 393 runs.
Best moment: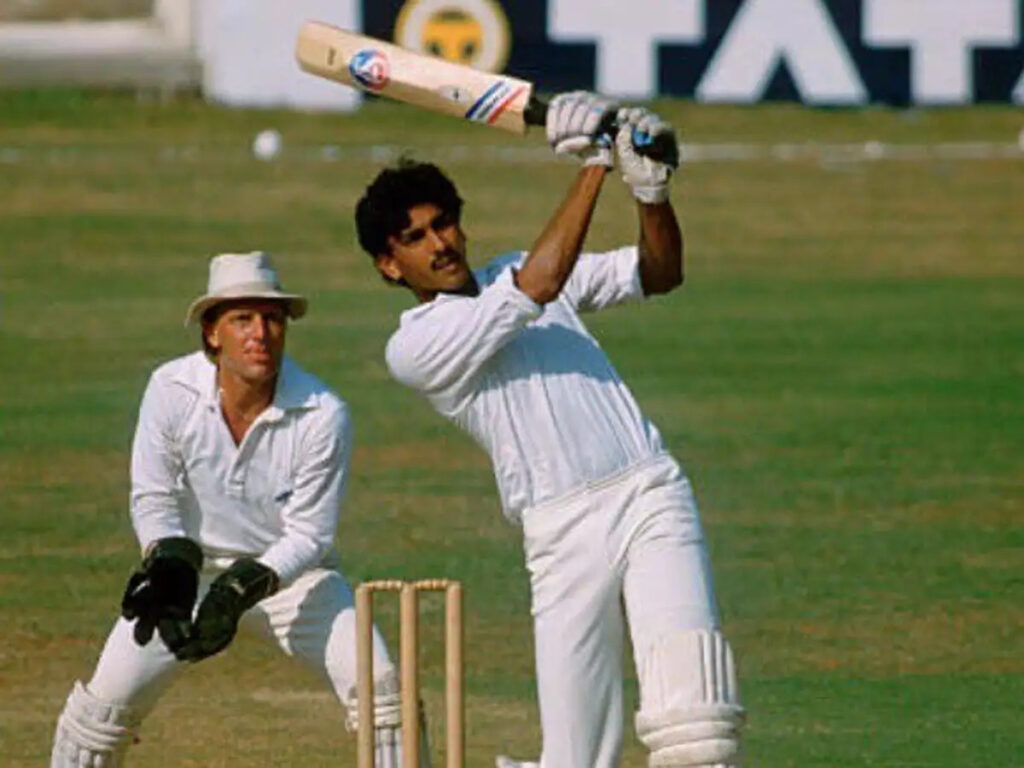 One of the best innings of Ravi Shastri's career was against Australia in 1992. Ravi Shastri scored his maiden double century at Sydney Cricket Ground, Australia which was also the only double century of his Test match career. He scored 206 runs in the first innings. It was a memorable match for Shastri as he also picked up 4 wickets in Australia's second innings.
Retirement: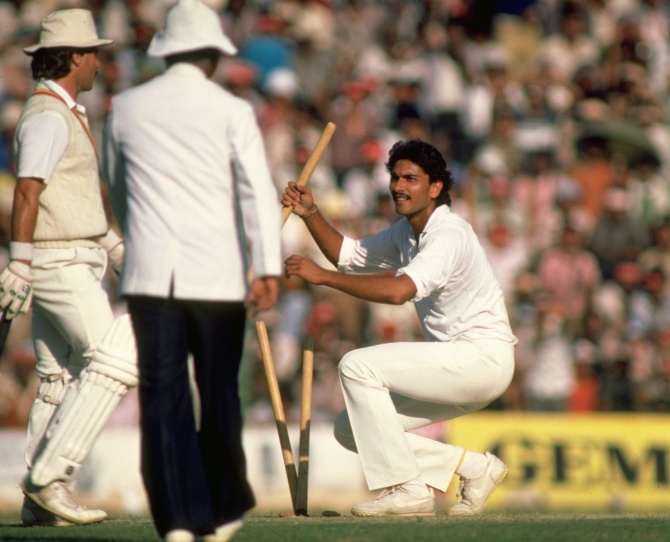 Ravi Shastri retired from International cricket in 1992, when he was just 30 years old. Therefore, he played his last Test match against South Africa in 1992 at St. George's Park where he scored 10 and 5 runs respectively in both innings and was not able to pick a wicket in the Test match.
In an 11-year-long career, Ravi Shastri played 80 Test matches for India where he scored 3830 runs at an average of 35.79 including 11 centuries and 12 half-centuries.
One Day career: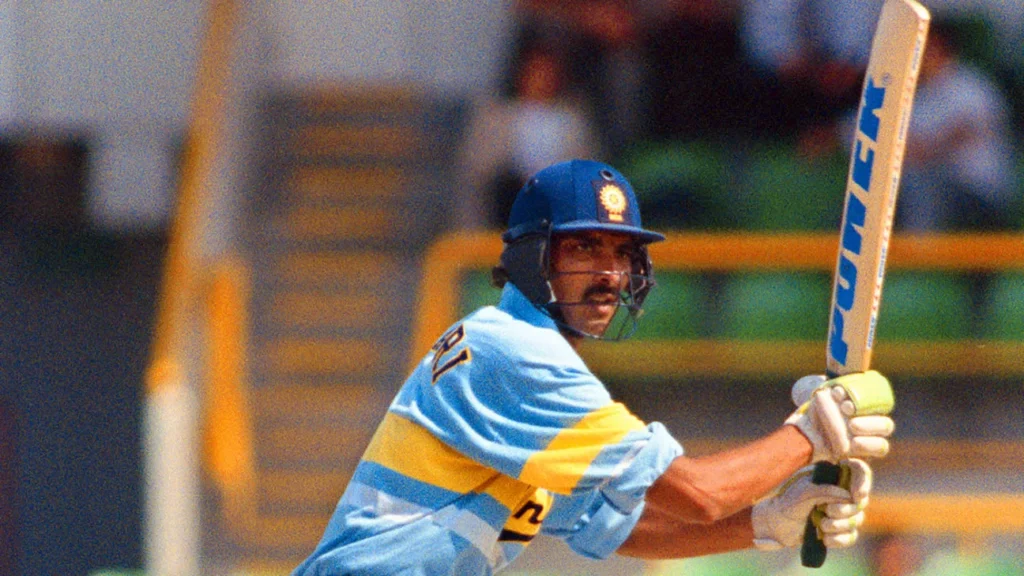 After his successful Test debut against New Zealand, he also debuted for Indian One Day team, later that year (1981). He was selected in the Indian Playing XI to play against England at Sardar Patel Stadium, Ahmedabad. He scored merely 19 runs in that match and did not pick up any wickets.
In his first 10 One Day International matches, he scored 96 runs in total and only picked up 6 wickets. His first half-century in One Day cricket was close to 2 years after his International One Day debut. He scored 65 runs off 125 balls against West Indies in that match.
Brilliance with the bat:
His maiden One Day International hundred was against Australia at Nehru Stadium, Indore. He scored 102 runs off 141 balls when India was batting first. Although Australia won the match quite easily Ravi Shastri was still awarded Man of the match for his brilliant century. He again scored a century 3 matches later, opening the innings for India against England where K. Srikanth and he stitched a brilliant 188-run partnership.
The cricketing world knew about his potential as a bowler and he put that potential into full use very late in his career in 1991. India chose to bat against the mighty Aussies as K. Srikanth and Ravi Shastri opened the innings. Srikanth's well-made half-century India was able to reach to a modest 208 runs in 50 overs. With Australia's batting lineup, the target did seem very achievable but, Ravi Shastri had different intentions.
Best bowling figure:
Ravi Shastri registered his best bowling figures in One Day Internationals as he picked up 5 wickets and gave away only 15 runs. Australia was done and dusted at 101 runs as India won the match by 107 runs. Interestingly, it was the only time that Ravi Shastri picked up 5 wickets in One Day Internationals.
Ravi Shastri played his last One Day match against South Africa at Kingsmead where he scored 5 runs and picked up 1 wicket.
Ravi Shastri played 150 One Day matches for India and was a very good all-rounder of the game. He scored 3108 runs including 4 centuries and 18 half-centuries at an average of 29.05. Ravi Shastri also played an important role for the team which clinched the 1983 World cup and created history.
Ravi Shastri Commentary career: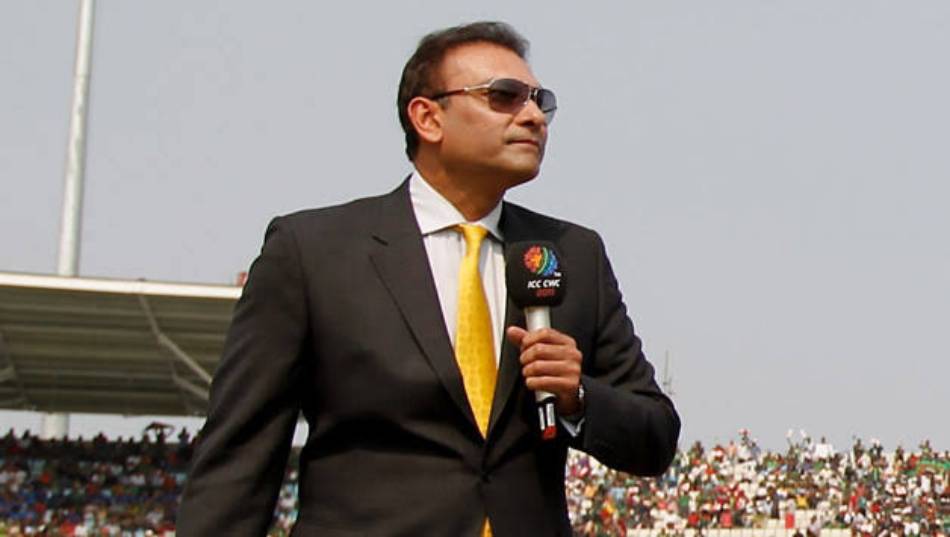 After his retirement from international cricket, a few years later he decided to become a commentator. He did not know that he would become so famous for his voice in the heart of cricket fans. People started loving his commentary. There were certain trademark moments in India where the commentator was Ravi Shastri. Some of his most memorable commentaries are:-
2007 Cricket World Cup- Yuvraj Singh six sixes: It was a beautiful moment as Ravi Shastri was commenting when Yuvraj Singh broke his record. He hit Stuart Broad for six sixes. Every cricket fan remembers his commentary on the last six which was "And he has put it away or has he? Yes! Into the crowd! Six Sixes in an over! Yuvraj Singh finishes off in style."
2007 Cricket World Cup-It was another moment in the same World Cup that Ravi Shastri was a part of. After Misbah's reckless shot, Shastri commented "In the air…..Sreesanth takes it! India wins the World Cup! Misbah cannot believe it and nor can Jeff Lawerson"
2011 Cricket World Cup-Dhoni hits a six to win the World Cup for India where Shastri commented "Dhoni finishes off in style. A magnificent strike into the crowd. The party started in the dressing room. India lifts the World Cup after 28 years. And, it is an Indian captain who has been absolutely magnificent on the night of the Final"

Ravi Shastri: Personal life and Controversies:
Bollywood and Cricket always had a divine connection. Consider, Mansur Ali Khan Pataudi and Sharmila Tagore or Virat Kohli and Anushka Sharma. Ravi Shastri also was a part of these elites when he started dating Amrita Singh in mid-1980s. But unfortunately, it did not work out well between them as they broke up after getting engaged.
Dating controversy: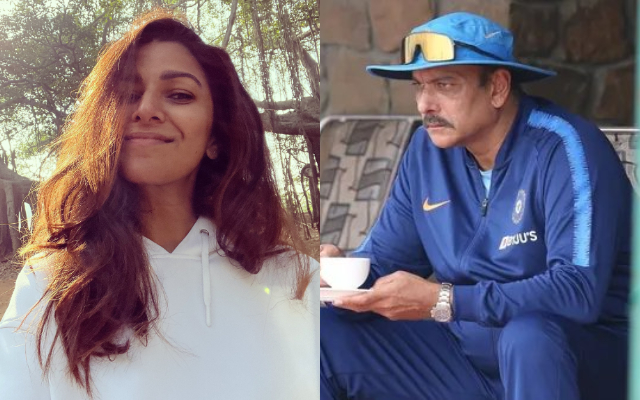 Recently, in 2018, there was also news of Ravi Shastri dating Nimrat Kaur who is close to 20 years younger than him. This became a big controversy at that time.
Drinking Controversy:
At the point when he was a part of the U-19 group, Ravi Shastri got busted by his superintendent for drinking brew. The superintendent was going to leave with the brew bottle in the wake of defying Shastri and taking steps to report him to higher specialists when Shastri called him back and emptied some into his glass prior to letting him go. He recognized it and related the story in a Morning meal With Champions episode.
Head coach of the Indian Cricket team: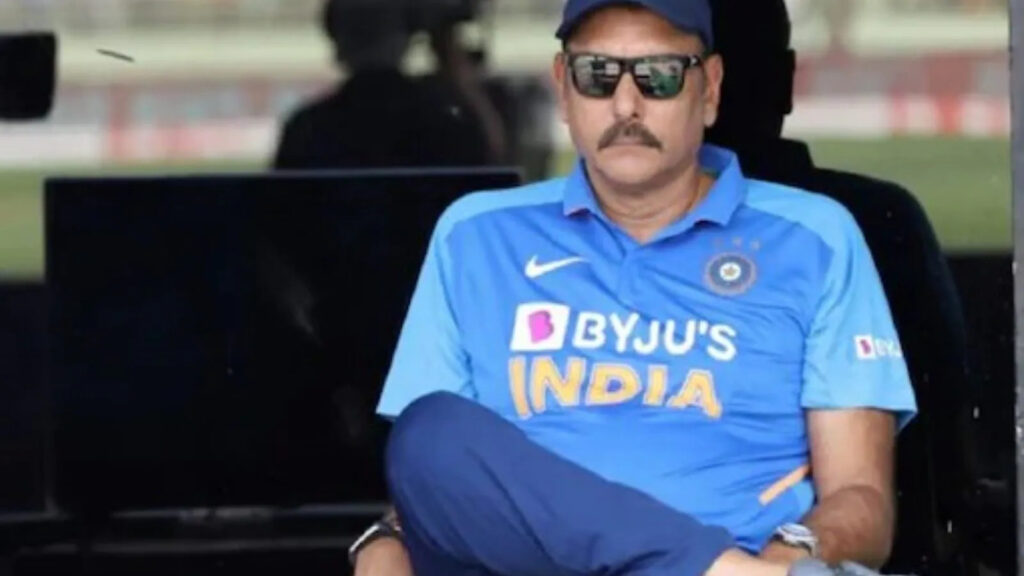 The Cricket Advisory Committee (CAC), which includes Sourav Ganguly, Sachin Tendulkar, and VVS Laxman, selected Shastri, the previous team director, as Head Coach for the Indian national cricket team in July 2017. He would be paid Rs. 8 crores per year under the arrangement. Anil Kumble's predecessor earned Rs. 1.5 crore more.
World Cup: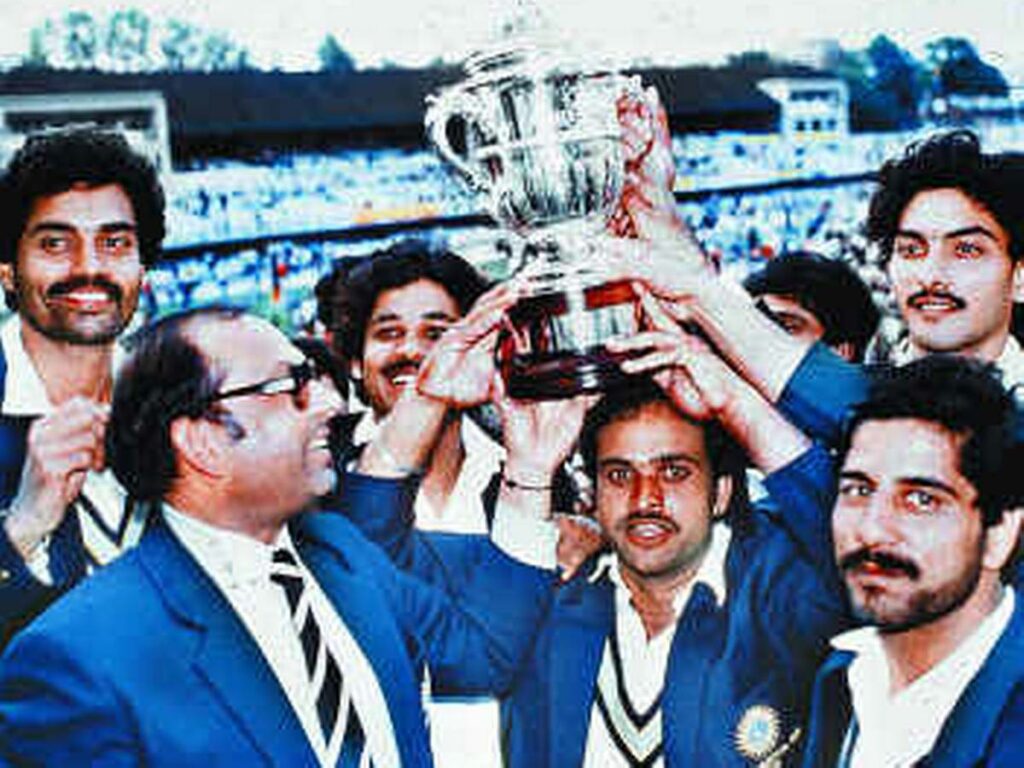 On the 13th of June, when the World Cup 2019 was in process, the BCCI confirmed that Shastri's contract will be extended for another 45 days following the event. He was re-appointed as the head coach of the senior men's Indian side on August 16, 2019, with his new contract running till the ICC T20 World Cup in India in 2021.
Retirement From Indian Cricket Team:
He had to retire from the position of coach for the Indian cricket team after the t20 world cup. Shastri led India as a coach to a lot of achievements. The Indian team could not clinch an ICC trophy but became one of the strongest teams in terms of test cricket.
Get more cricket News on Sportslibro.com