Kapil Dev Ramlal Nikhanj aka Kapil Dev was born on 6 January 1959, he is a former Indian cricketer. He was a fast-medium bowler and a hard-hitting middle-order batsman and was named by Wisden as the Indian Cricketer of the Century in 2002.
Kapil Dev captained the Indian cricket team that won the 1983 Cricket World Cup by beating West Indies by 42 runs in Lords, England. He became the first Indian captain to win the Cricket World Cup, by doing so he also became the youngest Captian to win Cricket World Cup at the age of 24 years. Kapil Dev retired in 1994.
Today we will be talking about the, Kapil Dev wife Romi Bhatia.
Who is Kapil Dev's wife – Romi Bhatia?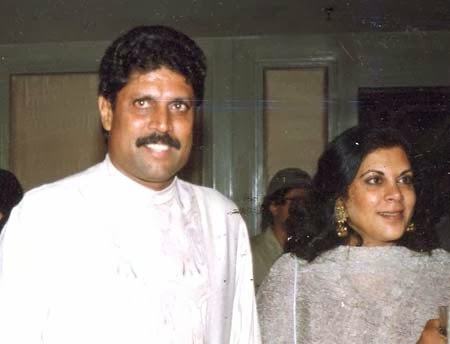 Kapil dev wife Romi Bhatia was born on 1960, in Delhi, she is currently 62 years of old as of 2022.
Romi Bhatia is an Indian businesswoman. She's the wife of former Indian captain and legendary Cricketer and coach, Kapil Dev.
What does Romi Bhatia do?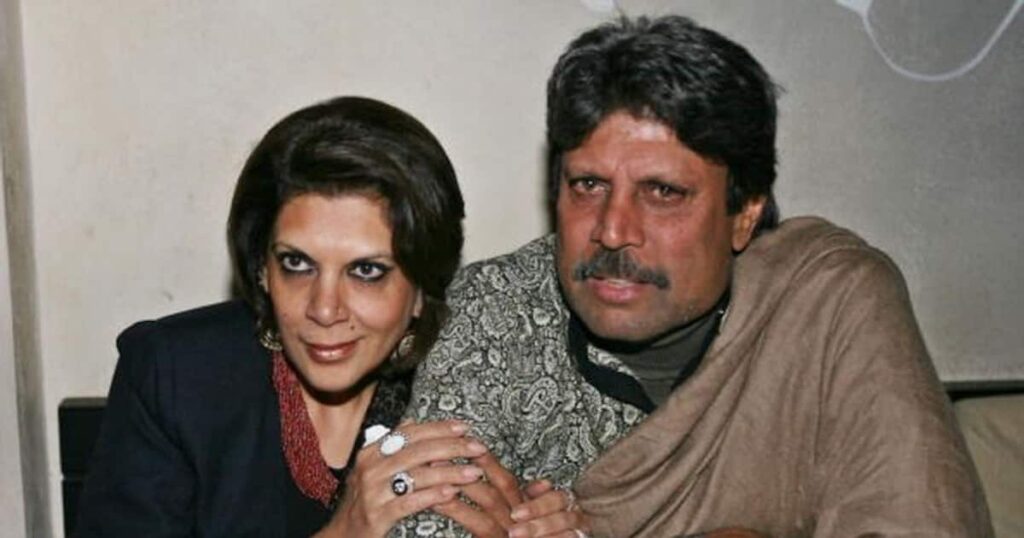 Kapil dev wife Romi is a well trained entrepreneur she runs and manages her family's various businesses.
Kapil dev wife Romi manages her family's hotel business, 'Kapil Hotel' (now known as Kaptain's Retreat) in Chandigarh. She also manages many other business ventures owned by her husband, Kapil Dev. The Haryana Hurricane generates most of his income through commenty in multiple sports shows and endorsement deals.
The former Indian cricketer, himself has a 5% stake in the famous security system company, Zicom Electronic Security System Ltd. Kapil Dev also owns a company, Dev Musco Lighting Pvt Ltd.
Who are the parents of Romi Bhatia?
Romi's father is a businessman and Her mother is a homemaker. Not much is known about her siblings.
What are the Physical Features of Romi Bhatia?
Kapil Dev's wife Romi Bhatia Physical stats are unknow.
How did Kapil Dev and Romi Bhatia met?
Their love story began when Kapil Dev and Romi met each other in a party through Kapil's friend, Sunil Bhatia in 1979. They became good friends. Kapil fell in love with Romi Bhatia. He took around one year to express his feelings to Romi.
After that they started seeing each other often. In 1979, Kapil invited Romi to watch a match against West Indies. He made his first test cricket century in that match.
One day, while traveling in a Mumbai local train, as Kapil proposed Romi Bhatia for marriage. Kapil Dev proposed her in a very contrasting way. He said,"Dear, would you like to take pictures of this beautiful place? We can show the picture to our children in the future."
Kapil dev wife Romi was also attracted towards Kapil's humble nature and behavior. She. accepted his proposal, and they got married in 1980.
On 16 January 1994, the couple was blessed with a baby girl, Amiya Dev. Romi Dev gave birth after 14 years of marriage.
Who are the Kids of Kapil Dev and Romi Bhatia?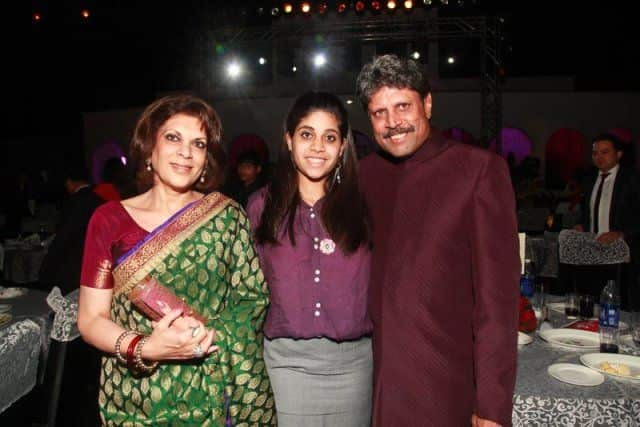 Kapil Dev and Romi are blessed with daughter, Amiya Dev, she's currently 26
Ami Dev was born on 16 January 1996, in Delhi, India. She did her schooling from Shri Ram School, Moulsari, Gurgaon, India. Then she enrolled at the University of St. Andrews, United Kingdom for her graduation.
Her zodiac sign is Capricorn.
Net worth: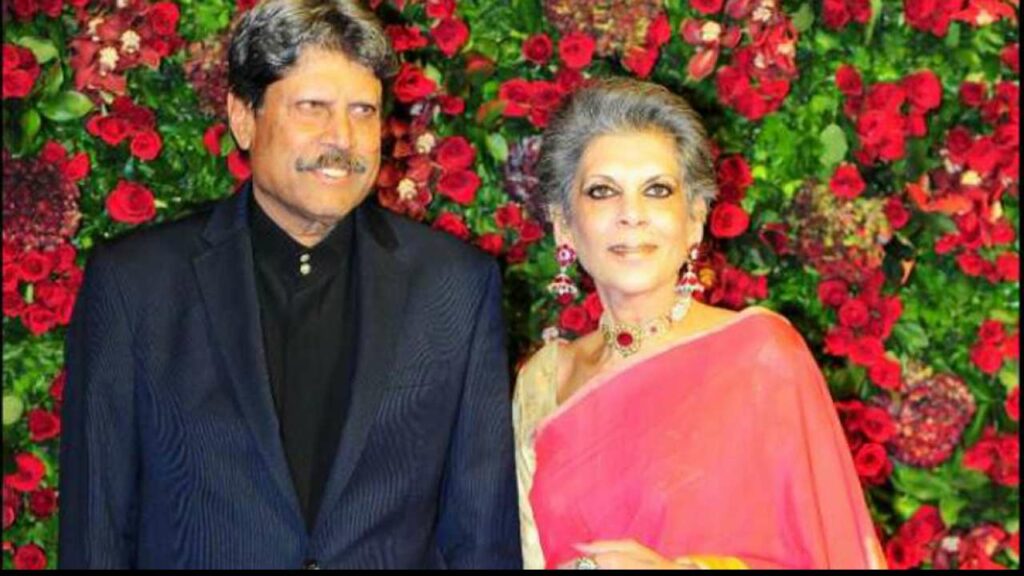 Kapil dev wife Romi Bhatia has earned quite a fortune, she generates most of her income from her family businesses and hotels.
Romi has a net worth around 55-62 crores.
Kapil dev wife Romi Bhatia's husband Kapil Dev earns quite a fortune even after retiring from Cricket a long ago.
The Indian Cricketer has a 5% stake in famous security system company, Zicom Electronic Security System Ltd. He also owns a company "Dev Musco Lighting" Pvt. Ltd.
Kapil Dev's net worth is to be around 220 crores.
Romi Bhatia's Comment on Kapil Dev's Cameo on Double XL: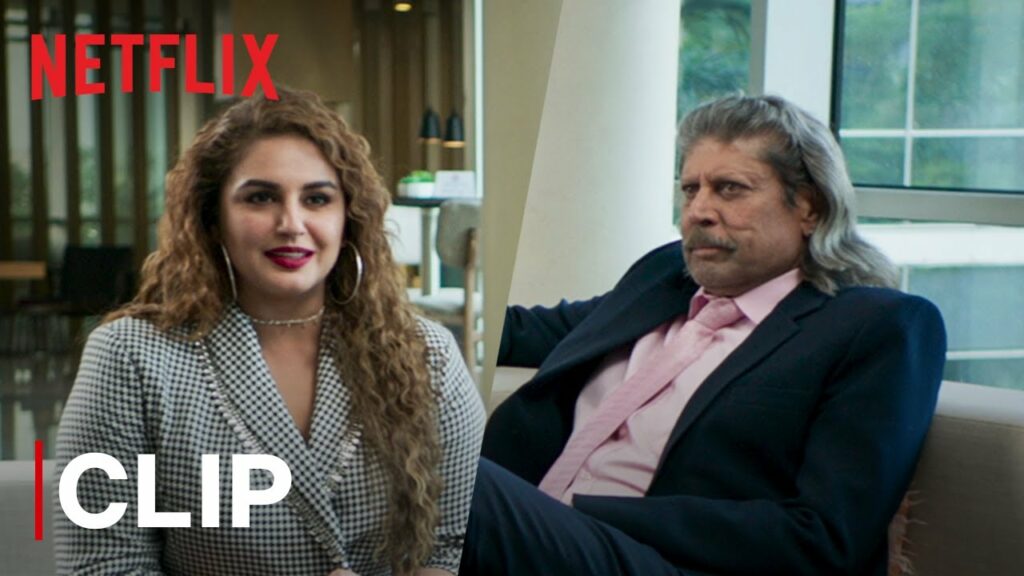 Swashbuckling Indian all-rounder and previous captain of the 1983 World Cup winning crew – Kapil Dev will be again found in an appearance after the games show '83'. This time in the forthcoming film 'Double XL'.
As of late, an extraordinary screening of the 'Double XL', featured by Sonakshi Sinha and Huma Qureshi, was coordinated in Mumbai. Kapil Dev graced the occasion alongside his better half Romi Bhatia. After the screening, Romi applauded the film and talked about the inhumane remarks she got when she was going to get hitched to the cricketer.
Unknown Facts: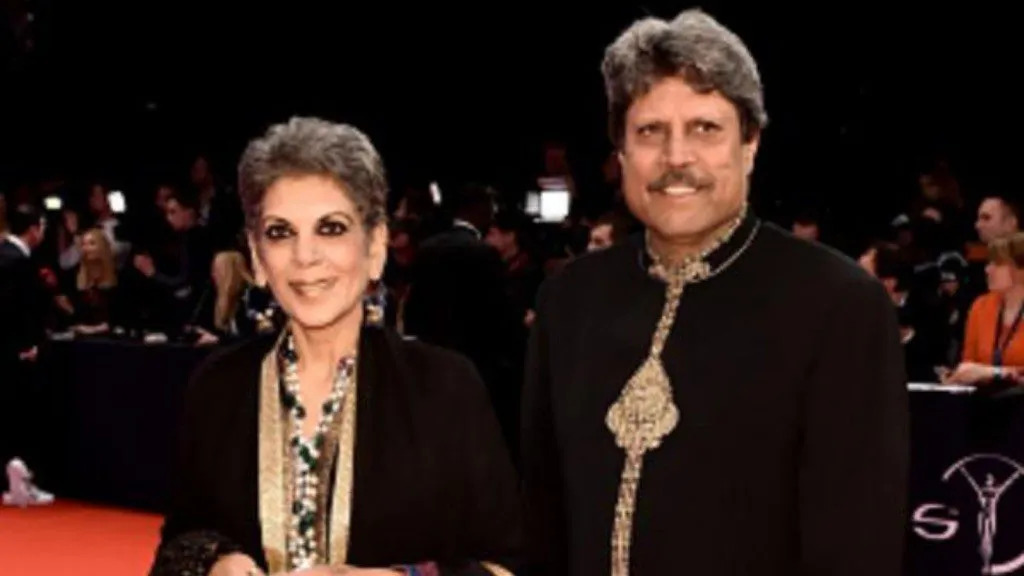 In an interview, she revealed that she faced a lot of difficulties in conceiving her child, and after 14 years of her marriage, she got pregnant.
In a match against West Indies in 1979, Kapil invited Romi to watch the match. In that match, Kapil Dev made his first Test Cricket century.
In 1995, Romi Bhatia appeared with Kapil Dev and her daughter in the popular Indian talk show 'Rendezvous with Simi Garewal.'
Kapil dev wife Romi is often spotted drinking alcohol in parties.
In 2020, the Indian film director Kabir Khan released a biopic on Kapil Dev's life named "83" in which Ranveer Singh played the role of Kapil Dev and Deepika Padukone played the role of Romi Bhatia.
Get more cricket-related News on Sportslibro.com