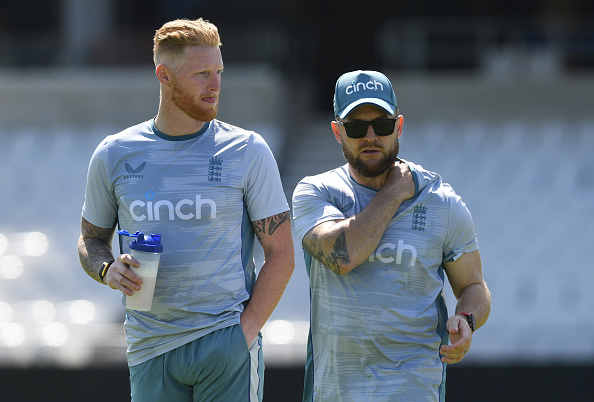 England have sharply fallen down the ICC Test rankings over the past couple of years as they have struggled for results in the five-day format of the game. They are now ranked fifth in the standings behind Australia, India, South Africa and New Zealand respectively.
Those results led to England making changes to their coaching team and relieving Joe Root of his duties as captain. Brendon McCullum is now the head coach, with Ben Stokes in charge of the team on the field.
New Zealand Victory
McCullum and Stokes' first assignment in their new roles was a home series against their native country New Zealand. It was a tough challenge, as the Kiwis were crowned the winners of the inaugural ICC World Test Championship in 2021.
England came out on top 3-0 in the series to get McCullum and Stokes off to the perfect start. It was a much-improved performance from the hosts, and one which suggested they could be a big force again in Test cricket over the next few years.
It was the first time that England had completed a whitewash in a home series since they beat India 4-0 in 2011.
Aggressive Cricket
It became quite clear in the opening Test against New Zealand that England were going to play far more aggressively under McCullum and Stokes. Their run rate during the series was 4.54, the highest England have ever achieved in a series with three Test matches or more.
Stokes, Jonny Bairstow and Root took the attack on the Kiwi bowlers and they flourished, just as they have often done so in limited-overs cricket. The England batters were clearly given a license to score runs from very early in their innings and entertain the sports crowd at their games.
There were times during the series when England looked in trouble due to their attacking tactics, however, on each occasion, they were rescued with a big individual performance. Bairstow's 136 in their Second Test victory was a great example of that. The Yorkshire player hit 14 fours, six sixes and had a strike rate of 147.83.
Pressure Off Root's Shoulders
Root's performance over the three Test matches against New Zealand will give Stokes and McCullum a lot of confidence. He looked like a player who had the weight of the world lifted off his shoulders.
The former England captain was named the Player of the Series. He scored 396 runs, which includes two centuries. His performances also helped him climb back up to the number one position in the ICC Test batting rankings.
Root no longer has to worry about the responsibilities which come with the role of captain of his country. He can now focus on his batting at the crease, and if the early signs are anything to go off, that is going to be a big boost for England.
During last winter's Ashes series, Root was unable to show his best cricket Down Under. The pressure of being the captain was clearly impacting his batting. England will be hoping during the 2023 Ashes, where, as of the 4th of July, they are +163 in the cricket betting to prevail, Root will be back to his best, and he can help his side regain the urn.
Anderson and Broad Still Big Part of Team
This summer's home series against New Zealand saw James Anderson and Stuart Broad return to England's starting XI. The pair are two of England's greatest bowlers of all time, and they showed against the Kiwis that they can still play a big role in the team.
Broad played all three matches, taking 12 wickets, at an average of 35.25. Anderson featured in the opening two games and took 11 wickets, at an impressive average of 18.63. Their experience proved vital for Stokes.
Along with some upcoming talent, McCullum and Stokes are likely to continue to use Anderson and Broad, as long as they stay fit and injury-free. Management of their schedule could be key to ensuring they remain available for big games over the next two years.