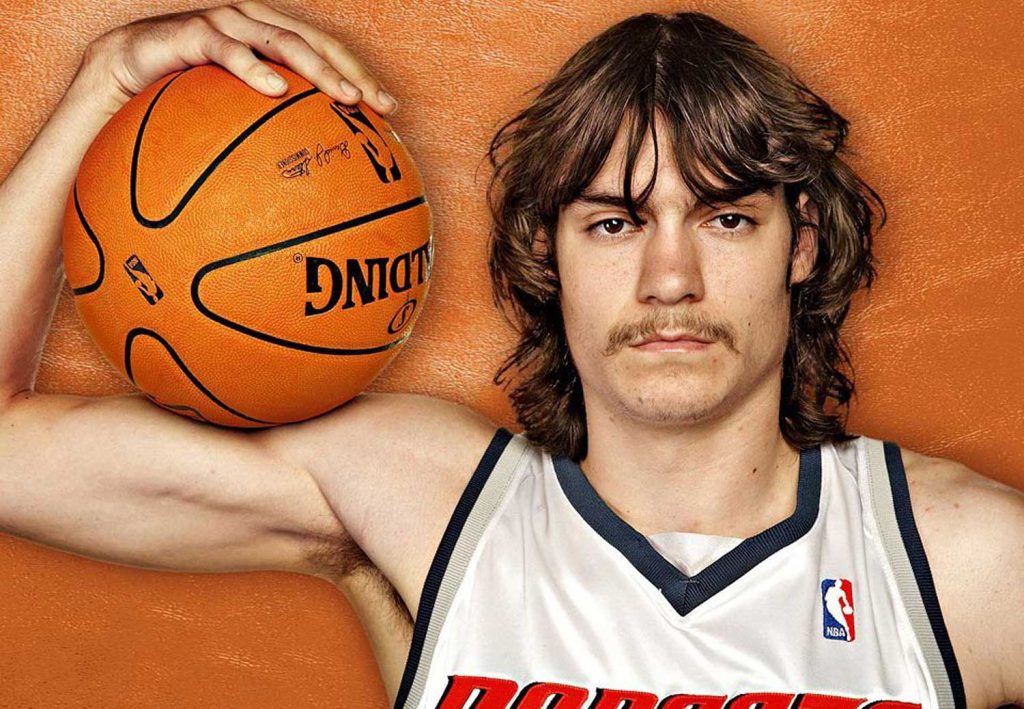 March madness is a special time of year for college hoops fans. Betting on March madness is another story, especially when top NBA prospects go out early in the tournament. 
These players that are great in college sometimes do not pan out in the pros like everyone thinks. Below you can see historical great college players that did not turn out to be great NBA players.
Bobcats Adam Morrison
Morrison gets his name on this list for a few reasons. One, he actually has two NBA rings and the other is that he only played for a few seasons.
He was the third overall pick in the 2006 NBA Draft, selected by the Charlotte Bobcats. During his college career at Gonzaga, he eventually turned into a scoring machine and was an iconic college player that led his team to success.
When he played with the Bobcats, he suffered an injury the second year with the team which caused him to miss the remainder of that season. He was later traded to the Lakers in 2009 while the team was on a title run once again. The Lakers went on to win two titles in 2009 and 2010, but Morrison saw very limited playing time.
Buckeyes Greg Oden
Oden was a monster at Ohio State, despite only playing his freshman season. He was projected to go number one in the draft, so he left college to be drafted by the Portland Trailblazers in 2007.
He missed his entire first season with the Blazers after undergoing knee surgery. Unfortunately for Oden, this was the story of the rest of his short playing career.
Then in the 2008-2009 season, he missed 20 games due to various knee and foot injuries. Playing from 2007 to 2014, he only played 105 games with three seasons combined. Multiple injuries and surgeries ended his career after 2014.
Huskies Hasheem Thabeet
Thabeet is another big man like Oden that did not work out very well in the NBA. But unlike Oden, Thabeet did not have major surgeries or injuries.
Instead, his talent was not as impressive and failed to translate to the league. His 7'3 body was a great defensive asset for the UCONN Huskies in college, but it did not have the same importance in the NBA.
He played for four different teams in just five years and barely averaged two points a game. This had to be either poor scouting from the Blazers or just terrible work ethic on his part.
Infamous Sam Bowie
Bowie is not the worst player to ever be drafted in the NBA. The issues were that he was not an incredible pick at number two in the draft, which happened to have Michael Jordan.
This is more of a big mistake from the Portland Trail Blazers on draft day than his actual playing career. No one could have guessed Jordan would be arguably the best of all time either.
By skipping out on Jordan, the Trail Blazers were able to get 13.4 points, 8.8 rebounds, and 2.3 blocks in the three seasons. However, injuries plagued his short playing career.
In consecutive seasons, he broke his left tibia, his right tibia. He then had a hairline fracture in his right tibia during the 1987-1988 season, which caused him to miss one and a half seasons.
Cavaliers Anthony Bennett
Bennett was the third player to be selected number one in the NBA Draft by the Cleveland Cavaliers. In 2003 they selected Lebron James and in 2011 they chose Kyrie Irving, both of which have respectable playing careers.
When Bennett was chosen at one overall, it put a lot of pressure to quickly rise to the standards of the previous players chosen one. For example, he only had five points and made one field goal during his first seven games with the Cavs.
He only survived four seasons in the NBA among various teams. He barely put together four points and three rebounds on his career averages.
Fans could have probably handled having a solid player that is still playing today with respectable numbers. However, four years later their dream pick is not even playing anymore.