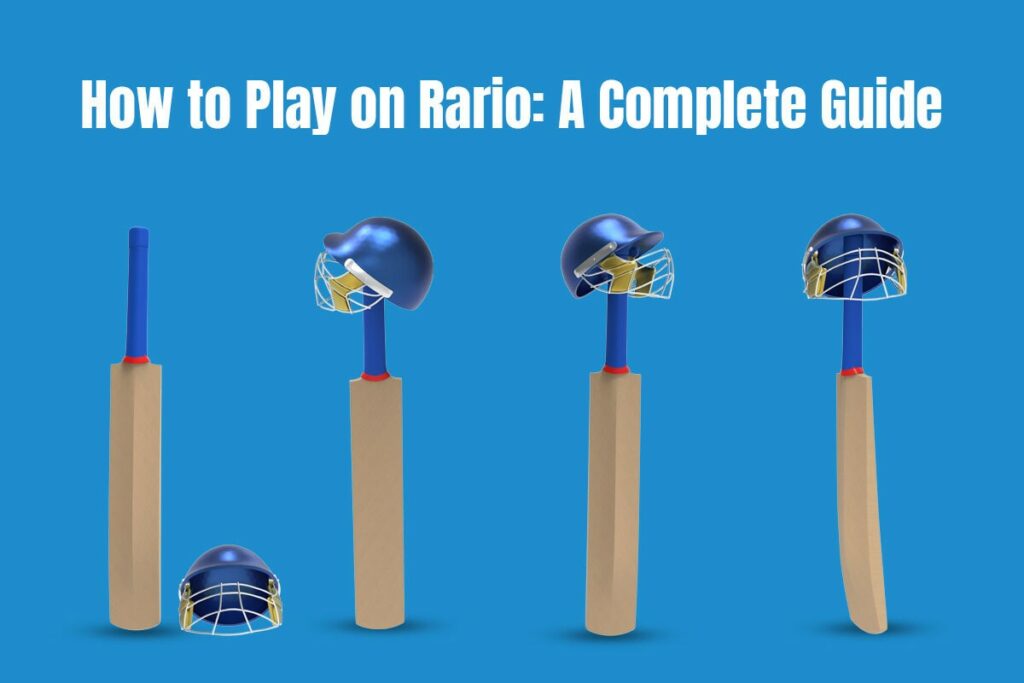 Rario, a Singapore-based licensed digital cricket collectible platform, was founded by Sunny Bhanot and Ankit Wadhwa in 2021 amid a global boom in cryptocurrency and NFTs. The platform is committed to bringing cricket fans closer and how!
Rario was created with a team of cricket enthusiasts. The platform allows users to collect, trade, and own unique digital assets representing their much-liked cricketers, moments, and sports teams. In addition, users can find a comprehensive range of meaningful, authentic, and high-quality cricket-themed collectibles on the marketplace.
Being the owner of Rario collectibles like player cards offer users access to a world of once-in-a-lifetime fan experiences and online gaming, such as the D3 Cricket Strategy Game. D3 is revolutionizing the sporting world by offering massive rewards and big opportunities to earn money. It is a fully licensed cricket player card game that debuted in 2022.
D3's concept is simple. Players must own player cards to play the ultimate strategy card on the platform and win exciting prizes. Similar games are also available, like Striker Club. On the Striker Club platform, users can choose from all available cricket players instead of only licensed ones. Furthermore, users don't need to learn NFTs to play on Striker Club; it is enough to have cricketing knowledge to win massive rewards. On this fantasy cricket app, users can participate in free, mini-fantasy, and paid fantasy contests.
Let's move on to understand how to play D3 on Rario and participate in the different contests.
What is D3, and how can cricket fanatics join the platform?
D3 Cricket Strategy Game was introduced by Rario in 2022, the first licensed cricket player card game. It is played with Rario's player cards, and users can create squads to win VIP match tickets, official merchandise, exclusive player meets, or real-money rewards. In addition, the player cards can be carried forward to other soon-to-be-launched games.
It is very easy for cricket lovers to join the platform.
Sign up and get a bonus of INR 800
Collect official limited-edition digital player cards of top cricketers
Play D3 to earn exciting rewards
Following these three easy steps will help you access the platform's strategy games and fantasy contests.
Users need Rario player cards to participate in D3. You can get the cards on the Rario marketplace or via Pack Drop. The Packs go live on the platform according to upcoming tournaments, and they contain a certain number of player cards, or you can purchase the cards individually. Alternatively, you can rent or buy player cards on the marketplace, where users put their NFTs for sale or rent. Once you have successfully made the purchase, the cards are used to play the game.
What contests can gamers participate in, and how can they join these contests?
In the Rario-built D3 Club, users can participate in free contests. You can participate in the contests by purchasing the officially licensed player cards from Rario. As a result, you can now join the Indian T20 League and earn up to INR 3 crore.
You can join the contests by:
Picking a LIVE match
Building a team of three players where the first card is of the batter, the second card is of the bowler, and the third card is of any player.
There must be a maximum of one player selected from both teams, and the player you choose as captain can score 2X points.
Enter different contests on offer for each game.
Signing up on the Rario platform will offer you up to INR 1600 practice contest rewards.
A brief intro to the points system on the platform
The points scored by users are affected by the performance of the members of the team. The point total is impacted by the number of boundaries hit, runs scored, run-outs achieved, wickets obtained, catches taken, and other such accomplishments during the game. Prizes worth up to INR 3 crore are up for grabs.
On Rario, users are allocated XP or experience points. A new player card starts with 0 XP, and then it gains an experience point whenever the player card is used in a fantasy match. If the cards have a higher XP, it means they will get a higher rate on the marketplace as well.
When used in fantasy contests, the XP of player cards on Rario increases by 2%. Even if the card is not used but owned by a user, the XP increases by 1.5%.
Conclusion
It is a piece of cake to sign up on Rario and participate in fantasy contests. The platform encourages cricket lovers to show off their knowledge as they partake in various contests by choosing LIVE matches. Currently, you can engage in IPL 2023 contests on the platform, create your squad by purchasing or renting player cards, and play the strategy D3 game.
Similarly, if you want to simply enjoy the fun of participating in fantasy cricket contests and playing digital cricket player card games, you can check out Striker Club. On the platform, players must create a team of 5 using digital player cards, and these cards can be sold or traded on the marketplace for more rewards. If you want to play fantasy cricket games creating a team of 11 players, you can check out the MPL platform and choose players instead of cards.
So, it is high time to join the fun of cricket fantasy and digital cricket card games!